You would surely have heard of Facebook, right? Yes, the king of social media, Facebook. What if we tell you, you can use it to enhance the beauty of your WordPress website, would it interest you? If yes, then this blog is especially for you.
In order to increase the visual appeal of the WordPress website, businesses are actively opting to embed Facebook feed on WordPress websites using Facebook Feed WordPress plugins. We all know that Facebook is known for providing entertaining and engaging content. You can easily display them using the Facebook widget on WordPress website.
You can easily get a Facebook widget for WordPress website from various plugins. These plugins are available on the plugin store, but we list the best Facebook feed WordPress plugin for your convenience. These plugins ease the embedding process and provide various features that make it an ideal marketing strategy.
Best Facebook Feed Plugin That Fits Your Marketing Budget
Many marketing practices involve a high marketing budget. But here are some cost-effective Facebook feed plugins that might easily fit in your budget. Moreover, they provide great results with amazing ROI, making them one of the best marketing strategies. So, without further ado, let's get into it.
1. Facebook Feed WordPress Plugin by Tagembed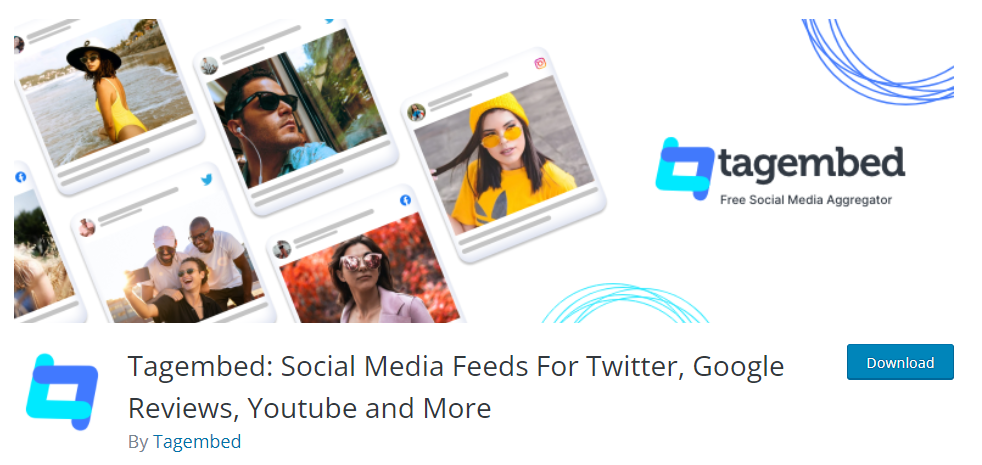 Tagembed is already a well-established social media aggregator that helps its users to collect and display social feeds on websites. It maintains its style and quality on WordPress plugin as it brings Facebook Feed WordPress Plugin. The plugin is easy to install and you can easily find it on the WordPress plugin store. Alongside Facebook it is also compatible with 18+ social media platforms, providing you with a huge variety of content to display on your website.
In addition, it provides a customization feature that helps you to personalize your widget as per your requirements. Here, you can change the font size, font style and more to showcase your artistic side. Also, you have multiple options as layout and themes; you can choose the one that matches the style of your website. All these measures help you to make your website more appealing and make it look more professional.
Moreover, it has a moderation feature that helps you to remove all the irrelevant and unwanted content from your website feed. Thus, it helps you to maintain the quality of your website and showcase the content related to your business. And with responsive feed, you can display the feed on any screen size. You get all this and more – Free of cost. Yes, you read it right. The plugin is free of cost and hence fits in any marketing budget.
2. 10Web Social Post Feed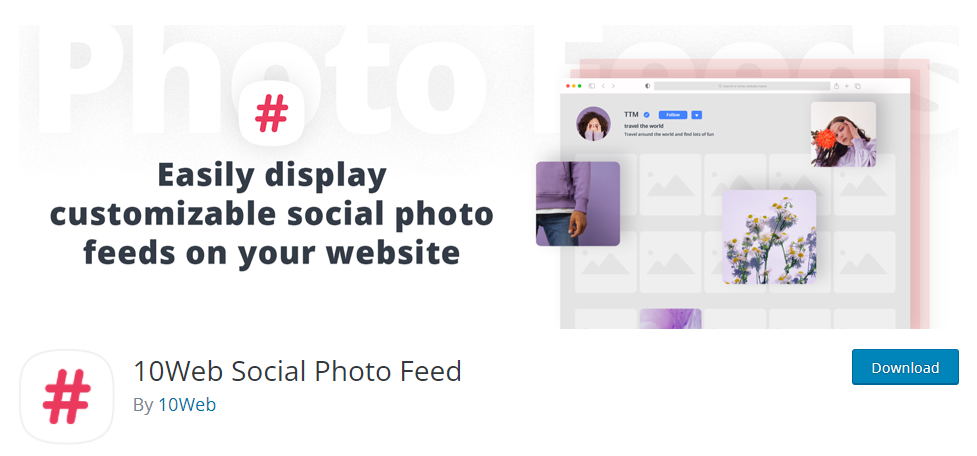 10Web Social Post Feed makes integration with Facebook easy. It allows a smooth embedding process that allows you to display Facebook feeds on your website. It is a powerful plugin that allows you to collect Facebook posts from your desired source and easily display them on your website.
As it is compatible with displaying all types of media, you can showcase specific photos, videos, statuses, and links on your website with ease. And as the photos and videos stream from the source, it does not affect the website's speed. You can even customize the feed as per your need and as per the style you want. It eventually helps you in increasing the charm of your website. There is no feed limitation; hence it helps to make your website more engaging for the users. And as your website will be more engaging, it will eventually increase the website traffic as more people would like to visit it. More traffic will result in better brand awareness and a strong search engine ranking.
3. Flow-Flow Social Feed Stream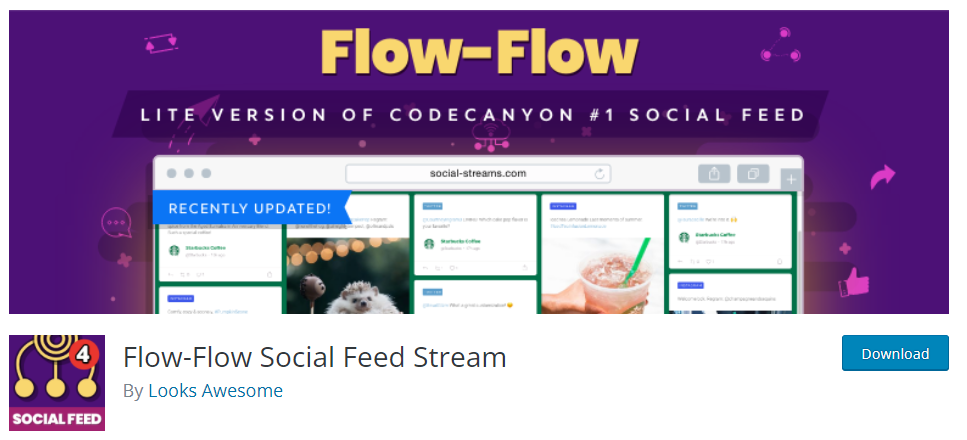 Flow-Flow Social Feed Stream provides you with various layout and theme that allows you to showcase your feed attractively. The responsive design helps you to display the feed on any screen without any hassle. Also, it provides a sharing button that increases user engagement on the website and eventually helps in enhancing the search engine ranking.
The user-friendly admin interface makes the embedding easy and assists you in operating the plugin like a pro. Moreover, the plugin also allows you to display social media counters like comments, likes, and views. It helps you to market your Facebook page and showcase your presence there. And with a rich design setting, you can bring an appeal to your widget and add a charm to your website.
4. Widget for Social Page Feeds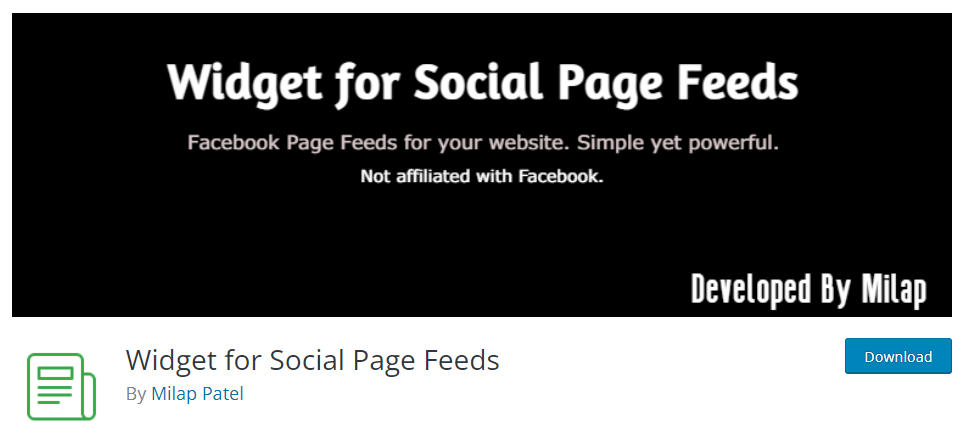 In this era where social media strength often determines a brand's reputation and quality, it becomes vital to develop social media handle awareness amongst the people. And this is where Widget for Social Page Feeds comes into play, and it helps you to embed Facebook feed without any hassle and provides a sneak into your social media presence to your visitors.
The plugin supports shortcode and makes your embedding process easy, and within a few steps, it makes your website more vibrant by adding Facebook feeds into it. Moreover, it provides you with authority to show/hide posts from your timeline. And even if you get stuck somewhere, the fast and helpful support resolves your issue with ease.
5. EmbedSocial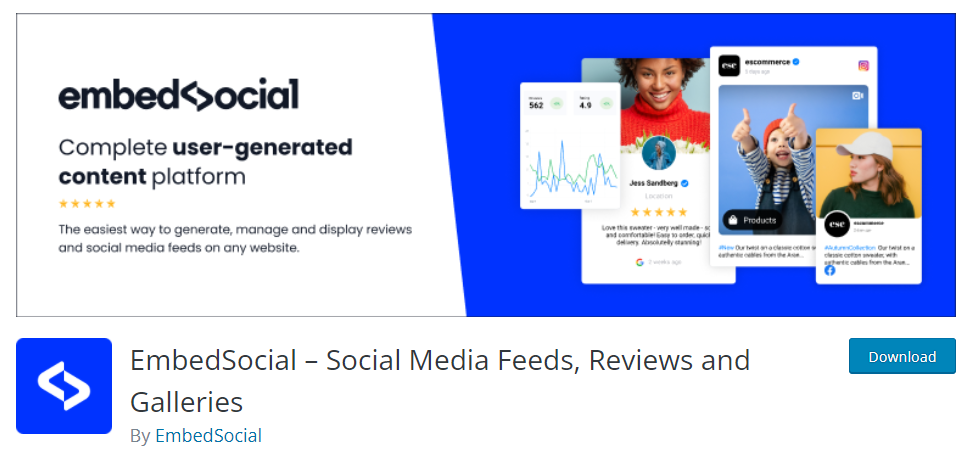 Embed social is another well-known social media aggregator that is quite popular in the market. It brings its WordPress plugin that helps users to compile social feeds from various social media platforms and then displays them on your website with ease. Moreover, the plugin saves tons of user time as, within just a few simple steps, it allows users to embed Facebook feed on the website.
EmbedSocial WordPress plugin is a coding-free tool. That means you don't need any technical background, coding knowledge, or skill to embed and run this plugin. Furthermore, you can win your visitors' trust by embedding social reviews on your website with the help of this tool.
6. Social Feeds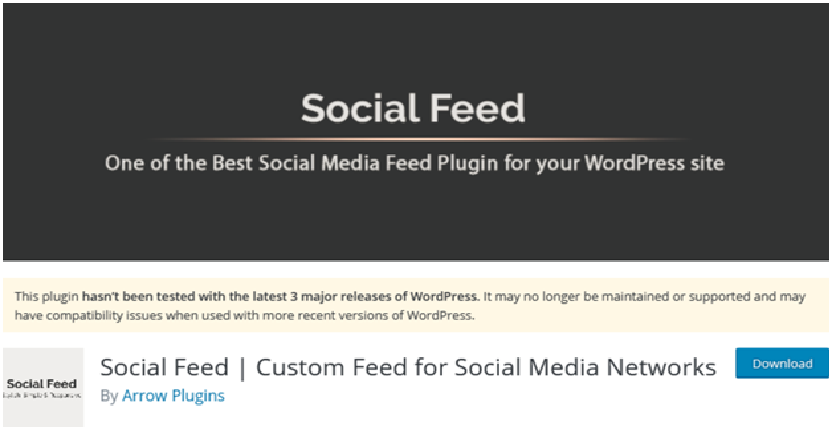 Social Feeds is a powerful plugin that helps you in displaying social media feeds on your website. It provides you the facility to choose Facebook as your source and allows you to showcase timeline/events/messages on your website.
Social Feeds WordPress plugin is very simple to use and maintain and does not require any coding knowledge. Moreover, it allows you to change the language option for Facebook. The plugin also allows you to display a Facebook like button, which eventually helps you increase likes and followers of your Facebook page. And as you will be displaying the feed from your Facebook page, so even if someone is unaware of your Facebook presence, he gets to know about it and has the option to follow you on the platform. We all know how important it is to have a strong social media presence as it helps to increase brand awareness and boosts reach beyond geographical boundaries.
In Conclusion
We all know Facebook has turned out to be a game-changer for businesses. As it has opened gates for smooth and effective marketing. You can stand out from the crowd by using the platform beyond its boundaries. And that is by opting to embed Facebook feed on WordPress websites. The plugins mentioned above provide you with a smooth embedding process, and also, as they are pocket friendly, they provide great ROI., so what are you waiting for? Try these plugins now.
Read More