4 Tips to Prepare for a Website Translation Project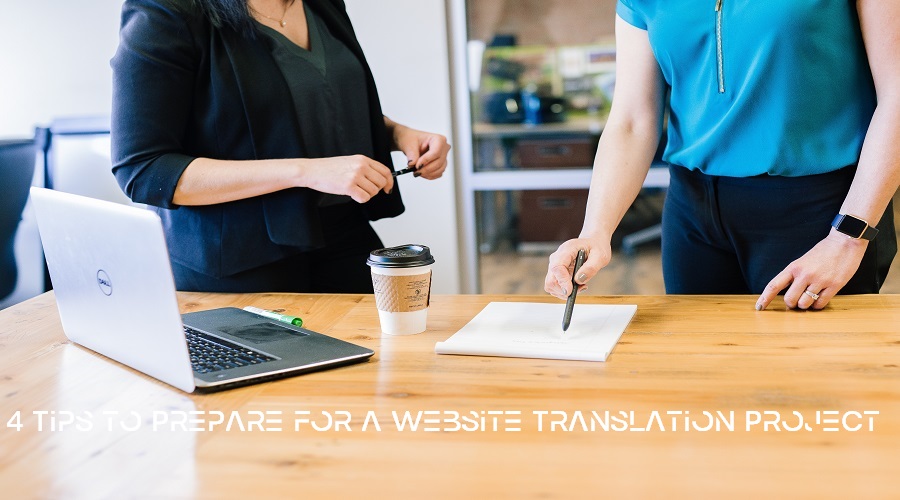 If you want to expand your business to international markets and serve global clients online, website translation is an absolute must in order to sustain the planned company growth. In that regard, translating your company's website is perhaps the single most cost-effective way to reach your prospective global customers and further expand your business overseas.
Put differently, if your business aspires to start selling products or services to international customers, translating your website is an absolute must, or you risk leaving money on the table, which is definitely something you genuinely want to avoid.
However, your approach to translating your website is extremely important—as it can make or break your business by either streamlining the entire translation project or creating time and money-consuming setbacks. So, appropriate planning and preparation should be an integral part of your website's international development and roll-out.
So, if you're buckling under the weight of the translation task ahead, fear not—website translation doesn't have to be a headache if you know what you're doing. If you're looking for the best way to kickstart your website translation project, here are our top four tips on preparing for the project and launching your multilingual website quickly.
Decide on the content you want to translate
———————————–
First things first, depending on your goals, check if it's necessary to translate all of your website content into the target language. For instance, if you're translating your website solely for branding purposes, you may have to translate the About Us, Home, Services, and Contact pages. Nevertheless, if you're translating an eCommerce store, you must translate everything, including your product descriptions, categories, and legal information pages.
Here are some of the most critical parts of your website that you might consider translating:
Services and products pages. It goes without saying that you'll need to make it easy for your international clients to understand how your company can help them in their everyday lives. These sorts of pages need creative translation and not only a literal one. Translating services and product pages is best when it's marketing-oriented and helps you sell your products or services.
Blog posts. To showcase that you're an expert in your industry, you will have at least to select a few staple articles from your existing website and have them translated. After all, blog posts exist to help you prove you understand the actual needs of the people you sell to, so consider translating your blog posts as well.
Cart and checkout page. If you're translating an eCommerce store, don't forget to translate your cart and checkout pages as well thoroughly. In fact, your business might see a high drop rate at the checkout page if it's not translated as well as it should be.
Go through your website translation options
———————————–
Next, for your international clients to use the translated copy of your website and decide whether they'll engage with your company or buy your products, you will have to ensure that the entire website translation project is good enough to help you achieve the desired goals. To do that, you have two options:
The first option is to hire a human translator to translate your website into the target language. Of course, if you decide to go with human translators, you have to ensure that they are native speakers of the target language and know the nuances of the language. However, hiring human translators is a pretty expensive option compared to the other option, even though it guarantees good-quality translation.
The second option you have is to go with a professional translation app, which is essentially an AI-powered software that supports the process of transferring the meaning of each sentence from one language to another. As a matter of fact, such software solutions have quickly revolutionized how companies translate their content and manage their translation projects. If you decide to use professional translation software for your project, the whole translation process is going to be much more effective and efficient by providing you and your team with a centralized platform where you can oversee each aspect of the process with ease.
Don't forget to optimize your translated content
———————————–
Next, if your comprehensive marketing strategy incorporates attracting international clients through search engine optimization or SEO, you will need to prepare for that after translating your website content. Here are some essential tips to keep in mind to translate your website content into your target language with SEO in mind:
Create a list of the main keywords for your products or services. For instance, if you sell air conditioning systems for facilities, consider targeting keywords like "air conditioning systems" or "AC systems" in the target language. Any SEO expert would agree that your main keywords should be closely related to your line of work or the services you offer.
Find target keywords with enough volume. From there, you should consult with your team and find the matching keywords you developed in their native languages that have enough volume. For instance, a keyword in English may have two correct translations in the target language, one with a monthly search volume of 90 and the other with 3100. It goes without saying that you should target the second one.
Translate your meta tags. You will need to translate your meta tags, like titles and description pages. Instead of literal translations, always use creative ones that best convey your message.
Specify which of your media will require translation as well
———————————–
In all likelihood, your website doesn't only contain text, but it also contains pictures, downloadable PDF files, charts, videos, and other materials that may or may not demand translation and corresponding re-designing. To do that, you may consider implementing things like removing the printed text from an image to enable greater flexibility and adding the text below the image in the target language. So, because your website probably doesn't only consist of textual content don't forget to prepare for this part early in the process as well.
Final words
As you can tell, the website translation process can be a tricky task or an easy one, depending on how well you prepare your team beforehand. Everything depends on planning ahead and knowing your objectives for translating your website before you even type a word. Good luck!