Boost Your Sales with the Most Up-to-Date Mobile App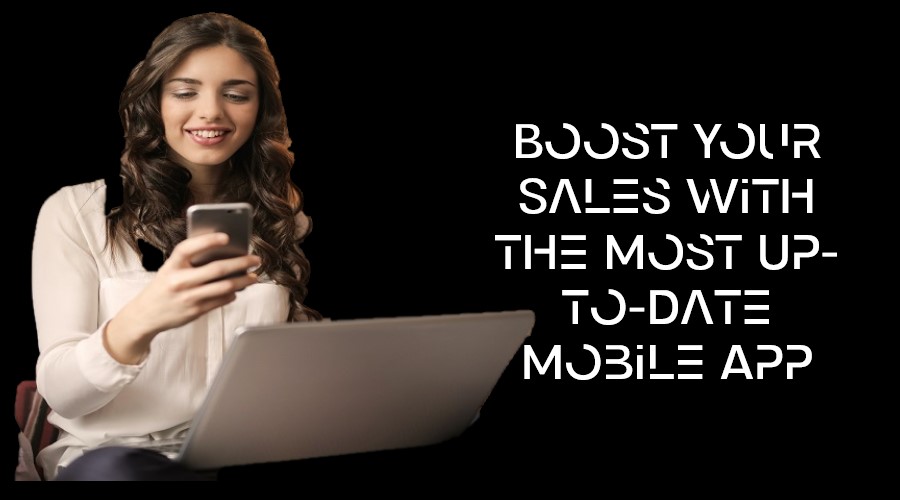 Not getting enough sales for your business and you have stagnated revenue? Using a variety of marketing techniques but still no luck? It is now high time that you should explore the potential of mobile applications. In the current tech era, where nearly 3.5 billion people have a smartphone, building a mobile app can bring a revolutionary change to your business. However the app is not only the solution, you should ensure that your application is always up-to-date, user-friendly, and engaging.
In this article, we will look into some of the tried and tested strategies and current trends that would help you to boost your sales with a mobile app. By amalgamating some of the advanced technology like machine learning and AI you can provide some gamification and personalize the users. So if you are ready to take your sales to the next level with an up-to-date mobile application, let's get started.
Top 6 Tips to Follow to boost your sales with the most up-to-date mobile application.
 ————————————
Amalgamation with Machine learning and AI
If you have a simple mobile application and add some AI algorithm to it then it can make your app analyze all the information from different social media activities and provide recommendations to the users. With the help of a Machine learning algorithm, you would be able to know the answers to the questions like who are your customers, what they like to have, which features most of the time, and which products or services they can afford.
Using all this information, you would be able to categorize customer behaviors and use that for target marketing campaigns. Some of the great examples where AI and ML are used are as follows.
Taco Bell: Taco Bell has integrated a TacoBot with their application that takes orders, answers the questions of the users, and recommends their favorite food items.

Uber makes use of ML to provide the estimated cost and time of arrival of the driver to its users.

ImpromopDO is a time management application that helps you to prioritize and complete tasks as per the to-do list.
Offering a Personalized User Experience
A personalized user experience in the mobile application allows it to recommend products and services based on the user's preferences, demographics, and behavior. The reason why personalization is quite important is that it offers a lot of use cases like overall satisfaction, customer retention, and user engagement by delivering custom features, content, and recommendations as per the user's choice.
Mobile app personalization is quite important as it can enhance the overall user experience and make them spend a lot of time on the application. This turns out to be quite advantageous as users always prefer to come back to the app in the future and be your brand's loyal customers. Overall more and more people would get a proper understanding of your business, and they would always be ready to recommend your applications to others and return whenever they want to.
Gamification
Making the user interface and experience gamified can help you to increase user engagement and generate more revenue by reaching out to potential audiences. With the help of gamification, your application can create curiosity among the users so they can always move forward and work hard to earn rewards. By having a scoreboard of achievements, users can encourage players to compare their results with others and accomplish more.
Last but not least it can give full control to users by giving them complete freedom to choose what milestone they would want to achieve next. A Top Mobile App Development Company now integrates gamification with the applications by creating scoreboards, in-game currency, points, performance charts, levels, and badges. A few of the best examples that have integrated games with their mobile apps are Cred, Google Game services, Apple's Game Center, Amazon Game Circle, and a lot more. Moreover one should ensure that they should try to add gamification in such a way that it engages and retains more users.
Streamlining the Checkout process
Imagine customers going through the process of buying a service or a product from your application but the overall checkout process is too difficult to use. Having not a proper checkout process can lead customers to close the app and buy it from somewhere. Hence it is quite essential to optimize the checkout experience to make it more smooth and more seamless.
Some of the ways through which you can improvise your checkout process are as follows.
You can add a small add-to-cart button that can allow people to add a product or service to the cart.

After the product is added to the cart, you can either keep them on the same page or take them to a new page where they can get a complete understanding of the final cost, and quantity. You must add CTAs and provide the information on return and shipping.

Next comes the confirmation and payment options. The payment option should provide multiple options for the users to make payments. Here one should add some elements to show the app's security like badges and certificates.
Following these tips can make the overall checkout process quite streamlined.
Cross-Platform Compatibility
Cross-platform applications offer millions of opportunities and zillions of benefits. With cross-platform compatibility, it is possible to make your app used on several devices such as iPads, iPhones, Desktops, Macs, and Android phones. The user would get a similar UI and UX of the application. For the developers, it saves a lot of time as they don't need to spend making applications separately for multiple devices. They can use the same code to deploy it on any operating system. Moreover, the time to market is quite faster due to this.
However the development cycle is not quite straightforward, as there can be inevitable bug fixes and improvements but with cross-platform app development, you have only one codebase on which you need to put all your focus. So overall from the perspective of a developer, it makes development quite faster, for the customers it brings satisfaction and uniformity in the user experience and last but not least businesses can save a lot of cost and resources by developing cross-platform compatible applications.
User feedback and up-to-date with the latest trends.
Another important tip is to always ensure that the development team is up to date with the latest tools and technologies in your field. They can read industry publications, and attend conferences or webinars to understand more about the industry. By following this tip, developers would be able to integrate some of the latest design trends, features, and technologies into applications that will make them quite attractive in the market.
Also with the help of user feedback, they can make changes and keep the application up to date. By regularly analyzing customer feedback you can identify the areas for improvements that you can resolve to enhance the overall user experience. A few ways to take customer feedback is through integrating feedback forms in the application or sending surveys regularly through email lists.
Conclusion
We can conclude that by incorporating mobile applications into your business and following some of the important tips discussed above you can always reach out to more audiences and generate more revenue. Leveraging some deep tech technologies like machine learning and AI, personalized user experience, streamlined checkout process, and a lot more can help you to create an up-to-date and efficient mobile application that can move you ahead of your competitors.
However building a mobile application is just a first step, to make your application effective and a great success it is important to make sure your application is always up-to-date and user-friendly. By following the above-mentioned tips in the article, you can boost your sales and take your business to the next level.