Keyword Density: Does It Still Matter For SEO?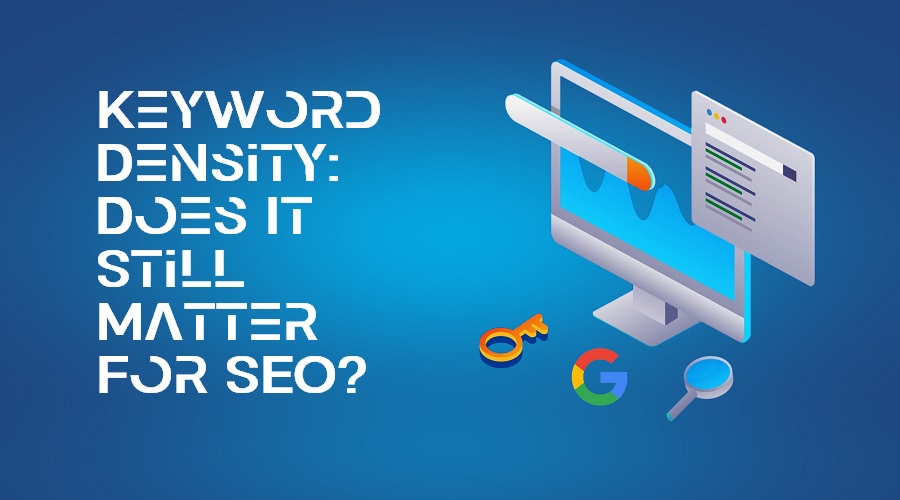 What Is Keyword Density?
——————————–
Keyword Density, also known as Keyword Frequency, can be defined as the percentage of a keyword or phrase the number of times that appears on a website compared to the total number of words present on the webpage.
Let's talk in the context of Search Engine Optimization (SEO). Keyword density can be used by developers or website owners to determine whether a website is relevant for a specific keyword phrase or just a keyword.
Let's take an example if a keyword in a web page appeared 20 times in a thousand-word article; then your keyword density would be two percent.
To calculate your keyword density, the simple thing that you have to do is divide and multiply. You have to divide how many times your keyword appears in the article by the total word count of the article and then multiply it by 100.
The association of the calculation of keyword density with search engine optimization (SEO) has been lengthy.
In the past, search bots in the search engine analyzed keyword content and its density to decide if a website was relevant to a user's query in search. This has made it a crucial consideration for brands who are looking to drive traffic toward their web presence and their product and build awareness of the brand through search engines.
In recent years, digital marketing has been at its peak level because of the digital era that is going on in the world. Keyword density and search engine optimization (SEO) come under digital marketing aspects.
If you are curious to learn digital marketing, you can join The Thought Tree (T3), as it provides a top-rated digital marketing course at a discount fee level with a course completion certificate at the end of the course.
The Thought Tree also provides one-to-one guidance from expert and experienced faculty members to their students so they can quickly clear their doubts and queries.
They offer both offline and online classes so that students who can't attend offline lectures can attend online lectures and learn digital marketing by lesser investing in the fees than other courses offered by other institutes.
For further detail, you can take a digital marketing course.
History Of Keyword Density
——————————–
Have you ever thought about where this keyword density came from? Let's start with the Google search. Before that, keyword density was a search result integral part. Google used keyword density to understand the content of a web page and what search queries of users it could help answer. You can search for "beautiful black shirts," and the sites with the most references to "beautiful black shirts" will appear on the first page of the search results, simple.
But then the role of the Search Engine Optimization (SEO) strategist turned to take shape in the upcoming time. As businesses and brands started to understand the value of having their website displayed on the first page and the first few links to the web pages related to the search query of Google's search results, they turned to Search Engine Optimization (SEO) strategists to help them achieve this thing.
These SEO experts know all about the importance and cruciality of keyword density in web pages. They started finding ways to increase it by creating content for Google search crawlers instead of website users.
Is Keyword Density A Ranking Factor?
——————————–
There are many different claims about keyword density as a factor of ranking in Google's search engine. Unlike myths of other ranking factors, keyword density is based on reality – keyword density is used to be a reality. But here we're talking about its research in the early years.
However, the idea is to go on today. For what? The thought goes this way:
Keywords in the articles send signals to Google about the types of queries a web page should appear on. If you use too few keywords in your article, there are chances that Google may not understand what the web page or article is about.
If you have been using too many keywords in a web page or article, it will cause Google to see it as an attempt to manipulate search engines for rankings, which Google and their search engines do not prefer.
So some people think having a particular keyword density is "right" – a satisfying means between using too many and too few keywords on a web page or in an article.
Although, there is no magic number that achieves the best results in this for everyone. That's not how Google actually and exactly works today. The truth behind this is pretty simple: keyword usage is crucial, but hitting a certain percentage won't help your Search Engine Optimization (SEO) efforts.
For a website or content in an article, a search engine can rank a web page on the first page of the user's searches for a keyword even if that keyword never appears on that site or in the content written in the article. This almost instantly wipes out the entire picture of ​​keyword density.
Keyword Density Still Matters For SEO?
——————————–
To answer the question on everyone's mind whether keyword density still serves as a ranking factor for search engines like Google, let's take a look at an official Google video from the year 2011, which is as accurate as it is today.
Google's video features Matt Cutts, who is Google's employee and worked with Google from the year 2000 to 2015. He leads Google's web anti-spam team and presents as a liaison between the company, business, or brand and the search engine optimization (SEO) community.
Matt Cutts confirms that for Google, there is no ideal keyword density. He says that overusing a keyword in a web page or an article can do more harm than good. Mentioning a keyword on a web page multiple times can help with rankings, but mentioning it too much can cause Google to consider keyword stuffing which is inappropriate.
The question that arises next is if the keyword density is not a ranking factor, then what is the correct use of keywords?
Once you've identified the keywords you want to use in your website or article, Matt Cutts proposes writing long enough content in your article to naturally integrate those keywords into the content written in the article. The best thing you can do to test the naturalness of words on a website or content in the article is to read the text aloud when you are done writing and listen for anything that sounds out of place or out of the ordinary in your written content.
If the content seems fake, rigid, or like it was written by a bot, it's a reasonable sign that the keyword has been used too many times, which is called keyword stuffing. On the contrary, if reading feels natural, you will be on the proper path.
Using synonyms whenever possible in the article can help you as a developer or web page owner to avoid using the same keywords over and over again and make your content written in the article sound natural to the readers. Let's take an example; in this text, we can replace Keyword Density with Keyword Frequency or Keyword Frequency with Keyword Density.
Synonyms are also the best method to grab a reader's attention, and they can even help rank other terms on the search engine.
Google's search engine is capable of understanding synonyms used in the web pages, which indicates that a web page may rank when it cannot be optimized or is not optimized for the exact term entered in the search bar of the search engine by the user.
Practices That Are Best For Keyword Density
——————————–
However, many consider that keyword density is now no longer a type of ranking factor, as SEO experts still recommend sticking to some of the best practices while you are writing your content.
These practices are mentioned in detail below in points:
1. Never Stick For Aiming For Any Specific Keyword Density:
There is no optimal keyword density, and many recommend not to aim for keyword density. It won't really help you to rank on search engines. In fact, it is more likely that it will have the opposite effect on your web page.
Indeed, Google's search engine views artificially adding keywords to a page, a method known as "keyword stuffing," which is a method of attempting to manipulate the algorithm to the detriment of the experience of the user. And as we all know, Google focuses mainly on user experience.
2. Instead, Focus On Coverage Of The Topic:
It is a fact that Google or Google's search engine may not look at keyword density anymore in this era, but it is looking at topic relevance. Rather than adding your target keywords over and over again in your content on the web page, keep your focus on covering the topic in your content as fully as possible. This means that you should include subtopics that searchers or users are likely to see or read.
To come up with ideas for subtopics, get inspired by what's been categorized and listed already on Google. Google your target keyword, open some top-ranking pages, go through each one, and look for popular subheadings that will help you come up with an idea for your content.
3. Including Keywords Only In Key Places:
While you shouldn't include too many keywords in your content, you should include your main keyword in a few places that are prominent. Some examples of prominent places are given below:
(i)Title tag
(ii)H1
(iii)URL
(iv)Meta description
Although there's a crucial caveat here in all of the above prominent places, you should only include the keyword in your content or on these prominent places mentioned above only if it feels natural to you while reading it aloud.
Don't corner the keyword just for fun or think it will work out well. Also, don't be afraid to use approximate variations of the keyword if that makes more sense while reading it aloud when you are done writing.