Pega: Transforming the Way Companies Do Business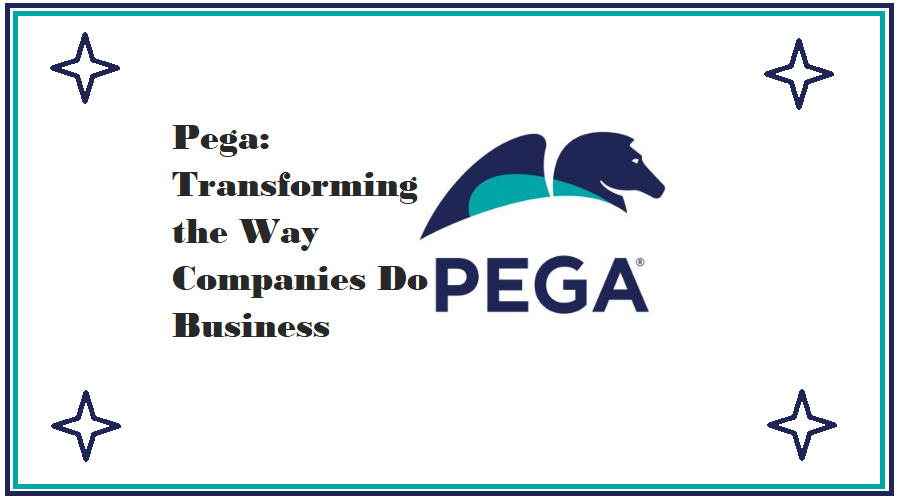 Pega is a revolutionary technology that is transforming the way companies do business. This powerful platform offers businesses a suite of enterprise-level tools to help them reach their goals and stay competitive in today's marketplace. With Pega, businesses can quickly develop robust applications that help automate processes, improve customer experience, and maximise efficiency. The platform has been successfully implemented across many industries and is helping companies to achieve their digital transformation objectives.
What is Pega?
———————————-
Pega is a software company that provides customer engagement solutions to businesses. With its AI-powered platform, Pega helps companies automate their processes and improve their customer experience. The company offers a suite of products and services that enable businesses to streamline their operations, increase efficiency, and reduce costs.
Pega's platform is built on top of its flagship product, the Pega Platform, which allows companies to develop custom applications with minimal coding. This means that businesses can easily create applications tailored specifically to their needs without hiring additional developers or investing in expensive infrastructure.
In addition to the Pega Platform, the company also offers several other products such as Pega Customer Service, Pega Marketing Automation, and Pega Robotic Automation. These products help companies optimise their customer service operations, personalise marketing campaigns for individual customers, and automate repetitive tasks using software robots respectively. Overall, Pega's suite of offerings enables companies to transform the way they do business by providing them with tools that enhance their operational agility and enable them to deliver superior customer experiences at scale.
Learn Pega Training to improve your job prospects!
How Pega Transforms Business
———————————-
Pega is a powerful tool that transforms the way companies do business by automating their operational processes. With Pega, businesses can streamline their workflows, reduce manual intervention and increase operational efficiency. Pega's low-code platform allows businesses to implement automation quickly without the need for extensive coding knowledge.
Pega's intelligent automation capabilities ensure that businesses have access to relevant data in real-time, enabling them to make informed decisions based on current market trends. This helps organisations stay ahead of competition by providing an edge when it comes to decision-making. Moreover, Pega provides predictive analytics capabilities which forecast future business outcomes based on historical data patterns.
In addition to this, Pega also helps organisations maintain compliance with regulatory requirements such as GDPR and CCPA. The platform offers comprehensive security features that keep sensitive data secure while ensuring compliance with industry-specific regulations. By leveraging these capabilities of Pega, organisations can transform their operations and achieve better business outcomes in the long run.
Benefits of Using Pega
———————————-
Pega is a go-to software for businesses looking to automate their operations and streamline workflows. The platform offers numerous benefits that can help companies achieve more significant outcomes, including increased productivity, reduced costs, enhanced customer experiences, and improved compliance. With Pega's low-code approach to application development, businesses can create custom solutions tailored to their specific needs without the need for extensive coding skills or IT support.
One of the most significant advantages of using Pega is its ability to enhance operational efficiency by automating repetitive tasks and streamlining workflows. By automating mundane tasks, employees can focus on high-value activities that drive business growth. Pega also provides real-time data insights that enable businesses to make informed decisions quickly. This functionality leads to faster resolution times and helps companies stay ahead of competitors.
Another key benefit of Pega is its ability to improve the customer experience. The platform empowers organisations with tools such as AI-enabled chatbots that provide 24/7 support services for customers while reducing wait times significantly. Additionally, Pega's personalised marketing automation enables businesses to deliver targeted messaging based on customer preferences and behaviours in real-time, improving engagement rates and conversion rates alike.
Applications of Pega
———————————-
Pega is a powerful platform that has transformed the way companies do business. One of its primary applications is in customer service operations, where it helps to streamline and automate processes, reducing wait times and increasing satisfaction rates. With Pega, companies can create personalised experiences for their customers through intelligent routing of requests and real-time analytics.
Another application of Pega is in sales automation. It helps sales teams by providing them with real-time insights into customer behaviour and preferences, which they can use to personalise their interactions with customers. This leads to better conversions and increased revenue for the company.
Pega's capabilities also extend to marketing automation, helping organisations to optimise their marketing campaigns by creating targeted messaging based on customer data. It enables businesses to measure the success of their campaigns through analytics that track engagement levels across different channels.
Overall, Pega offers a range of applications that help businesses transform their operations by leveraging advanced technologies such as artificial intelligence (AI), machine learning (ML), and robotic process automation (RPA). Its ability to automate processes, provide real-time insights into customer behaviour, and improve overall efficiency makes it an essential tool for modern-day organisations looking to stay ahead of the competition.
Challenges of Implementing Pega
———————————-
Implementing Pega can be a complex and challenging process for many companies. One of the primary challenges is the need for extensive customization to ensure it aligns with business requirements. Pega's flexibility means that it can be customised to fit almost any business model, but this also means that there may not be a one-size-fits-all solution, which can lead to lengthy implementation timelines.
Another challenge of implementing Pega is the need for specialised skills and knowledge. Because Pega is a highly sophisticated platform, it requires trained professionals who understand its complexities deeply. This can sometimes lead to high costs associated with hiring skilled individuals or outsourcing development work.
Lastly, integrating Pega into existing systems can also pose significant challenges as some organisations have legacy systems that are incompatible with newer technologies like Pega. This integration may require additional resources and time investment, leading to further setbacks in the implementation timeline. Despite these challenges, once implemented correctly, Pega has proven to transform companies' business processes and significantly improve their operations' efficiency and effectiveness.
Enhance Customer Experience
———————————-
One of the keys to success in today's business landscape is to give customers an exceptional experience. This is particularly true in a world where there are so many different options available to consumers that they can easily switch brands if they are not satisfied. Fortunately, modern technology has made it easier than ever for businesses to create truly transformative customer experiences that set them apart from the competition.
The first step towards enhancing customer experience is to listen carefully to what your customers have to say. By gathering feedback through surveys, social media, and other channels, you can gain valuable insights into what your customers really want and need from your brand. Armed with this information, you can make targeted improvements that address their pain points and help build stronger relationships with your audience.
Another effective way of enhancing customer experience is by leveraging automation technologies like chatbots and AI-powered personalization engines. These tools enable businesses to provide personalised experiences at scale while also freeing up teams to focus on more complex tasks like problem-solving or building deeper relationships with high-value clients. Ultimately, these technologies allow companies to deliver faster, more efficient service while still providing a human touch that keeps customers coming back for more.
Future Opportunities
———————————-
One of the most promising future opportunities that companies can leverage is the adoption of Pega's transformative technology. By utilising Pega's platform, businesses can seamlessly automate their operations and reduce costs while improving customer satisfaction rates. This means that companies can use Pega to build intelligent systems that will enable them to better serve their customers, accelerate growth, and increase profitability.
Another opportunity for companies lies in adopting a more flexible approach to work through remote collaboration tools. The COVID-19 pandemic has accelerated this trend, but it is likely here to stay even after the pandemic subsides. Remote collaboration tools like Zoom, Slack, and Asana allow teams to work together from anywhere in the world with ease. Companies that embrace this new way of working will be able to tap into a global talent pool and reduce overhead costs associated with maintaining physical offices.
Finally, another future opportunity for companies is embracing sustainability as part of their core values. Consumers today are increasingly conscious about environmentally-friendly products and services. Therefore, businesses must take steps towards reducing their carbon footprint by implementing green practices across all aspects of their operations. This includes sourcing materials sustainably, reducing waste production through recycling initiatives or digitization efforts like electronic documents rather than paper-based ones – all while communicating these efforts transparently to customers who prioritise environmental responsibility when making purchasing decisions.
Cost Savings & ROI
———————————-
One of the key benefits of implementing Pega's technology solutions is the potential for cost savings and return on investment (ROI). By streamlining business processes and automating repetitive tasks, companies can reduce manual labour costs and improve operational efficiency. Additionally, Pega's real-time analytics capabilities enable businesses to identify areas where they can cut costs or make strategic investments.
For example, a financial services company that implemented Pega's customer service solution reduced call handle times by 25%, resulting in significant savings in labour costs. Another company saw an ROI of over 200% after implementing Pega's marketing automation solution, which enabled them to target customers more effectively and efficiently.
Overall, investing in Pega's technology solutions can not only transform the way companies do business but also provide substantial cost savings and ROI.
Conclusion: Improved Efficiency
In conclusion, Pega has been instrumental in improving efficiency across various industries. By streamlining and automating repetitive tasks and processes, businesses have seen a significant reduction in the time it takes to complete tasks. This not only saves time but also reduces costs associated with labour expenses.
Furthermore, with Pega's ability to provide real-time insights and analytics, companies can make data-driven decisions that lead to better outcomes. The platform's intelligent automation capabilities eliminate the need for manual intervention, thereby reducing errors and increasing accuracy.
Overall, Pega is transforming the way companies do business by providing them with a powerful tool that improves efficiency across all levels of their organisation. With its ability to integrate seamlessly into existing systems and processes, businesses can achieve optimal performance while minimising disruption.