The Impact of Schemas on Your Digital Business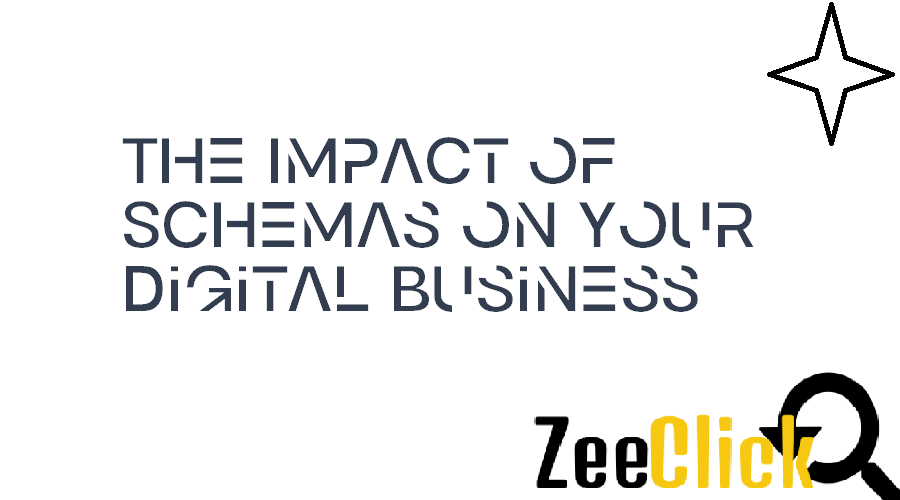 Schema mark-up was introduced in June, 2011. These are evolved to help search engines understand the structured microdata of the website. If you have it designed for your website, search engines better discover your business, and thereby, use it to create an enriched description of your business that you can see in search results. This enriched detail is called rich snippet.
The key role of schemas in SEO for digital business is to portray your business and define how it can interact with customers and the entire world. You can call it a logical framework that supports a business to interpret and organize information that it wants to pass out and influence people. Typically, these schemas are excellent.
If you consider it in the context of a business, it can make you rich of insights of customers, employees, organization or whosoever is concerned. Let's discover how schemas impact a business.
The Impact of Schema Designs on a Digital Business
—————————————-
1. User-Friendly Experience
For a local business, it's a boon to have a schema. It helps in attracting potential customers that have the needs resonating with what you offer. As aforementioned, it carries the microdata of the website in which potential users are interested to find the valuable details quickly instead of searching through the whole website.
Its micro content is a plus to easily find details in a lightning fast speed. So, you as a business owner can be in the win-win situation by offering winning details of your business.
2. Evolutionary Search
The advent of AI or artificial technology has made it a must to look for an advanced search option. But how to search a variety of data that are in different formats – this is a big question.
Here, the searches via Google Lens, videos, and voice have made it way easier. But to know if the content or video is there, Search Engine Optimization experts smartly integrate a schema mark-up or structured data design and solve this problem for Google, Bing, or Yahoo.
With it, search engine bots easily tap the contents on a page and relate them to their knowledge graph. Overall, this micro data bridge the gap between business offerings and customers. The search crawlers clearly understand what the business is all about via it. Hence, it becomes ready to respond bots that find relevancy against corresponding queries.
3. Brands Achieve Visibility
However, brands achieve visibility through bots that crawl into and find the content to relate with customers queries. This discovery helps search engines to understand what it refers to. Once understood, the business offerings become crystal clear to customers. A knowledge graph is an outcome of this integration, which helps in recognizing them to Google. It creates clearer visibility. This happens when you integrate an appropriate schema. For it, a digital marketing services provider can help. In the meanwhile, understand how it can happen:
Decide which schema markup is the best fit for the content on the website. This may include markup for products, articles, local businesses, or events.
Once selected, add it to the website code. This may involve adding code to the HTML header or to individual pages on the website.
Once integrated, use a schema testing tool to ensure that it has been added correctly and is functioning as intended. Google's Structured Data Testing Tool is a commonly used tool for testing it.
Monitor website performance after integrating schema markup to determine if it has led to any improvements in search engine visibility or click-through rates. This can help identify any areas where further optimization may be needed.
Regularly update it as needed to ensure that it accurately reflects the content on the website and complies with any changes in schema standards.
Schema markup is significant in the world of digital marketing. All leading search engines, including Google, Bing, and Yahoo, discovered that delivering user-friendly is the need of the hour that can be achievable via well-structured data. With schema, it   became possible and hence, turned out the best user experience definerss. By utilizing schema, online businesses can create a more user-friendly experience that will benefit your business.
A customer seeks concrete and valid information when they see specific details in a knowledge graph. Schemas make it easier by influencing customers. They see, read, understand, and perceive a business. These all steps define if the customer is interested or disinterested in engaging with your offerings.
Let's consider an example that has two aspects – the good and the bad. If you consider the good side, schema helps a sophisticated customer that is fond of luxurious brands and exceptional services. No matter if the product or service is pricey (from a reputed company/brand). He or she will engage with and pay out for it.
On the flip side, the rich snippet can disclose dark sides of brands also, which can create disinterest in customers, and they will be less likely to prefer it.
According to a survey by Edelman, 81% of consumers say that trust in a brand is a key factor in their purchase decision.
Apple, for example, is such a brand that is popular for being innovative in design and quality product. Over the internet, these schemas have a big role in building its reputation and hence, creating awareness about this premium brand. It helps customers to attract and pay even more for this product.
4. Encourage Click-Through Rates
Schemas can be used to provide additional information to search engines, such as reviews, ratings, and prices. With these details, the search result snippets can be generated to automatically show in searches on SERPs. It encourages users to see and click, which eventually increases click-through rates.
5. Better User Experience
The microdata can help users to get deep into detailed overview of relevant information. It can be related to products or services, or anything that you deal into. On finding crucial details, users become able to make more informed decisions.
6. Increased Credibility
Establishing credibility and trust is not easy. Fortunately, Schema mark-up is there to make it happen effortlessly.
Apart from finding crucial details about a business, users can find concrete and unbiased details of offerings, which enables them to make a more informed decision.
In addition, there are some schemas that display reviews and ratings in search engine results. These testimonies directly come from real-time users, which helps the business to set up its credibility. Simply put, these unbiased opinions become a social proof to show how good the offerings are in terms of quality.
Getting incomplete information becomes a big struggle for intended users. Thankfully, schemas provide a scope to feed additional information with the offers, which users find vital. This effort can actually convince them to click through to the website and make a purchase.
7. Consistency and Well-Organized Website
These structured data appear in a standardized format. SEO experts know how crucial it is to present information in a comprehensive way so that the website looks more organized, consistent, and appealing.
Additionally, these markups help online businesses to perform better. Because these microdata enhance the understanding of search engines, it impacts the ranking and visibility of that online business.
8. Competitive Advantage
With structured microdata, any business owners can stand apart from competitors. It is simply because of the relevant details displaying on SERPs.
Since it's typically for search engines to comprehend the business details, its integration does not help in winning a competitive edge actively. But indirectly, it helps the website to standout by offering an extra dose of crucial details into offerings, which your competitors may not be displaying. The more specific you input, the more advantageous it is to generate brand awareness.
In simple words, it can help businesses to win the attention of prospects. It certainly takes the visibility of the online business to the next level and potential customers notice it to purchase or invest later. If the reviews are there, it increases the chances of getting more clicks. And for sure, these clicks improve brand recognition & visibility.
As authentic reviews and ratings are being served via it, users feel more connected and satisfied. It deeply impacts and helps the brand build long term connections with customers.
Schemas can help businesses track website performance and user behaviour more effectively by providing more detailed information about the content on the website. This can help the business optimize its website and marketing efforts, giving it an advantage over competitors.
Conclusion
Schema markup is helpful to a business in several ways. First, it helps search engines better understand the content on a website, which can improve the website's visibility in search results. This, in turn, can lead to increased traffic and potential customers. Second, it can enhance the appearance of search results by including rich snippets, such as reviews, ratings, and images, which can make a business stand out and attract more clicks. Third, it can also improve the user experience by providing more detailed and relevant information about a business, such as its address, phone number, and hours of operation. Overall, it can help businesses improve their online presence, attract more customers, and ultimately drive more revenue.