Top B2B eCommerce Platforms in 2022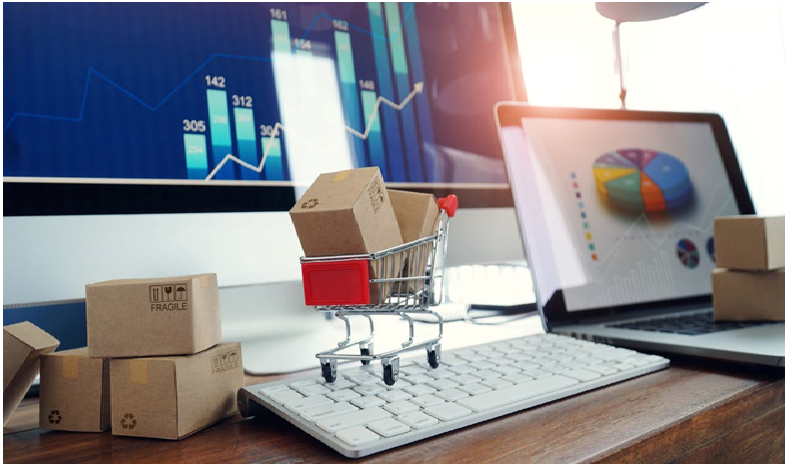 Online business has taken over the world since the improvements in advanced technology in the past few years. One such example is of B2b platforms that have brought all the buyers, sellers, wholesalers, and traders on one big platform.Many businesses are seeking B2B platforms that provide opportunities to showcase their businesses which will be beneficial for them and will add to their growth.
B2B business refers to transactions between eCommerce businesses. Many small and large business companies try to sell their services through these B2B platforms. It helps them attain huge revenue in a very effective manner.
Let us look at some of the best B2B platforms for 2022 that will help businesses grow.
Amazon

Amazon is also the most famous B2B exchange that has an excellent user interface. It allows filters to minimize the time in searching for the products required by the users. The products are placed in alphabetical form. It started as a bookselling store but now it has every product available. The reach of the platform is huge which can be understood by the fact that it has 100 million subscribers. The products include those from skincare, clothes, fitness, health, books, etc. It offers multiple payment methods, easy checkout, and a wide range of products that make it a prominent B2B platform.
Alibaba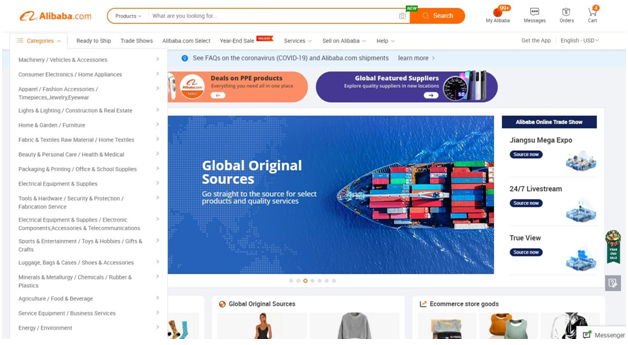 Alibaba is a big name in the industry as it promotes authentic businesses through its platform. There is a big range of products and categories and it includes everything from clothes, crockery, furniture, edibles and even needles. The products are quite affordable and as it is a Chinese platform so the prices are quite cheap. The products have a description that provides ease to the customer and the navigation of the site is also very easy. Moreover, it has 35 million users and countries including Russia, Germany, UK, are the potential buyers of Alibaba. The range of buyers and sellers is also huge with up to 160 million buyers and 60 billion sellers.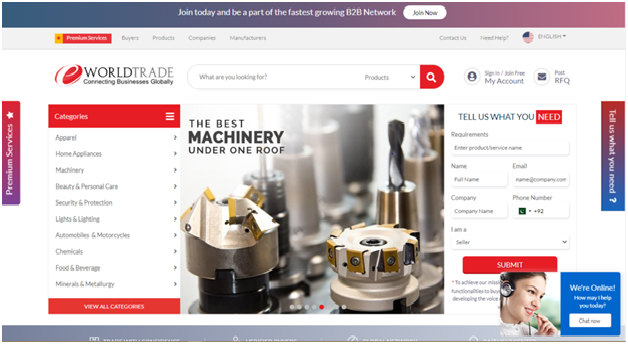 eworldtrade is referred as the fastest-growing B2B platform that brings all the reliable and authentic business in one place. The user interface and the navigation of the site is very easy with integrated chatbots that adds to its attractiveness. The product range is very wide with almost 40 categories. The size of the platform could be understood by the fact that it has 5 million users present online. It has created a benchmark in the world of b2b eCommerce business.
Shopify Plus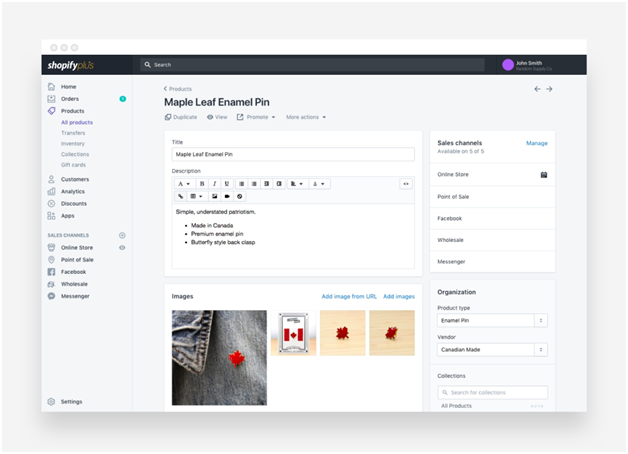 It is a 2B2B platform by Shopify that has 1 million websites. The most amazing thing about it is that it supports all international currencies and languages. Many famous brands use Shopify plus for growing their businesses even wider. It caters to 5300 stores and different businesses are run by merchants in 175 countries. Moreover, it has excellent features like CRM and ERP and It also provides a customized buying experience to its users. It makes pages that include FAQs, policies, and templates about a brand. It not only provides 24/7 customer support but also reviews automated account sign-ups. It provides the option of quick online checkout and also provides the option for reviewing orders before invoicing. All these exceptional services could be availed around the clock.
Global Sources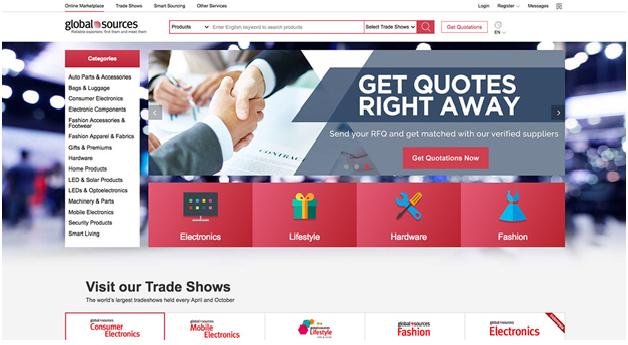 Global sources are another good B2B platform that provides a simple and attractive user interface that has reached 1.9 million international buyers. The quality of the products available on this platform is very good. The products are showcased in a very attractive manner and the gallery includes HD pictures. The ordering procedure is very simple and the navigation is also very easy. It has an advanced e-cart that provides an ease to the customers in finding a product. The international standard is followed when it comes to providing quality services that also help in gaining the satisfaction of the customer.
IndiaMART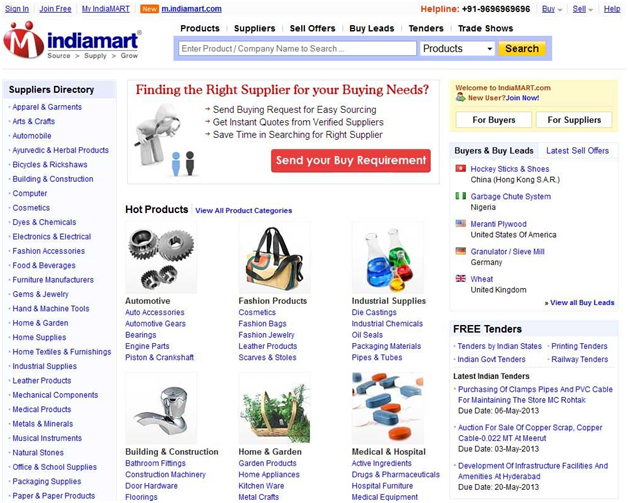 This B2B platform has been successful in maintaining a reputable position in the B2B market. Many businesses prefer to work with IndiaMART as they offer flexible policies and trading services. It is an Indian company with almost 98 million buyers and 5.9 million suppliers. The headquarter of the company is located in Noida. The desired products could be found easily by using filters. The success of this platform could be understood by the fact that it has got 10 million downloads. Moreover, it enjoys a 4.7 rating on Android.
Ali Express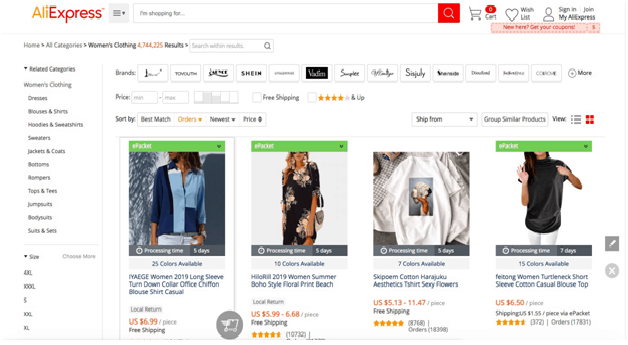 Ali Express extends its services online to many businesses and is owned by the Alibaba group. The popularity of the platform can be identified by the fact that it is the most used e-commerce platform in Russia. It is considered the 10 most frequently used site in Brazil. It extends services in many languages by breaking the language barriers. The language it offers includes Italian, Dutch, German, Portuguese, Indonesian, Polish, Spanish, Russian and Turkish.
Many online platforms limit the customers to buyers the minimum range set by them but this platform can be used to even buy a single product and the checkout is also very easy. There are various shipping services offered by the platform, normal shipping takes 0-60 days and premium shipping will take 3-10 days and it depends on the preference of the customer. Authenticity is the main feature of this platform as it requires documents from its sellers for getting them verified.
DHgate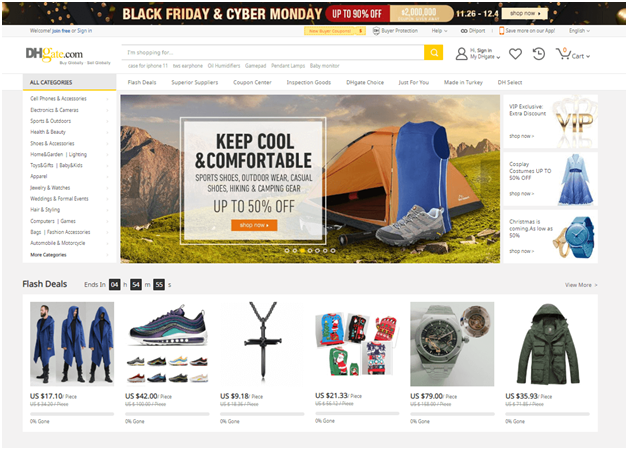 The most incredible thing about DHgate is that it offers 30 million products online. It is a Chinese platform and is very famous in Asia because of the demand for Chinese products there. To provide quality products to the client's only certified products are up on the website. The services are available in many languages from Chinese, Spanish, Russian, German, Portuguese, Italian, and French. But the services are available in English to cater wide audience. It has 36.4 million registered users that belong to 223 different countries. There are a big number of suppliers that are 2.3 million in number.
EC Plaza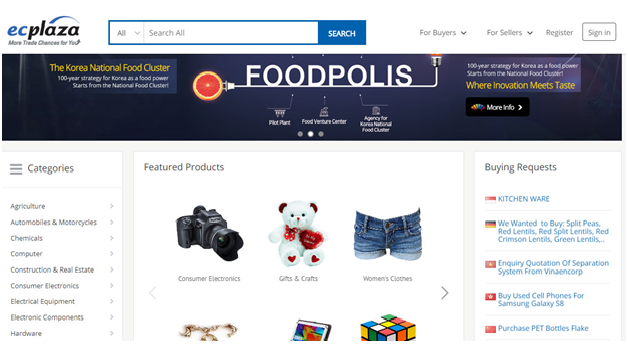 This B2B platform has a wide range of products that are of Korean origin as it is a Korean company. But at the same time, EC plaza also offers international products. It started its services in 1996 and has been providing service for the last 25 years. The interesting and incredible thing to note about this platform is that it is the only platform to offer 4 million products on its site. The visibility of the site is great as it has 400000 members and high brand recognition. It provides services from well-known brands to keep the quality up to the mark.
Made-in-China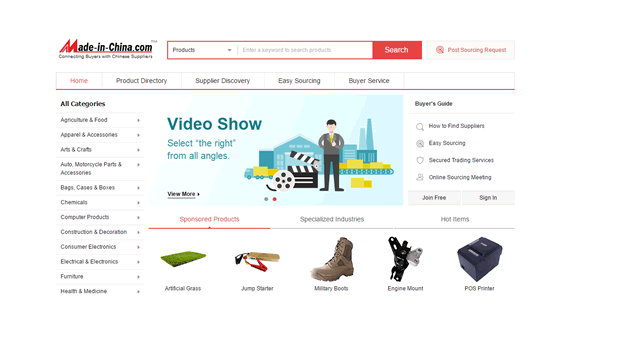 Made-in-China offers products and services at a very cheap rate to provide ease to its customers. It offers transactions in three easy steps that attract users. It has a huge number of manufacturers, trade agents, retailers, wholesalers that are 6 million in number. Moreover, it holds many virtual exhibitions and video streaming sessions. It also enables live chat for its users. It caters to products related to technology. It is a good site that provides a seamless experience to its users.
eBay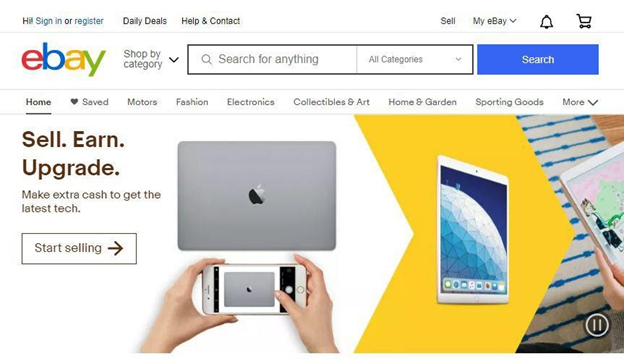 eBay was founded in 1995 and has been providing services for 25 years. It is located in San Jose and California and extends its services to 24 countries including the USA, Australia, Belgium, Canada, Italy and Ireland. The site uses advanced features and provides expert navigation to its users. Moreover, the interface is user-friendly that keeps the customers on hold for a longer time. It is an authentic platform and tries to maintain its authenticity by only permitting authentic sellers on the site. It provides an auction section that makes it more prominent among the other platforms. It offers multiple payment methods and the checkout is also very easy.
ECVV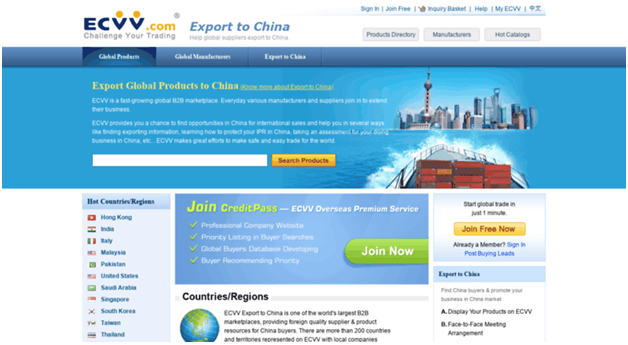 ECVV offers products related to home, construction, automobile, etc. It was made in 2003 and has a wide range of suppliers that are 1 million in number. It takes care of the authenticity and makes sure that all the suppliers go through a verification process so that only original companies can collaborate. It's a reliable platform because it is recommended by the American International Business Council and Shenzhen Government. Services are provided in English and Chinese language. The annual trade of ECVV is 2$ billion. The user interface is quite friendly and the products are arranged in an organized manner with descriptions and details in the right place to provide ease to the customers. Custom clearance and logistics are also provided by this platform.
Conclusion
The platforms that are mentioned above are all credible and reliable for B2B e-commerce. All of them are using advanced features to provide quality services to their users and because of the advanced features, these platforms have millions of subscribers from all over the world. Moreover, many of them provide services in different languages to break the language barrier.