10 Checklists to Pick The Best HRMS Software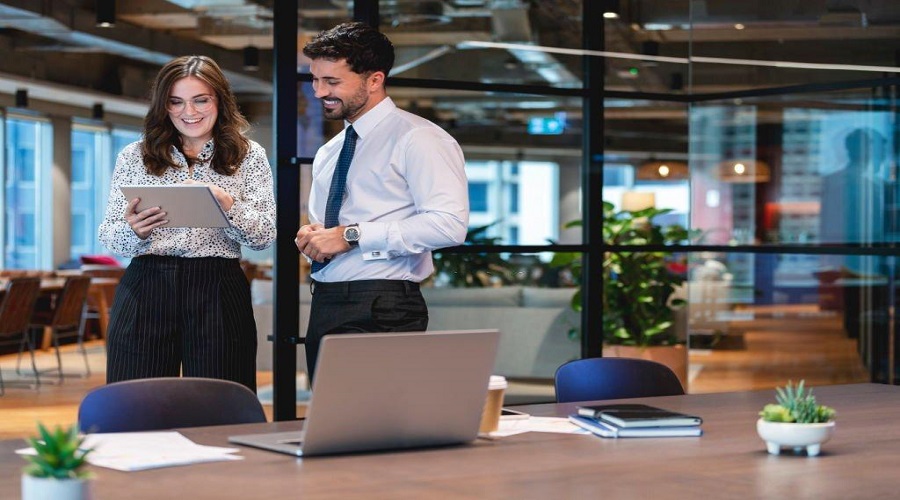 Smart firms don't waste time performing routine and basic HR activities by hand or repeatedly going through the same time-consuming procedures.
However, they may easily and rapidly automate these time-consuming and laborious tasks by investing in HRMS Software, freeing up HR personnel to concentrate on more value-adding activities.
I assume you are here to make this tremendous change in your business for fast growth. In this, you will know the top 10 best HR software for your company.
Before that, you should know WHAT is HRMS SOFTWARE.
Human Resources Management System is referred to as "HRMS." It alludes to a group of applications, businesses employ to control their internal HR operations.
The management of the modern workforce, including payroll, hiring, benefits, training, talent acquisition, employee engagement, and attendance, is made easier by HRMS software.
Many of the standard HR procedures in an organization are integrated, managed, and automated using HRMS software. It can carry out a number of tasks, such as driving and structuring organizational information for a firm and employee details to make it readily available.
ARE HRMS, HRIS, and HCM SAME?
The words human resources information system (HRIS), human resources management system (HRMS), and human capital management (HCM) are frequently used synonymously.
The development of more advanced technology, however, has resulted in slight variations between the three. Human resource management systems (HRMS) and other HR solutions developed over time into a more data-management-focused HRIS, which in turn gave rise to the more comprehensive and strategic HCM of today.
HRIS is made to keep track of statistical information and employee details like a worker's schedule.
HCM has developed from primarily being an administrative task to becoming a vital tool for generating company value.
The more powerful HRMS combines IT and HR management technology. Onboarding, employee satisfaction, job performance, analytics, profitability, and other features are some of the distinctive HRMS characteristics.
WHY IS HRMS IMPORTANT?
The efficient and secure storing of personnel data is made possible by HRMS.
All of the employees' payrolls can be effectively managed by HRMS.
It manages the recruitment process effectively.
You can defend the rights and benefits of the employees with the aid of HRMS.
HRMS provides the organization with a productive Attendance Tracking System (ATS).
Its independence ensures consistency in the administration of numerous HR functions.
As a result, the performance management approach is strong, effective, and focused on results.
Here is a 10-step checklist to assist you in choosing the best HRMS programme:
Lack of a disciplined approach to this selecting process is why most organisations fail. The checklist outlines the crucial stages to assist you reach a well-informed conclusion.
1. ESTIMATE THE BUDGET
The price of HR software varies widely due to a variety of factors, but this does not imply that you must spend the maximum price if you want to choose the finest option. Everything is based on the actual needs of your business.
2. PAYROLL MANAGEMENT
The administration of accurate financial records for employees, including information on their salaries, incentives, perks, bonuses, deductions, and net pay, is made possible through payroll management.
Payroll operations should be made simpler for employers by HR technologies that streamline financial activities.
3. TRAINING AND LEARNING
The new vendor should arrange for employee training if your organisation intends to deploy HR software that notably varies from your current one. In order to prevent any issues when utilising it in practise, they can then study the quirks of each feature.
To keep your employees current, training and learning opportunities are essential.
4. SCALABILITY
If you anticipate seeing growth in your company, you should make sure the HRMS system can handle the added workload.The software is also responsive, ensuring that it functions without a hitch even if you have a large staff.
Simply said, a scalable HRMS enables you to use a single piece of software over the course of your company.
5. PERFORMANCE MANAGEMENT
software for managing human resources with effective performance management Long beyond the interview stage, HR features continue to analyse personnel.
Performance evaluations after employment include data on worker output, client satisfaction, and more. These tools can provide automatic feedback, or Human resource departments can use the analysis the software provides to inform their own evaluations.
6. VENDOR SERVICES
You must gain a deeper understanding of the characteristics of the provider you intend to retain.The success of your selection initiative depends on your relationship with your HRMS vendor.
The system requirements will be discussed in the initial communications with prospective vendors. Ensure that your statement is both clear and succinct.
7. IMPLEMENTATION SPEED
Implementation speed has a significant impact on ROI. It can make logical sense to go that route if you have all the necessary gear and an internal IT team that is dedicated to an on-premise HRMS.
But if you need to make a significant hardware investment, cloud deployment is probably a better choice.
8. CYBERSECURITY
Software should safely shield gathered data from any online threats. If not, it might put your employees' personal safety as well as the overall health of your company in peril.
9. SHARED DATABASE
Using a login created just for them, the employees can fill out their own information regarding the leaves taken, operating schedules, and any other.
By adding a daily reminder for such an activity to the HR checklist, it is possible to increase data accuracy and reduce dependency while while maintaining efficiency and effectiveness.
10. ADMINISTRATION
The Administration Module oversees every aspect of an organization's employee benefits, including insurance, welfare, tax advantages, and other financial-related alternatives.
Finding a new HRM system starts with assessing your company's requirements. It's considerably easier to choose vendor possibilities once you've laid out your needs.
New solutions are entering the market as the IT industry continues to grow. It won't be as difficult to choose HR software in the end as you may have believed if you keep an eye on current trends and explore new developments in the HR software market.
Start by using our HR software india needs a template. You can select the HRMS characteristics that are most important to you and compare the best products.