Looking for eCommerce Growth? 13 Powerful Tips to Skyrocket eCommerce Business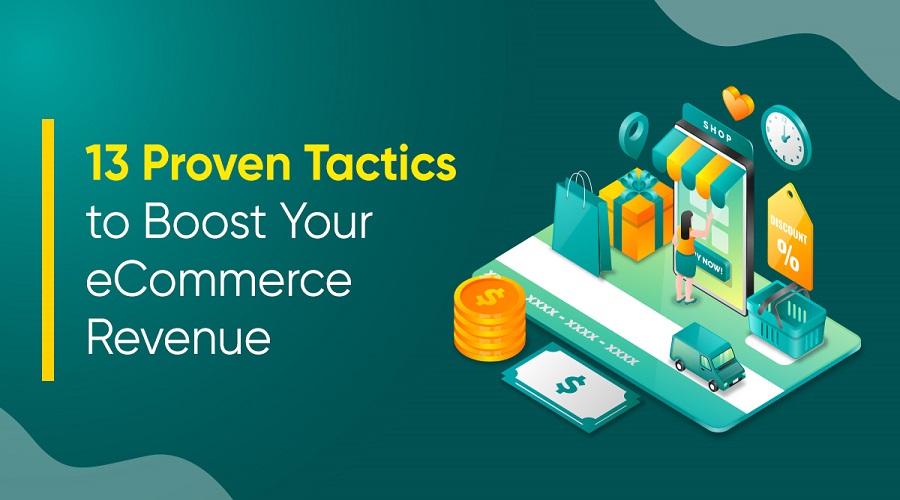 Your e-commerce business may be giving optimum results to you. But, in the everyday hustle, have you forgotten why you even started this business?
The goal is to be on top of your business, like Amazon. And building such an eCommerce platform requires immense attention and implementing a full-fledged, well-thought plan.
Nowadays, it is a competitive market, so it becomes quite difficult to grab the customer's attention for the longest time. Hence, knowing the strategies to boost the company to attain new heights. Let's dive deep into this article.
Before that, let's know why some companies cannot make their mark or achieve their desired position in an ever-growing eCommerce market.
Why Did Some eCommerce Stores Fail To Make An Impact In the Market?
————————————
If we research startup data in overall sectors, then you will be surprised to know that 90% of startups, for one or another other reason, are unable to survive in the long run. And somewhere same number can apply to the eCommerce industry, where endless companies come and go within a year.
They make many errors at the earlier stage that reflect the overall performance and create massive destruction in companies future. Some of the reasons are:
Ignorning UI/UX part
Not-so-convincing product content
The check-out process is too confusing
No clear return policy
And the list can go on & on.
What is the solution?
The only solution is to create a proper and impactful plan for your eCommerce business. And implement the strategies for boosting profitability by creating more brand awareness amongst the end users.
After knowing these reasons, it might be clearer that your business needs to integrate some impactful strategies. But which one? Know it by going through the next section of this article.
Level-Up Your eCommerce Business With 13 Strategies for Growth & Profitability
————————————
First, answer this question, 'Are you the one who is just at the stage of business inception?' Then, priorly you must create a shopping app for your business rather than just relying on the website simply because there are more mobile users who buy stuff online.
You may be in the right place if you want to boost your business. Now, we are going to study deep on these thirteen strategies that can help in raising 2X business profit.
1)  
Optimize Your Website & App
If the end-users are not getting the best experience with your company, your web and app may be optimized for a better user experience. It can be done by improving the page speed, which can be done by solving the bugs on the website.
Besides, you can accelerate the speed of a website that can easily run on mobile devices. Mainly, you can implicate SEO to make it more internet-friendly for the audience. You can also elevate the user experience by improving navigation and online customer experience. Hence, optimizing the app & website will help make images and pace for end-users.
2)  
Expand The Product Line
Do you know that Amazon started its business by selling books, then expanded through multiple products and you can see the difference? It is considered the global leader in the eCommerce market right now. How did that happen?
Since they have widened their product line, the user base also becomes huge as selling multiple variants allows customers to expand their buying. It mainly widens the market and eliminates the chances of audiences going ahead to find other sources. Moreover, it is also one of the most accurate ways to simultaneously expand the business profitability.
3)  
Enhance Your Customer Experience
We talk a lot about enhancing customer experience nowadays, but why is it so important in eCommerce? The main reason is that a positive customer experience will help you create an image of your brand which can help you stand ahead among competitors.
The best example is that many eCommerce businesses now have integrated videos rather than photographs on the page. It is a great move because it gives a clear idea to the end-users about the product. Some of the tips that you can integrate into your business are:
Research Customer Needs
Analyze the Industry Trends
Consider Cross-selling
Test new products
4)  
Leverage Social Media
The role of social media is impactful not only in our personal life but also in the company's image. Now, they use it as a medium to advertise their products and make the brand visible to a larger audience.
Some pointers you can keep in mind with social media are creating engaging content, using social media advertising, collaborating with influencers, and many more. There are many tactics by which you can leverage social media and build up your business to reach new heights.
5)  
Focus On Customer Retention
Just increasing the customer base is not enough. Customer retention will help in making more loyal user base for your business. Besides, you can continuously observe the customer retention rate and take necessary steps to boost it. Mainly, this strategy will benefit your company as it can increase the word of mouth and recommendations.
Customer retention can easily result in greater profits and improvement in customer value. That is why focusing on the customer retention rate is vital for your company.
6)  
Addition of Free Shipping
In the eCommerce market, sometimes the shipping charges are too high, which can also refrain customers from buying the goods. Like Amazon and many other eCommerce apps and websites, you must start giving free shipping after a certain number of orders.
It improves conversions and drives revenue by increasing the average order value in multiple ways. That is why enabling free shipping will help in getting more order value.
7)  
Go International With Your Brand
If your brand has established and created its image in your country, it's time to go international. But, before doing that, make sure that you analyze the country thoroughly to determine whether your market can expand there. After that, you can also rejuvenate your brand for a better impression as per the audience.
Understand that the packaging needs, trademarks, domains, and many other aspects needed to go in the other country with your company. In the long run, you must ensure your business creates brand awareness even in that country.
8)  
Convenient Customer Service
The convenient customer help desk is not an option but a necessity as it is an element that will make sure that end-users are getting the best experience. It is found that efficient customer service, creates a direct impact on customer retention and build a trustworthy brand image.
Hence, customer grievances must be handled without further delays to make your brand more reliable for users.
9)  
Attractive Design To Get Customer Attention
There are many metrics that you can consider in your web and app for making the UI/UX even more compelling for the audience. These parameters can be low loading duration, eye-catching colors, use of high-quality images & videos, and many more to give the end-users a more amazing experience.
If you are not getting the necessary results, revamping your website and app can be a solution to grab customers' attention.
10) Showcase Your Best Items!!!
Give your customers what they are looking for!
Showcasing the best items can be a great idea as they can find your collection more trendy and catchy. That can be a great option to shop from your website or app.
Many eCommerce apps opt for this strategy to get the best results. They mainly go for social media platforms like Instagram and Facebook to advertise. And the other way is to showcase your best items on the front page of the web and app to get better user attention.
11) Leverage the Power of Content Marketing
Since the web release, the content has given the power to leverage better intent and ease of understanding. Whether it can be blogs, articles, and even descriptions greatly impact customers.
Besides, it boosts even higher if it is thoroughly optimized with SEO. Hence, you can use this power and create compelling content to grab more attention from the audience. Furthermore, that can help in  generating more revenue for the company.
12) Start a Referral Program
Referral programs are quite appealing to the customers and can be a great source of marketing your brand through many influencers. Mainly, these discounts can help generate more sales for the company.
After introducing influencer marketing in the last decade, these referral programs have helped even the smallest brands sustain and grow bigger in the market. Hence, you can also use these referral programs to attract more user attention.
13) Brand Awareness
Brand awareness will result in an automatic boost of position in the market. Through various ways, as we have seen prior, this technique can be successful. There can be two main methods to accomplish this: Brand Recognition and Dominance.
It is upto you on which path you will take your brand. Make your marketing plan accordingly, and watch your company grow with leaps and bounds.
Wrapping It Up!
In this ever-evolving world of eCommerce, opportunities and threats comes at equal proportion at the same pace in the market. But still, there are many ways through which you can manage these barriers.
In this blog, we explained 13 strategies that you can induce in your business. Get a rise in your profits and give the brand a position in this highly competitive market.