5 Ways to Reduce Shopify Bounce Rate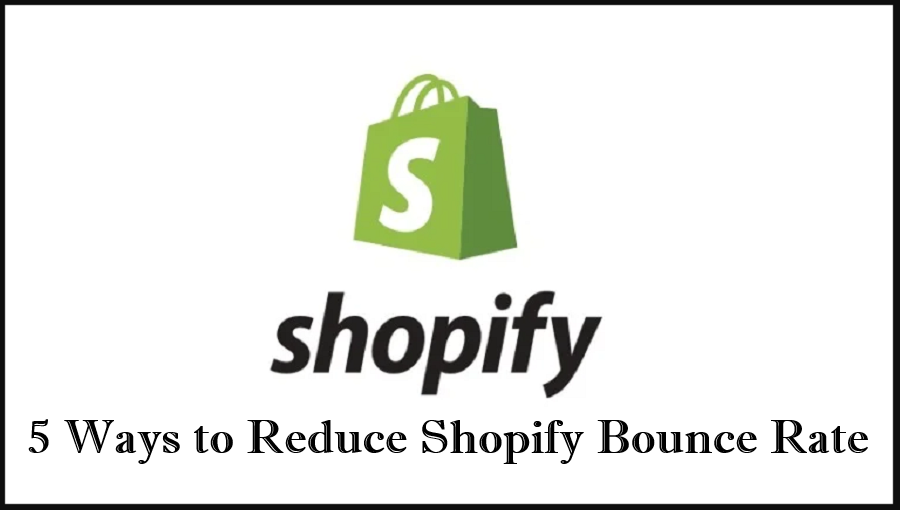 You have just finished setting up your first Shopify store. You have spent countless hours designing it, deciding on prices, and choosing what to sell.
You're excited to see that you're getting a lot of clicks right after you launch…but there's a red flag; no one decides to buy!
Consider it. You're working on multiple ad campaigns to drive traffic to your Shopify store but then all the visitors that do come to your store, abandon it on the very first page they land on. You don't get even an opportunity to convert them into subscribers – not to mention a successful sale.
Shopify stores must turn their focus on reducing their website's bounce rate. Though a website's bounce rate is not considered as important as content, marketing, and social media, it is something that is thought of or added later.
A business owner's thoughts are set on putting its budget into SEO, Google AdWords, and a great social media strategy. Yet putting all your efforts into these campaigns can be worthless if your Shopify store cannot handle the traffic or accommodate your target market.
Does this sound familiar? The following post will break down a variety of tips and ideas for reducing your Shopify store's bounce rate!
What is the Shopify bounce rate?
Bounce rate is an e-commerce metric that suggests the number of visitors that lands on a page of your Shopify store and only looks at the said page before leaving or bouncing from your site immediately without even viewing any other page.
In simple words, bounce rate tracks the number of single-page visitors to your store and shows how effective your store is at retaining or converting visitors into customers. It is the killer of engagement, lead generation, conversions, sales, and revenue.
A higher bounce rate means your e-commerce website is either:
Difficult to function
Confusing
Not keeping your customers interested
Unappealing design and aesthetics
Cannot handle high amounts of traffic
Top 5 ways to reduce Shopify bounce rate
1. Improve website loading speed- The loading speed of a website can be a serious reason behind the high bounce rate of your Shopify store. Users expect a web page to load in 2-3 seconds and if it takes longer, they usually leave the page. It is not always the design and content of the website, but the loading speed of the website that affects the bounce rate. Having a fast page load time of your e-commerce store can also boost your website's crawl rate. The faster loading time also helps Google crawl more pages at one time. It increases your website's crawl demand, meaning Google will want to crawl more pages.
How to improve your page load time
Optimize image size and format
Optimize dependencies
Avoid Inline JS and CSS files
Optimize Caching
Avoid render-blocking scripts
Avoid redirects
Reduce HTTP requests
Minification of JavaScript and CSS
Reduce Cookie size
2. Improve user experience- If you want to provide your users with the best experience, you need to invest in your E-commerce website. Shopify is one of the leading tools these days to build your E-commerce website for it gives you an easy-to-use interface and ready-made theme customization. But this is not the only way to improve your user experience. The best way is to hire Shopify web developers to optimize your Shopify store based on your requirements and goals.
How to enhance user experience
Use white space
Optimize your page speed
Use attractive calls to action
Use hyperlink differentiation
Segment key information with bullet points
Use images (wisely)
Include well-written headlines
Keep your website pages consistent
Catch your 404s
Be responsive and mobile-friendly
3. Improve Landing Page Aesthetic and Quality- Once you are done with technical issues, you can shift your focus on the aesthetics of your website. Set your target audience and determine their needs and requirements to have a clear picture. This can include the images, color scheme, and even the font. To grow your e-commerce business, it is always important to understand who you are selling to and what they like. Once you have done your research, it is time to start analyzing Shopify's ready-made themes and getting the help of a trusted Shopify website developer.
How to improve landing page aesthetic
A clear call-to-action
Keyword rich overview of the service
Mobile Optimized Design
A captivating video
Before and After images and attractive graphics
Testimonial for the specific services or other trust indicators
Point visitors to your social accounts
4. Add product reviews and ratings as social proof- Another way to gain a consumer is to include social proof on your product pages. Displaying your product views and ratings on your website makes new visitors believe that the product is being used by other consumers like them. This retains them for a little while longer, pushing them to learn more about the product you're selling. This is similar to how you decide if you want to purchase a specific product or look for other options, based on the rating it has received.
How to increase conversions with product reviews
Make reviews visible
Make reviews interactive
Have credible reviews
Single vs. multi-dimensional reviews
Recommend products
5. Optimize your online store for mobile devices- It is reported that 79% of smartphone users make an online purchase using their mobile devices. Our need for being able to shop on the go has led to the rise of e-commerce. We prefer to shop on mobile apps and sites more than desktop sites because it is more convenient for us. This is why your Shopify store needs to optimize its experience for mobile users. Make it simple for customers to find products, learn more about them, add them to their carts, pay without difficulty, and complete the transaction. The simple and hassle free checkout process is a must as it reduces the bounce rate. You may also boost the value of your brand by developing a mobile app for it. This way shoppers can enjoy the seamless experience and ease of access anytime they want.
How to make your e-commerce website mobile-friendly
A clear layout and simple website navigation
Design fast-loading pages
Offer an omnichannel user-experience
Avoid flash and unwarranted pop-ups
Why do you need to be concerned about your bounce rate?
Do you think there's any use of running marketing campaigns to promote your product and sale if your Shopify bounce rate is high? Imagine spending a huge amount to drive 100 visitors to your website out of which only 2 make a purchase.
The very first step you need to take to secure your sales is to focus on reducing your bounce rate. The more time a visitor stays on your Shopify website, the more likely they are to search products and even make a purchase.
Conclusion
Reducing the Shopify bounce rate is not as easy as it seems. It could be troublesome if not done with the help of professionals as it takes several steps. If not considered immediately, it can result in poor website performance and lower conversion rates. To lower your E-commerce bounce rate, take care of all the factors described in this piece of writing. If your efforts aren't enough, then hire Shopify professionals who can optimize your site and even help you manage your online presence.