7 Benefits of Vector Graphics in Web Design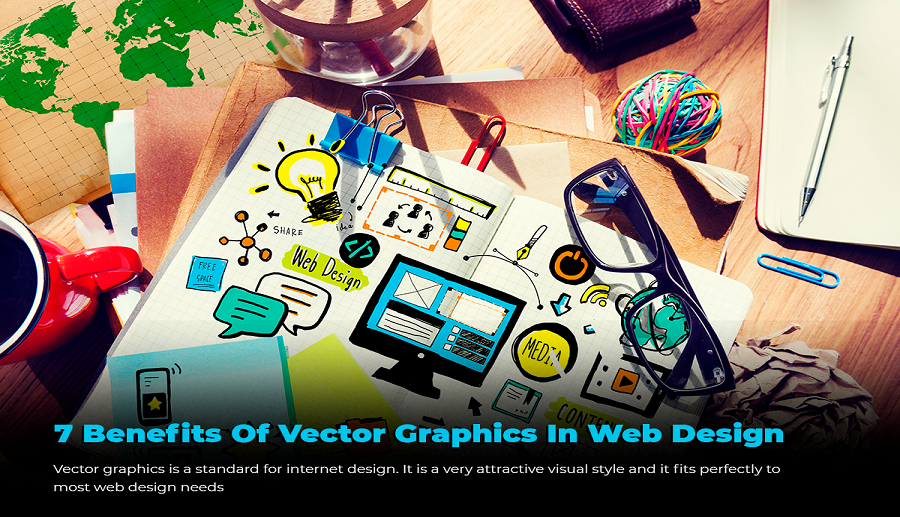 Vector graphics in web design is a great way to create dynamic and visually appealing designs. Vector graphics do not require as much time as text-based designs, so it can be done in less time.
Vector graphics are easy to use and even for beginners, a good understanding of vector graphics can be beneficial. Vector graphics are the perfect medium for designing logos, icons and other visual elements that are used in web design.
Drawing a logo can be as easy as drawing a picture with a pencil, and vector graphics are also suitable for logos. Once you have defined all of your elements, draw them proportionally so they will make sense and will look professional.
Simply put, graphics are just a print media's way of presenting images visually. Creating text and images with an aesthetic appeal is another definition of graphic design. When it comes to enhancing the website's interaction, graphic design can be thought of as a visual communication tool. In terms of user experience, graphic design plays a crucial part in displaying web content on the website.
Vector graphics is a standard for internet design. It is a very attractive visual style and it fits perfectly to most web design needs. In addition, this style actually works better than bitmap fonts for creating dynamic designs.
Why to choose Vector graphics:
Raster/pixel images are the common type of imaging. These graphics are composed of a predetermined grid of dots called pixels, where each pixel is given a particular color value. Raster images are extremely resolution-dependent, which means that when you change the size (for example, if you zoom in), the pixels themselves are compressed and enlarged. Now, this can lead to a serious loss of sharpness, resulting in pixelated or blurry images. Photoshop and GIMP are two popular pixel editors.
Points, lines, and curves are the fundamental geometric shapes that create the vector images. Every object made in a vector program like Illustrator is based on an equation and is defined by points, lines, and curves. Consequently, it enables the image to be scaled up or down without compromising the image's quality. Vector graphics will give you the ability to create realistic looking logos and icons in less time. When drawing or designing a logo or Free Vector icons, it is better to think of your design first before creating the actual image. Define your design elements in advance, like text and images. A vector image can be recognized by its smooth edges, which remain constant regardless of how much you zoom in or how far you stretch it. One of the most popular kinds of vector images is text. Vector graphics are used in nearly all complex graphics systems, including CADD systems and animation applications.
The vector graphics has 7 benefits like:
1. Small size and Lightweight:
The fewest possible points are used to create vector drawings. As a result, even complicated artwork can maintain a small file size. Compared to pixel files, vector files contain less information (such as a picture taken by a phone or digital camera).
They do not include more sophisticated information, such as the thousands or even millions of pixels in a digital snapshot, but merely a collection of coordinates.
This is a benefit of vector files since they can contain extremely compact drawings that require less data to produce.
Even with a really intricate vector artwork that incorporates several shapes, text, colors, and gradients, the file size will still be quite little.
Additionally, you may make the thing bigger while maintaining its lightness. The same drawing in pixel format would demand significantly more information and produce a large file.
2. Easy to manipulate:
You can intuitively create objects and accurately and simply manipulate vector drawings.
You could make a square, pick it up, and move it all over the canvas, for instance (the computer screen). You can now resize, rotate, skew, or flip the square.
You may quickly add more nodes to a line you've already drawn using two points (referred to as nodes). By moving and altering the nodes along the way, you may also make curves or arches.
3. Scalability:
Scalability in vector graphics refers to three key concepts:
Any size of an object is available for viewing.
It is simple to scale down or up objects.
Vector graphics can be exported at any size without sacrificing quality.
You can swiftly grasp an object, zoom in to analyze every last detail and characteristic, and then immediately scale back to a more manageable size.
Vector software enables you to instantly scale down an object (such a circle, square, or star) to microscopic or enormous dimensions. Scaling up your image to fit a larger area allows your document to be easier to read.
For projects requiring scalable graphics, such as scalable type and text, vector formats are a viable choice. Using vector graphics, a logo can be resized up or down without sacrificing quality or increasing size.
4. Created intuitively:
Similar to how you sketch on paper, vector graphics can be made. This is true since vector graphics' building pieces are lines.
With the use of vector editing software, you can quickly draw forms like squares, rectangles, circles, and stars using motions that imitate drawing on paper.
5. Reusable graphics:
Vector graphics make it simple to construct an item, replicate it, and move it to any other location on the canvas.
Aside from that, you can easily and quickly make many duplicates of an object by taking it and duplicating it exponentially. Even clones of an object that undergo the same changes as the original are possible.
Last but not least, you may easily copy any element of a drawing or composition and export it or copy it into another vector composition.
6. Animation is possible:
You may create simple, frame-by-frame animations with vector graphics software. This is a wonderful feature because vector software makes it simple to generate drawings.
Vector objects can be animated by being moved, transformed, having their color changed, having their strokes bent, and more.
Each transformation can have its own frame. After that, you could, for instance, combine the frames into a GIF.The web is full of vector formats that support animation, such as SVG and Flash.
7. Resolution is infinite:
Given that you can zoom in on vector drawings indefinitely without losing quality, we refer to them as having "infinite" resolution.
This indicates that they are "resolution independent," in contrast to pixel (raster) graphics, which rely greatly on the resolution of a picture.
Since vector graphics don't rely on pixels but rather on coordinates on a plane, we can enlarge a line, curve, or object to any size we like while still being able to see their exact shape and features.
The program always knows the location of the points on the screen, and hence, it also always knows the direction of the line connecting them. Alternatively put, it is aware of the distance and direction between two places.
Final words:
Vector graphics are not just for a web design. They can be used on anything from web ad banners and logos to digital signage and marketing campaigns. We use vector graphics as we can create designs that look as good as the real thing. We don't have to worry about the fact that they are only scalable, but they look sharp and clear. When used properly, they can be a great asset in any creative business or design project – no matter what it is. Vectors can be used to create an unlimited number of variations on any design. They are not just limited to knobs and sliders, but can be used throughout the interface. A combination of vector graphics and 2D drawing techniques is called vector art. When applied properly, it provides a great way to add high quality visuals that are both beautiful and functional at the same time.