A Step by Step Ultimate Guide to Amazon PPC for 2022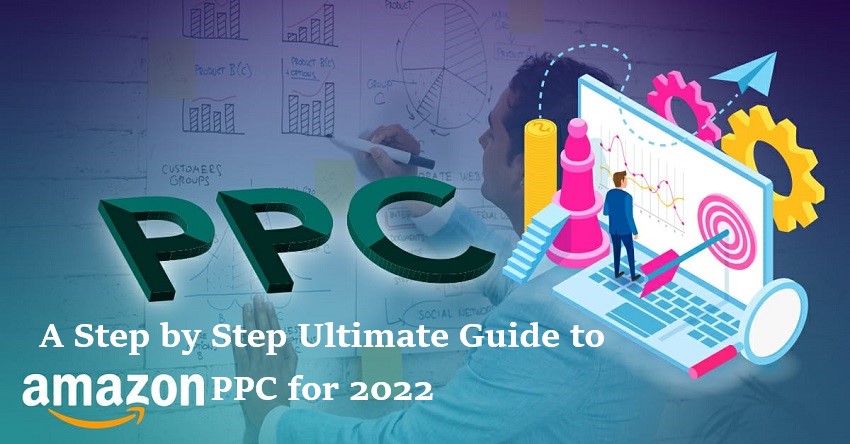 Amazon affiliate marketing is one of the simple ways by which you can make a significant amount of money in an ecommerce business. Selling items on Amazon is 10% product, 90% marketing – and several AMZ PPC tools give you the ultimate power to run Amazon PPC campaigns by yourself.
However, if you are new to Amazon ads management, you can hire an AMZ PPC management agency to do this task for you. These professionals help you get a high ROI by lowering your ACoS.
This "Step by Step Ultimate Guide to Amazon PPC for 2022" is the blog post crafted to cover everything from the kind of ads you can create to how to optimize your ad campaigns. In addition, you'll find lots of valuable tips for setting up your first or next campaign.
So without wasting time, let's start!
What Is Amazon PPC?
Amazon PPC, short for Pay per Click, is a system of advertising on the Amazon marketplace that allows sellers to promote their products in front of targeted shoppers who are already interested in buying similar items.
This makes it one of the most cost-effective ways of generating sales when done correctly and can be an excellent solution for those looking to sell more on Amazon and generate additional revenue streams.
There are several types of Amazon PPC Ads, each offering different benefits for sellers. However, to use them effectively, you need a solid strategy.
How to create an Amazon PPC strategy
You can't just start bidding and expect results — you need a well-thought-out plan first. So follow these steps to build a winning strategy that will get your products in front of more customers and boost sales:
Step 1: Define your goals
Before you even start looking at ad types or budgets, take a step back and consider what you want to achieve with your campaign. Write down your overarching goals so that they're clear and easy to understand, then break them down into smaller milestones so that they're easier to track.
Step 2: Choose Type Of Ad Campaigns
There are three types of ad campaigns you can run on Amazon: Sponsored Brands, Sponsored Products, and Sponsored Display. Your choice will depend on your business goals and budget. You can also test out each type of PPC ad campaign and play around with manual and automatic keyword targeting to see what performs the best for your brand.
Step 3: Set Daily Budget
Set daily budgets and default bids 50-100% higher than what Amazon recommends when starting out. Once you have set the budget, now let ad campaigns run for at least 14 days (two weeks) before running reports and making adjustments.
Step 4: Campaign Optimization
This step includes bids adjustments, keyword optimization, adding negative keywords to your Amazon PPC ad groups, ad placement optimization. Apart from this, it also includes continuously reviewing your ad reports once a week, subtracting, adding, and adjusting keywords as needed.
Read Also: Free Guest Post Sites List
Amazon PPC Ad Types
The same as of Amazon ad campaign type, there are 3 types of Amazon ads:
Sponsored Products,
Sponsored Brands, and
Sponsored Display Ads (former Product Display Ads, PDAs).
Let's discuss all of these Ads types in detail:
Sponsored Products – These types of Amazon PPC ads are used to promote individual products to Amazon shoppers. This sort of advertisement allows retailers to gain visibility, boost sales and control ACoS while accurately measuring their advertising success.
Sponsored Brands – These kinds of ads comes under Amazon PPC services are basically used for brand building that allows brands to advertise or display a custom headline, brand logo, and up to 3 products in their ad in the top spot above Amazon search results (and other placements), enable them to send shoppers to their custom landing page on Amazon.
Sponsored Display Ads – Formerly known as "Product Display Ads," are a unique remarketing advertisement type, which allows you to show your ad to shoppers who are visiting or visited (remarketing) specific products on Amazon.
Who Can Use Amazon Advertising?
Amazon sellers and vendors can both use AMZ advertising.
Now, you may wonder what the difference between them is?
Well, Amazon sellers (also referred to as third-party sellers) sell their items directly to AMZ customers. On the other hand, vendors (also referred to as first-party sellers) sell their items/products directly to AMZ in volume, then Amazon sells them to its customers.
Amazon ads can be used for both FBA and FBM products.
Requirements To Run Amazon PPC Ads
There are several things that you need to run a successful Amazon PPC Ads, such as:
Seller Account
Ability To Ship Your Products
Buy Box and
Amazon Brand Registry
Is Amazon PPC Worth It?
A well-run Amazon PPC campaign is worth every cent you spend if running correctly. It can help you improve your organic rankings, increase your sales, and build your brand awareness.
Why Should I Try Amazon PPC?
Amazon is the biggest ecommerce shopping giant in the world. And promoting your product on this channel allows you to target a wide range of shoppers who actually make purchases on Amazon.
Furthermore, AMZ PPC enables you to promote your products with highly visible placements on Amazon. It also offers a portfolio of several targeting methods from products (ASINs—Amazon Standard Identification Numbers) and keywords to categories, brands, as well as remarketing on external websites to ensure that your message is reaching the target shoppers.
Important KPIs of Amazon PPC
Here, I have enlisted some of the important key performance indicators of AMZ PPC that will help you to determine how successful your Amazon ads are?
Have a look!
ACoS – Advertising Cost of Sale
ROAS – Return On Ad Spend
CPC – Cost Per Click
CVR – Click-through Rate
CTR – Conversion Rate
Are There Any Hidden Fees Associated With AMZ PPC?
There are no hidden fees associated with Amazon Pay Per Click. The pricing structure is straightforward and transparent. when someone clicks on your Amazon Ads, then only you have to pay.
Does AMZ PPC Improve Organic Rankings for My FBM and FBA Items?
Of course, yes, Amazon PPC sales leave a direct impact on a product's organic positioning on Amazon. Therefore, sales generated via AMZ PPC advertisements will have a positive effect on your FBA or FBM product's organic ranking.
This impact is particularly significant for new items. For the most part, new items come up short on deals history and consequently performance data, which thusly contrarily influences natural positioning. Amazon promotions can change that by directing people to your FBA or FBM product listing and subsequently supporting deals as well as creating surveys to drive further conversions.
How To Optimized Amazon Ads?
If you're selling on Amazon, chances are you have a product that's competing with thousands of others in the same category. While there's no magic formula to guarantee that your product will be the one customers pick over your competitors, you can take steps to increase your chances.
One way to do this is by using Amazon PPC tools. You can use them to optimize your ads, analyze keywords and track your campaigns and results.
There are several tools or software available such as:
AMZ Tracker
AdBadger
Sellics
Unicorn Smasher
PPC Entourage
Jungle Scout
Scale Insights, etc
Final Verdict
Collecting all this information requires lots of time and effort. I hope it proves helpful in establishing your upcoming PPC campaigns. To know more about Amazon PPC services, stay tuned!