Here Are Six Things You Can Do To Make Your Gaming Blog More Engaging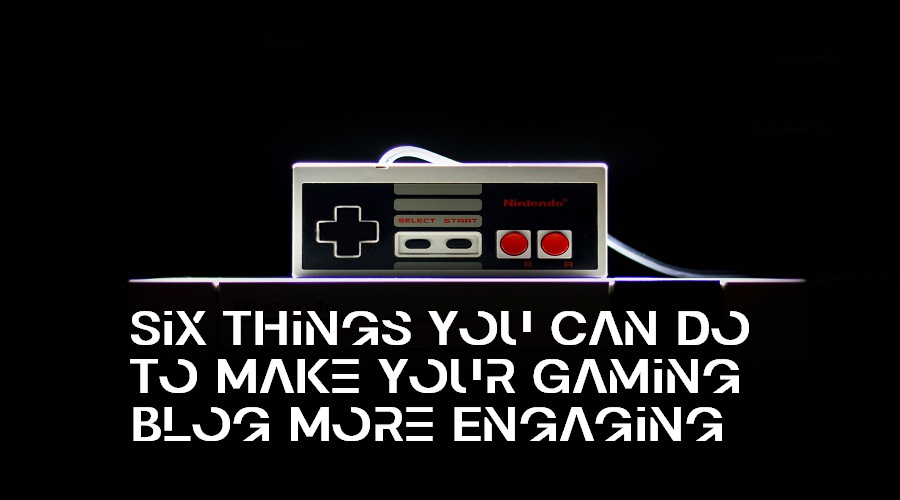 Introduction
The massive gaming industry is projected to generate a revenue of US$365.60bn in 2023. With so much revenue being generated, many people want to join the industry somehow.
Game blogs have always been popular, but they are gaining traction again. Whether you have a game blog as a hobby, a passion, or a severe source of income, you want to gain followers and receive more attention. But with so much competition out there, it can be rather tricky.
Not only are there numerous written blogs on the internet now, but video blogging and game streaming are also huge and act as competition. To retain old followers and get new followers, one must be strategic about their blog.
As a video game blogger, you need to find ways to make your blog as engaging as possible and have various means of attracting followers. Here are six things you can do to grow your follower base and increase blog engagement.
How to increase blog engagement
——————————-
1. Be smart about your blog design and layout
Your blog design and layout are part of your engagement strategy. How your blog is formatted is extremely important, as a strategically formatted blog will lead to a reader clicking on more posts once they finish the first one.
When people click on an article from your blog, they will first notice the blog header. This is why it should be professional-looking and eye-catching. Its quality will reflect the rest of the content's quality.
We have all been stuck clicking on post after post on websites, and that is what you want your readers to do. So any new or related posts should be present with each of your blog posts so that people can instantly click on those.
You must focus on how user-friendly your blog is. If it is easy to explore and use, people will stick around longer, and the longer people stay on your site, the more value it will have on the Search Engine. It will then give your blog a higher result.
Your logo should be visible at the top, and the top and bottom menus should have clear categories covering most essential categories.
2. Use Search Engine Optimization (SEO) strategically
Search Engine Optimization or SEO is used by almost every blogger and writer on the internet as it gets good results. Using SEO makes your blog much more visible on search engines like Google.
Blogs that use more keywords and have better headlines and original content are shown higher by search engines. Hence, as a video game blogger, you should research your topic or use keyword finders to determine which keywords are visible higher up.
Another thing you can utilize is Google Trends to see which topics are gaining attention and then create content about popular topics and use keywords so that your blog posts are more visible.
Since people know that keywords will get them higher, Google tries to ensure that creators don't trick the algorithm and simply add these keywords. So you must ensure your headline is catchy and your content is original.
3. Pay attention to your social media presence
Social media marketing is an excellent marketing method for all content creators. It allows you to reach a vast audience easily, and having a large social media following will help you get more followers for your gaming blog.
Social media should be part of your marketing strategy, and you should try to use various social media platforms as they usually have different audiences. The average age range tends to vary on most platforms.
You can use your social media accounts to create a community and determine what your followers want to see on your blog. It can make it easier to stay in touch with your audience and know what topics are more popular. You should try to interact with other bloggers and content creators and collaborate.
You can create and post gaming posters of upcoming or newly released content so people can visit your blog to read more about it. You can also create clips, reels, and stories regarding the upcoming topic or your area of interest.
You should have a link in your bio and underneath each post to make it easy to find you. You can also create a hashtag for your blog that you use over all platforms.
Your social media account should not just be an advertising page for your blog. You should create content specifically for it and advertise your blog too.
4. Guest blogging is great for marketing
Guest blogging is when a blogger writes content for a more extensive blog. It can be an excellent idea if you are a new blogger or want to gain more attention. Doing so can allow you to show off your skills to a larger and new audience, and if they are impressed, they can look into your blog. To ensure that these followers can find your blog, simply add a link to your blog in the post.
It can be tricky to convince more prominent blogs to allow you to guest blog for them. But if your content is original and something they are interested in, and your pitch is creative, you can get it.
5. Host giveaways and competitions
Hosting giveaways and competitions can be a great way to encourage engagement and give back to your community.
You can create a competition and offer the winners various prizes, such as gaming merchandise or even new games about to be released. You can promote these competitions on your social media accounts too.
These can be hosted ahead of holidays or big releases, or significant gaming events. Just make sure that the rules of your competitions are clear and that the gifts are in high demand.
6. Look into video blogging
Video blogging is viral; you should expand your reach by creating video content. A regular video blog that you post on platforms like YouTube can be a good idea. It can feature regular news and updates regarding your area of interest.
You should also use it to let people get to know you better and create a stronger connection with your followers. Try to highlight your personality in these blogs. Furthermore, you can create short video blogs to add to your written blogs.
Just make sure the content is interesting, unique, and not a repetition of your written content.
Conclusion
You can make your video game blog more exciting and engaging in many ways, and these are only 6 of the major ones. Even implementing these six techniques well can create a drastic difference, and you should monitor this difference to create a marketing strategy further.
To keep track of your engagement, try creating goals before implementing any changes and revisit them in a few months to see if they are met. Make sure these goals are realistic, time-bound, and measurable. If you have achieved your goals, you can continue using the same plan, but if not, you can revisit your schedule and figure out what is lacking.
Just remember to have fun with your blog and enjoy the whole process.