Build a Professional Website with Hubspot Website Builder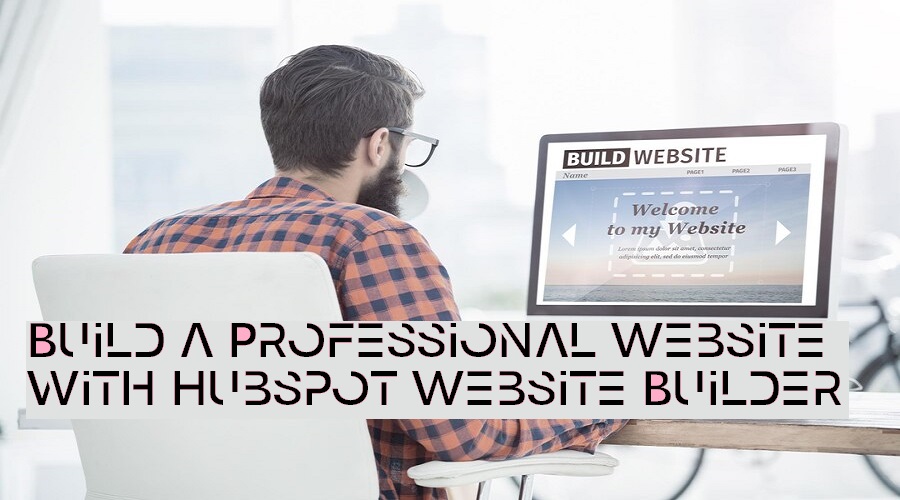 For every company or group to succeed, having a decent website is essential. The most economical approach to expand your audience and boost conversions is through a website. Without any coding knowledge, you can quickly and easily build a modern, professional website using HubSpot's Website Builder. HubSpot's Website Builder makes it simple to develop and manage a website that stands out from the competition with intuitive drag and drop features and a large variety of configurable themes. HubSpot's Website Builder enables you to build a website that looks fantastic and performs efficiently for your needs, regardless of whether you are a small business, a huge corporation, or a non-profit organisation.
What is Hubspot Website Builder?
———————————–
A website builder and content management system in one, HubSpot Website Builder. With no coding experience necessary, it is made to assist businesses in creating stunning websites. Without any technological expertise, you can rapidly construct a beautiful website using the drag and drop functionality. For every business necessity, you can also make bespoke pages with ease. Additionally, HubSpot Website Builder has robust SEO tools that make it simpler for search engines to find your website.
You may monitor the effectiveness of your website using the HubSpot Website Builder's marketing tools and statistics. You may examine visitor data, track website conversions, and undertake performance analysis. You can easily write blog posts that appear professional with the integrated blogging platform. Also, you can use the HubSpot Website Builder to include forms, surveys, and other interactive content on your website.
To assist you in building the ideal website for your company, the HubSpot Website Builder also offers a large selection of themes and modifications. The HubSpot Website Builder can create both basic and complicated websites for you. Moreover, you may expand the functionality of your website by integrating third-party services and programmes with the HubSpot Website Builder.
How to Get Started with Hubspot Website Builder?
———————————–
The website builder offered by HubSpot is straightforward to use. A HubSpot account is required to get started. You can access the HubSpot portal after creating an account. With the HubSpot website builder, you can then start building a new website. Selecting an appropriate template for your needs is the first step. With the numerous design tools offered by HubSpot, you can modify the template you've selected once it's been selected. By including images, text, and video to your website, you can alter its visual and aural appeal. Further features like contact forms, live chat, and a blog are also available for you to add. Once your website is complete, you'll be able to publish it for the world to see. You can also track website performance with HubSpot's analytics tools. With these tools, you'll be able to monitor how your website is performing and make changes to improve the user experience. Getting started with HubSpot's website builder is quick and easy, and will help you create a professional-looking website in no time.
Tips for Creating a Professional Website with Hubspot Website Builder
———————————–
A polished, expert-looking website can be easily built with HubSpot Website Builder, giving your company an online presence. Without any coding or web design experience, you can use the website builder to make a website that looks and feels professional.
Here Are Some Tips for Creating a Professional Website with Hubspot Website Builder
Choose a memorable domain name that accurately represents your brand.
Choose a responsive, contemporary, and visually appealing template.
To make the website look unified, add your logo and brand colours.
Provide an interesting experience for visitors by include pertinent images and videos.
To quickly and easily design a website, use the drag and drop tool.
Use the custom code feature to give your website more features.
Include social media sharing icons to make it simple for visitors to share your material with their networks.
Make a website that is simple to navigate and has links to key pages and clear calls to action.
Use analytics and SEO tools to monitor website performance and raise visibility.
Ascertain that the website is mobile-friendly.
You may use HubSpot Website Builder to build a professional website that will assist you in achieving your business objectives by using the advice in this article. Your website can be a potent tool to help you engage with clients, promote your goods and services, and expand your business with the correct design and content.
Benefits of Using Hubspot Website Builder
———————————–
A strong tool that aids companies in developing an online presence is the Hubspot Website Builder. With this simple platform, companies may rapidly and effectively build their website from start. It is the perfect option for any company wishing to build a website quickly and easily because the platform is simple to use and intuitive.
Businesses can take advantage of several features and advantages provided by the Hubspot Website Builder. First of all, it enables companies to build a website from the ground up without having to possess any coding or design expertise. Businesses that want to quickly build a professional-looking website but don't have the time to master coding or design may find this useful.
With a variety of templates and tools available on the platform, businesses can further customise their website to better reflect their goals and brand. The platform is safe and dependable as well, with consistently updated material and the capacity to backup the website in case of problems.
Additionally, the Hubspot Website Builder makes it simple for businesses to connect to other programmes and services, like email marketing, CRM, and search engine optimization. Having a good internet presence is made easier for businesses thanks to this. The platform also provides a number of analytics and reporting capabilities, allowing companies to measure and keep tabs on the effectiveness of their websites. Using this, businesses can determine where their websites need work and make sure they are maximising their potential.
In addition, the Hubspot Website Builder provides a variety of support and customer care options, such as a help centre, online training, and a specialised customer service team. As a result, getting the help a business needs and utilising the platform effectively is made simple for them.
Overall, the Hubspot Website Builder is a potent tool that makes it simple and quick for businesses to establish an online presence. The platform has a variety of features and advantages that make it the perfect option for organisations wishing to build a website without any coding experience. The Hubspot Website Builder is a crucial tool for companies aiming to establish a strong online presence because to its safe and trustworthy features, simple interaction with other programmes and services, and extensive customer support.
How to Optimize Your Website with Hubspot Website Builder?
———————————–
Using HubSpot's website builder to optimise your website can be a terrific method to boost its functionality and ensure that it is correctly optimised for search engine exposure. The website builder from HubSpot is a potent tool made to make your website appealing, SEO-friendly, and simple to use. You can improve traffic to your website and ultimately produce more leads and sales by utilising HubSpot's robust tools and optimising your website for SEO.
Making sure your website is appropriately optimised for SEO should be your first priority. A robust SEO tool is included in the HubSpot website builder to assist you in making sure your website is correctly optimised for the appropriate keywords and phrases and to increase its search engine exposure. You may do things like add meta tags, titles, and meta descriptions to your website to make it more search engine-friendly. Moreover, HubSpot's website builder gives strong capabilities for content creation and visibility enhancement, such as the capacity to add blog entries, establish internal links, and develop inbound links.
The design of your website should be user-friendly and simple to navigate, as the next thing you want to do. With the website builder from HubSpot, you can easily edit your website and give it a polished appearance thanks to its user-friendly drag-and-drop interface. Your website can have additional material added to it, custom forms and contact forms can be made, and pages and navigation menus can be easily constructed. Powerful tools for developing online shops, gathering customer information, and monitoring user activity are also included in HubSpot's website builder.
Last but not least, you'll want to confirm that your website is current and adequately secured. Strong security mechanisms are included in HubSpot's website builder, including two-factor authentication, password encryption, and a Site Health Checker tool that enables you to quickly and simply check the status of your website. In addition, HubSpot's website builder offers automated upgrades, ensuring that your website is current with all security patches and updates.
You can ensure that your website is appropriately optimised for SEO, user-friendly and straightforward to navigate, secure, and up to date by using HubSpot's website builder to optimise it. Using HubSpot's robust tools and optimising your website for SEO will help you drive more traffic to your site and eventually improve leads and sales.
Advanced Features of Hubspot Website Builder
———————————–
Businesses can easily and rapidly build high-quality, mobile-responsive websites using HubSpot's all-in-one platform, Website Builder. It is jam-packed with sophisticated features that give businesses a full range of tools to help them design, maintain, and improve their website.
Drag-and-drop functionality is one of HubSpot's Website Builder's most sophisticated capabilities. This makes it simple for people to construct stunning websites without any prior coding knowledge. A selection of editable templates are also included, enabling companies to swiftly build a website from scratch.
Businesses can enhance their websites for search engine visibility with the Website Builder's robust SEO feature. This includes tools to track the performance of their website as well as tools to optimise the content on it. The Website Builder also comes with capabilities for tracking and analysing user behaviour on a website. By better understanding their clients, firms can then customise their content to better appeal to their target market.
Finally, HubSpot's Website Builder enables connections to other well-known programmes like Facebook Advertising and Google Analytics. As a result, companies may more effectively track and evaluate the success of their websites and develop focused marketing strategies to assist them in achieving their objectives.
Overall, HubSpot's Website Builder is a really robust and powerful tool that enables organisations to effortlessly build and manage their website. It is jam-packed with sophisticated capabilities that give businesses the power to design, maintain, and improve their website in order to further their objectives.
Troubleshooting Hubspot Website Builder
———————————–
For someone who is unfamiliar with it, troubleshooting HubSpot Website Builder might be a difficult chore. Before starting to solve any issues, it's crucial to comprehend the HubSpot Website Builder's fundamentals. Making sure the most recent version of the programme is installed on your computer is the first step in troubleshooting any HubSpot Website Builder-related problem. The next step after completing this is to evaluate any error messages that may have shown and look into any potential fixes. Also, it's crucial to confirm that any required plugins or add-ons are activated, as this is frequently the root of many troubles.
Conclusion
The Hubspot Website Builder is a great tool for quickly and easily creating a professional website. It offers a wide variety of functionality and customization possibilities for your website and has an easy-to-use interface. Moreover, it interacts with the Hubspot CRM, making it simple to maintain client information and develop relationships with customers. The Hubspot Website Builder is a fantastic option for anyone wishing to build a professional website because to its user-friendly design and strong functionality.