How To Develop A Dating App Like Tinder At Lowest Cost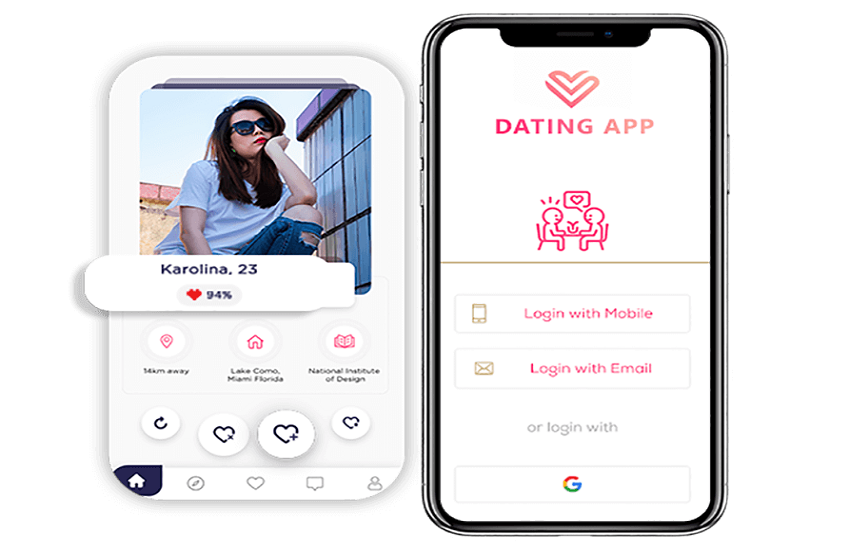 Nowadays, dating apps are very popular among users who are looking for potential partners in their area. Finding the right match through an application has become an increasing trend as of the beginning of 2021. There are various dating apps on the market, such as Tinder, that users have found useful due to their advanced capabilities. As a result, capturing a market position for your Tinder clone application without a solid effort is not an easy task.
Your Tinder clone dating app must be compelling enough to draw in users and persuade them to use your app. For a dating app to be effective, it must have a number of features. Its costs vary based upon its advanced features and functionalities. So, here's a detailed look at what makes Tinder so appealing, as well as how to make a dating app at the lowest cost that beats Tinder. Check here the leading top dating app clone script development company to hire for your project.
Tinder allows users to swipe left or right over a large number of profiles to find a potential date based on geographic proximity. However, they will only be able to communicate if both parties like each other and show interest to proceed.
Though it may appear tough at first, nothing will be able to stop you if you prepare, validate an idea, and develop an effective Tinder-like app.
You should consider developing a dating app that is outstanding. The next step is to determine the business advantage of developing a better version of Tinder. So, let's find out what features it has.
1. Making a user account
The first step in using any dating application is to create an account. As a result, users cannot bypass this process in order to utilise it; instead, they prefer an application that allows for a simple registration process with no risks. So that tinder-like applications allow users to sign up using their Facebook account, eliminating the need for them to type their email address and password. So ensure that your dating app clone allows people to establish accounts using a simple approach.
2. Profile
After creating a user account, creating a straightforward, beautiful, and successful profile is one of the most significant aspects of dating applications. Because matching is dependent on a user's profile, it's critical to create an attractive and enticing profile.
3. Simple Interference
This app must have a simple but appealing interface that can be used by anyone of any generation. If you're going to create a dating app, make sure it's accessible to a wide range of people. You must create an application that can run on a variety of operating systems, including Android and iOS. So you don't lose out on new users because their device's operating system won't let your app run.
4. Online and Offline Access
While internet access is rarely a problem, it may be unavailable at times. Therefore make sure that your dating application can be accessed both online and offline.
5. Chatting
A chatbox is a must-have for a dating app that is intended to start an interaction with folks to learn more about one other. After receiving the notification, the user immediately begins messaging their new match. As a result, your dating app clone must include a fun chatting feature that users appreciate.
6. Video chat
Including a video chat feature in the tinder clone app is really advantageous because it aids in selecting whether or not to pursue a relationship further.
7. Real-time alerts
There is always a sense of anticipation in the mind of a user who uses such dating applications. When someone swipes right on their profile, it's vital to alert the users by pushing notifications. Users that use dating applications on a regular basis will appreciate this functionality.
8. Geo-location and proximity-based integrations
Tinder's can be due to its geo-location integration, which is at the core of the service. A dating app must be able to meet this need because most singles complain about not being able to locate dates. Users of Tinder-like dating apps can put their location in a post. They can use this feature to find a suitable dating match in their area. The profile of the individuals who are best matched according to the user's selected location is also filtered in this sort of application. As a result, double-check that your dating app includes all of these essential functions.
9. Filters for Searching
People prefer to limit their searches to a specific name, age, or other criteria. This allows individuals to find a profile they've already looked at.
10. Making Matches
One of Tinder's most distinctive features is that users can only initiate a chat with another user if they both agree. Only if both users swipe right to each other at the start will make the match possible.
11. Calendar
When dating apps provide a large number of matches, it's natural to go on several initial dates until love strikes. As a result, users must be able to control the date, time, and location of their events. The calendar integration comes to the rescue in this scenario.
12. Integration of social media
It is required to boost authenticity and increase the possibilities of finding a great match. Finding details from social media profiles can add a lot of flavour to an online dating conversation.
13. Detection of Spam
The capacity of Tinder's to recognise spammers is another useful function. This useful tool will safeguard many individuals from fraud, freeloaders, and time-wasters. It would grow people's interest if you can include it in your application.
Now let's walk through the creation process of a tinder clone app step by step:
Ideation: The main idea is to make a dating app, but what kind of dating app should be made? There are matchmaking apps, dating apps, hookup apps, and a range of other specialities to choose from.
Making a Rough Sketch:The next step is to write or create a rough outline for your application. This tool can also be used to create a wireframe. Create a database architecture based on the user's experience.
Coding:The process of bringing an application to life is known as coding. Begin by learning to code for iOS and Android, or learn to outsource. This is the most time-consuming section. Ensure that all are free of bugs
Testing:Run each sequence through at least three times for testing and quality control. If your dating app is still full of bugs, you won't be able to launch it. In every manner, testing is essential. Check that each function performs as expected.
Debugging: Initially, there will be some bugs to work out. Fix them and enhance the coding part before trying it again. Your dates must be flawless, and the testing and debugging processes must be repeated.
Make it live: The last step is to launch your app. After you've submitted it to the app store, you'll need to start promoting it.
Steps in the creation of a Tinder clone dating application in brief:
Concept Exploration
Features Specifications
Business Analysis
Designing UI/UX
Development of Coding
Store Launch
Evaluation
The cost of developing a tinder clone app varies depending on the smart features and the number of features you need to include. However, the expenses vary by country and are determined by the developer's fee and the number of hours spent working. As a result, based on your tinder clone application, you can obtain an idea of the estimate. These charges apply to both the iOS and Android versions of the application.