How To Easily Convert OLM to PDF Format on Mac with attachments?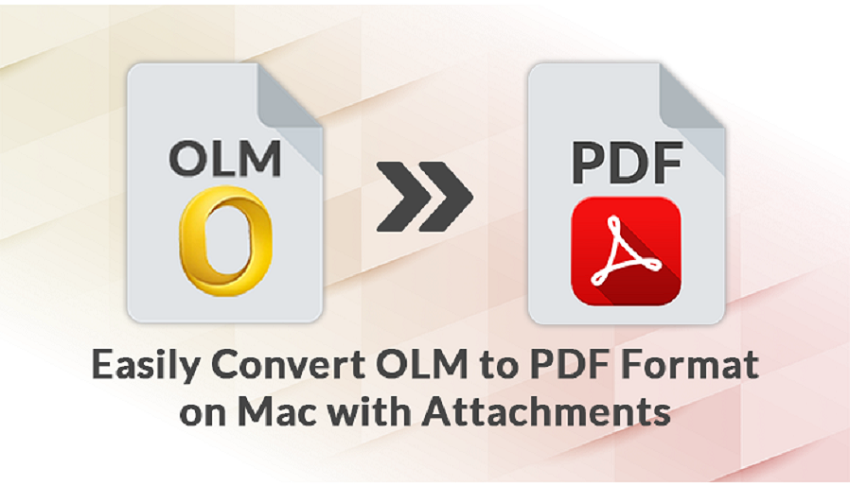 OLM file is also called Outlook for Mac that is used by MS Outlook on a Mac Operating system. It is used to store information like email messages, calendars, notes, attachments, contacts, etc. Users in any organization widely use OLM files for importing and archiving the data inside Outlook for Mac. It is a master repository file format that is not created by default. OLM organizes the data in the form of a folder and sub-folder. Outlook saves the email files with OLM (.oml) extension.
OLM files are only created and used by Outlook for Mac and can't be accessed on other platforms. On the other hand, PDF files are platform-independent and can easily be accessed on various platforms. It is the most widely used open-source file format. It can be also defined as Portable Document Format, which is easy to view, share, print on any Mac device. Due to its easy-to-use and customizable feature, most of the users store their data in PDF format.
It is often seen that many users face problems when they try to convert OLM to PDF on Mac. Either they choose the wrong method or they are not aware of finding the right one. So in this blog, we are going to talk about possible methods to easily export OLM into PDF on Mac. But before going to the method, it is important to know various factors of migrating OLM files to PDF format.
What are the Reasons to Convert OLM to PDF on Mac?
There might be some confidential and important emails in Outlook that users want to secure. Converting Outlook OLM files into PDF is an option to safeguard their data. Due to its security and wide compatible features, almost every user prefers PDF to store their data. Sometimes there might be a situation that arises when the Outlook mail server space gets full. In that case, the user needs to migrate their Outlook emails into PDF format on Mac.
Moreover, there are various reasons why users prefer to convert OLM to PDF  on Mac.
Users can password-protect their important and confidential OLM files when they save OLM as PDF.
Saving the emails as PDF eliminates the risk of data loss due to several breakdowns that occur in email clients.
PDF files can be easily accessed, shared, and printed on any Mac device.
Users can access the important emails even offline when it is saved as PDFs.
For any legal documentation purpose, PDF files can be firmly used.
Watermark can be added to the PDF files to prevent any copyright infringement.
OLM files are only compatible with Mac OS but PDF can easily be accessed and managed on numerous devices.
You can not edit OLM files but PDF privileges a feature to easily edit or rewrite the data.
These are the multiple factors for which users are required to transfer OLM files to PDF format on Mac. Conversion of OLM files into Mac PDF is not a difficult task if done using a proper technique. Now let's move to the possible methods that can be applied for converting Mac OLM to PDF.
Manual Method to Convert OLM to PDF Files on Mac
Talking about the technique to migrate OLM files into PDF, users often fail to choose the right method. Going with a true and reliable method is always necessary to get desired output. There are many Mac users that are willing to choose the correct technique but are unaware of it. Without taking more time, let's move to the solution that users are seeking.
So in this section of the blog, we will guide you to perform the OLM to PDF migration manually. Now let's perform the below steps properly to find the right output.
Open MS Outlook on your Mac device and Sign in using the log-in credentials.
Click on Inbox and select the email that you want to convert OLM to PDF.
Double click on the email and a new reading wizard will open on the Mac device.
Click on the File menu and select the Print option from the list save OLM as PDF on Mac.
A new print window will appear, click on the Drop-menu located at the bottom left.
Now, choose Save as PDF option from the list and enter the file name and path to save.
Finally, click on the Save button and the selected file will be saved as a PDF on your Mac.
With the above-mentioned steps, I hope you get to know how to convert OLM files to Mac PDF. By performing the given steps, users can easily export OLM files to Mac PDF. However, the manual technique has various restrictions. Due to this, it is not considered an optimum choice to convert OLM to PDF on Mac.
Users can convert only one OLM file into PDF format at a time. If the users have a large number of emails to convert into PDF. Then they are required to perform the steps again and again. Let's discuss some limitations of the manual approach to migrate OLM files into PDF on Mac.
Limitations of Manual Technique to Convert OLM to PDF on Mac
When it comes to large organizations and business enterprises then the manual trick is not a good and wise choice. It will not deliver the best and most effective results. Users are required to follow the lengthy and tricky procedure to meet the outcome. They have to work with some restrictions when they go with a manual procedure.
Below are some of the limitations that users face while migrating OLM to PDF manually.
Users can not perform bulk conversion of OLM files. They can only convert a few or selected emails one by one.
Email attachments can not be saved or converted into a separate folder using a manual process.
It is a very complicated and time-consuming process that requires lots of effort to export OLM into PDF on Mac.
It is required to have good technical knowledge before performing the manual steps to convert OLM to PDF.
Any inaccuracy in performing the steps might be prone to the risk of data loss or corruption.
The manual method is a very labor-intensive and unprofessional process to export OLM files into PDF on Mac. To remove such kinds of complexity, most of the users prefer an automated solution. With a professional OLM to PDF Converter for Mac, we can quickly convert bulk OLM files into PDF. An automated solution always delivers a risk-free process and also saves the email attachments separately. It is the most optimum and reliable solution that can perform the conversion without any data alteration. Many experts suggest the modern technique to migrate OLM files into PDF on Mac.
Conclusion
In the above article, we have discussed the method to convert OLM to PDF on Mac. Also, we have gone through major reasons with some limitations to export OLM files to Mac PDF manually. It is not considered to be the most effective and reliable solution for getting optimum results. Most of the Mac users and experts suggest a trusted professional solution for OLM to PDF conversion. It delivers more accurate results in less time with high data accuracy throughout the process.