Outreachmama Vs Adsy Vs BloggerOutreach: Which Is Best In 2022
In a world of link-building content and aggressive blogging, several businesses turn towards third-party platforms like BloggerOutreach, Adsy, and OutreachMama. There are several other ways to go about this. For instance, many independent bloggers sponsor posts or go to consultants with contacts for guest blogging opportunities.
However, businesses have been using third-party platforms for meeting their guest blogging goals. The best guest posting sites today are competing aggressively amongst themselves and a new business trying to implement a content marketing strategy, all this might seem like a complex task.
But it is not so. Scroll down and read in detail about the top three platforms out there and which one is the best one for your business in 2022.
About BloggerOutreach: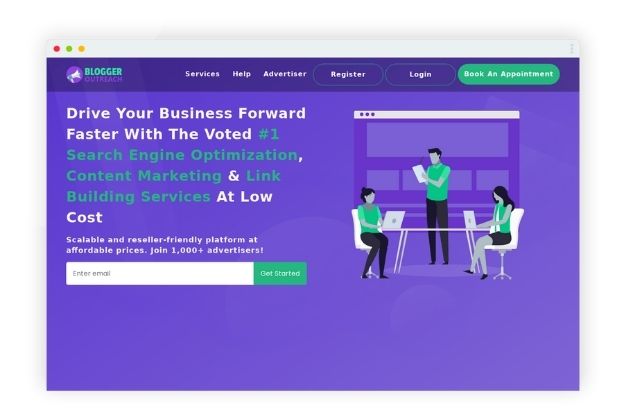 One of the leading digital platforms for content marketing and SEO link-building, BloggerOutreach boasts a few terrific features that will change your whole concept of these types of platforms. The platform promises three things to all,
Premium quality
Transparency, and
Affordability
The features of BloggerOutreach are as follows:
The platform is blessed with more than 3000 websites and expert bloggers across all industries and niches.
The platform partners with expert professionals with over a decade's experience in providing SEO services for white label products or services.
BloggerOutreach provides affordable opportunities to businesses looking for guest posting and content marketing services.
The platform also provides services and support around the clock with on-time delivery
Pros:
BloggerOutreach is a cost-effective platform compared to competing ones in the market, and it also has a simple user interface.
Since BloggerOutreach excels in giving SEO-optimized content, backlinks from good websites can be easily obtained.
The platform also boats website traffic and consequently makes it fairly easy for businesses to increase their sales volume.
Cons:
Till now I didn't see any negative review of BloggerOutreach.
Pricing:
The best part about using BloggerOutreach is you don't need to pay them a single penny for starting your journey on the platform! Of course, once you start using more and more features like guest posting services, blogger outreach services or content writing services, you will need to pay a certain amount of money, but we are guessing not much, considering how cost-effectiveness is one of the benefits of using the platform.
About OutreachMama: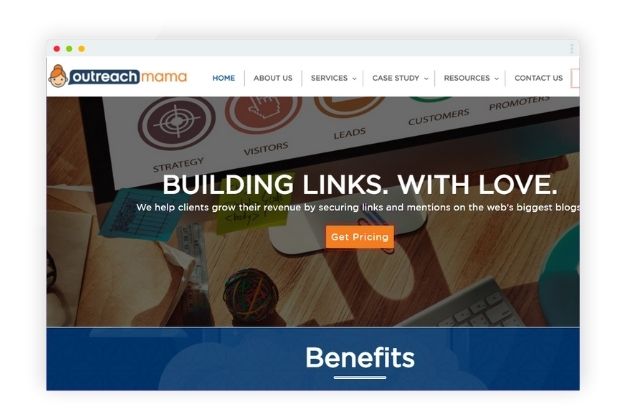 If you are here for some solid link building tips, you have come to the right place because finding the right platform is the first step to success with link-building. OutreachMama is one of the most well-known platforms, even more, popular than Adsy in many countries across the globe.
The services of OutreachMama are as follows,
Guest Posting
Link-building for Agencies
Link-building for Brands
Blog Writing
Blogger Outreach
Skyscraper Marketing
Pros:
The advantages of using OutreachMama are as follows,
One of the unique benefits of using OutreachMama is its guarantee of link replacement. Most link-building agencies rotate their links – you might buy 100 links, and when the year ends, you will end up with only 50 valid links. OutreachMama guarantees if you buy 100 links, you will end up with all 100 of them intact.
The OutreachMama platform is also cost-effective. This is because the platform does not disclose rates publicly anywhere. Instead, you need to submit your requirements and other details before the platform gets back with a quiet, which is pretty decent considering they are charging you for everything your business personally needs.
Lastly, another great thing about this platform is you can choose to be as directly involved as you want to be in the whole process. This means you can choose to let the platform do its work, you can. However, if you're going to be involved, even that is a possibility.
Cons:
The disadvantages of using OutreachMama are as follows,
The biggest issue with OutreachMama is that the platform will not allow you to review the content before uploading it online. Simply put, you just have to put all your faith in them to do this right. However, the platform claims that this move saves a lot of time on their part.
Another disadvantage of using OutreachMama is they lack information on common feuds and connections in the industry. As a result, they might end up contacting some site you have an issue with or some site that does not like you.
Pricing:
As discussed above, OutreachMama does not disclose its pricing details publicly. Instead, you need to submit your website details, requirements, and similar information before they can get back to you with a quote. However, after much research, we found out that the platform charges somewhere around 80 dollars for a link on average.
About Adsy: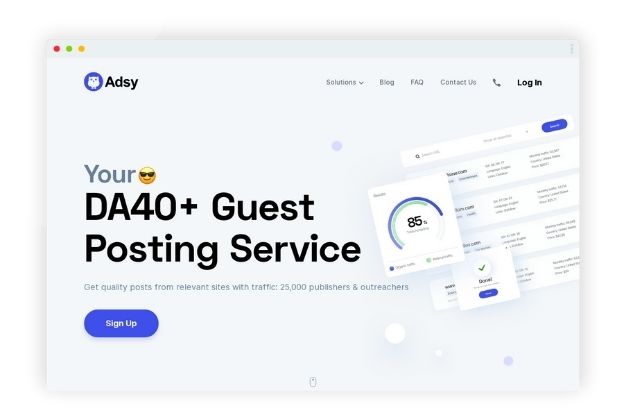 Adsy is a third-party platform that benefits two ends of a tunnel – website owners hoping to profit considerably from their post and business owners hoping for their website promotion through link-building and exchange of audiences. In addition, Adsy is a terrific platform for blogger outreach purposes.
One of the best guest posting services, Adsy connects the two types of people involved in the process within a single system. This, of course, makes it simply very convenient for users to order guest posts, monitor the work progress, and follow a reliable payment structure.
Pros:
⦁ Adsy is one of the cheapest blogger outreach platforms out there.
⦁ Adsy follows a policy of constantly hitting your target audience.
⦁ Adsy strengthens your position on Google by providing you with a backlink.
⦁ Adsy provides your business opportunities for increasing brand awareness with the help of branded content pieces.
Cons:
⦁ Since Adsy is an intermediate platform that connects two sets of people, there is no guarantee for link replacement. Individual publishers can either remove your links or keep them. But, again, there is no specific guarantee since it changes from publisher to publisher.
⦁ Another disadvantage of the platform is publishers can fool new businesses and exploit them financially since there are no specific set prices. At the same time, even businesses can financially exploit publishers just starting out their careers.
Pricing:
Since Adsy is an intermediary platform between link-buyers and publishers, it technically does not have anything to do with the pricing, which is set by the publishers. However, since there are several sites on Adsy, you will find something or the other that best suits your requirements at your preferred budget.
Conclusion
Now that you have enough information about the top three blogger outreach platforms, you can finally take your time and make your choice. In my personal opinion, if you want authenticity and trust and then you must choose BloggerOutreach. But make sure you gauge all the essential elements of each forum before making any choice!