How to Optimize Your eCommerce Website For Better Conversions – Proven Methods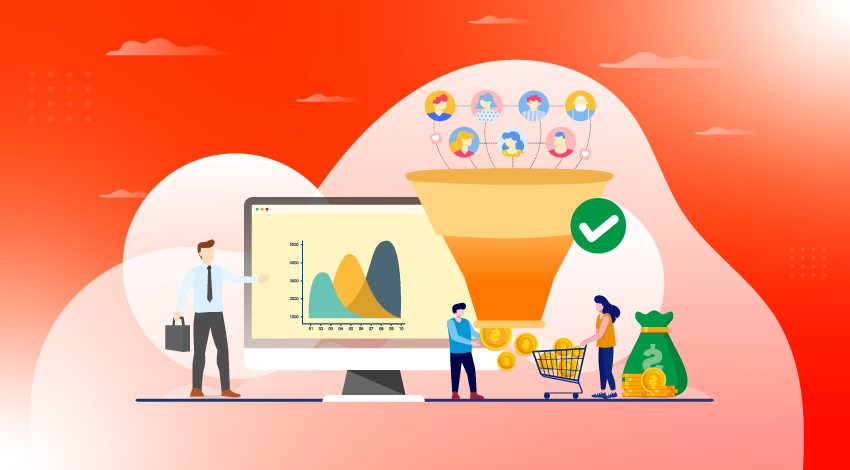 Introduction
You may have an online store up and running, but are you getting enough conversion or sales? It's essential to ensure that every person visiting your online store completes the purchase process. Therefore, to maintain your desired conversion rate, you need to optimize your eCommerce website.
Nowadays, simple tweaks can reflect a massive difference in your conversion rate. However,  there are various aspects in an eCommerce store where you can apply your strategies. As a result, you must choose which tactics are appropriate in particular circumstances or facets. Otherwise, your customer conversion and sales results may suffer dramatically.
We've outlined some excellent methods to minimize your effort in improving the conversion rate of your webshop. With these strategies, you can gradually optimize your eCommerce website to a new height. Consequently, you will get new customers, retain more customers, and generate additional sales.
What is the eCommerce Conversion rate?
Let's define conversion rate before we get to the main topic – Strategies to Optimize Your eCommerce Website. The number of visitors who purchase from your online store in a certain period is considered an eCommerce conversion rate. However, By dividing sales transactions by visits, Google Analytics provides a unified reference for conversion rates.
Google's definition of eCommerce conversion rate is given below: 
"Ecommerce Conversion Rate is the ratio of transactions to sessions, expressed as a percentage."
To indicate the conversion ratio, counting the ratio of the transaction to the session isn't the only key point. There are other aspects to measure eCommerce conversions which include the following activities: 
When a customer adds a product to his shopping cart 

Adding products to a wishlist to buy it later

Registering or Signing Up an account with an email address 

Sharing your store's info (Product, service, content ) on social media 
The conversion rate is a statistic that you can use to assess the efficiency and competitiveness of your eCommerce website. Based on this information, you can evaluate the changes that you require to Optimize your eCommerce website.
To find out your own eCommerce conversion rate, you can use Google Analytics. You can set a complete goal after getting all the data from Google Analytics. Now, we'll show you how to use some outstanding optimization approaches to help you achieve your business objectives.
Strategies to Optimize Your eCommerce Website For Better Conversions
Enhance your Product page
First of all, make sure your product page is convincing your site visitors to make a purchase. Let's learn how to achieve success by improving the product page with a few tactics.
Using Breadcrumbs
Make it simple for customers to find new products no matter where they are on your website. Customers can easily find out their products if you make proper use of breadcrumbs. The breadcrumbs allow users to discover a product according to hierarchy and history. The following example indicates a proper usage of breadcrumbs on Ketnipz's eCommerce website.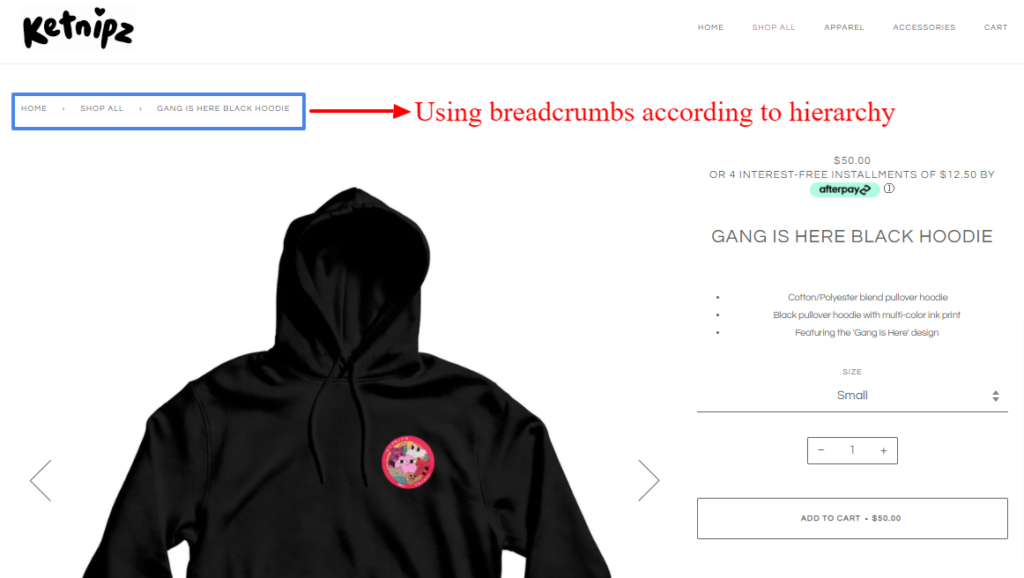 Title Optimization 
To enhance your product page, you can also include eye-catching and  SEO-optimized titles for your products. Consequently, it will help the pages rank higher in search results, making it easier for customers to locate what they're looking for.
Eye-catching Images 
Another key element of an eCommerce website is the product image that must be optimized. Customers cannot verify the products before purchasing them from your online store. Therefore, you must include images that are clearly visible from different angles. Moreover, the images 
should represent different features of your product.
For example, Puravida represented their product images with different angles of usage of the product. Customers can rely on the images to purchase the product because they are lucrative and clearly visible.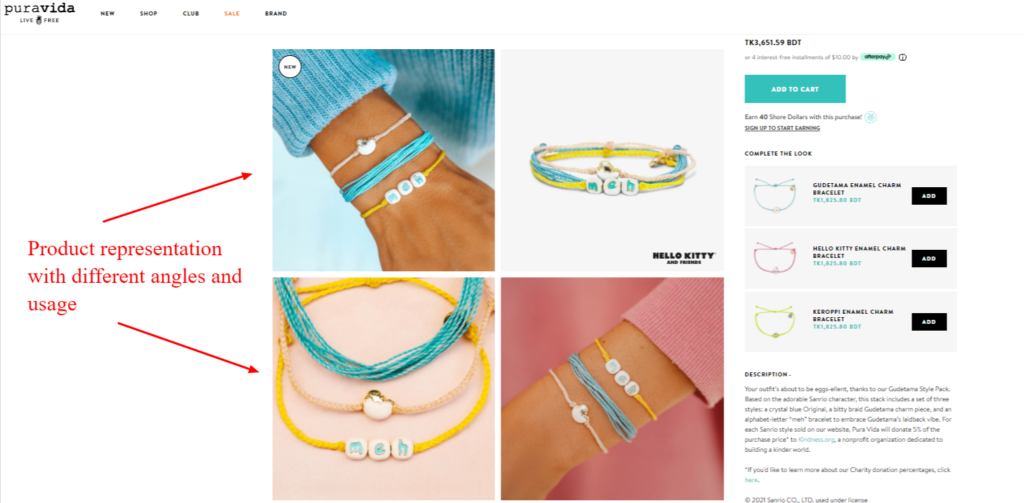 Product Videos
Another great way of representing products on your website is using video. It helps shoppers to view the products with more details. Moreover, they can also get a real-life example of the product.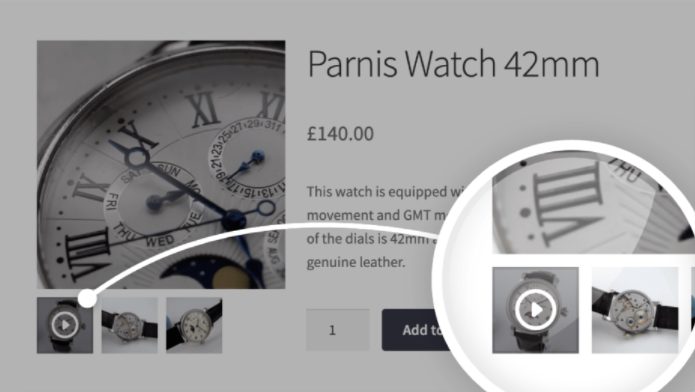 Exceptional Product Description 
Product description informs shoppers about the importance of a particular product in their life. Additionally, it also describes how the product will look when an actual human uses it. Remove the manufacturer's usual product description and replace it with something unique.
To enhance the product pages, you can always apply more optimization techniques such as: 
Add critical product details to make it more explorable 

Include customer reviews, likes, views with product details. 

Display proper pricing and comparison to attract your customers (Our next Point)

Apply Price Optimization 
If you aren't properly utilizing the pricing of the products, you will miss out on many customers. There are numerous tactics that you can apply to generate more revenue. Here are a few which you can apply to witness greater impacts on your store.
Product Comparison
Customers are always looking for products with lower price ranges. Therefore, try to display two or several products side by side with a product comparison. In this situation, you have a better chance of increasing sales for the lower-priced product.
In idealo, when you click on a product, the website will redirect you to the product page. On the product page, you will get all the product details. In addition, you can compare the same product with different prices from different retailers. Customers are more likely to get the product with a lower price tag. However, by applying these price comparison tactics to your online store, you'll surely get more sales.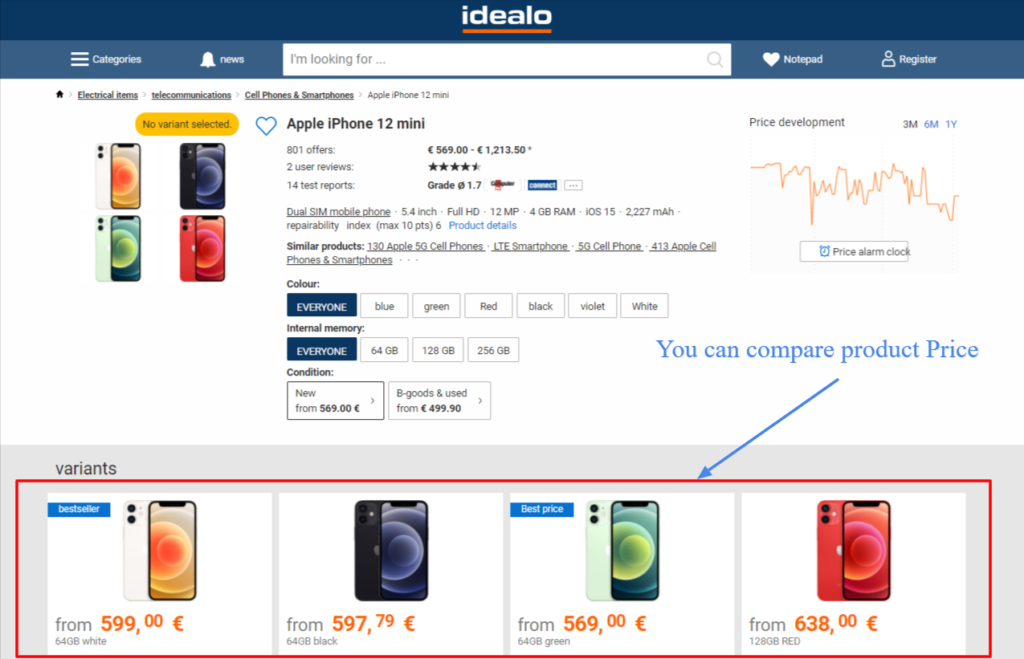 Use a Proper Call-to-action (CTA)
To convince shoppers to buy your products, you have to lead them to complete the purchase process. Therefore, it's essential to include a proper call to action ( CTA ) on your eCommerce website.
Ideal CTAs should meet the following requirements: 
Action words that lead customers to take an action 

Inform shoppers about their next step ("Add to Cart," Add to Wishlist," "Buy Now")
Make your CTA visible so that the customer is ready to press right after viewing the product details.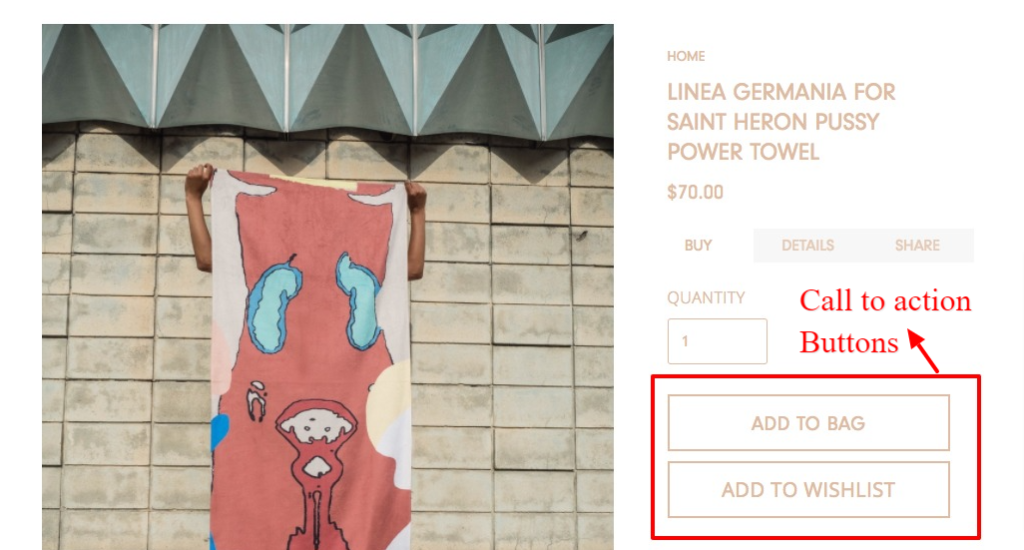 Reduce Confusion 
Make your pricing strategy short and concise so that customers are not overwhelmed. This is because too many pricing options can confuse your customers. Therefore, you need to apply eCommerce optimization to your pricing. 
The following example represents the pricing plan of BigCommerce which indicates three different pricing plans. In addition, they have emphasized the best option by highlighting it with the tag "Most Popular." As a result, customers won't get confused and quickly purchase the best plan.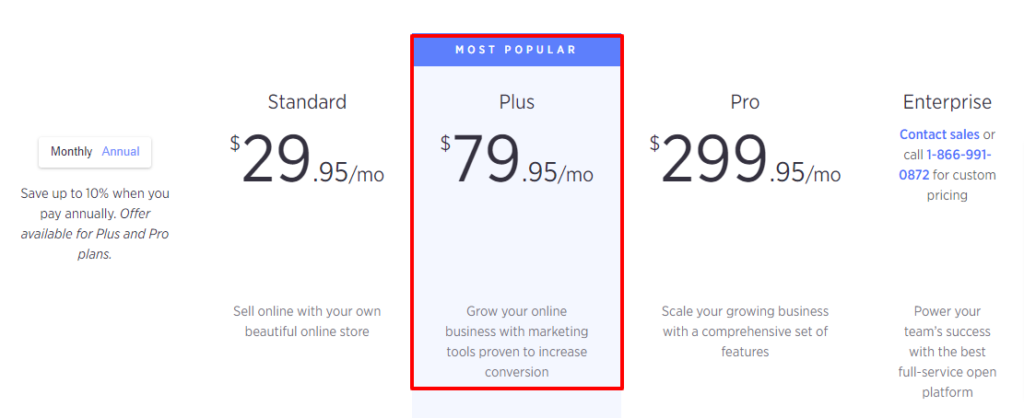 Apply Charm Pricing 
Apply charm pricing to influence your customers psychologically because it works. Odd numbers – nine and five – are the core of charm pricing. A charm pricing strategy is very effective and can sometimes double the conversion rate. Try out a few different product and pricing pages to see which one works best in terms of increasing sales volume.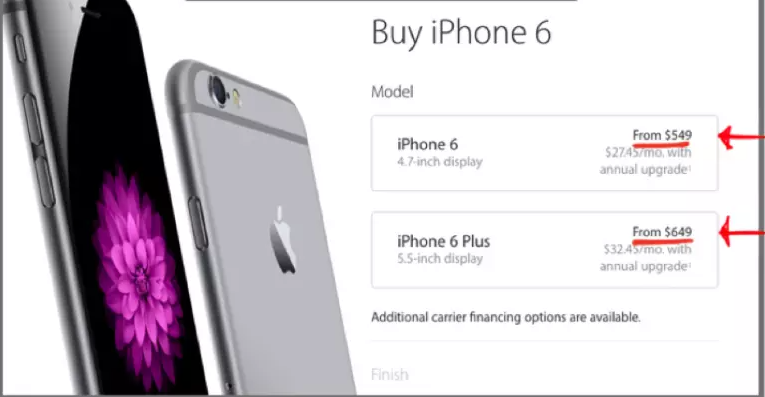 Live Chat Option 
Apart from improving the customer support of a website, you can also use the live chat option to improve the pricing option. Customers may want to connect with a real person and inquire about the pricing options. Moreover, they may also ask pre-sales questions that increase the conversion significantly.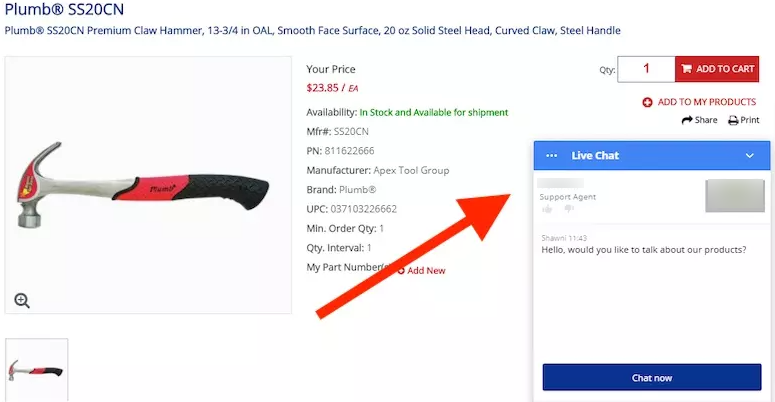 Display Personalized Data
Displaying personalized data such as offers and content to the relevant customers is very effective. You have to collect analytical data on your customers from websites, analytics tools, and social media to do this. As a result, you will be able to understand customers' preferences and display related content on your site.
Present Relevant information
First and foremost, the finest personalization is smart and precise. Shoppers are always eager to buy when they find what they are looking for. Therefore, provide only relevant content on your eCommerce website. Always try to make your product information accurate and optimized for customers' search queries. 
Display Related Products 
If you are looking for an easy path to generate more sales, display related or recommended products.
For example, Pura Vida displays customer reviews on its product page with two categories of recommendations. This form of personalization (recommendation or related product) brought a large rise in clicks, conversion rate, and revenue.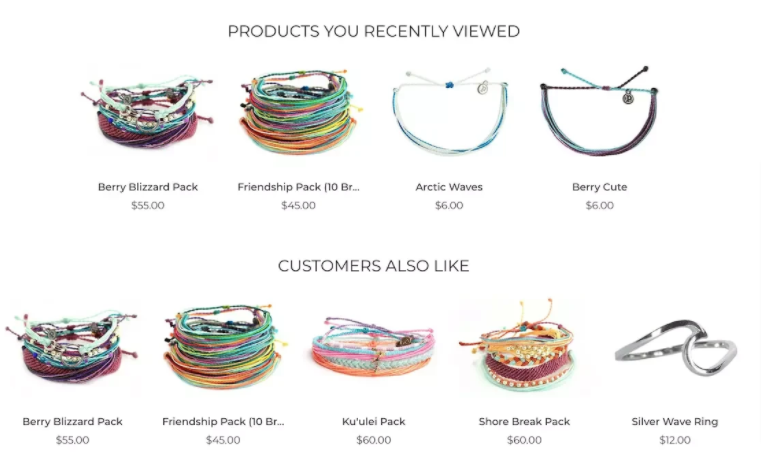 Improve Your Site's Navigation 
Make your website as user-friendly as possible for every type of customer and their interests. The site should be easy to explore, and it should redirect customers to the right page. Moreover, your website's checkout process should be flexible so that customers can quickly finish the purchase process. 
Email Marketing based on Customer Behavior 
Customers may abandon your website, but you shouldn't miss the opportunity to retarget them. Some of the Top eCommerce websites use this tactic which is popular at the moment. When a customer is looking for a product or clicked one, send them an email about related products. Moreover, you can also send them discounts or offers via email. As a result, customers will stick with your store to get some additional benefits from your store. 
Offer Discounts with Pop-ups 
You can optimize your eCommerce website by offering discounted advertising via pop-ups. Display your offers on particular pages where your site visitors are visiting the most. This tactic helps you get more sales because it emphasizes the offer by blurring the background. As a result, customers are more focused on the offers rather than navigating other options.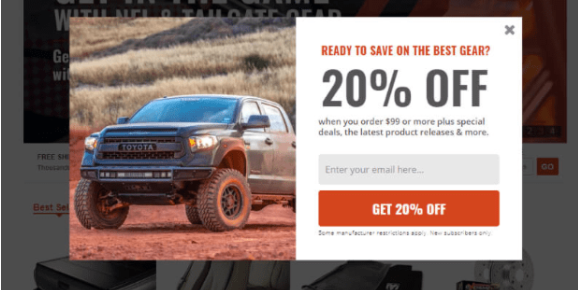 Some additional ways of website personalization include: 
Representing data based-on user's location 

Display Homepage banners and ads to convince your customers

Optimize the search option of your website to display accurate onsite search results. 
Optimize for other Devices
Nowadays device optimized eCommerce websites have become essential to get more conversion. That's because traffic generation of the mobile device is 54.25% which is greater than desktop (42.9%). As a result, you should focus on optimizing your eCommerce website and its services for mobile devices. Let's discuss some tactics that you can apply to your website for device optimization. 

Accelerate your Website's Speed 
To cope up with the patience of the mobile users, you must accelerate your site's speed. Your website should not take more than 3 seconds to load; otherwise, a potential customer will leave. That is why you have to minimize the render start time (RST) of your website.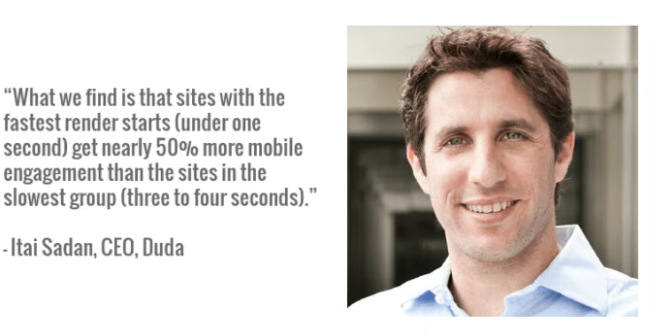 To optimize the speed of your site, you apply the following techniques:
Create your site using a responsive theme

Use plugins or third-party services to boost your site speed

Load contents quickly with the help of a caching plugin
Engage Customers with Videos
Video marketing is booming, and it's a popular medium to engage customers to purchase your products. Most of the consumers ( 94%) watch a video to understand a product before buying it. Moreover, 84% of consumers have completed the purchase process after watching video content. Hence, you can make good use of video content on your site to gain more conversions. 
SEO Optimization for Mobile
When it comes to converting visitors into customers, mobile SEO is a must. If you want your content to be found by mobile users, you can't ignore Google's mobile-first index. Here's how:
The title and description of every single page of your website should be optimized. It will put your site in the top position of the search engine result pages. 

Research the search terms and Integrate those on your website contents. As a result, your website will be easily discoverable. 

Utilize the voice search option because

58% of mobile users

use this feature to find businesses. 
Launch Campaigns for Mobile Marketing 
Want to grab more conversion ratio via mobile users? Apply mobile marketing strategy and start your campaigns for mobile without delay.  
Implement Upselling Techniques 
You can implement upselling techniques to boost the conversion rate of your eCommerce website. You can persuade a potential customer to spend more money on a product that they prefer. All you need to do is:
Display related products and product recommendations on the product page 

Show more related products or recommendations during checkout 

After the checkout, display more products or categories of related products
Your existing customers are reliant on your store. Therefore, you can easily sell more products to them. Sales will rise by 20% and profits by 30% if you apply upselling appropriately on your website. This indicates that your conversion and revenue will gradually increase.
Let your customers know why your upselling is beneficial 

Your pricing techniques should be accurate. Recommended product prices should be lower than the products on the cart. 

Provide social proof to validate the authenticity of a product
Reduce Cart Abandonment 
Cart abandonment is a common but alarming issue for every eCommerce retailer. According to stats, the average ratio of cart abandonment is 69%. To gain more conversions for your online store, you must lower down this volume. As a result, you must optimize your eCommerce website. Here are some viable techniques that you can apply to reduce cart abandonment: 
Hold Customers using Exit-Intent 
You should have an effective exit-intent strategy to prevent cart abandonment on your website. With this technique, you can stop customers who want to exit your website without making any purchases. Display relevant pop-ups to capture your customers' attention, including special offers that will entice them to stay.
Remove Additional Costs 
Shoppers will become demotivated to buy from your store if they get surprises, especially when it's related to additional costs. Most of the customers abandon carts because of additional costs, hidden costs, and shipping costs. Therefore, you can apply the following tactics:
Be precise about pricing your products. 

Mention all the cots before heading to the final step of the purchase process

Offer Free Shipping because it convinces customers 

Inform your customers several times about the free services you are providing 

Include a friendly return policy for your customers so that they can rely on you in future 
Insert Multiple Payment Options & Gateways 
Customers are always looking for their preferred option for payment which is easy-going. Insert Multiple Payment options on your website so that customers can pay in whatever way they prefer. Customers get bothered if they cannot pay via credit card, electronic, or mobile payment option. Payment options are essential to improve the conversion ratio, especially if you include the following options –
Credit & Debit cards

Paypal 

Cash on Delivery 

Amazon Pay

Stripe Payment 

2Checkout

Skrill 
Display A visible Cart Icon 
One great way to keep the attention of your customer is by displaying a visible cart icon on every page of your site. It keeps reminding your customers that they have stuff in their shopping cart that they wish to purchase. The following example gives you a clear representation of how you can utilize the cart icon on your site. 

Allow Guests to Purchase Items
Allow your guests to purchase items without registering or opening an account on your site. Most of the time, users find it bothersome if asked to open an account before purchasing a product. We recommend you allow the customers to make purchases even without having an account on your site. Allow consumers to buy things first, then give them a choice to create an account or preserve their information.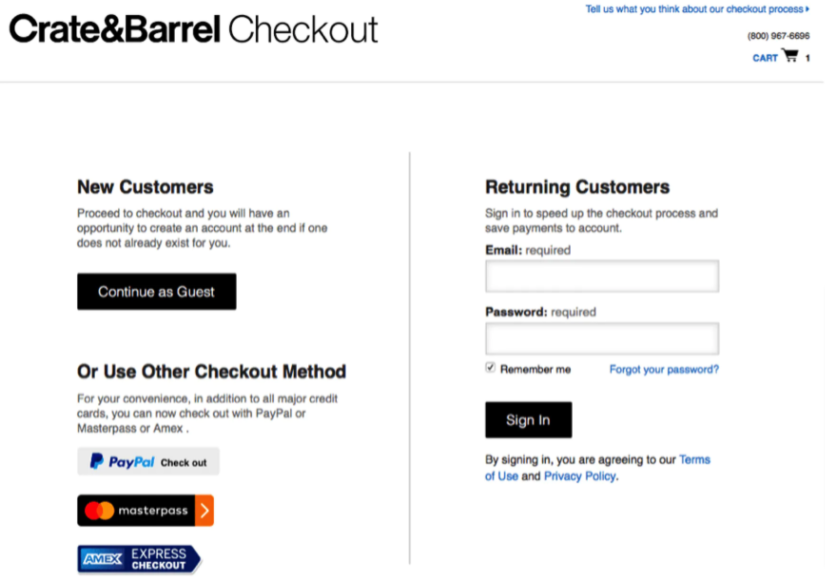 Remind Cart Abandoners
Whenever there is something in your customer's cart, remind them to complete the purchase. If you have the email address of your customers, send emails to the customers who didn't complete their purchase process. Sending emails to cart abandoners increases your sales opportunity significantly. 
Make a schedule for sending emails to cart abandoners and send the first email within a few hours of leaving the cart. The email should include the following queries. 
Any issue faced while going through the Checkout Process  

Display cart times that haven't been purchased 

Offer discounts or coupons on cart items to complete the purchase.
Influence Customers with Power Words 
You can drive your customers to purchase by using powerful words. To optimize your eCommerce website, you can use these words to make the readers respond to your content. 
Power words are the unspoken agreement between the writer and the reader's thoughts. There aren't just a few words on the list of powerful words. Seven hundred powerful words may help you boost your conversion rate.
We are providing a few of the power words that you can always utilize: 
Free 
Free is the most attractive power word for the customers. It is the least skipped but the most wanted word by the customers and. 
You 
To engage your customers, create the content of your website as you are speaking with them via one on one meetings. Keep your focus only on them by using the word "you."
Limited Time 
Suppose you are displaying (1) offers, (2) discounts, and (3) newly launched products on your online store. Simply include the word "limited time," which will make them make buying decisions quickly. It's an adequate term to inform customers what they would lose out on if they do not take action.
Launch a Flash Sales 
Flash sales are an effective way of promoting brands by increasing the conversion rate. It requires you to offer additional discounts to the customers within a limited time span. As a result, you will get a huge opportunity to convert your website visitors into customers.
Flash sales will not bring you guaranteed success all the time. To operate a successful flash sale campaign, you must pick the appropriate moment, the right product offer, and the ideal buyer. The homepage of your website is the ideal spot to display a flash sales offer. The offer should ask customers to make a quick decision so that they grab the opportunity right away. 
To launch successful flash sales, you may take the following action – 
Make your advertising campaign more urgent by using phrases like time, pace, and scarcity.

Create a fear of missing out on the opportunity or the offer

Display the product amount of your inventory 
Here is an example of Flash Sales that NYX used for its promotional campaign. It creates urgency by limiting the offer within a time frame- 4.00 PM PST to midnight only.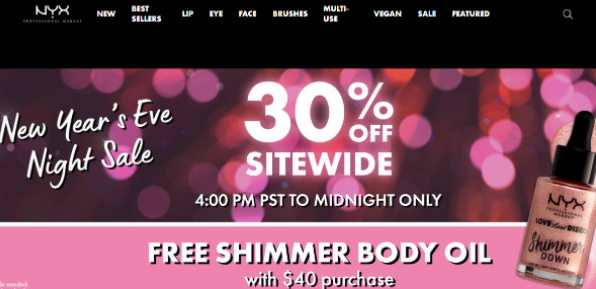 Tweak you Sites Performance 
Make your Online Store "Responsive"
To increase the user experience, you must make a responsive eCommerce store.  Responsive eCommerce sites lead to a better conversion rate. Therefore, you should check the following list to check the responsiveness of your website: 
Each page of your site loads quickly 

The page or the site loads quickly on every device of the shopper

Shoppers are able to navigate every option of your website

Users do not need to manually resize the window or scroll to get a clear view 
On the other hand, an exceptional UX design will direct your customers to their preferred location. That is why smooth UX is necessary to optimize your eCommerce website for better conversion. 
Work on your Search Bar 
You will be amazed to know that 43% of visitors on retail websites go straight to the search bar to search for products. Moreover, Consumers who utilize search are 2.4 times more likely to purchase. Therefore, you must include a search bar that is flexible enough to display specific search results to your customers. As a result, customers won't be looking for a product on other site's and your conversion will increase. 
Apply Strategical Categorization 
Make your product categorization strategically so that a product with multiple categories is placed properly. For example, a product – Hoodie is placed in a "Clothing" category, but you also have a "Winter Clothings" category. Therefore, you should place the hoodie on both categories so that customers can find it by searching both categories. This is because you don't know which category will be selected by a customer. 
Analyze the Search Data 
Analyze the search data and find out what your customers are looking for on your eCommerce website. Also, get the analytics on how and where they are navigating on your site. As a result, you can change the product layout and on-page components according to the customer's preference.
Conclusion
Your website is the frontier in an eCommerce business where you must provide your customer with a great experience to get more conversions. There are lots of optimization techniques that you can apply and increase the conversion rate. But applying the right strategy to the right product is really crucial to get your desired sales outcome. 
Therefore, we have mentioned the most appropriate optimization techniques that go with the ongoing trends of the marketplace. We hope these strategies will surely help optimize your eCommerce website and ensure a better conversion ratio.