Implementing a Result-Driven SEO Audit: Tips for Success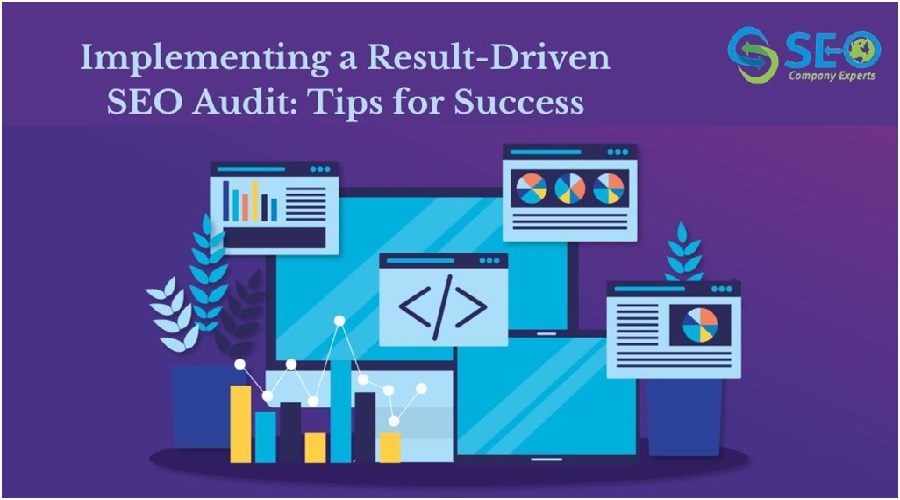 You could hire website SEO audit services if a recent SEO audit exposed your need for more technical understanding. Take your time; read on for the top technical SEO auditing tips that will catapult your site to the top of the rankings in no time. While there is no such thing as too much information, the points in this blog will assist in getting you started on the right foot while doing a technical SEO audit.
Reasons to Conduct a Technical Search Engine Optimization Audit
———————————–
A website SEO audit service focuses on the technical aspects of a website's optimization for search engines. A website's health is tracked, and any issues are identified so that fixes can be implemented.
Bots crawl the web to locate certain pages and websites for search engines. Before categorizing your website, the bots will evaluate it for various ranks based on an algorithm.
Mini audits should be performed once a month because search engines frequently update their search algorithms and technologies for bot crawling. On the other hand, a full-scale technical SEO audit should be performed every four to five months.
Website content that is optimized for search engine bots is another thing that may be checked in a technical audit. You can learn how well your site serves its users' needs by doing a technical SEO audit, which looks at your site's links, code, and design.
After evaluating your website for technical SEO, you will notice an improvement in your rankings. However, completing an audit can be a hassle if you need to know what to look for. That's why we must talk about the variables that impact SEO results.
Performing an SEO Audit: Steps
———————————–
Plan Ahead
Before continuing, establish the audit's purpose. This audit will follow your goals. For instance, if you're conducting an audit before a website redesign, you'll need to implement the suggested changes while creating the new site rather than gradually after it's already live.
Clear objectives will give you the focus and motivation to complete a successful audit. Start with the end in mind, whether planning a complete site overhaul or wanting to keep tabs on your SEO high points.
Choose Key Performance Indicators
Once you know where to end up, you can start lining up key performance indicators (KPIs) to help you get there. These Key Performance Indicators will be your "focus metrics" during your SEO site audit. The key performance indicators you choose should detail the path to success. If you want to increase organic leads to your website, one key performance indicator (KPI) to watch is the percentage of site visitors that convert into leads. Investigate the performance of that metric over the last six months. Then, investigate the effect that metric has on your website. Tell me about the most visited search results. Do they offer a lead capture form prominently displayed on their homepage?
The present state of your site influences certain key performance indicators. Find out what metrics matter most to you, and investigate how changes to the site's structure or users' habits might affect them. Doing so will prepare you to complete an SEO audit.
Collect Data
Now that you know which metrics will help you achieve your income objective, it's time to start collecting data from the appropriate sources.
After conducting this assessment, your focus should be on closing the gaps between your current SEO strategy and your desired level of revenue. For instance, if you're only getting 300 visits per week but need 600 to generate enough opportunities (at a predetermined win rate) every month, you'll want to focus on search ranking (for awareness material) to pull in the remaining 150.
When you know where you're lacking, you can assess where you are about the competition.
Check Competitors
Put your Key Performance Indicators (KPIs) to use and analyze your competitors' metrics to learn from their successes and failures. An SEO tool might be useful here. It cannot be easy to gather this information by hand, but with SEO software, you can easily add your competitors and pull the data you need. A word of caution: it's not perfect, but it's good enough for some inferences. Evaluate it next to what you've collected. Determine how your rivals succeed at your objectives, and include that information in your suggestions. But don't just mimic what they're doing! Find the places where they are breaking new ground, and incorporate those ideas into your design.
Strategic Approach
After analyzing your data in light of your revenue targets and your rivals' strategies, you must now determine how to improve your current approach best to maximize your return on investment.
Set a deadline of 30, 60, or 90 days to complete your strategy. How do you ensure that the changes you're committed to seeing by the conclusion of the plan's time frame materialize? Which low-hanging fruit strategies should be prioritized within the first month? Prioritizing your work implies starting with the most urgent and vital tasks.
Carry Out the Strategy
It's time to put that strategy into action. Keep from becoming bogged down in the weeds of minutiae. The planning, goal-setting, and prioritization you did in Steps 1–5 should help you remember why you're conducting the audit in the first place. Your goal is clear to you. Step 6 is the actual doing of it.
Evaluation
It should be simple for you to document the progress you've achieved. Get started monitoring the KPIs and see if anything has shifted. Is there any progress being made? Is the needle pointing upwards, or is it stuck? You should tell if your adjustments are going according to plan. Change your strategy if your KPIs need to be improved. Take your time refocusing your current project; instead, consider alternative methods that might prove more fruitful.
Conclusion
You can't be sure that your plan will lead to increased organic visitors and higher search engine rankings. You may improve your SEO approach by gradually implementing new tweaks and modifications. Try several methods to see what resonates best with your target market and field. You're just laying the groundwork for what comes next, so keep an eye on progress and adapt your strategy as needed. Also, you can hire website SEO audit services, if you don't want to do it on your own.