The Future of White Label SEO: Trends and Predictions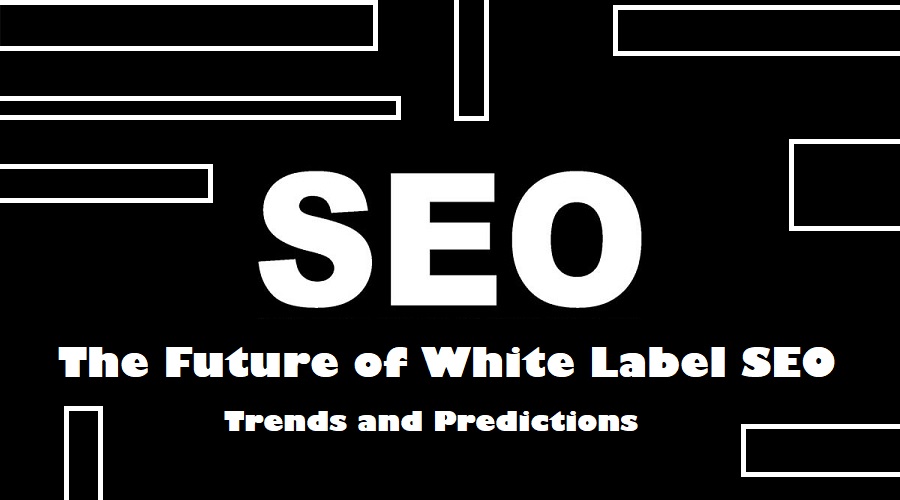 In today's digital age, search engine optimization (SEO) has become indispensable to any successful online marketing strategy. With businesses increasingly recognizing the importance of SEO, the demand for effective and scalable solutions has grown exponentially. This is where white-label SEO tools come into play. White-label SEO allows agencies to offer SEO services under their own brand, leveraging the expertise and resources of specialized SEO providers.
If you are a marketing agency that wants to offer SEO as a service to its clients but doesn't have the time or resources to do so internally, white-label SEO services are a great option. Not only does it help save on costs associated with employee training, strategy development, and client solicitation, but it also allows agencies to leverage a third party with the processes in place to deliver high-quality results. As we look to the future, it's essential to explore the latest SEO trends and predictions that will shape the landscape of white-label SEO.
1. Increased Emphasis on User Experience (UX)
————————————-
User experience has always been a crucial factor in SEO success, and it will continue to dominate the white-label SEO landscape in the future. Search engines are constantly evolving to prioritize user-friendly websites, making it essential for white-label SEO providers to prioritize UX optimization. Factors such as site speed, mobile responsiveness, intuitive navigation, and engaging content will become even more critical. Agencies should invest in white-label SEO tools and strategies that can enhance user experience and align with search engine algorithms.
2. Integration of Artificial Intelligence (AI) and Machine Learning (ML)
————————————-
One of the most important trends in SEO is the integration of AI and ML into white-label services. These technologies allow digital marketing agencies to deliver better results by analyzing user behavior and optimizing their websites according to those behaviors. This will also help them to personalize search engine results pages and boost their rankings.
Moreover, AI can recognize words, entities, locations, and other relevant information to make searches more accurate and effective. Using ML, the search engine's algorithms can process natural language to understand the intent and context of a query, and they can use this understanding to provide relevant results. These new technologies are being incorporated into white-label SEO reporting tools to create a more advanced and personalized search experience.
Another of the latest SEO trends is using fresh and relevant content to improve user experience and boost rankings. This is especially true for white-label local SEO, where the competition is fierce, and users' needs vary by location. AI can help to improve this aspect of SEO by creating and distributing fresh and relevant content on behalf of marketers.
The integration of AI and ML technologies will revolutionize white-label SEO. These technologies have the potential to automate repetitive tasks, analyze large volumes of data, and provide valuable insights. AI-powered tools can help white-label SEO agencies in keyword research, content creation, link building, and competitive analysis. As AI and ML continue to advance, they will become indispensable tools for optimizing websites and driving organic traffic. Hence white-label SEO providers should embrace these technologies to gain a competitive edge.
3. Voice Search Optimization
————————————-
As voice search becomes more common, marketers need to optimize their content for this type of search. This includes using long-tail keywords and natural language and ensuring that pages are mobile-friendly. It also helps to have structured data on websites, making it easier for voice assistants to understand the content and provide results based on what people are searching for.
It's also important to focus on white-label local SEO services, as a high percentage of voice searches are for businesses in the area. This can be done by ensuring that your business's Google Business Profile (GBP) is optimized, including location-specific keywords in content, and creating local press releases to distribute to local media.
With the increasing prevalence of voice assistants and smart speakers, voice search optimization has become one of the most significant trends in SEO. Voice search queries differ from traditional text-based searches, requiring a different approach to keyword research and content optimization. White-label SEO agencies must adapt their strategies to optimize websites for voice search, focusing on long-tail conversational keywords and providing concise, informative answers. Voice search optimization will be vital for businesses looking to capture the growing segment of voice search users.
4. Localization and Hyper-Targeting
————————————-
Marketing agencies that specialize in local SEO or e-commerce SEO can find it challenging to scale their services. Using a white-label local SEO partner can reduce their operating costs while allowing them to provide their clients with a better experience.
In an increasingly globalized world, localization and hyper-targeting will play a pivotal role in white-label SEO. Businesses are expanding their reach across different regions and targeting specific local markets. White-label local SEO providers will need to develop strategies that cater to localized search intent, including location-specific keyword optimization, localized content creation, and geo-targeted link building. Localization and hyper-targeting will enable businesses to connect with their target audience on a deeper level, increasing their visibility and driving relevant organic traffic.
5. Mobile-First Indexing
————————————-
Recently, Google rolled out mobile-first indexing for all websites. This is based on the assumption that searchers are using smartphones to find the information they need and that websites should be designed with this in mind. Google has also been making it clear that it prioritizes mobile-friendly websites in its ranking algorithms.
Since mobile usage has surpassed desktop, it has prompted search engines like Google to prioritize mobile-first indexing. White-label SEO agencies must ensure that websites are mobile-friendly, providing seamless experiences across different devices. Mobile optimization will encompass responsive web design, fast-loading pages, and mobile-specific SEO techniques. Ignoring mobile optimization will result in decreased visibility and rankings, making it imperative for white-label SEO providers to prioritize mobile-first strategies.
6. Integration of SEO with Other Digital Marketing Channels
————————————-
Local businesses are looking for agencies to be a one-stop shop for all their digital marketing needs. They don't want to juggle multiple vendors and technology providers. Adding SEO to your offerings can increase the value of your agency and open up new revenue streams. But, if SEO isn't your core expertise, partnering with a white-label SEO agency can save you the headache of hiring employees or building advanced tools.
White-label SEO is a legitimate practice that allows marketing agencies to outsource their search engine optimization services without risking their brand reputation. However, it's important to choose a trusted provider with the right expertise to meet your marketing needs. A quality SEO agency will provide you with a range of customizable solutions to fit your specific marketing goals.
As a result, SEO is increasingly being offered alongside other digital marketing services like PPC and social media management. This is a good thing, as it helps to expand the scope of an agency's offering and improve ROI for its clients. But it can be challenging for smaller digital marketing agencies to keep up with the ever-changing world of SEO. By partnering with a reseller program offering white-label local SEO services, smaller agencies can offer these benefits without investing in a team of experts.
In the future, white-label SEO will not exist in isolation but will be tightly integrated with other digital marketing channels. SEO will interact with social media marketing, content marketing, paid advertising, and other forms of online promotion. White-label SEO agencies should expand their service offerings to include a holistic approach to digital marketing. By integrating SEO with other channels, businesses can create a synergistic effect that maximizes their online visibility and drives consistent results.
Things You Should Look For in a White-Label SEO Company
For digital marketing agencies or any business that offers SEO services, it's challenging to keep up with the constant changes to search engine algorithms and features. From core updates to new links, Google constantly updates its systems to ensure users receive the most accurate and helpful results for their inquiries. This process can take up a lot of time, and keeping abreast of it is hard for many companies, especially smaller ones. A reliable reseller offering white-label local SEO services will help you keep up with all the changes and ensure your clients' campaigns are performing at their best.
White-label SEO allows marketing agencies to offer more comprehensive services to their clients without investing in additional resources or training. A good white-label SEO provider will provide market research, digital marketing strategies, funding decks, case studies, and more, all of which can be branded with the agency's name and used as sales materials. Moreover, they will provide monthly reporting showcasing the campaign's progress.
Partnering with an SEO white-label reseller agency can help agencies scale their services without hiring additional in-house staff. In addition, it helps them attract higher-value clients looking for an agency that can offer a complete digital marketing solution. According to market research, adding one more service to an existing client can increase retention rates by 20%, so offering more than just search engine optimization can be crucial to an agency's success.
When choosing a partner, look for one with extensive experience working with clients in your niche and a good track record. Ask for references and scrutinize reviews on third-party sites to find out what other businesses have said about them. You should also ensure that they understand their client's business models and goals. If a white-label SEO company doesn't understand these details, it's unlikely that they'll be able to deliver results for their client's business.
You should look for an SEO company that can demonstrate the success of its past campaigns when deciding on a white-label partner. This is especially important when dealing with future-oriented intangibles like SEO, where a company that overpromises and under-delivers will quickly lose the trust of its marketing agency clients. In addition to past performance, marketers should look for an SEO partner that is transparent about their work. This includes providing a clear outline of the methods that will be used for your campaign and a timeline for when results should be expected.
Having an SEO partner that can deliver unbranded proof-of-performance reporting and metrics is becoming a necessity. Clients want to see tangible results for their investment, especially when compared to ads. White-label SEO reseller programs make this easier to do, so you can retain clients with an agency they trust.
Finally, marketers should look for an SEO partner that responds quickly to any questions or concerns. This is critical when working with a white-label partner since the marketing agency's brand will be all over the SEO reports and proposals that are delivered to their clients. An SEO partner that doesn't respond to inquiries in a timely manner will quickly lose the trust of their marketing agency partners.
Another important factor to consider when selecting a white-label SEO partner is how they keep up with the latest SEO trends. Search engine algorithms change frequently, and those that fail to adapt will quickly find themselves out of the race. A reputable white-label SEO company will constantly monitor their approach and make changes as needed.
Ultimately, the best white-label SEO partners are ones that provide a high-quality service while reducing their marketing and administrative costs. When evaluating potential providers, marketing agencies should ask for a detailed work plan that clearly outlines the expected outcomes of their partnership. They should also look for a company with financial stability and a well-defined philosophy that matches their own. It's not impolite to ask for these things, and it's a good way to ensure that your white-label SEO partner is a solid fit.
Conclusion
With these SEO trends in mind, it's clear that white-label SEO is here to stay and is becoming even more critical for business owners. Agencies that prioritize their client's needs and keep up with industry developments will thrive in the digital marketing landscape. Partnering with a trusted SEO white-label reseller can be an effective way for agencies to expand their offerings and achieve greater sales growth while keeping their clients happy.
As the digital landscape continues to evolve, the future of white-label SEO holds exciting possibilities. By staying ahead of emerging trends in SEO and adopting innovative strategies, white-label SEO providers can position themselves as indispensable partners for businesses seeking online success. The emphasis on user experience, integration of AI and ML, voice search optimization, localization, mobile-first indexing, and integration with other digital marketing channels will shape the future of white-label SEO. By embracing these SEO trends and predictions, white-label SEO agencies can thrive in an ever-changing industry and deliver exceptional results for their clients.