The Evolution of Web Design and Development: Building the Future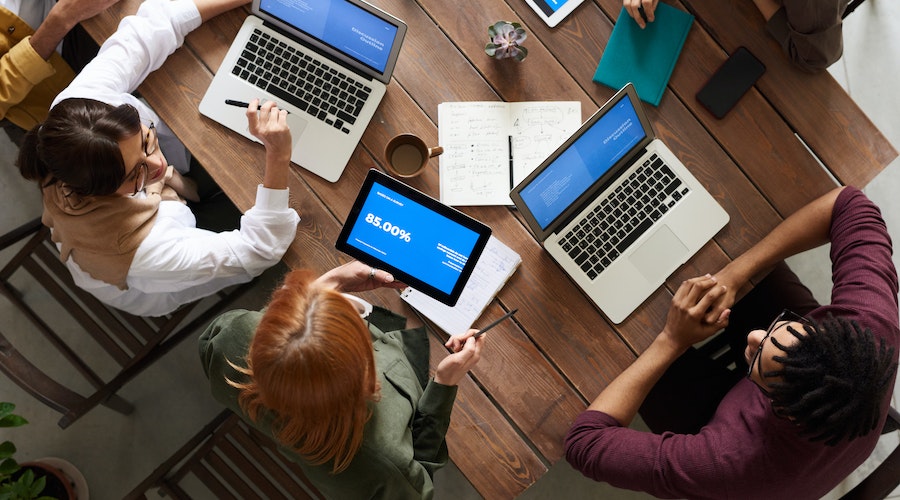 Seamless functionality, immersive user experience, and a compelling visual appeal: we associate all these aspects with our web browsing experience. Well, developers have been experimental with design trends all these years. Whether you are an entrepreneur, student, or educator, there's no denying that web design goes a long way in shaping our digital journeys. Intuitive designs enable businesses to thrive in the digitized ecosystem, crafting our communication and interaction strategies.
The futuristic web design landscape looks dynamic, with tons of possibilities waiting to be explored. Think of AI-backed bots, immersive 3D visuals, augmented reality, voice interface, and dynamic storytelling through web designs! Forward-thinking eCommerce websites like Ubuy India have already embraced some of these features.
Before delving into the future trends of web design, let's revisit the evolution of website development over the last three decades.
Different phases of web design and development: An insight
—————————————–
We will take you back to the early days of web design in the 1990s. Designers have been habitually experimental to give websites new looks and feel. While the very first sites were largely text-heavy, the industry has progressed rapidly over the decades. With the inception of CSS, Flash, and other sophisticated web designing technologies, web designers have been the trendsetters.
Let's take a look at how web design and development evolved over the years.
1. The first few years (1991- 1994)
The concept of web design has its roots in the development of the World Wide Web. It was on 6th August 1991 that the Web was announced publicly. CERN, the first website, was launched in November 1992 and this was a completely text-based site. The black-and-white website had only a blue splash in the hyperlink. The World Wide Web was later renamed Nexus.
In 1993, the Mosaic browser was launched, that enabled users to see images as well as text together on the computer screen. Since this browser was configured to support multiple internet protocols, it was named Mosaic. The simple installation, reliability, and capability of this browser to operate on Microsoft OS made it the first graphical web browser.
Netscape and Internet Explorer evolved in the mid-1990s, competing to be the best browser during those times. The development of these browsers was significant from the aesthetic perspective of web design. It meant that internet users prioritized the visual impact of text and images on the screen.
In 1993, the first web search engine, Aliweb was launched.
2. Experiments with web design (1994-1998)
With website development picking up pace gradually after the mid-90s, professionals have carried out experiments with different types of web design. Better technologies, higher internet speeds, and improved software largely defined the need for better web interfaces. Thus, web designing emerged as a profession, with tons of new concepts to play with.
With the inception of Java, web designers successfully overcame the limitations of static and bland-looking HTML pages. The power of Java also transformed web design. Now, developers could bring motion into play.
It was during this time that designers came up with the concept of the 'pop-up' window. Besides, developers continued with web-safe fonts and colors. Thanks to development of the JavaScript, web designs were now animated and dynamic.
The development of Macromedia Flash ushered the golden age of web design. Developers were now equipped with an extensive range of tools to cultivate their creativity.
3. The transitional period (1998-2002)
1998 marked the birth of the Google Search Engine, which continues to be the most popular and extensively used web engine with over 80% of the market share.
Meanwhile, shortly after Flash made its appearance in the design realm, CSS gained popularity. The problem with web design during that time was latency or internet speed as it gained popularity across the world. Web developers used CSS to separate presentations and content. They used HTML to develop website content, while coding the style in CSS. Initially, CSS struggled due to the lack of proper browser support but Google solved this issue soon.
In 1999, large-scale businesses like PayPal launched their operations worldwide. This further facilitated web design and development as large brands were looking for impressive user interfaces for their customers. Thus, modern web design concepts like sitemaps, breadcrumbs, navigational options, and menus became a reality.
4. Design functionality and social media (2002-2006)
Thanks to the boost in internet speed at the beginning of the millennium, IT firms focussed on innovating fresh software solutions. This was a crucial phase for web design concepts. By 2003, more than half the internet users were using 32-bit hardware for browsing the web. This meant that they were already accessing a palate of more than 16,000 colors. With many users preferring upscaled resolutions, designers had to come up with more dynamic designs.
In 2003, the world witnessed the launch of two of the most impactful platforms: Facebook and WordPress. While Facebook redefined the concept of social media, WordPress powered most websites. As of 2023, WordPress has a massive market share of 64.2% as a content management system.
The evolution of Facebook over the years further shaped the concepts of maintaining brand consistency through web design elements.
5. The mobile era and responsive web design (2006-2010)
With mobile browsing gaining traction, smartphones changed the way users expected web interfaces to be. In 2007, the concept of 'mobile-friendly' websites was absent. This frustrated mobile users, prompting web designers to come up with the concept of 'responsive design'. However, it took three more years for designers to brainstorm and come up with the modern concept.
The launch of the iPhone on 29th June 2007 further revolutionized design trends. Gradually, global brands started coming up with responsive web designs to maintain visual consistency on both websites and mobile devices.
6. The era of Retina Displays and Parallax Scrolling (2010-2014)
The number of mobile internet users witnessed a massive surge around 2010. Correspondingly, web design trends underwent functional as well as aesthetic changes. While responsive web design trends had picked up pace even earlier, Mashable marked 2013 as the 'year of responsive web design'.
By 2014, new web design trends started gaining popularity. Vertical scrolling, larger images, and centralized content were some of these manifestations.
With the popularity of mobile browsing, which constituted more than 50% of web traffic, designers prioritized scrolling features. Simplistic and minimalistic web designs dominated the trend. Web designers also explored parallax scrolling, further adding a dimension to the simplistic designs.
The inception of retina screens was conducive to the evolution of the modern design process. Although web designers encountered initial hurdles to adjust the resolution to the pixel size, they managed to come up with vibrant and clean images by using CSS and larger images.
7. Contemporary web design trends (2014- Present)
Web design trends have evolved significantly since 2014, with most brands hiring designers to craft responsive sites. With better browser support for HTML5 and CSS3, web designers have been producing immersive sites with quality animations.
Besides, Google's Mobile-First Index further prompted businesses to come up with responsive websites. Internet users, too, prefer neat and intuitive websites having a clear structure.
What does the future of web design look like?
—————————————–
With a plethora of intelligent tools like AI, dynamic storytelling, and voice interface, web design trends are further likely to evolve. Lead-driven web designs are already setting the next trend.
This approach to web development involved a data-driven mechanism. The last decade has already witnessed significant progresses in the field of data analytics and data science. Evaluating user behavior and intent, businesses carry out a detailed analysis and incorporate a data-driven web design. This approach to web design generates qualified leads, that are potentially more likely to convert.
The lead-driven web design technique involves tweaking certain components of a website rather than completely rebuilding it. As a result, users experience better navigation and usability on the platforms. The ultimate purpose of a website is to market brands, and they are not just meant to digitally represent your business. Now that most brands use their websites as a marketing tool, the lead-driven web design approach is quickly gaining popularity.
The lead-driven web design strategy
—————————————–
Typically, a lead-driven web design tactic has three stages. These include strategy, website launch, and site evolution.
1. Strategy
The first stage of the lead-driven web design technique involves developing the strategy. Here, web designers strategize the basic design to convert the site into a powerful tool for marketing. Established web designing companies consider these aspects at the first stage.
The business goals
The pain points
The target audience
The right approach
2. Website launch
After formulating the initial strategy, brands launch the website. However, they evaluate their overall goal based on the current performance of the site and incorporate necessary changes. The lead-driven approach to web design involves making continual improvements to it.
3. Site evolution
Right after launching the website, its evolution process commences. When the site goes live, it collects data from users. Deploying analytics tools and AI, web developers harness this data and tweak the design as necessary. This, website development is now a continuous process, as it keeps evolving to elicit maximum benefits for businesses.
Wrapping up
Recent advancements in data science and artificial intelligence go a long way in shaping web design trends. Given that data is a measurable entity, web developers are banking on processed information to come up with contemporary designs.
No wonder, why the concepts of SEO, digital marketing, and web design are intertwined. With the right tactics from established web designers, you can explore fresh commercial avenues in the competitive business space.