The Importance of Great Content in SEO for Website Ranking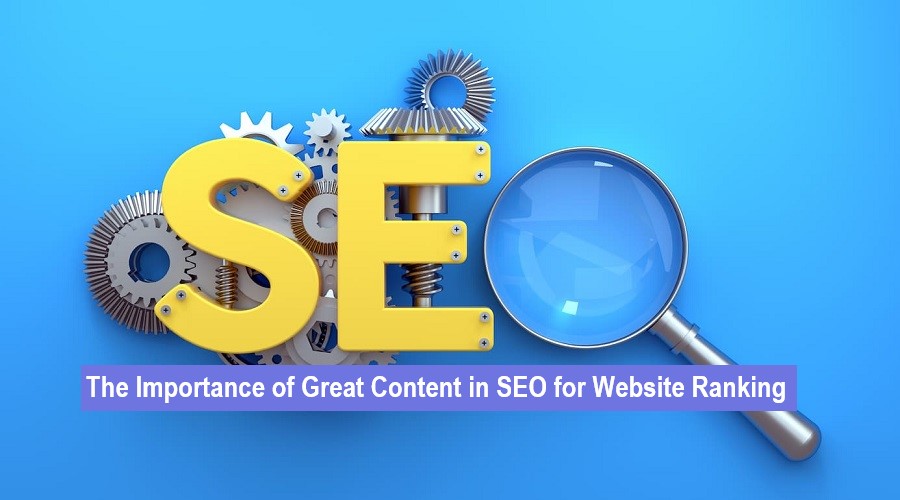 Many marketers believe that SEO and content marketing are completely separate tactics; yet, SEO and content marketing are inextricably linked and complement one another.You must commit to the grind of continuously developing optimized content if you want organic search visibility, rankings, and traffic.
You won't be able to reap the full benefits of Search Engine Optimization unless you have high-quality content – relevant and useful information on your website encourages users to remain longer, which can improve your search ranks.
1. Helps You Acquire High-Quality Links
Quality has a keen sense of what is good. Authoritative sites and individuals will be more likely to connect to your content if it is actually good, valuable, and relevant. Thus,
A website with intriguing content draws more visitors and gets their attention.
Creating high-quality content based on extensive keyword research might help your content rank higher for specific keyword phrases.
You optimize your content to rank for the most valuable terms by investigating what terms users use when searching for your products, services, or blog topics.
Your content establishes the first impression of your company. Your services should be presented in a way that makes them appear valuable. Make it more accurate and provide the visitor with useful information. If you include unnecessary details in your writing, the quality of your content will suffer. Just like an expert essay writer pays attention to not let the reader's interest vanish by adding useful information. It enhances the quality and significance of the content.
2. Enhances Generation of Backlinks
The reader should benefit from your content. If you want your article to be published on multiple websites, it needs to be purposeful. It should not only serve as a source of relevant information but also as a representation of your brand's quality. One of the finest SEO techniques is obtaining high-quality backlinks from high-authority websites. High-quality backlinks imply trustworthiness to Google. The more high-quality backlinks you have, the higher your Google ranking will be.
– Support from Various Sources
Some websites allow you to publish your content free of cost and make your brand visible to their audience. It brings excellent support from various channels, and you get new ideas for promotion.
– Effective Promotion of Your Brand
When your brand is promoted through other websites and social media channels, it paves the way for tremendous growth and visibility. You get more search engine results that keep you motivated to improve your performance.
– Brings More Valuable Insights
When a diverse range of people from different age groups and regions visit your website, you can analyze insights in detail. It helps you bring custom offers, keeping in mind the service or product that is getting more engagements or views.
3. Provides a Great User Experience
If your crucial content is formatted correctly such that it's divided down into little sections, it will be helpful for the reader. Readers on the internet have extremely short attention spans. And they're not going to remain around if your content consists of only one massive paragraph. Here is how you enhance the user experience:
– How to Enhance the User Experience with the Help of Content?
Check out the useful tips for enabling a good user experience.
– Use Subheadings to Categorize Your Content
The readability score improves when you use subheadings in your material. Many readers do not have time to read each line and prefer a summary of the essential topics. The reader will not find your paragraph worth reading if it is filled with repetitive words or imprecise information.
– Bring Clarity and Accuracy by Using Easy-To-Understand Language
The language you use should be easy and precise. Avoid long phrases and irrelevant data. It makes the reader bored and non-interested. Instead, include some stats and factual data to provide evidential support.
– Do Not Include Vague/Unnecessary Ideas
If your content is full of assumptions or unclear ideas, it will not be of any use. Make it a valuable piece for reading but writing precisely what needs to be written. If the visitor reads it in a hurry, he should have access to the highlighted main points for better understanding.
– Maintaina Consistent Tone of Voice in Your Writing
Your writing tone is equally important as any other parameter needed to make the content valuable. Maintain a flow and connect ideas in a sequence. Use an active voice and comprehensively present your point of view.
4. Increases the Traffic and Shareability
Good quality content increases the traffic coming to your blog/website. Use appealing visuals and infographics to keep the user engaged. These pictorial representations help save a lot of time and bring the most accurate data to attention.
– Quality Content Increases the Shareability of the Data
When your content is of good quality, many people find it helpful to relate and share. Google is very smart at analyzing your content and penalizes your website if it does not meet the standards.
– Quality of Content Affects Website Ranking
The low quality of content increases the bounce rate, thus affecting your brand's reputation and ranking. If your website is stuffed with lots of content that does not add value to the reader, Google will not consider it, and your effort may get wasted.
– Enhances the Views on Your Website
The more people share, the more views your website gets and helps your business grow. When you keep the target audience in mind, it enables you to set the goals with accuracy. In addition, you can modify your service as per the changing demands and preferences of the customers.
– Quantity Invites More Visitors
If you post articles consistently daily, it keeps your audience engaged and active. Your website may get low in ranking if you do not keep it updated. Retain customers' loyalty by introducing exciting offers and an abundance of information to describe what distinguishes your brand from other brands.
5. Improves Readability for Greater Reach
When you conduct an SEO analysis of your content, it will point you in the direction of making it more readable and digestible. Your content will be useless if it looks to the reader to be overly complicated. These tactics will help you make your text more readable:
Use brief phrases and words.
Avoid using long sentences.
Use user-friendly fonts and avoid using too many modifiers like adverbs or adjectives unless absolutely necessary.
Pay closer attention to grammar and spelling.
You must understand the power of a piece of literature that connects with you or makes you feel relatable. If the content is presented in an appealing manner, the reader will feel more connected. Customers are more likely to purchase your service if you express it in terms of their needs. It creates a trusting and mutually beneficial relationship. When your company effectively meets the needs of its clients, it becomes popular.
Conclusion
Website content needs to be of great quality for generating more traffic and facilitating the growth of your business. When you keep all the aforementioned points in mind, it helps you rank your website better and cater to the needs of customers through useful content.