The Most Common Ecommerce Myths Dispelled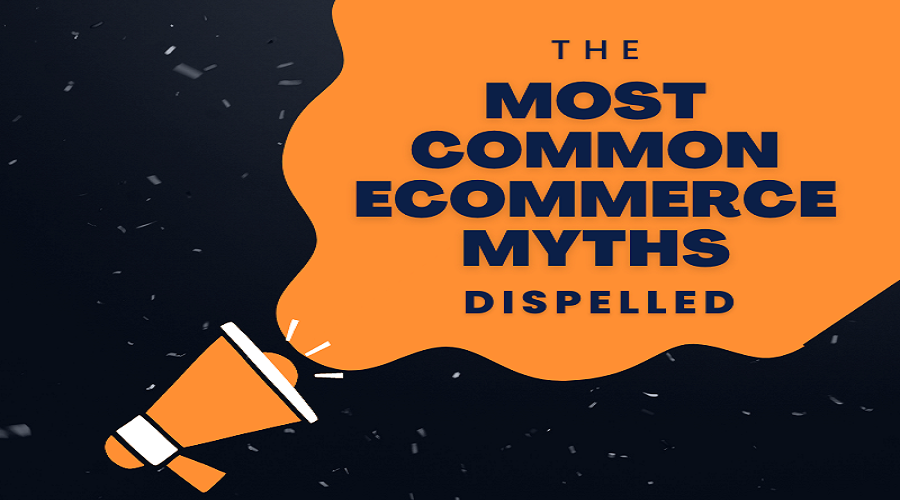 While there are many advantages to the era of abundant data and easy access, misinformation spreads quickly and has a significant negative impact on almost everything in its path. In general, customers now find that shopping online is just as trustworthy as shopping in physical stores, if not more so. Some myths, however, persist and cast doubt on prospective sellers. In this article, we aim to dispel seven of the most widespread misconceptions about eCommerce. See if there's a myth you've heard of or perhaps even believed in by reading on.
Myth #1: E-commerce Growth Is Easy
eCommerce growth is anything but simple, as anyone who has tried it knows. While eCommerce aims to more effectively streamline some processes and provide customers with easier access, it takes some effort to succeed at it. eCommerce is by no means a quick route to success. You must exert more effort and use more resources to present something that stands out and makes a name for itself in the market because there is a lot of competition. To ensure loyalty and a lasting relationship, businesses must consistently satisfy the expanding and shifting demands of their customers. One needs to devote all of their resources to creating a winning strategy if one wants to succeed in eCommerce.
The e-commerce app development company has been one of the most sought-after in recent times.
Myth #2: There Is No Room for New Sellers
Even though there is unquestionably fierce competition in the eCommerce market, new sellers can still succeed. You are prepared to succeed as long as you clearly define your D2C brand growth and fully comprehend your market. Sellers who refuse to adapt to meet these changing needs have no place in the market because consumer demands are always changing. Anyone who sells can succeed as long as they are aware of their customer's needs, provide high-quality goods and services, and fulfil their commitments.
Myth #3: Customers Prefer Lower Price Tags Over Product Quality
While it is true that price is a significant factor for many consumers when making a purchase decision, it is not necessarily true that customers always prefer lower price tags over product quality. In fact, many customers are willing to pay a higher price for a product that they perceive to be of higher quality.
There are several reasons why customers may prioritize quality over price:
Value for money:

While a lower price tag may be attractive, customers may also consider the overall value that a product offers. They may be willing to pay more for a product that is durable, well-made, and provides long-term benefits.

Trust in the brand:

Customers who have had positive experiences with a particular brand in the past may be more likely to trust the quality of their products and be willing to pay a higher price for them.

Relevance to their needs:

Customers may prioritize quality over price when a product is directly related to their health and well-being, such as food or medication.

Positive reviews and recommendations:

Customers may be influenced by the opinions of others, and may be more likely to pay a higher price for a product that has received positive reviews and recommendations from other consumers.
In conclusion, while price is an important factor for consumers, it is not the only factor, and many customers are willing to pay a higher price for a product that they perceive to be of high quality.
Myth #4: Your Current Customer Experience is IT!
This will only lead to disaster! A surefire way to lose future business is to believe that your current customer experience is flawless without substantiating it with survey results. It's crucial to streamline all of your operations for the best customer experience and to train your staff to value each client and provide assistance when needed. To guarantee a seamless browsing and online shopping experience, your online platform needs to be regularly reviewed, updated, and improved. The support staff needs to be constantly on hand to provide assistance and follow-up in the event of customer questions and complaints. Today, the unboxing experience is very important, so you might think about adding custom packaging, eco-friendly packaging, and a posh vibe to your products to give your customers a special feeling.
Myth #5: Building an eCommerce Niche isn't Profitable
It is a common misconception that building an eCommerce business in a niche market is not profitable. In fact, focusing on a specific niche can be a successful strategy for eCommerce businesses, as it allows them to specialize in a particular area and provide unique, high-quality products or services.
There are several reasons why building an eCommerce niche can be profitable:
Lower competition:

Niche markets are often less crowded than broader markets, which can make it easier for a business to stand out and attract customers. This can also mean less competition for customer attention and sales.

Higher customer loyalty:

Customers who are passionate about a particular niche are likely to be loyal to the businesses that cater to their interests. This can lead to repeat business and positive word-of-mouth recommendations.

Higher margins:

Niche products and services can often command higher prices due to their specialized nature and limited availability. This can lead to higher profit margins for the business.

Stronger brand identity:

Specializing in a particular niche can help a business to develop a strong brand identity and reputation. This can make it easier for the business to differentiate itself from competitors and build a loyal customer base.
Overall, building an eCommerce business in a niche market can be a profitable strategy, as it allows the business to specialize in a particular area and offer unique, high-quality products or services to a dedicated customer base.
Myth #6: You Don't Need SEO for Generating Organic Traffic
You could not be further from the truth if you believe that organic traffic will find its way to your platform without making any effort to implement an SEO strategy. If you are selling through several different channels, you must plan and optimize your marketing campaigns differently for each channel to make the most of it. With so many competitors in the market, you cannot risk not even being found, let alone taken into consideration. SEO is essential to using the right keywords that your potential customers will most likely use when searching for the products they need. If you own a D2C Commerce company, SEO is critical to its success.
Myth #7: Outsourcing Fulfilment Is Only for Businesses with High Sales Volume
Due to the brilliant minds that created them choosing not to accept outside help, many businesses, especially smaller and newer businesses, fail to reach their true potential. 
Even though it can be difficult to entrust another company with your business, seasoned professionals can assist you in focusing on your goals for the company and providing the best support for each stage of fulfilment. You can increase customer demand by outsourcing fulfilment; doing so will also make it easier for you to better satisfy that demand. The demand for your product is only one factor in how successfully you run a business; another is how well you satisfy that demand. To find the best 3PL provider, you must carefully consider your company's needs and the volume of your sales before deciding to work together.
E-commerce growth in Singapore is on the rise. The number of online shoppers in Singapore is expected to grow from 4.5 million to 7 million by 2020.
Myth #8: E-Commerce Is Only for Big Companies
Fact: Big companies may have the resources and capital to invest in e-commerce, but small businesses are also reaping benefits from e-commerce. For example, a small business that sells locally made products can expand its reach with just a few clicks of a mouse.
Myth #9: E-commerce Takes Away Jobs from People
Fact: While e-commerce does take away jobs at physical stores, it creates new jobs as well – such as customer service agents and logistics workers at warehouses or delivery stations. 
Conclusion: Web-based advancement of eCommerce
eCommerce, or electronic commerce, refers to the buying and selling of goods or services over the internet. The web has played a significant role in the growth and advancement of eCommerce, as it provides a platform for businesses to reach a global audience and conduct transactions online.
Some of the key ways in which the web has advanced eCommerce include:
Improved accessibility: The web allows people to access eCommerce websites and platforms from anywhere with an internet connection, making it easy for consumers to shop online.
Increased convenience: Online shopping allows customers to shop at any time of day or night, from the comfort of their own homes. They can easily compare prices and products from different retailers, and make purchases without having to physically visit a store.
Enhanced security: With the development of secure payment methods and encryption technology, the web has made it safer for customers to make online transactions.
Expanded reach: The web enables businesses to reach a global audience, allowing them to sell their products and services to customers around the world.
Improved personalization: The use of data and analytics on the web allows businesses to tailor their products and services to individual customers, providing a more personalized shopping experience.
Overall, the web has greatly facilitated the growth and advancement of eCommerce, making it easier and more convenient for businesses and consumers to buy and sell goods and services online.