Voice Commerce: Exploring the Future of Shopping through Voice-Activated Devices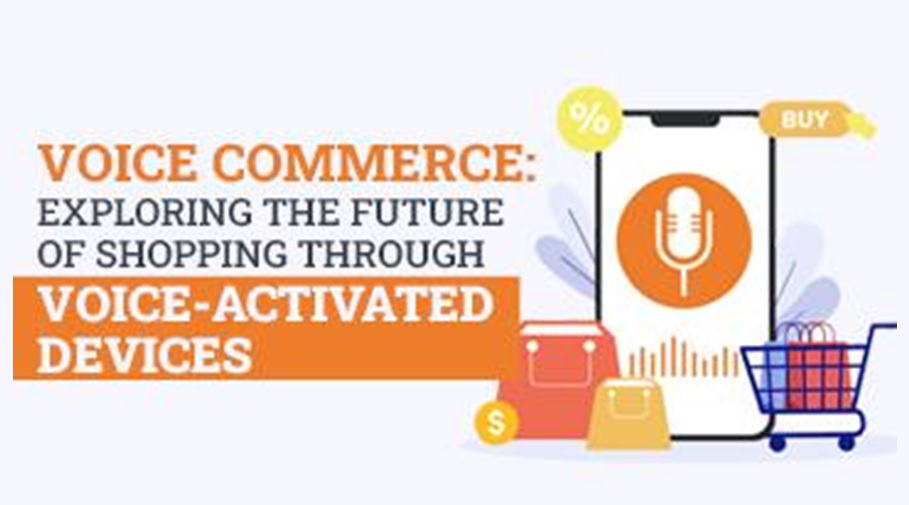 Voice commerce leverages the power of voice-activated devices to revolutionize the shopping experience. Utilizing artificial intelligence and voice recognition software, consumers can now purchase goods and services simply by voicing their demands. Enabled by devices such as smart speakers and smartphone assistants, voice commerce, or v-commerce, is an emerging trend set to redefine retail. In this exploration, we'll delve into how this technology works, its advantages and challenges, and its implications for businesses in a world increasingly shaped by AI and automation. Your voice, in the near future, could be the key to a whole new shopping experience.
What is Voice Commerce?
—————————————
Voice commerce refers to the process of making purchases using voice commands and voice-activated devices, such as smart speakers, virtual assistants, and smartphones. Instead of browsing websites or using traditional shopping methods, users can now simply speak their purchase preferences, and the voice-activated device takes care of the rest.
How Voice Commerce Works?
—————————————
Voice commerce operates on the principle of voice recognition and artificial intelligence. When a user initiates a purchase request, the voice-activated device interprets the command, processes it, and connects to the appropriate online store. The device then places the order on behalf of the user, providing a seamless and efficient shopping experience.
The Benefits of Voice Commerce
—————————————
The following are the benefits of voice commerce:
1.   Convenience
Voice commerce is an emerging eCommerce technology that uses speech recognition to enable consumers to purchase online goods or services. By simply using their voice, shoppers can carry out transactions in an easy, fast, and efficient manner.
Seamless Shopping Experience: Imagine this: you're in the middle of cooking dinner and you realize you're out of olive oil. Rather than stopping what you're doing, washing your hands, opening your laptop or phone, and manually searching for the product, you can simply ask your voice-assisted device to order it for you. There are no clicks, no typing, no searching, just a voice command, and your product is on its way.
Multi-Tasking: Voice commerce enables users to shop while they're engaged in other activities, a clear advantage in today's busy world. Whether they're driving, cooking, exercising, or even working, consumers can use voice commerce to make purchases without having to shift their focus or halt their current activity.
Speed and Efficiency: With voice commerce, you no longer have to navigate through various menus and pages. A single voice command can take you straight to the product you want. This drastically reduces the time it takes to complete a purchase, making shopping a more efficient process.
2. Speed
Absolutely, speed is a crucial advantage of voice commerce that contributes to its growing popularity among consumers worldwide.
Faster Transactions: Voice commerce enables users to make purchases faster than traditional online shopping methods. By eliminating the need for typing, searching, and scrolling, consumers can bypass several steps in the online shopping process. The user simply needs to issue a command to their voice-activated device, and the purchase is underway. This can significantly speed up the shopping process, making it possible to order a product in mere seconds.
Streamlined Navigation: Navigating through multiple pages and menus can be time-consuming. Voice commerce eliminates this by taking users directly to their desired product with just one command. If a user wants a specific product, they can simply state its name and the voice assistant will process the order.
Automation of Repetitive Purchases: One more way that voice commerce enhances speed is by allowing for the automation of routine purchases. For items that consumers buy regularly, they can set up recurring orders with their voice assistant. With this, a simple command like "reorder my usual groceries" can complete a shopping task that might otherwise take a considerable amount of time.
3. Accessibility
Absolutely, accessibility is a key benefit of voice commerce that has broad implications for inclusivity and convenience in online shopping.
Aiding People with Disabilities: Voice commerce plays a vital role in making eCommerce websites more accessible to people with physical disabilities or impairments. For those who may struggle with traditional eCommerce interfaces due to visual impairments, motor disabilities, or any other accessibility challenges, voice commerce provides a welcome alternative. Users can easily communicate with voice assistants to browse products, compare prices, and make purchases without any physical interaction.
Removing Technological Barriers: For some, particularly the elderly or those less comfortable with technology, navigating online stores can be a daunting task. Voice commerce simplifies the process by enabling these users to speak naturally to the device as if talking to another person. This reduces the learning curve and makes the technology more accessible to those who might otherwise struggle with eCommerce platforms.
Language Accessibility: With advances in natural language processing and multilingual support, voice commerce offers enhanced language accessibility. This feature enables users who are not comfortable with the default language of a website to easily interact with voice assistants in their preferred language.
4. Personalization
Indeed, personalization is one of the most significant advantages of voice commerce. It's reshaping the way we shop by delivering a more personalized and relevant shopping experience. Let's delve into how this works.
Tailored Shopping Experiences: Voice assistants, like Amazon's Alexa or Google Assistant, use artificial intelligence to learn from each interaction with the user. Over time, they get to know the user's preferences, habits, and shopping patterns. This knowledge is then used to tailor the shopping experience, offering product suggestions that match the user's taste and shopping history.
Intelligent Recommendations: Voice commerce can recommend products based on past purchases or browsing history. For instance, if you regularly order a specific brand of coffee, your voice assistant may suggest you try a new flavor from the same brand or remind you when it's time to reorder. These smart recommendations make shopping more convenient and personalized.
Voice Profiles: Many voice assistants can recognize different voices and create individual user profiles. This means that each member of the household can receive personalized service based on their preferences and history. For example, if a couple uses the same device, it will differentiate between their voices and offer each of them personalized shopping experiences.
Challenges and Concerns
—————————————
While voice commerce offers exciting prospects, it is not without its challenges:
1. Accuracy
Indeed, while voice commerce presents numerous benefits, it also brings certain challenges and concerns, with accuracy being one of them. Let's examine this issue more closely.
Speech Recognition Limitations: One of the fundamental aspects of voice commerce is the accuracy of speech recognition. While the technology has advanced significantly, it still struggles with understanding accents, dialects, and individual speech patterns. This could lead to misinterpretations of commands or search requests, which may result in incorrect orders or unsatisfactory customer experiences.
Ambient Noise: Accuracy can also be affected by environmental factors such as background noise. When a voice command is given in a noisy environment, the device may have difficulty recognizing and correctly interpreting the command, which can lead to errors in the ordering process.
Multi-Lingual Challenges: While voice assistants are being programmed to understand and respond to multiple languages, understanding different accents, dialects, and language nuances can be a challenge. This can impact the accuracy of voice commerce transactions, especially for non-native speakers or in multilingual households.
2. Security
Certainly, while voice commerce brings considerable convenience and a personalized shopping experience, it also raises significant security concerns. Here's an in-depth look into these issues.
Data Privacy: Voice commerce devices need to collect and analyze a vast amount of personal data, including payment information and shopping habits, to function effectively. This data collection could expose sensitive information to potential security breaches or misuse. Users might be hesitant to adopt voice commerce due to concerns about how their data is stored, used, and protected.

Eavesdropping: Voice assistants are always listening for their wake word to provide their services. This functionality has raised concerns about eavesdropping and unauthorized access to personal conversations. Potential intruders could exploit these devices to monitor users' activities or gather sensitive information.
Fraudulent Transactions: Another concern is the potential for fraudulent transactions. Since voice recognition technology is not foolproof, there's a risk that voice assistants could misinterpret commands or be manipulated by voices mimicking the user. This could potentially lead to unauthorized purchases or information leakage.
Conclusion:
Voice commerce, enabling shopping through voice commands, is significantly transforming the eCommerce landscape by offering convenience, speed, personalization, and accessibility. Yet, it faces challenges, particularly in speech recognition accuracy and data security. As we move forward, overcoming these issues will require continuous technological innovation, enhanced privacy measures, and user education. Despite these challenges, voice commerce is poised to become a significant player in the future of retail, promising an efficient, intuitive, and personalized shopping experience.