Unlocking Advanced Keyword Research Techniques With SEO Tools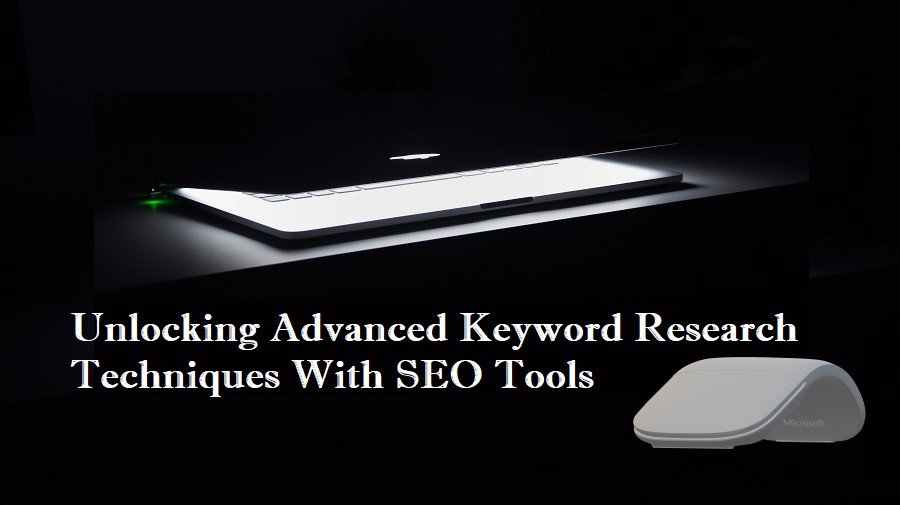 In today's digital world, having a strong online presence is important for any business or website. One of the important components of reaching visibility in search engines like Google is through search engine optimization (SEO). And at the heart of SEO is the art of keyword study.
While most people are familiar with the fundamentals of keyword studies, there are advanced strategies and powerful SEO systems that could take your keyword strategy to the next level. In this blog, we're going to find out these strategies in a readable manner and show you the way SEO equipment like "SEO Audit Tool" can assist in improving your internet web site's visibility, power greater traffic, and ultimately increase your on-line success.
Understanding Keyword Research Basics:
—————————————
Before diving into advanced techniques, let's quickly review the fundamentals of keyword research. Keyword research seeks to identify the words and terms that users type into search engines for information, products, offerings, or services. It starts by determining the primary topic of your website or content. Then, you brainstorm relevant keywords and phrases related to that topic.
This is where SEO tools like Google's Keyword Planner, Ubersuggest, and Moz's Keyword Explorer come into play. These tools help generate keyword ideas and provide valuable insights, such as search volume and competition level, to guide your keyword selection.
Utilizing LSI Keywords for Enhanced SEO:
—————————————
LSI (Latent Semantic Indexing) keywords are phrases and terms that might be closely related to your essential keyword. Search engines use LSI keywords to understand the context and relevance of your content, which can improve your website's ranking in search results. Discovering LSI keywords can be made easier with tools like LSIGraph and LSIKeywords.com. These tools analyze the top-ranking pages for a given keyword and suggest related terms that you can naturally incorporate into your content.
By using LSI keywords, you not only enhance your SEO efforts, but you also create more informative and valuable content for your audience.
Addressing User Intent for Optimal Content Creation:
—————————————
In the vast digital landscape, it's crucial to know exactly what your target audience is looking for when they search. SEO tools have evolved to understand user intent better, and they can be invaluable in shaping your content strategy.
Tools, together with Moz's SERP Features, SEMrush, and Ahrefs, examine search outcomes to determine whether or not customers are looking for records, products, offerings, or taking precise actions. By aligning your content with the user's point of view, you can increase engagement, increase conversions, and ensure your site better serves the needs of your audience.
Gaining Insights from Competitor Analysis:
Understanding your competitors' strategies can offer valuable insights and opportunities for improvement. By analyzing the keywords they rank for, you can identify gaps and find new ways to stand out.
SEO tools like SpyFu and SimilarWeb can be instrumental in this regard. They reveal the keywords your competitors are using in their content and marketing efforts, helping you identify areas where you can outperform them.
Leveraging this data, you can tailor your content to target specific keywords and gain a competitive edge.
Optimizing for Question-Based Keywords:
—————————————
With the rise of voice search and digital assistants, more people are searching using questions instead of traditional keywords. To stay ahead, it's essential to optimize your content for question-based keywords.
SEO tools like AnswerThePublic and AlsoAsked can generate a list of questions related to your main keyword. These tools offer valuable insights into the questions users are asking, allowing you to create content that directly addresses their queries.
By providing targeted answers, you improve your chances of ranking higher in search results and attracting more relevant traffic.
Boosting Authority with Topic Clusters:
—————————————
To establish your website as an authority on a subject, consider utilizing topic clusters. This involves creating a central "pillar" page on a broad topic and linking it to related sub topics or articles.
SEO tools like HubSpot's Content Strategy tool and MarketMuse can help identify these related subtopics and keywords. By organizing your content into topic clusters, you not only improve your website's SEO but also create a more informative and interconnected user experience.
Streamlining Your Keyword Optimization Efforts:
—————————————
Once you've gathered your keywords, it's essential to use them effectively throughout your website. Keyword mapping is a process that assigns specific keywords to each page on your site, ensuring even distribution and avoiding keyword stuffing.
Tools like Moz and Screaming Frog's SEO Spider can be valuable in suggesting optimization opportunities, such as using keywords in titles and headings. By streamlining your keyword optimization efforts, you enhance your website's overall visibility and search performance.
The Power of Long-Tail Keywords:
—————————————
In addition to focusing on primary and LSI keywords, don't overlook the importance of long-tail keywords in your SEO strategy. Long-tail keywords are longer, more specific phrases that are highly targeted to a particular niche. While they may have lower search volumes individually, they collectively make up a significant portion of search traffic.
By targeting long-tail keywords, you can attract more qualified and motivated visitors to your site. These users are often further along in their buyer's journey and more likely to convert into customers or subscribers. SEO tools like Long Tail Pro and KeywordTool.io can help you discover relevant long-tail keywords and incorporate them into your content.
Leveraging Geolocation for Local SEO:
—————————————
If your business serves specific geographic areas or has physical locations, optimizing for local keywords is vital. Local SEO focuses on targeting keywords that include location-based terms, such as city names or "near me" phrases.
To enhance your local SEO efforts, use tools like Google My Business and BrightLocal to manage your local listings and citations. Additionally, encourage customer reviews and testimonials, as positive local reviews can significantly impact your local search rankings.
Tapping into Seasonal and Trending Keywords:
—————————————
Search behavior can vary based on seasonal trends, events, and holidays. Capitalizing on these trends by incorporating seasonal keywords into your content can boost your website's visibility during peak periods.
SEO tools like Google Trends can help you identify seasonal spikes in search volume for specific keywords. By aligning your content with these seasonal trends, you can attract more visitors and potentially increase your sales or conversions during crucial periods.
Furthermore, keeping an eye on trending topics and viral content material can encourage new ideas to your content advertising and marketing method. Tools like BuzzSumo assist you to pick out trending subjects and understand what content is resonating with your audience.
Creating Content for Featured Snippets:
—————————————
Featured snippets, also known as "position zero" results, are concise answers that appear at the top of Google's search results. Securing a featured snippet can significantly increase your organic visibility and drive more traffic to your website.
To optimize your content for featured snippets, identify commonly asked questions related to your industry using tools like SEMrush's Featured Snippet Report or Ahrefs' Organic Keywords Report. Craft your content to provide clear and comprehensive answers to these questions, ensuring that your content is structured in a way that Google can easily extract the relevant information for display in the featured snippet.
Using A/B Testing for Keyword Optimization:
—————————————
A/B testing, also known as split testing, is a powerful method for optimizing your keyword strategy and content performance. It involves creating multiple versions of a page, each with different target keywords or keyword placements. By testing different keyword variations, titles, or meta descriptions, you can analyze which version performs better in terms of user engagement and conversion rates.
SEO tools like Google Optimize and Optimizely can help you set up A/B tests and measure the performance of each variation. By analyzing the results, you can determine which keywords drive the most engagement and conversions, allowing you to refine your content strategy further.
Integrating Keywords Across Different Content Types:
—————————————
Keyword research shouldn't be limited to just website content. Extend your efforts to other content types like videos, podcasts, infographics, and social media posts. Each content type has its unique set of keywords and phrases that users search for.
Tools like YouTube's Keyword Planner and social media analytics platforms enable you to identify keywords relevant to these content formats. By incorporating keywords into various content types, you can expand your online presence, reach a broader audience, and cater to different user preferences.
Performing Regular Keyword Audits:
—————————————
Keyword research is an ongoing process, and it's essential to conduct regular keyword audits to adapt to changing search trends and user behavior. A comprehensive keyword audit involves reviewing your existing keywords' performance, identifying new keyword opportunities, and aligning your content strategy with your target audience's evolving needs.
SEO tools like Google Search Console and Rank Tracker can help you monitor the performance of your targeted keywords, identify fluctuations in rankings, and detect potential issues affecting your search visibility. Regular audits let you make data-driven decisions, quality-music your SEO techniques, and maintain your website's relevance in search outcomes.
Conclusion:
In conclusion, advanced keyword research techniques, when combined with powerful SEO tools, can significantly impact your website's visibility, reach, and overall success. By understanding the basics of keyword research and exploring advanced techniques like LSI keywords, addressing user intent, and leveraging competitor analysis, you can craft content that resonates with your target audience and meets their needs effectively.
Embracing question-based keywords, employing topic clusters, and targeting long-tail and seasonal keywords further solidifies your website's authority and boosts its search engine rankings. Remember, keyword research is an ongoing process, so continually monitoring and refining your strategies using tools like Google Analytics and Rank Tracker is essential for sustained growth.
By using those advanced techniques and easy-to-use SEO equipment, you'll be well-organized to discover new possibilities, outperform your competition, and increase your internet site to more heights in the dynamic world of SEO. Implementing these strategies and tools will drastically raise your internet site's overall performance, attracting more organic traffic and strengthening your online presence.