The Ultimate Guide To Getting Your SEO Strategy Right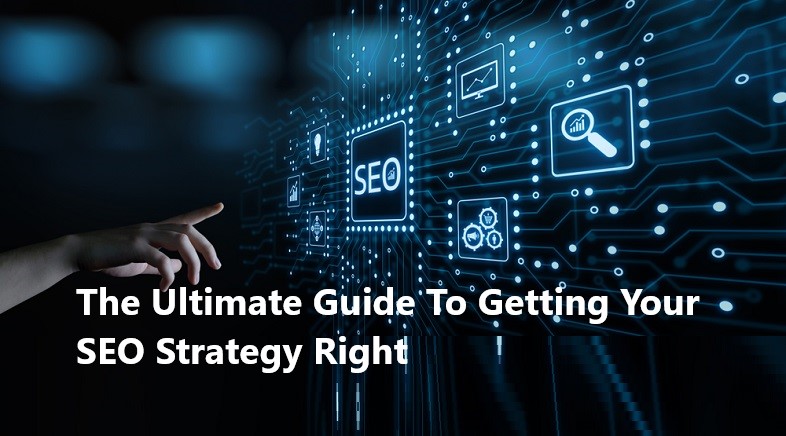 "Google only loves you when everyone else loves you first" -Wendy Piersall.
Rewind to the times a few years ago, and you will realize that word of mouth publicity and reviews of others influence people to buy certain products or use certain services. Now, we all know that ever since the world of the internet has taken over, almost everything has changed. Now, rather than relying on celebrity endorsements and the large hoardings that you find in every nook and corner of your city, we rely on the results that search engines display when you search for something on the world wide web.
It is no longer a secret that brands, products and services today get all the attention based on the number of people who happen to take a chance and glance over their website and other social media platforms. As the number of portals has increased, it has become only more relevant for these portals to develop the right SEO strategy.
Whether you are a B2B or a B2C organization, it is compulsory for you to have the right SEO strategy to get the right digital footfall from the people who are your target audience. It is understandable that with more diversity being visible in the kinds of online platforms, it is challenging to understand which SEO strategy to stick to drive the right results. The means and ways may have changed; however, the fundamentals of implementing a solid SEO strategy is pretty much the same.
Considering how imperative a strong SEO foundation is for every brand, we will be looking at some tricks of the trade to help you build the most robust SEO base that will help your brand boost and mileage it needs to be visible and relevant.
TOTs to Tweak your SEO Strategy
Fit the search criteria: It is essential to ensure that when you work on different content types, you do it to meet the reason and purpose of why a customer looks for something in the first place. Search engines today are not only a tool meant to redirect the audience to eCommerce websites but are also a means of learning how to do something. Google that way is innovative and understands what results to display when a person types something. Essentially if a person types in "how to make mac & cheese", Google will display recipes for the same and not simply redirect them to an eCommerce portal where they can supposedly buy it from. To help your page rank on search engines, it is essential that you understand the reason and the intent for which a person looks for something. A person goes online to;
Seek more information
To reach another digital destination
For commercial purposes
For transactional reasons with an intent to buy
Your content needs to be centred around these intents and purposes. Once you know what action you want the customer to take, you will utilize the right keywords relevant to that specific intent and need.
Slow means unreliable: In an era where fast and the furious and need for speed is what matters, the ultimate death for your digital destinations will be if your website is slow and unresponsive. The basic understanding in the customers' minds is that if the website is dead, it is not trustworthy. As a brand, if you rely more on organic reach and results, it will be suicidal if your website takes time to load. No matter how great your content is, if your website takes time to load, it means it is slow. One tip that you absolutely must follow for a good SEO strategy is to eliminate all the factors that possibly slow your website down. Any extra plugins or widgets that are not needed should be removed because these are the elements that make your website unresponsive and eventually slow it down.
Prioritize the essential keywords: Keywords is to search engine what oxygen is to humankind. Everything about how search engines work and operate revolves around the choice of the keywords that you use. When working on the content, it is imperative that you use keywords relevant to your brand and have a high search volume. This is probably the most impactful tip that you need to follow to implement content with the right SEO strategy right from the start.
Building the correct links: The best way of making the right business connections is by networking with the right people. Similarly, when you put up good content in blogs, you can have other websites linked to blogs displayed on your portal. This is known as backlinking, and it is imperative when implementing the right SEO strategy. With the suitable backlinks put up on good portals, you can get a good volume of organic search traffic, which helps boost your visibility in the digital world.
Human-centric writing first: One of the most common mistakes that people tend to make is that they focus on satisfying the search parameters of search engines so rigorously that their content makes no sense to the audience. One thumb rule that needs to be followed is to ensure that the content you work on is not just stuffed with keywords to rank on the search engines. With the search engines becoming more brilliant, your content needs to be conservative in nature and, at the same time, should make sense. It is necessary to work on the content that is first written for your target audience and is enhanced digitally to meet the search engine's guidelines at a later stage.
Prioritize the user experience: There is nothing more annoying than landing on a slow, unresponsive website and has a complex and messy structure. Customers these days have a variety of online content, and if their user experience on your portal is not good enough, they will leave and go on to another website for sure. A significant component of high SERP ranking comes with the ease of navigating through your website without any major roadblocks and hold-ups.
The Design Factor: Let's face it no matter how excellent your content is when it comes to readability, if it lacks the design component, it will be a complete waste. Most people feel that designing their website is not an essential element that matters when optimizing it SEO-wise. One important tip to improve your SEO strategy is to spend a lot of time and effort on designing the page that will carry that stellar content. Use a lot of relevant images to support your content, and at the same time, if you have a lot of data and figures, it will be good to incorporate charts and tables to include a visual component. The overall placement of content and the layout makes all the difference between a good and a great website, so ensure that you design it right!
Keep in mind any updates: With every passing day, Google becomes more competent and has new updates at the backend that change how it perceives and understands the content. For this very reason, you need to be mindful of all the latest upgrades and changes so that your content is in sync with the latest changes. Keep a close eye on Google analytics to see how relevant your content is to the recent changes or upgrades.
Improve existing content: It is a given that every time there is a change in the backend of search engines like Google, it is crucial that you redo your content on the pages. Most of the time, the rewriting of content will be because you will need to include new keywords that are trending at that time. It is also essential to bring a level of freshness to your existing content because of the severe competition between you and your competitors targeting your target audience's same niche. Add more content to cover diversity and make it as rich as possible when giving the correct information to your readers.
Boost your descriptions the meta way: One crucial but easy to sideline or forget tip to improve your SEO strategy is to work on an impactful meta description. The moment your information is displayed based on what the customer is looking for, the meta description will give them a gist of what the entire content is about. With so much content available online, there are chances that your meta descriptions resemble that of others, and in this case, it will backfire. Make sure that all your meta descriptions are genuine and non-plagiarized.
Keep your URL accessible and understandable: Imagine giving someone your address and making it so complicated that a person cannot reach you! The same holds for the URL address of your website. It is essential to have a URL link that is relevant to the topic that it will display and at the same time be informative. Having a clear and easy to comprehend URL is more for the search engines to understand to show it when someone searches for it. This is why it is imperative to have a URL that is easily understandable by search engines.
Presence on other social media platforms: You need more digital platforms because, in the current day and age, just a website is not sufficient. In fact, according to recent trends, content that is shared on other platforms like Twitter, Facebook, and Instagram are also tagged and marked on the search engines. If your content has been retweeted, shared or liked, it gets registered on the search engines as well. This falls under the category of getting more social visibility and signals that give your brand more digital credibility and reach.
Keyword enriched images: Images are an integral part of making your content more rich and exciting. Most people feel that the description that their images accompany are mere words. This is the biggest mistake that one can make! Even when describing all those images that you use in the content, it is imperative that you use the relevant keywords so that if a person is looking for an image, your content can be displayed.
Competitor analysis: Ok, this suggestion is very critical, and if you are not already doing this, then you are missing out big time. The chances of your brand dealing with something very exclusive are close to zero, which means that other brands are selling products and services similar to yours. This means that most of the keywords that you are using in your content are being used by them. When you are competing in the digital market space, it is imperative that you keep a close eye on the kind of content your competitors are working on and putting out there. This will give you an idea of what is doing good in terms of quality and what are the kind of things that your TA wants to engage and read about.
Longform content goes a long way: Let's face it, the short and quirky content gets you the hits, but in the long run, long-form content like blogs, research papers, and descriptive texts is what Google loves. Most SEO-based audits have the results that long-range, which is more than 2000 words, gets three times the traffic and is shared and liked more. Add the touch of using relevant and high search volume keywords pertinent to your writing topic, and your content will surely rank on the search engines.
As complicated as it may seem, understanding the semantics of how search engines work and operate is not challenging. Find out more about how you can get the right SEO strategy by opting for a content writing agency that gives you the best. The idea is to keep in mind these tips for creating the right and most appropriate way to start your SEO strategy. Follow all these pointers, and you will indeed execute a well laid out SEO rich and proper method.