Best Free Patch Management Software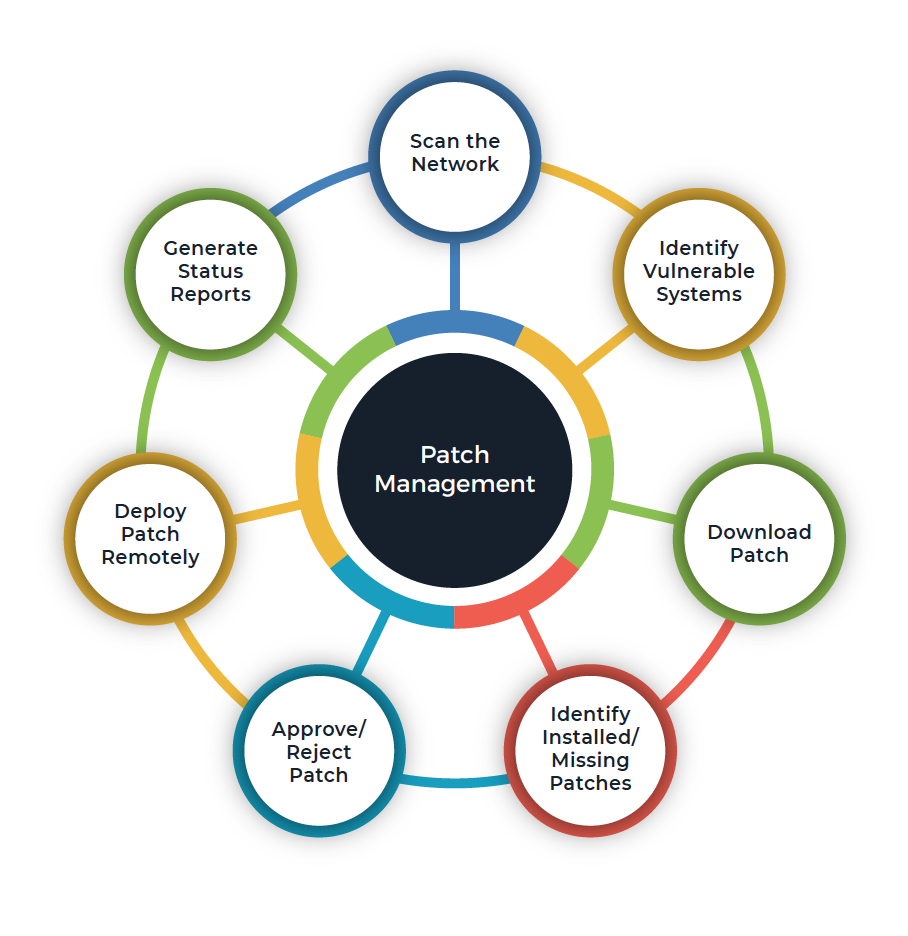 What is Patch Management – A Guide
Patch management is an integral part of IT operations management. It safeguards an organization's IT infrastructure from ever-increasing security threats.
Patch management is, in some ways, a "best practice" for maintaining the quality and stability of software components of an IT infrastructure.
Patching is a non-discretionary response to a vulnerability or to minimize the negative impact of a security breach.
 
Why do we need patch management?
We need patch management because it is essential to protect the computers and devices of an organization from cybercriminals who exploit vulnerabilities.
When a vulnerability is exploited, cybercriminals could gain access to confidential information, destroy our data, or use our computer system with administrator privileges.
With a patch management system, we can constantly update every system in an organization, making it a lot harder for a cybercriminal to exploit vulnerabilities. Patches can also be delivered by an intelligent download program to make sure we are protected.
The world is also getting more and more threats, with over 600 new malware items detected every day. We need to make sure we are protecting ourselves from these major threats.
 
What are some best practices for patch management?
Patch management is implemented to ensure that critical operating system and application updates are installed on systems. It is a process of evaluating, testing, and installing software updates to fix any bugs or vulnerabilities discovered since the last update.
There are many different types of patches. Some patches fix bugs in an application, while others might add new features. Security patches are one type of patch that is usually very important because they fix security vulnerabilities that can be used by hackers to invade your system and steal data.
Patch management practices depend on the type of organization or individual doing the managing; some people will use patch management tools while others will follow manual practices.
Organizations such as Microsoft have a set of guidelines for how their products should be patched, which includes how often they should be updated and if they require certain criteria before updating.
Here are some best practices around patch management:
Create a proper patch management strategy.
Verify the integrity of the patches before applying them.
Keep your company up to date with the latest patches and updates for operating systems and applications.
Set a standard for your company that everyone should follow.
Make sure your employees know how to find and apply updates or patches.
Encourage the use of patch management software.
What is patch management software?
Patch management software is an application that helps IT departments keep up to date with the latest security and software updates.
One of the most common issues IT departments face today is keeping track of all the patches and software updates their system needs. This can be a very time-consuming process, as there are usually many different types of systems that need various updates.
How to choose the right patch management software for your organization?
There are several factors that an organization needs to consider when choosing a patch management solution for their IT infrastructure.
Firstly, the organization must identify its patch management requirements. This will require a survey of the organization's assets and vulnerabilities. It will also need to be communicated to the IT infrastructure, and therefore any vendor of the chosen solution.
Secondly, the costs of the solution need to be assessed. This includes the capital expense of the solution, as well as the ongoing OPEX to manage it.
Thirdly, the compatibility needs to be analyzed. The organization needs to ensure that the chosen solution is compatible with all of its assets, as well as any vendor software in use.
Top free patch management software
Here is some popular patch management software that organizations can use to safeguard their endpoints.
Motadata ServiceOps Patch Manager
SentinelOne
GFI LanGuard
ManageEngine Patch Manager Plus
JetPatch
 Atera
PDQ Deploy