5 Commonly Underused LMS Features To Explore Before Replacing Your Platform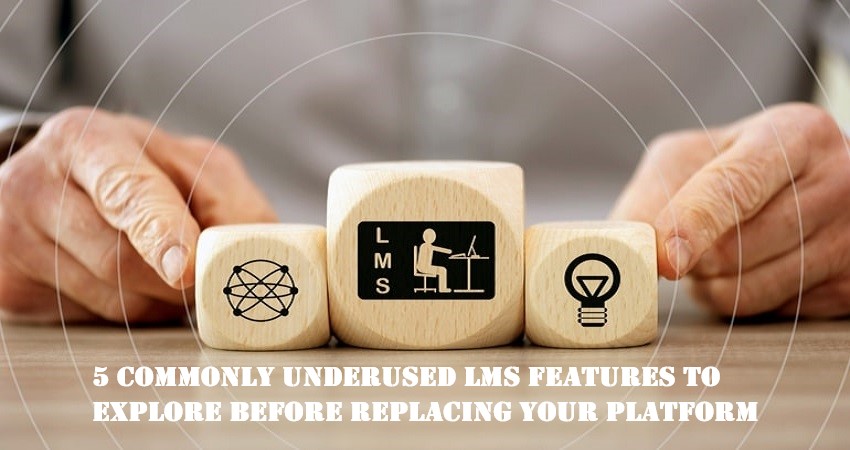 How frequently do we begin a new digital learning strategy by assuming that an existing learning management system must be replaced? What if a succession of tweaks may also yield the desired results?
The workplace of today is a dynamic environment. We can be forgiven for not keeping up with the newest LMS/LXP technology developments or what our users need, desire, and expect. When you include changing business motivations and governance issues, it's clear that keeping our learners interested is a difficult undertaking. The best aspects of a learning management system may not be represented in its current setup for various reasons. 
Whatever issues your LMS is facing, this article encourages you to examine its underutilized capabilities to uncover new approaches to meet the goals on your company's wish list. It looks the common feature sets seen in today's learning management systems and identifies five transformation and improvement opportunities you may have neglected. You'll think about how your users use your system, how quickly they can discover what they need, language insights, and your vendor's critical role.
But first, let's take a look at how it feels to log into your LMS for the first time (or for the first time in a while).
Before you buy a new LMS, look into these five features.
1. Onboarding through video
Is your data suggesting that you're losing students before they've even begun? If that's the case, incorporating some basic onboarding into your LMS can be a fantastic intervention, especially if you're looking for a quick win to jumpstart your project.
Recordings can be utilized for more than just course content. Experiment with creating a small, fast start tour of your platform utilizing a screencasting application. Brevity is crucial; here, give the bare minimum of information your users require to orient themselves before moving right into what they came to do. A tour also emphasizes anything crucial for your users to know but is difficult to navigate within your site.
Allow this to serve as a test: if a simple tour of your LMS takes more than a few minutes, or if it reveals an excessive number of items that need to be explained, it may hint that your platform requires a more comprehensive overhaul.
2. Directional signage
If nothing else from this post has persuaded you, let it be that a well-designed user dashboard can be everyone's best friend. This capacity to enhance and customize what your learners see each time they enter your LMS, sometimes known as "signposting," is likely a capability within your platform's functionality.
The first step in effective signposting is to understand what your learners are seeing. When was the last time you logged into your LMS as a user rather than an administrator? You must goDon't take anything for granted! Across the platform in the shoes of your users for this task.
Once you've gotten your learners in, make sure they can see (or at least readily access) the big picture of what they need to do. Also, how far along are they in reaching this general goal? Progress bars are unsurpassed in terms of conveying this information at a glance. If used correctly, they can excite your learners within moments of signing into your site. As a result, think of the progress bar as your second best friend!
What are the particular aspects that your students have already finished, and what are their options to work on next? Above all, this information must be easily accessible. Digital learners, unlike captive audiences of face-to-face course delegates, are likely to have a limited and uneven amount of time. They should be able to sign in to your platform and determine where they should spend their time, whether it's five minutes or half an hour. They won't be forced to follow a course in any particular order, ideally. You may help your learners manage their time by combining this flexibility with adaptive quizzes (to test their previous knowledge before sending them to the most appropriate content for them). They might give you the prize if you work hard enough.
3. Searchability
AI-powered LXP isn't in the cards for you right now? Did you realize that some of the more expensive options have a type of functionality that you can probably use right now?
Whatever your LMS calls it, tags, meta tags, categories, and subcategories, this functionality unlocks some of the most powerful possibilities for altering your content by making it extremely searchable. You're optimizing your learners' ability to surface the information they need when they need it when you commit effort in using this function. Suddenly, your learners' experience is similar to that of utilizing a search engine. More importantly, you're taking a big step toward allowing your users to learn as they work.
Manually tagging and categorizing legacy content might take a long time, so plan accordingly. Also, seek useful tools that might help you with some of the hard liftings. Try pasting your material into a free word cloud generator, for example. (Bingo! You've completed a significant portion of your work.)
4. Vendor Assistance
No one knows the intensity of the LMS and LXP market better compared to the product organizations. What's the outcome? The best providers will endeavor to keep your business as they did to acquire it in any case. They'll be similarly fixated on getting the hang of all that there is to know about yourLMS and what you need it to accomplish next.
When you factor in your vendor's technical expertise, this is someone you absolutely want on your team. You're likely squandering one of your platform's most valuable resources if no one knows your account manager's first name.
Even the most proactive and accessible account managers need interaction. Is your vendor greeted by a group of employees who all contribute to the LMS but have no ownership over it when they call to make their quarterly call? This is a regular occurrence for suppliers, which is why it's critical to empower someone within the company to take on the role of LMS owner and run with it.
Pick someone who can help you transform this passive collaboration into a collaborative one. If getting to know your vendor proves to be a disappointment, it may be time to start looking for a new vendor. Don't stop there if your vendor's customer service is outstanding. Examine their travel map in detail. Hold them responsible for providing the answer you require today and in the future.
5. What's In A Name, Anyway?
Every LMS requires a method for naming and arranging its various components. When your platform is brand new, it comes with a built-in taxonomy that is likely to be rather generic ("program," "course," "module," "lesson"). In many cases, this jargon refers to a set of factory settings to which you are only bound if you wish to be. Consider replacing the jargon with something that is more appropriate for your audience, content, and culture.
You can influence how your learners connect with your LMS, or whether they connect with it at all, by consciously choosing the language you use to talk about it. Consider some of the terms used in your platform right now. Is it generic (uninteresting)? Perhaps it's peculiar (faddish). Has it been plagiarised from academia? If that's the case, and you're not a university, how do your consumers feel about their memories of school, classrooms, or university lecture halls being triggered?
Perspiration is harmful; positive connotations are excellent! A group of research scientists may find a set of words engaging and relevant, while a group of seasonal hospitality employees may find them alienating and off-putting. Consider the apps that your students access and interact with on a regular basis as a good place to start. What is their everyday digital environment's language, and how can you use it to improve their learning experience? Can a topic or a category, for example, become a "channel?" Why not rename software to "playlist"? What would it take to turn a traditional instructor-led class into a "masterclass?" Use as much creativity and originality as your audience will allow.
Take it a step further and think about the term you'll use to refer to your LMS as a whole. The temptation to have everyone refer to your platform as "the LMS" can be powerful in surroundings that are already acronym-heavy. However, this isn't the only threat. An assortment of variables could add to a company's cultural challenges. Attitudes toward professional growth in the workplace are no exception. Over time, the term "learning management system" can come to symbolize apathy for your company's perceived learning offering. While a new name for your system won't solve deep-seated issues, if you're ready to make a significant change to your organization's L&D program, this could be a great time to rebrand and revitalize your current platform.
Conclusion
That concludes our discussion. To take back to your team, here are five conversation starters. And if you can't escape a procurement process (this time), you might just learn a lot more about what you really need from a sparkling new platform.
With Folio3, you can digitally transform the learning experience with a custom learning management system and services. Whether you're looking to create an LMS from the ground up, design and construct a mobile learning application, or use augmented reality to create sophisticated training solutions, our professionals can help.
Folio3 provides a unique learning management system and services that combine innovation and simplicity. We provide engaging learning experiences that make the learning process enjoyable.
Our dedicated e-learning design and development teams assist you in building and customizing the perfect solution, whether you're an entrepreneur developing an innovative new e-learning app, an educational institution looking to help your students achieve excellence, or a corporation conducting employee training.