Top 10 Ecommerce Platforms for Selling Groceries Online in the Philippines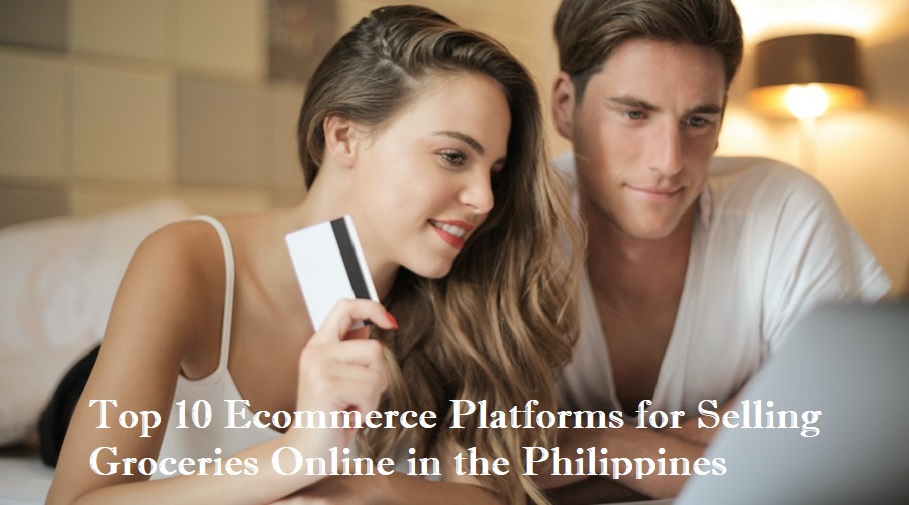 Online grocery shopping has taken the world by storm. This ability to browse a wide range of products, seamlessly compare prices, and have groceries delivered right to your doorstep has revolutionized how people shop for essentials.
In the Philippines, a rapid shift from traditional brick-and-mortar grocery stores to the convenience of online shopping occurred. With busy schedules and the growing desire for hassle-free experiences, more Filipinos are turning to ecommerce platforms for their grocery needs.
This article presents the top 10 ecommerce platforms for selling groceries online in the Philippines. These platforms have established themselves as the frontrunners in the industry. They offer a seamless online shopping experience, reliable delivery services, and user-friendly interfaces.
If you're an aspiring entrepreneur interested in learning how to start an ecommerce business in the Philippines, this article can serve as a valuable resource.
Exploring the Growing Popularity of Online Grocery Stores
—————————————-
Technology has revolutionized various aspects of people's lives, and grocery shopping is no exception. This section delves into the reasons behind shoppers' growing preference to buy online.
1. Convenience and safety
The primary driver behind online grocery stores' rise is their unparalleled convenience. With a few clicks or taps, shoppers can access all the products of a supermarket, easily browse through categories, and add items to their carts from the comfort of their homes.
The ability to shop anytime and anywhere eliminates the need to physically visit multiple stores, battle crowds, and wait in long queues. This benefit became important as people prioritized their health and safety, especially during the COVID-19 pandemic. Online grocery stores save valuable time for busy or concerned individuals.
2. Cost savings
The convenience of online grocery stores makes it significantly easier to canvas and compare products. Before, shoppers needed to visit several locations or search for specialty stores online to find the best deal on an item they wanted. With online grocery stores, users can find a product and its best price nearly instantly.
Thanks to the staggering online selection, they may also find less expensive or more cost-efficient alternatives. Even with the added delivery fee, customers are saving on the opportunity cost of time and ever-rising gas prices.
3. Personalized shopping
Online grocery stores use advanced algorithms and data analysis to personalize the shopping experience for each customer. They track previous purchases and browsing patterns to create recommendations, deals, and discounts tailored to your preferences.
This level of personalization enhances the overall shopping experience and helps the customer discover related brands or products aligned with their tastes. No more stumbling around aisles or asking clerks for recommendations. The algorithms do it for you.
Top 10 Online Grocery Ecommerce Platforms in the Philippines
—————————————-
The Philippines offers many options to cater to the diverse needs of consumers. This list includes local players that understand the unique preferences of Filipino shoppers and international giants with a wide range of products.
1. LazMart
LazMart stands tall as one of the leading online grocery platforms in the Philippines. It is the grocery arm of one of the country's most popular ecommerce websites. With its extensive network and exceptional service, LazMart ensures a convenient shopping experience for customers.
From fresh produce and pantry staples to household items and personal care products, LazMart offers everything a consumer may want. The platform's user-friendly interface allows for easy navigation and hassle-free ordering. The company also provides reliable delivery services, which has helped it garner a loyal customer base.
Moreover, it has one of the lowest barriers to entry of all online groceries, making it a popular choice. However, going for this platform can also mean more competition. Without a unique selling proposition or another way to stand out, getting buried on the platform will be easy.
2. Shopee Supermarket
Shopee Supermarket is another top ecommerce platform-turned-online grocery store. Shopee Supermarket caters to a wide range of budgets and preferences through its extensive selection of groceries. The platform boasts competitive prices, regular promotions, and exclusive deals.
Its diverse range of products is all from reputable sellers. Its secure payment methods and easily navigable design provide a seamless shopping experience. Furthermore, it also boasts a robust logistics network as an extension of its ecommerce background, ensuring that your groceries reach you in top condition.
Like the previous entry, Shopee Supermarket has a relatively low barrier to entry. This benefit comes with the same drawback of having more competition.
3. MetroMart
MetroMart gained recognition as a trusted online grocery platform throughout the country. Its business model relies on a curated selection of partnered physical supermarkets and specialty stores. Thanks to the partnership, MetroMart can service nearly every metropolitan area in the country.
This system ensures consistent quality for its users, though it can make it more difficult for new vendors to get accredited. However, if you can get your foot in the door, you can benefit from their established reputation and dedicated back-office systems.
4. WalterMart Delivery
WalterMart Delivery is the online grocery platform arm of the original brick-and-mortar malls and supermarkets. Thanks to the number of available grocery stores and specialized retailers, WalterMart Delivery users can access a massive selection of products at competitive prices.
WalterMart Delivery has become a go-to choice for many throughout Metro Manila and Luzon. It features an intuitive interface that allows for quick ordering. However, interested entrepreneurs will have to establish a physical store at a WalterMart location to gain access to its Delivery service.
The platform can be easy for those with existing stores to get your products in front of more people. The added reach can be a significant boost to sales and exposure.
5. Zalora
While primarily known for its fashion offerings, the shopping giant expanded its services to include grocery shopping. The platform takes advantage of its existing wealthy clientele by offering high-end food and drinks. It curated its luxurious selection to appeal to more refined palates.
Zalora offers a fresh approach to online grocery shopping, combining fashion-forward sensibilities with a diverse range of grocery products. It may be the perfect platform for aspiring sellers of opulent products.
Starting as a luxury retailer may be challenging, especially when establishing your product line. It can take years to build a reputation to the point that people are willing to accept a high price tag. However, luxury goods tend to have inelastic demand, allowing you to set prices without worrying about hurting sales.
6. pushkart.ph
Pushkart.ph is an online grocery platform partnered with the famous Fisher Mall. The brand dedicates itself to delivering fresh produce and quality groceries straight to your doorstep. Its easy-to-use interface goes further than competitors by offering a special request system, which lets users personalize their orders further, like fish deboning.
The platform simplifies online grocery shopping for consumers in Metro Manila. Moreover, its efficient delivery services are reliably and consistently on-time. However, interested sellers from outside the city will have to look elsewhere.
7. Puregold
Puregold is a popular chain of grocery stores throughout the country. It recently began offering delivery via an online store, making its services more convenient. Online users can access everything from brick-and-mortar stores nearly everywhere in the country.
With the trust and recognition associated with the Puregold brand, their online delivery service has become popular with Filipino shoppers. If you're interested in selling on their website, you'll have to go through the process of getting your goods on their shelves first. They're relatively accepting of lesser-known brands, so you should have a realistic chance.
8. S&R Membership Shopping
S&R Membership Shopping is a famous membership-only warehouse club in the Philippines. Similar to Costco, it offers bulk imported goods at highly competitive prices. You can find nearly everything on their shelves, from fresh produce and meats to pantry staples and gourmet items.
However, S&R has limited delivery time and areas—only at certain times to locations within three kilometers of a warehouse. Getting your products on their platform may be difficult as they prioritize imported goods.
9. Landers.ph
Don't think you're out of options if you wish to sell local items! Landers.ph is another great membership-only online grocery hub that offers local and international products. Its vast array of goods and competitive prices ensure it's a popular option for many users. Members can enjoy frequent deals and discounts that further drive down costs.
Unlike S&R, Landers offers same-day delivery in many cities and provinces. Interested sellers may have to go through hoops to get their listings on the shelves. However, access to Landers' established reputation can be a significant boost.
10. Boozy
What's a party without drinks? Boozy is an online grocery platform that specializes in alcoholic beverages. As the go-to platform for liquor enthusiasts nationwide, Boozy provides an extensive selection of spirits, wines, beers, and craft cocktails.
Boozy provides detailed product descriptions, customer reviews, and recommendations to help users find the perfect mix. Their efficient delivery service ensures that your party never runs dry! If you intend to sell alcohol, Boozy is the perfect platform to capture a broad audience.
The Future of Grocery Shopping
The rapid rise in popularity of online grocery stores signals a significant shift in consumer behavior and sets the tone for the future of the retail industry. As technology advances and convenience becomes paramount, online shopping is poised to become the dominant mode of grocery procurement.
This trend presents an enticing opportunity for savvy entrepreneurs to tap into a thriving market. With the right strategies, innovative approaches, and a focus on delivering exceptional customer experiences, you can leverage the potential of ecommerce to establish profitable ventures.
Embracing this growing trend not only meets the evolving needs of modern consumers but also positions entrepreneurs at the forefront of a lucrative and promising business opportunity.