How Social Media is Useful in E-commerce Business?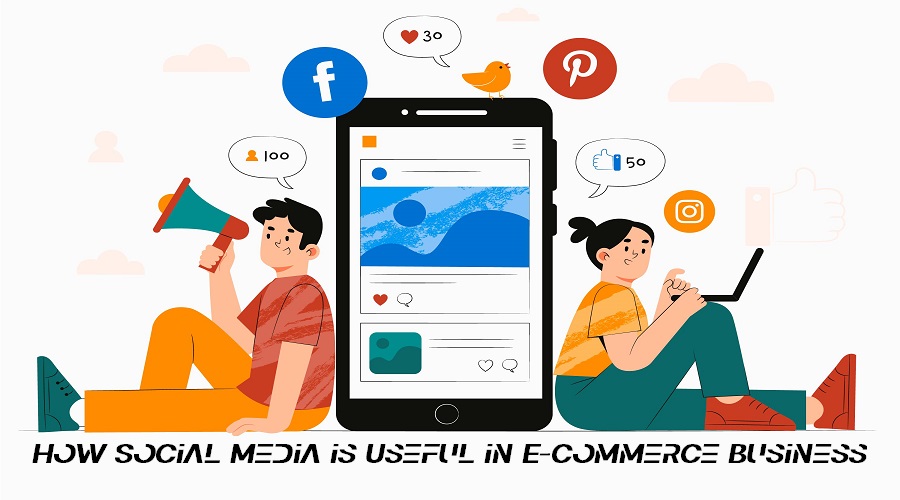 Wikipedia defines e-commerce business as the electronic purchasing or reselling of goods using online services via the Internet. E-commerce is prevalent worldwide. However, very few know about its history. E-commerce has roots in Electronic Data Interchange, a method businesses utilized to make document transfers easier in the 1960s. However, the very first transaction was in 1994.
The ability to shop online is now facilitated by the introduction of new technology. By downloading applications on smartphones, customers engage with businesses and make transactions. The advent of free shipping, which lowers prices for customers, has also contributed to the e-commerce sector's rise in popularity.
Why do e-commerce brands use social media?
——————————–
E-commerce and social media are much like a cut from the same cloth. Social media platforms are beneficial for e-commerce platforms to increase brand recognition, engage with consumers, and advertise products through targeted adverts and organic posts. Let's see how beneficial is  social media for e-commerce brands.
Advertising: Social networking is the most effective advertising platform currently available. The reach of social media advertisements is enormous and expanding quickly. There are large audiences. It is too big. Because of this, many social channels have strong targeting and segmentation features as well. The ad kinds, KPIs, and conversion metrics will depend on the objectives you have for your social media advertising. as well as the platforms you use to invest. Choose your objective to get going. Next, decide what kind of ads and targeting you require. then specify how you'll measure success.
Build Brand Awareness: Social media is the best marketing platform for creating buzz. It's the ideal setting for advertising your brand-new store, goods, services, activities, or promotions. Additionally, it works well for conversing with your intended audience. Create a consistent posting strategy with a united voice and message to successfully increase brand recognition. Engage in conversations with users directly about trending themes, hashtags, and topics.
Customer Support: Without considering customer care, no social media e-commerce strategy is complete. Social media channels are excellent for maintaining and assisting current clients. As a result, they now serve as the primary method of customer service for the majority of well-known brands. Incoming comments and direct messages need to be handled, and brands and social media managers need to be ready. If you are unable to, an e-commerce chatbot could be able to assist you. Ensuring your social accounts are dynamic is another reason to do so, in addition to offering a positive user experience. Prospects will observe customer interactions in public. It will affect whether or not they desire to buy. How you respond to complaints in public is a clear indication of how you reply to them privately.
Social Listening: Searching social media for mentions of your business or pertinent conversations is known as social listening. Social listening is an effective technique to monitor and comprehend the needs of their clients. Additionally, it provides priceless insights such as- the most liked product, brand sentiment, recurring problems, etc. It enables you to address concerns, exploit opportunities, and adjust your messaging to fit customer requests.
Direct Sales Channel: Social commerce is now simpler than ever. Facebook, Instagram, and TikTok have an inbuilt social selling option. On the other hand, Snapchat & Twitter created their social commerce tools with Shopify. Here, social commerce and social media e-commerce marketing converge, where social media's reach and brand-building potential might result in direct business.
How to Use Social Media to Grow E-Commerce Business?
——————————–
Here are a few strategies you may employ to increase e-commerce conversion rates on social media.
User-Generated Content: User-generated content is essential since it functions as social proof of the dependability of your brand. The context in which the potential consumers can make the most use of these things is clear to them when they can see other customers who have purchased your products. Customers frequently view items advertised by people who have used them as more reliable and sincere, which is another benefit of utilizing this strategy.
Make Shoppable Bio: Platforms let you add a separate link to each article, but your bio can only have one link making it time-consuming and prone to mistakes to change it every time you publish fresh content. Additionally, you are only permitted to submit one link to networks like Instagram's bio. Businesses typically attempt to update this one link while running a campaign. But that implies that someone who stumbles into an older post might not discover the link they were looking for a week later! Utilizing link optimization tools like Linkpop in this situation is crucial. It also enables you to design a clear shoppable link for the page. Instead of visiting the website, looking for the product, and then making a purchase, a customer can click on the URL, add the item to their basket, and complete the transaction.
Paid Ad Promotions: Sometimes, despite your best efforts, you could not even be making a difference since you aren't connecting with the right people or a sizable enough portion of your target audience. It can be in part because you don't have a sizable social media following. If so, spending money on social media marketing is a smart move. Instagram has some excellent advertising features, like video ads and carousel ads. Facebook gives you access to a large number of individuals and lets you tailor your marketing efforts to the target audience. You may then approach and engage potential buyers and consumers with personalized campaigns, which will enable you to enhance conversion rates.
Understand Analytics: Analytics are essential because they enable you to evaluate the outcomes of your marketing initiatives and, consequently, plan for the future of your business. You may assess the efficacy of your methods and what else needs to be done to raise your e-commerce conversion rates by using social media analytics. You need tools like the Serpbook Google Rank Trackers to assist you to keep a strong grip on and understand the conversion rates of your social media platforms.
Be Unique: There are dozens of producers of mid-century modern furniture competing for your social attention. With DTC businesses specializing in dozens of distinct market niches, the same narrative is repeated. Given how crowded the field is, how do you stand out? Finding a brand voice that is true to your business is one method to do this. It is one of the first stages to becoming recognized when combined with brand images. Next, determine what sets you apart from others in your field. It may be the origin story of your business, an area of expertise, or your customer service.
Collaborate With Influencers: Two strategies for making collaboration profitable include working with influencers and collaborating with other brands. In 2022, influencer marketing will be worth USD 16.4 Billion. And it's easy to understand why. To increase reach and gain new followers, this is one of the most well-liked social e-commerce marketing strategies. Collaborations are essential in equal measure. Brands are collaborating with other businesses with similar audiences, to expand their reach. When they do, they might come up with high-value gifts or campaigns that each brand co-markets to its fans.
Video Content: The most popular and influential form of material on social media nowadays is video. Several people claimed that watching a brand's video had persuaded them to purchase a good or service. It's no accident that two of the most widely used social media platforms are TikTok and Instagram Stories. They give priceless chances for brands to share paid and unpaid video content. High production values and shiny effects are not required. It only needs to convey value, display your personality, and address your audience.
Posting Schedule: Post early and frequently. Any e-commerce platform getting started on social media should live by that motto. You can acquire traction, evaluate what works, and develop a following by posting frequently. Likewise, a regular publishing schedule ensures that your social media strategy is consistent. Building an online community and maintaining brand awareness are accomplished in this way.
Audience Engagement: While talking about sales and marketing techniques, this suggestion could appear counterintuitive. Even though the early stages of the purchasing journey start here, it's vital to remember that social media is not often used for shopping. Above all else, marketers need to use social media to establish connections. Prioritizing client input, developing trust, and sharing interesting content should take precedence over any attempts to sell products or services through social media. Consumers that connect with social media material consistently end up buying products.
Showcase Testimonial: Online reviews of your items combined with social media, which can be the digital counterpart of your word-of-mouth marketing campaign, are a potent formula for success. One of the finest venues for you to exhibit product reviews is on social media because 88% of customers trust other online reviews as much as personal recommendations. Some sites, like Facebook, permit reviews on company pages, allowing businesses to activate this function and reap its full rewards. You should always respond to these reviews because doing so is even more effective than in the case of the comments.
These social media marketing techniques for e-commerce websites can undoubtedly streamline your customers' product discovery process and increase your conversion rate. As we've seen, social media is where e-commerce will go in the future because of the billion users on these platforms. Therefore, you must maintain a continuous presence on these channels.