Enter the eCommerce Industry Using a Buy and Sell App Like Letgo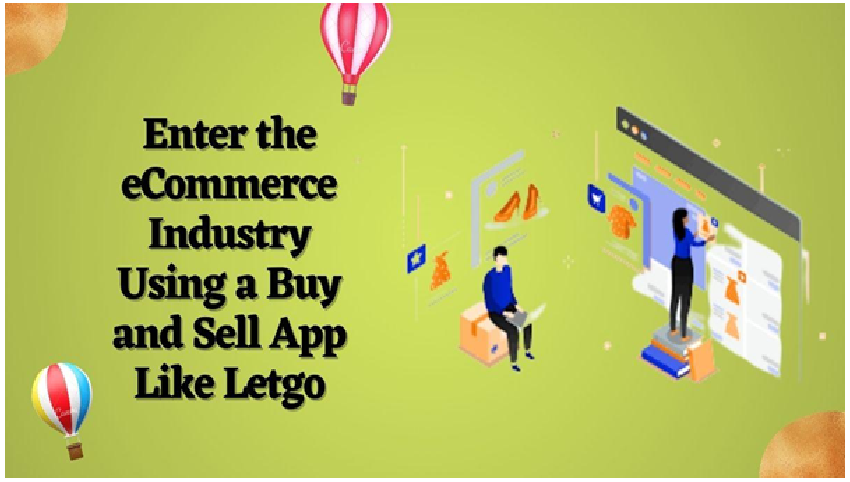 We've already jumped into 2022 with new hopes! What a great start it would be if you started by "letting go" of old things and "giving up" to those who truly need them. Let me ask you a question: do you think it's better to sell outdated items for free or for money? You, of course, choose the second choice. And you can accomplish that by creating an awesome buy and sell marketplace where Letgo and OfferUp are more than just names. They are a chance for entrepreneurs to sell and buy thousands of items locally in return for money.
Building a buy-sell marketplace has considerably expedited the process for both local buyers and sellers because it is the ideal way to get things done in minutes. In this blog article, we will examine several factors relating to "Let Go" and "Offer Up," such as apps, business strategies, and more.
Letgo and the OfferUp App
Letgo and OfferUp are the plainest and most simple-to-use platforms for users to purchase and sell in a virtual world. These apps are extremely popular, with over 100 million downloads and 400 million listings globally. They are also known as large reseller markets, where thousands of used products, gadgets, cars, collectibles, furniture and other items are sold.
Local buy-and-sell marketplaces like OfferUp and LetGo are wonderful company ideas since they allow both sellers and buyers to buy and sell locally. According to the most recent figures, more than 1.8 billion people prefer to shop for used items online rather than visiting specialized locations. In addition, e-commerce sales are expected to reach 4.0 trillion dollars in 2021, with revenue more than tripling in 2022.
With the merger of "offer up" and "Letgo," there is now a chance to combine the capabilities of both marketplaces to provide a better experience for both consumers and sellers. All of this implies that vendors will be able to reach more customers by selling more quickly on this merged marketplace, while consumers will have access to more bargains.
The End-to-End Operation of OfferUp and Letgo Apps
Letgo and OfferUp are local integrated buy and sell marketplaces that are simple to use. It's similar to Facebook in that it allows you to buy and sell used products in your neighborhood. You must first join up before you can do anything to post or buy anything. How would you go about doing so? To create an account, launch the app, fill out the required fields, and click the signup button. Once you've signed in, the app's home screen will appear. On the main screen, a search bar will display, allowing customers to restrict their search by category and identify specific items to purchase.
Once the results are displayed, you can easily scroll through the app's listings and select the one that looks to be the greatest fit for you. When you view a specific ad after that, you'll see images of the item, some basic information about it, and the price. You can either ask questions about the goods or make a purchase offer.
Marketplace business models such as Letgo and OfferUp
Similar Apps like OfferUp and Letgo are mostly used for selling and buying old products. All of these buy-and-sell apps adhere to the same business model, which is predicated on collecting revenue through adverts. There are no fees to create a profile, register, or even conduct a transaction. Letgo, a reseller eCommerce application development platform, is one of the top platforms for selling and purchasing used things such as home-garden, fashion, accessories, and vehicles. LetGo's business model is built on charging sellers a fee for each sale made as well as the transportation of the product via its platform.
If you want to discover How To Build A Buy and Sell Marketplace App Like LetGo, consider some of these monetization possibilities.
How Do You Begin An E-Commerce Business In Turkey?
If you want to launch an eCommerce business in Turkey, you must go through a number of preparatory and legal stages.
Begin by conducting competitive research in Turkey to determine the space in which to create your eCommerce brand.
Next, choose a business name and formally register it, as well as secure all essential permits and licenses.
Create a robust marketplace for the selling of used hotels in Turkey, used home and garden things in Turkey, used electronics in Turkey, and used children's items in Turkey.
Letgo Earns Money – App Ideas For Earning Money
So, let's go right to the point: how can an app like Letgo make money? Letgo is clearly a free marketplace platform where users can easily advertise their stuff. There are still a few revenue models to go over:
Ad-based Model: One of the income strategies that has propelled Letgo to success in a very short period of time and has assisted the marketplace in increasing the number of users. This strategy has various advantages for marketers, ranging from showing a large number of banner advertising to making a good income. The more users who click on banner adverts, the more cash is earned.
Freemium Model: The Letgo platform's freemium model is designed specifically for product owners who want to list their products at the top. This model includes the "featured listing" function, which allows product owners to attract a large audience with sales.
In-app purchases: The ability to purchase special offers in-app or for sellers to pay to have their advertisements appear at the top of the app. Your service can also serve as a middleman, allowing merchants to broaden their trading area.
The Best Features of Letgo and Offerup Have Been Listed!
Registration using social media: This is a feature that all of the best local selling apps have. It increases user trust in your service and simplifies the identity verification process. They will also not have to submit their information manually because everything will be pulled from a social network.
Profile creation: Personal information for sellers and buyers, as well as all things for sale, a list of addresses, and cards, will be displayed. Users should also be able to alter their own profiles.
Search engine: Keep in mind that the search should be dependent on the clients' location. As a result, it allows users to widen or narrow the search range. It'll be simple because almost all modern cellphones have GPS built-in.
Advanced filters are required to make the search process as simple and quick as possible. To save shoppers time, organize everything into categories, groups, price, size, location, and other factors. If the seller sells similar items in several variations, choose one from the list (based on color, smell, and other factors) or enter your own. A sizing chart would also be beneficial.
Built-in camera: This feature allows you to capture photos in the app and upload them right away. The option to edit photographs, trim them, and adjust brightness and contrast would be a pleasant addition that merchants would value.
Built-in chat: Built-in chat is one of the most popular and useful features of such apps. It makes it easy for users to communicate and discuss transaction data.
Support for several languages and currencies: If you want your program to work in multiple countries, it must support the relevant currencies and languages.
Push notifications: This is a low-cost solution that will keep your users informed of all new features, updates, and changes, as well as receive notifications of new chat messages.
Some Additional Benefits
Price comparison: This is an excellent opportunity for users to quickly and easily select the best items.
Provide hot bargains: The capacity of a vendor to provide hot deals, discounts, or coupons is incredibly valuable. You'll be able to earn more money if you charge for this feature.
Include the following subcategories: Including categories such as best bargains and recent offers is an excellent way to encourage suppliers to be more honest and raise their ratings.
Scan photo feature: This function allows your Letgo Clone App to provide ideas on how to fill out product descriptions and categorizations based on the photos you can. You can also look at the images you've submitted to see if they're of good quality. On various sites, customers complain about the quality of the images or that they are phony. Some platforms solve this by canceling the transaction and asking the seller to supply at least one live photo of the item.
Built-in payment solution: When customers use your service for the first time, they are asked for their credit card information as well as their phone number. Following that, the users provide their email address, and a unique code is issued to that address to confirm all of their information. As a result, you do not need to enter it every time you use the service.
Agreement with third-party delivery services to improve user quality of life and reduce transaction time.
Commentary and rating: The function protects customers from dishonest merchants.
How to Create a Buy and Sell Marketplace App Similar to LetGo Best Websites to Sell Stuff Locally
Consider the following for the name of your marketplace: To begin with, the name of your app should be intriguing. Because the title is the first thing users see, it should be brief and pertinent. There are numerous brand name generators available to help you choose the perfect name for your next app. Other key factors to consider are the app's title size and the expectations of the target audience.
Have an appealing UI/UX: The importance of a visually appealing UI/UX cannot be emphasized. Beautiful graphics and an easy-to-use user interface are essential, and your potential consumers will notice. Users prefer to see a familiar model of an app like this. Thus your buy-and-sell app should have a simple and user-friendly UI and UX.
Create a virtual shopping cart: People can purchase a variety of items through your app, and they should be able to put those items into a virtual shopping cart. Buyers can go to this basket and go to the payment page, or they can choose payment on delivery, depending on their preferences, after generating a list of what they need. You can appropriately sort all of your purchases using a shopping cart.
Choose the finest payment gateway for your buy-and-sell software, whether it's PayPal, Stripe, or another payment method. If you're having problems deciding, look into the market and your competitors, as well as effective solutions. Pay close attention to local government restrictions, and don't forget about payment processing security.
Some Vital Factors to Consider
Select a niche: Do you want to create a local selling app for selling products in your region, or do you want to create an app that allows you to buy and sell across cities and borders? The first step in this process is to determine which market you wish to target. You must also select the commodities with which you will be working. You can create an app to sell used things in a specific category or a broad-spectrum app.
The user's experience: Depending on whether the user is a buyer or a seller, a single online marketplace app is viewed as either a purchasing or selling app. In both cases, the user experience should be taken into consideration. Apps for purchasing and selling should be feature-rich and performance-driven.
Fraud prevention: Fraud prevention is essential for a stable economy. As a business owner, you should invest in client security and fraud detection algorithms. Before buyers and sellers can register with your buying and selling software, they must be vetted.
An Estimated Cost to Create a Marketplace App Similar to Letgo and OfferUp
A variety of factors influence the cost of Letgo & Offer Up reseller mobile app development. The following are some of the most important:
The characteristics and their complexities
Time
A company that creates apps
Location
Budget
To maintain the essential characteristics in place, the overall cost to create a buy-sell application using an offerup clone script would be between $20K and $40K. The price may vary depending on the features and location.
Final Thoughts
This essay sought to clarify the essential business elements, fundamental characteristics, recommended features, and estimated cost of creating the best Reseller eCommerce application development with Letgo Clone. It's time to set your doubts aside and begin planning how to build a buy and sell marketplace app.
When launching any business, there will be unexpected challenges, roadblocks, and defects. The most important thing is to get rid of them and move on. Our innovative and performance-driven products have earned us a reputation as a leading software development company.