Top 5 Metaverse Development Companies in New York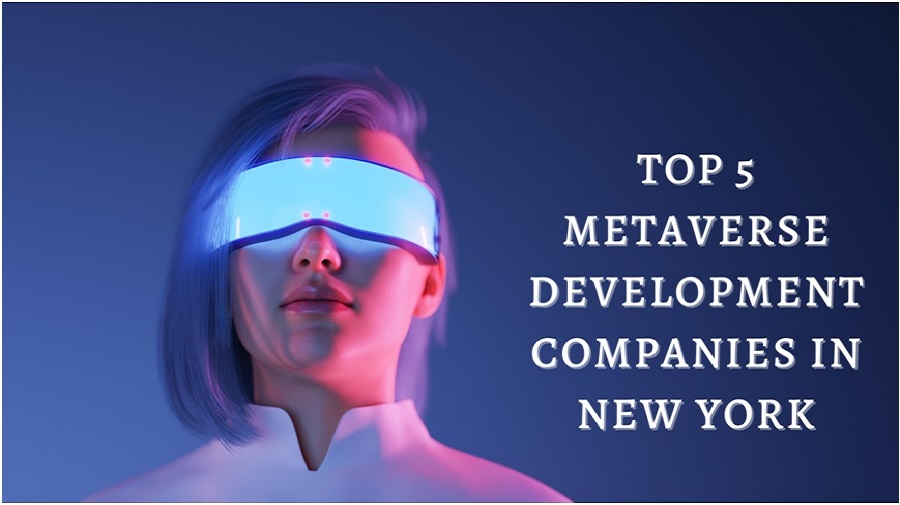 Metaverse has grabbed the attention of everyone, whether it is the biggest tech giants, small businesses, or individuals. It is a virtual world but offers experiences just like the real world. Being a user, you can work, play, shop, and hang out with other users. Also, you can sell and buy properties. Not only this, you can do many other things that you often do in the real world. You can experience this virtual world and immerse in it. It becomes possible due to the use of various technologies like artificial intelligence, augmented reality, virtual reality, spatial computing, etc.
The Top 5 Metaverse Development Solutions Providing Companies in New York
——————————————
Besides, the industry has opened several doors for businesses to earn revenue, and stats say that the income from Metaverse may reach up to $800 billion by 2024. As the number of active users is increasing massively on the platform, it is luring businesses to look for metaverse development companies and invest in them. It is with the motive to get their metaverse projects delivered on time. However, the market is flooded with several options, and considering a few factors like the number of projects delivered, years of experience in the industry, and ratings are crucial.
 SparxIT
It is one of the well-reputed metaverse development companies that serve clients from different industries across the globe. The company has been actively developing and designing exclusive metaverse space and applications. Its metaverse development solutions are used across various industries like healthcare, manufacturing, high tech, retail, art, gaming, and many more.
Significant Features of SparxIT:-
The company works with over 250 IT professionals and has delivered over 15,500 projects. It has a Clutch rating of 4.8, a GoodFirms rating of 5.
A range of metaverse development services that the software development company offers include metaverse design solutions, application development, integrated services, eCommerce platform development and crypto infrastructure development, and more.
The company also provides various IT solutions like app development, consulting, software testing, website design and development, mixed reality, virtual reality, data intelligence, web 3.0, machine learning, and product development.
Some other IT services it provides include DevOps, blockchain, CMS development, augmented reality, and many more.
And various industries that the software development firm caters to, include wellness, social media, logistics, fintech, edtech, SaaS, travel, healthcare, entertainment, eCommerce, and many more.
Dotsquares
With its offices in America, France, UAE, and Australia, the premier IT company specializes in providing a wide range of IT services, including custom software development, CRM consulting, web & app development, cloud computing, and game development. Also, it provides services like CRM implementation & consulting services, Hi-tech, consumer packaged goods, FMCG, logistics and distribution, aviation, automotive, communication services, publishing, financial services, and many more.
Significant Features of Dotsquares:-
It has clients like Just Eat, Dunkin Donuts, NHS, Fujitsu, Airbnb, Daily News New York, TUI Travel PLC, and many more.
With a strong presence in multiple countries, the country has a diverse client base, including small and medium-sized enterprises and large multinational corporations.
With over 21 years of experience in the industry and 1000 IT professionals with certifications, the company has delivered over 20,000 projects for more than 12,500 clients. It is a CMMi Level 3, bronze-verified company with a rating of 5 on the Clutch.
Rootstrap
The software development company has helped organizations of all sizes, processes, and people to scale up their business, generate Return on investments, and achieve their business goals. It is a gold-verified company specializing in web development, mobile development, QA automation, UI/UX, machine learning, and DevOps. Besides, the company provides high-quality services associated with AR/VR, chatbots, cryptocurrency, and metaverse.
The significant features of the metaverse development services include:-
The company has helped MasterClass double its revenue and Ownable to do the business of $2.5 M in a day.
With the help of this metaverse development solutions providing company, more than 25 startups have secured funding from venture capitalists with an average of $250 K.
It has offices in New York, Argentina, West Hollywood, CA, and Uruguay and has earned the Clutch rating of 4.8. The company has helped in the launching of more than 750 digital products.
Some of its top-rated clients who benefit from the company's services include Loftey, Epson, Ericsson, MasterClass, SalesForce, Universal Music Group, FanBread, Spotify, etc.
It offers metaverse based solutions like crypto infrastructure development, metaverse design and application development, decentralized platform development, and many more.
INORU
The world-class metaverse development services company focuses on offering solutions that fit every business requirement and niche. The software development company has experience developing NFT marketplace, eCommerce services, game development, DAO, and Defi development.
Significant features of INORU:-
It has more than seven years of experience in blockchain technology and has offices in the USA, Singapore, UAE, and London.
The company has worked on 200-plus projects with over 100 IT professionals, including designers, marketers, and analysts. As a result, the company has retained more than 150 clients.
Regarding providing metaverse related services, the company offers metaverse marketing, eCommerce services, game development, decentralized finance development, and integration services.
It has specialization in handling various blockchain networks like Ethereum, polygon, BSC, Tezos, Stellar, EOS, Hyperledger, Polkadot, Corda, etc.
Blockchain App Maker
Being one of the reputed metaverse development companies, Blockchain App Maker has the expertise in harnessing the power of blockchain technology to drive growth and innovation across industries. It has a team of experienced designers, developers, and consultants. Whether for decentralized applications, smart contracts, or supply chain management, the company has more than 250 professionals who can design solutions that suit your business requirements.
Significant features of the company:-
Regarding metaverse development services, the company has expertise in providing metaverse NFT marketplace development, healthcare solutions, game development, streaming platform, loan platform, DeFi exchange development solution, and many more.
It has offices in the USA, UK, Australia, and UAE. The company has earned a Clutch rating 5 and worked with reputed clients like DasCoin, Medical Cannabis, New Zone, and Dash.
The software development agency has expertise in various blockchain development technologies like multichain, Azure blockchain, Startis, Open Chain, Corda, Ethereum, and Hyperledger.
A range of industries that have achieved significant results from the blockchain essential solutions of the company includes retail, agriculture, insurance, logistics, finance, healthcare, etc.
Conclusion
The demand for metaverse development companies is rising every day. It is due to the reason that applications of the technology in various fields have also been soaring high. With companies everywhere boasting of providing high-quality services, it is easy for you to get confused and make a wrong decision. However, some research about these companies can be of great help. The only thing you need to do is to check their websites and look into their clients' testimonials. These will show you the right way, help you choose a company that can fulfill your needs, and gets you to develop excellent blockchain-based platforms.