Custom Development vs WordPress: Which is Better?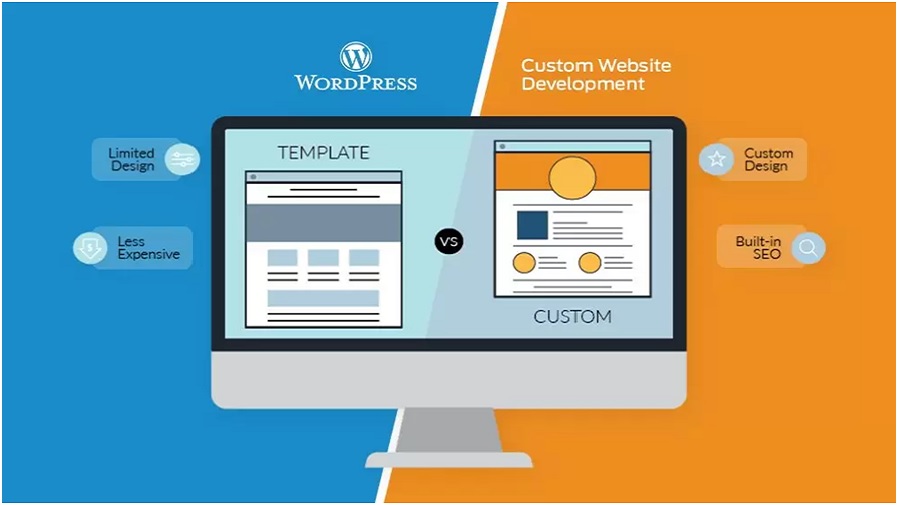 So, you've made up your mind to give your business a responsive and new website design. That's great. But, what's next? Well, building a new website is a little hard journey; a journey that involves planning and decision-making. One of the big challenges you'll face in your website creation is whether to go for a custom web design or use a pre-made website theme on web platforms like WordPress.
Today, over 43.1% of all websites are powered by WordPress, and WordPress alone accounts for 63.1% of the global CMS (Content Management System) market share. There's a reason why so many companies opt for WordPress. Why? Because it lets them build a website without having to hire an expensive web development agency or hire an in-house team.
But, is this the ultimate choice? In today's article, we'll dive deep into the nitty-gritty of the pros and cons of both choices and find out which one is ideal for a business that's just getting started online. Let's start.
Custom Development
 —————————————–
Custom websites usually come into play when the site owner needs particular tweaks and website updates that WordPress just can't handle. These custom sites often come to life for large, intricate platforms with unique features.
To make these sites a reality, you'll need a professional web designer specialized in crafting custom websites. This design team will dive into programming languages like PHP, ASP, Python, Laravel, JavaScript, and Ruby, all to weave together the detailed design of your website.
Pros
With a custom-developed website, you get the option to make it as unique as possible and add up all your required features while integrating unique functionalities that might not be possible with WordPress. And that's a huge advantage of getting a custom website for your business.
Having a custom-developed website will be more effective in search engines than a WordPress website. This means the chances of getting high rankings in search engines such as Google gets high than the one built with a WordPress theme. Having a good search presence is extremely important for a business that's just getting started online to gain leads and increase conversions online.

A custom-developed website can be quite useful when it comes to incorporating your company's branding into your web design. It'll give your website a unique design that defines your company. It'll make your website stand out from the crowd.

Getting a custom-built website is a long-term success because it allows your website to grow as your business does. This means that you can add up new features and sections to your website as your business grows over time. Contact your custom web development company whenever you want to make changes, update something, or add new features that align with your business growth.

With a custom-built website, you can offer better customer support to your visitors than a WordPress website. That's because it's built by professional developers specialized in website technical knowledge so if any bug or problem occurs, on any page, region, or the complete website, they can fix it right away. While on the other hand, you use a plugin and if any bug or error shows up, you have to wait for the plugin company to fix it.
Cons
There aren't many cons of a custom-developed website, but a few; expensive build costs, maintenance, and timeframe.
Websites built from scratch are more expensive than those built with pre-made WordPress themes. It's because these websites are customized to the way your business operates and your specific needs.

The process of building a fully customized website takes a lot of time due to its unique design, the complexity of the projects, unique features, and layout. Any changes to the website take more time compared to WordPress. In such a case, you can only rely on your development company for time and availability.
WordPress
 —————————————–
WordPress was released as a free website creation tool allowing bloggers to build blogs faster and easier. Over the years, the platform has evolved and becomes more open for building websites. One of the few reasons why businesses choose WordPress to create their websites is that it only needs basic web knowledge to build a user-friendly and responsive website.
You don't have to be a professional developer to build your website with WordPress. Here are some pros and cons of building your website with WordPress.
Pros
Creating a website with WordPress takes less time compared to building it from scratch as a custom website.

WordPress CMS is already developed and so you won't have to concentrate on content management and design.

WordPress comes with a huge collection of pre-made themes. Which makes the development process easier and faster. Instead of paying an agency to create your custom theme, you can just pick one professional who has already made it and use it for your website.

WordPress is a secure platform to build your website. It's a large community of developers who work together to detect security threats or bugs in the WordPress system and keep releasing security patches to ensure your website is secure on WordPress.

With WordPress, search engine ranking gets easier. With several SEO plugins, the most famous one is Yoast SEO, you can make basic SEO changes to your website to ensure it shows up in the search results whenever your customers search about your business online.
Cons
With the option to pick any theme of your choice, it might get difficult to customize it according to your website preferences. In this case, you'll need the professional help of a developer who understands the functionality and assist you in your website development – resulting in more costs.

Though WordPress releases regular security updates and patches, it's still vulnerable to security threats and hackers. These hackers can take advantage of this and damage your website.

WordPress requires regular maintenance, which can sometimes be hard for a basic user to do. Even though WordPress releases updates and security patches to prevent hackers take advantage of such maintenance loopholes, you might still need to hire professionals to ensure your website maintenance and security. If you won't do it, you are still vulnerable to online threats, which in some cases can lead to complete website loss.
Custom Development or WordPress: Which is Better?
 —————————————–
Both options are great when it comes to building a website for your business. Both have their pros and cons and you should choose one based on your business needs and budget. If you only want a basic website for your business and don't want to invest much in your website, then WordPress is the ideal option for you.
Though building a website on WordPress can be challenging for some businesses, so it's wise to hire a white label WordPress development agency to develop your website. By partnering up with a white label WordPress agency, you can not only have your website built but also offer this development services in your business. Consider it as an extra source of income for your business services. While label WordPress development allows you to sell their services as your own to your customers whiteout labeling their company name.
But, if you're a growing business or an enterprise, you should go with the custom development approach. Custom development is ideal for those companies who need regular updates or changes to their website based on their business needs and requirements such as event management companies or advertising agencies.
Conclusion
In conclusion, the choice between custom web development and WordPress boils down to your business's size and needs. Custom development offers uniqueness, advanced features, and tailored branding but involves higher costs and maintenance. WordPress is quicker and budget-friendly but may lack full customization and requires regular upkeep. Consider your business stage and priorities to decide which approach suits you best. We hope this article helps you in making your decision.