Trends in Website Development: Embracing the Future of Digital Experiences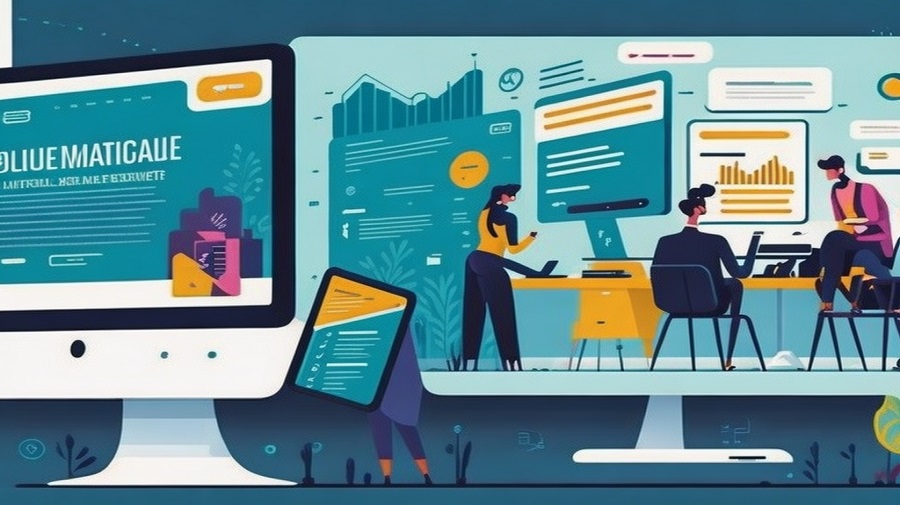 Web development services play a crucial role in the digital age. With the rapid advancement of technology, having a well-designed and functional website is essential for businesses and individuals alike. Websites serve as virtual storefronts, providing a platform to showcase products, services, and information. They allow businesses to reach a global audience and establish their online presence. Embracing the future of digital experiences is vital because it ensures that websites are optimized for various devices and user-friendly. Web development services enable the creation of responsive, interactive, and visually appealing websites, enhancing user engagement and driving conversions. In today's competitive landscape, investing in professional web development services is key to staying relevant and maximizing online success.
Evolution of Website Development
—————————————
Traditional static websites, which offered limited interactivity and required manual updates, have given way to dynamic websites powered by content management systems (CMS). CMS platforms such as WordPress, Joomla, and Drupal allow businesses to easily manage and update their website content, empowering them with greater control and flexibility.
Moreover, the introduction of responsive web design and mobile optimization has become imperative. With the proliferation of smartphones and tablets, websites must adapt seamlessly to various screen sizes and devices. Responsive web design ensures optimal user experience, regardless of the device being used, leading to higher engagement and improved conversion rates.
In parallel, user-centric design and UX/UI principles have gained prominence. Web developers now focus on creating intuitive interfaces, considering user needs and preferences to enhance usability. By incorporating UX/UI best practices, websites become more visually appealing, accessible, and user-friendly.
To navigate this ever-changing landscape, businesses often find it beneficial to hire web developers. Experienced web developers proficient in web & mobile app development in USA can bring expertise in the latest technologies, frameworks, and trends, ensuring the creation of cutting-edge, high-performing digital solutions that meet their specific business objectives.
Current Trends in Website Development
—————————————
In the dynamic field of web development, several trends have emerged to enhance user experiences and optimize performance. One such trend is Progressive Web Apps (PWAs), which combine the best features of websites and native mobile applications. PWAs offer offline capabilities, push notifications, and app-like interactions, providing users with a seamless experience across devices.
Due to their capability to provide a seamless and speedy user experience, Single-Page Applications (SPAs) have garnered considerable popularity. SPAs load content dynamically, eliminating page refreshes and offering smoother navigation. This approach enhances engagement and reduces load times, making them ideal for interactive websites and web applications.
Voice user interfaces (VUIs) and conversational interfaces have revolutionized web development. Integrating speech recognition and natural language processing, these interfaces enable users to interact with websites and applications using voice commands, making interactions more intuitive and accessible.
Accelerated Mobile Pages (AMP) have become a standard for mobile web development. AMP is an open-source framework that optimizes web pages for quick loading and improved performance on mobile devices, enhancing user experience and reducing bounce rates.
The integration of artificial intelligence (AI) and machine learning (ML) has transformed web development by enabling personalized experiences and intelligent automation. AI-powered chatbots, recommendation systems, and data-driven insights enhance user engagement and streamline processes.
Microinteractions, subtle animations, and personalized user experiences have become vital components of web design. These microinteractions provide feedback, guide users, and create delightful moments, fostering user engagement and satisfaction.
To leverage these trends effectively, partnering with a reputable web development company is crucial. A professional web development company possesses the expertise, resources, and knowledge of the latest trends and technologies to create innovative and high-performing web solutions that cater to the specific needs of businesses.
Importance of Embracing the Future of Digital Experiences
—————————————
Web development plays a pivotal role in achieving these goals. By creating user-friendly and intuitive websites, businesses can provide a seamless browsing experience that meets the expectations of their target audience. Additionally, web development focuses on improving accessibility and inclusivity, ensuring that websites are accessible to users with disabilities and conform to accessibility standards. This approach not only expands the reach of businesses but also demonstrates their commitment to inclusivity and social responsibility.
Moreover, web development is instrumental in enhancing user engagement and driving conversions. Websites that are visually appealing, interactive, and optimized for user experience tend to keep visitors engaged, leading to increased time spent on the site and higher chances of conversions. By incorporating persuasive design elements and intuitive navigation, businesses can guide users towards desired actions, such as making a purchase or submitting a contact form.
Web development also involves leveraging emerging technologies for business growth. Whether it's integrating AI chatbots, implementing augmented reality (AR) features, or adopting blockchain for secure transactions, staying ahead of the curve is crucial for success. By embracing these technologies, businesses can enhance their offerings, improve efficiency, and provide unique and engaging experiences to their users.
Furthermore, web development encompasses adapting to evolving search engine algorithms and SEO practices. As search engines constantly update their algorithms, websites need to stay up to date with best practices in order to maintain or improve their search engine rankings. A well-developed website considers SEO factors from the ground up, ensuring proper site structure, optimized page speed, mobile-friendliness, and relevant content to attract organic traffic and improve visibility.
To accomplish these goals effectively, businesses often find it beneficial to hire a dedicated development team. A dedicated development team brings expertise, experience, and a collaborative approach to web development projects. They work closely with businesses to understand their objectives and develop tailored solutions that align with their specific needs, ultimately helping businesses thrive in the competitive digital landscape.
Challenges and Considerations
—————————————
Web development entails various challenges that businesses must navigate. Technical complexities and compatibility issues arise due to the multitude of devices, browsers, and operating systems available. Skilled web developers in New Jersey can address these challenges by employing responsive design techniques, ensuring that websites function seamlessly across different platforms.
Ensuring website security and data privacy is of paramount importance. Web developers implement robust security measures, such as SSL certificates and encryption protocols, to safeguard user information and protect against cyber threats.
Balancing aesthetics with performance and functionality is a crucial consideration. Web developers strive to create visually appealing websites without compromising loading times or user experience. Optimizing images, minimizing code, and employing caching techniques are some approaches used to enhance performance.
Keeping up with evolving web standards and best practices is a constant requirement. Web developers in New Jersey stay updated with the latest trends, technologies, and accessibility guidelines to ensure compliance and provide the best user experience possible.
Finding the right balance between innovation and user familiarity is vital. While incorporating cutting-edge features and designs, web developers also prioritize user familiarity to ensure intuitive navigation and seamless interactions.
To overcome these challenges effectively, businesses can hire web developers in New Jersey. Professional web developers possess the necessary skills, expertise, and knowledge of industry best practices to overcome technical complexities, ensure security, optimize performance, and deliver innovative yet user-friendly web solutions that align with the unique requirements of businesses operating in New Jersey.
Best Practices for Embracing the Future of Website Development
—————————————
To create successful websites, it is crucial to implement certain practices. Conducting regular user research and testing allows businesses to understand their audience better and make informed design decisions. Prioritizing mobile-first and responsive design ensures optimal user experience across devices. Optimizing website performance and loading times enhances user satisfaction and reduces bounce rates. Implementing a scalable and flexible architecture enables websites to grow and adapt to evolving needs. Integrating analytics and tracking tools provides valuable data-driven insights for continuous improvement. Lastly, investing in ongoing training and professional development for developers ensures they stay updated with the latest technologies and best practices. To implement these practices effectively, businesses can hire developers with the expertise and experience to execute these strategies and create high-performing, user-centric websites.
Conclusion
Web development is of utmost importance in the digital age. It enables businesses to meet user expectations, enhance engagement, and drive conversions. By embracing emerging trends, optimizing user experience, and staying up to date with evolving standards, businesses can create powerful websites that effectively reach their target audience. Moreover, investing in web development services allows businesses to leverage the potential of emerging technologies, ensure website security, and stay competitive in the online market. With the right expertise and strategic approach, businesses can harness the full potential of web development to thrive in the dynamic digital landscape.