Top Free and Paid Ecommerce Platforms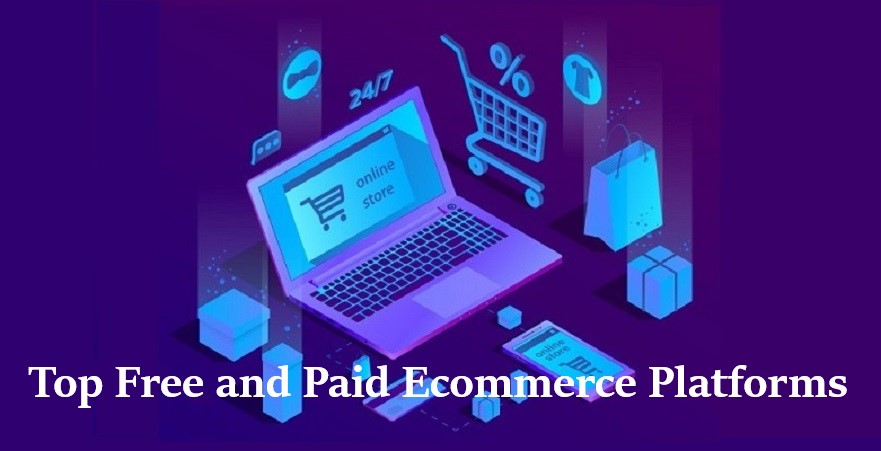 Starting an eCommerce business can be exciting. You get to choose your brand name, design the logo, market the brand, and so on. While you might be aware of your business requirements in the present, it's still important to choose the right eCommerce platform that will cater to your long-term growth. Hence, to help you streamline the best eCommerce platform that will meet your present and future needs, we have covered a few paid and free eCommerce platforms in this blog. But first, let's get an overview of the basics.
What is An eCommerce platform?
An eCommerce platform is used to create and build online experiences that allow buyers to purchase online, while sellers and business owners can make sales and fulfill orders (irrespective of the customer's location). eCommerce platforms also allow online businesses to manage their sales, marketing, operations, and website. Furthermore, these platforms are powerful tools to list products, accept online payments, control inventory, and so on.
What to Look For in An eCommerce Platform?
Many eCommerce platforms are available in the market. So if you are looking to pick one – to take your existing business online or are planning to launch an eCommerce platform, here are the key features to look for:
Ease of Use
The greatest thing about an eCommerce platform (especially readymade) is that it requires very little capital and expertise to start. But if you choose software that is complex and not easy to use, then you have consciously chosen to put effort into learning how to use it. On the contrary, if you lack technical skills, an eCommerce software that is easy to use allows you to create a beautiful eCommerce site without taxing your patience.
Payment Processing
An eCommerce platform that allows you to accept payments from multiple channels helps minimize friction during the checkout process. There is also an increase in the likelihood of shoppers completing their order purchases while the ratio of abandoned carts will decrease. So an eCommerce platform should accept popular options like PayPal, Apple Pay, Stripe, and so on.
Analytics
Analytics help businesses in making more informed decisions to achieve a variety of goals. By leveraging data, an eCommerce business can better understand consumer behavior, track average order value, sales conversion rates, churn rates, gain insights into their competitors, and more. If there is an eCommerce platform that perfectly meets your requirements in all ways except analytics, make sure it integrates seamlessly with a third-party eCommerce analytics tool.
SEO-friendly
An eCommerce platform should come in the search results not only for your brand name but for the product and services being offered. This means that the platform should be SEO-friendly. By having a platform that lets you use your domain, collect and publish customer reviews, and content so that organic traffic is pulled.
Integrations and Apps
Another important point to consider when you're searching for an eCommerce platform is – the integrations and apps it offers. Integrations for email marketing, inventory management, or accounting can extend the functionality of your eCommerce platform. They can further fill the gaps by offering features that a chosen eCommerce provider might not have. While mobile apps can be used for the ease of shopping and delivery.
Mobile Friendly
According to eMarketer, the number of mobile buyers in the United States by June 2021 was 173.3 Million which by 2024 is projected to increase to 187.5 Million. The increase in the purchase of mobile devices showcases that it is important to have a mobile-friendly eCommerce store. An eCommerce site that is not responsive can disrupt the user experience and can lead to customers moving to the eCommerce site of competitors.
Support
Even the most simple and easy-to-use eCommerce platforms should offer support. So that when the time comes, the troubleshooting service offered is accessible and swift. For example, if your eCommerce site is down, then the assistance to be provided should be available. The eCommerce platform should offer multiple support options like email, phone, live chat, or self-help options like a community forum or a knowledge base.
List of Free and Paid eCommerce Platforms
In recent times, technological advancements have given rise to both free and paid eCommerce platforms. As the demand for both is increasing, thus, we have listed free eCommerce software along with the top paid platforms. 
Free eCommerce Platforms
1.  
Tribe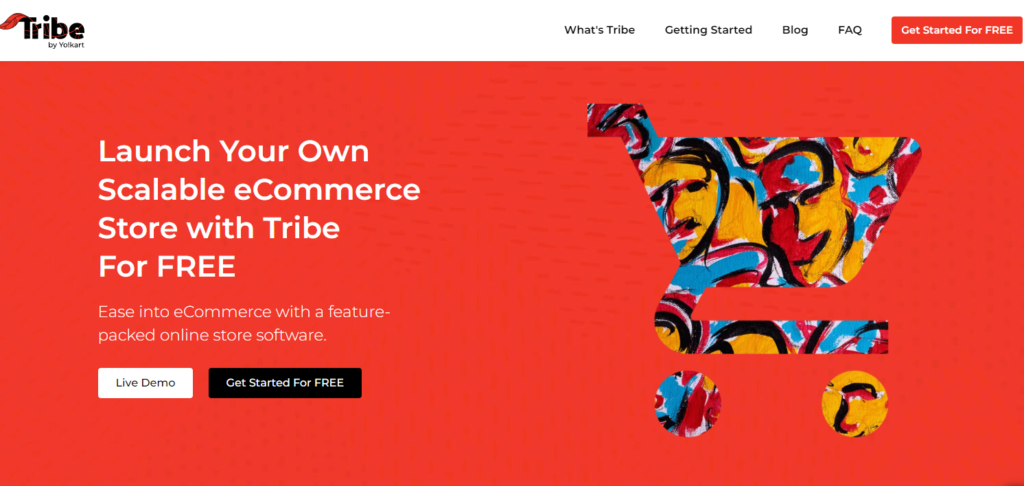 Tribe is an efficient eCommerce platform that allows small and medium businesses to start their eCommerce store for FREE. It is built on Laravel and unlike other free eCommerce platforms, Tribe enables entrepreneurs to create a customizable, seamless, and secure online store with a lifetime license. It also comes equipped with an intuitive drag-and-drop CMS editor that helps in personalizing the storefront with minimal hassle and less coding.
PROS
From set up to installation, Tribe is available for FREE with zero monthly and yearly fees
Is built on a powerful open-source web framework, Laravel
Has pre-integrated APIs to maximize eCommerce possibilities
Offers free installation with three months of technical support
Unlimited products can be added and sold via Tribe; there is no capping
Offers source code ownership
Supports multiple payment gateways
Encapsulates multiple marketing features
Is backed by Agile Team for customizations
Readymade mobile apps (coming soon)
CONS
Limited support for premium themes
Hosting is not included
Removal of Tribe's signature from the footer is paid
2. 
WooCommerce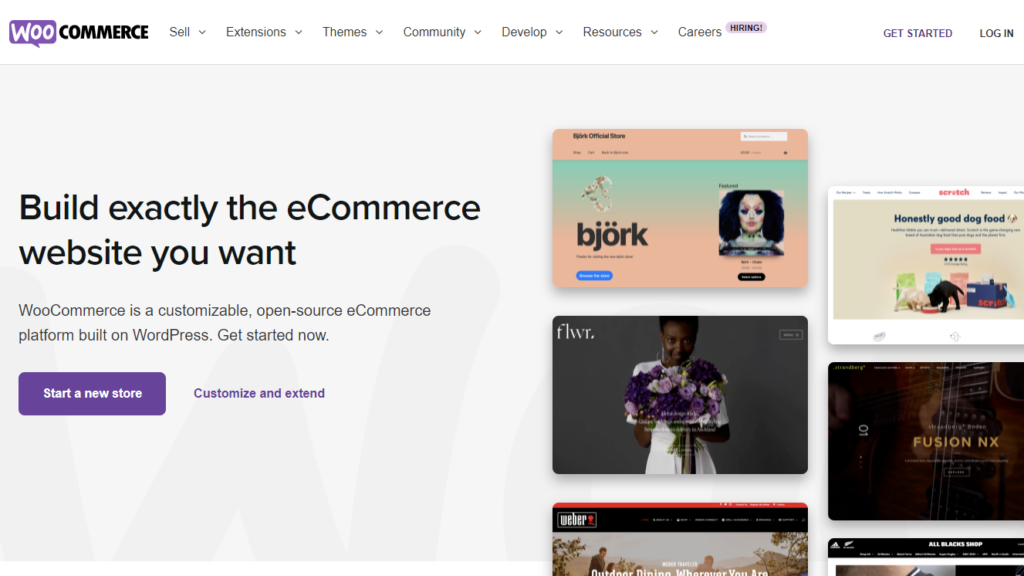 WooCommerce is a self-hosted, open-source eCommerce solution that is built on WordPress. It helps users design product pages, optimize search results, manage multiple customer accounts, orders, inventory, payment, and more. The learning curve for WooCommerce can be stiff as users need to be acquainted with WordPress to be able to use it.
PROS
Supports multiple payment gateways
Offers inventory and promotion management
Multiple plug-ins are available
Support via live chat and email are available
CONS
A few plug-ins and themes are paid
Technical skills are needed
Installation, store setup, and management requires time to get adjusted to
There is no free trial
3. 
BigCommerce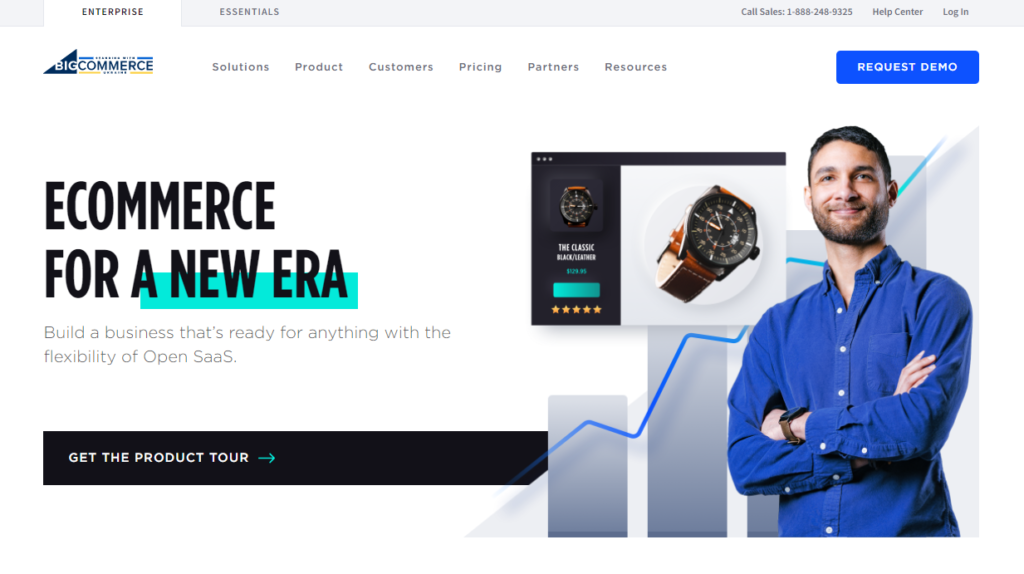 BigCommerce is an eCommerce solution that explicitly focuses on catering to enterprise-level software companies. Being a SaaS-based solution, BigCommerce provides merchants with several hosting and customization options. It is a robust platform that encapsulates advanced in-built features and offers 15 days of a free trial.
PROS
24×7 customer support is available via phone, chat, or email
Offers multiple templates for store personalization
Supports multiple payment gateways
Offers express routing and priority support for customers with premium subscriptions
CONS
BigCommerce is complex
Plugins and themes are expensive
There is a limit to maximum sales – as per the registered plan
Only BigCommerce team can do the customization
The domain name cannot be registered through BigCommerce, you will have to purchase and register the domain elsewhere and then port it
4.  
Big Cartel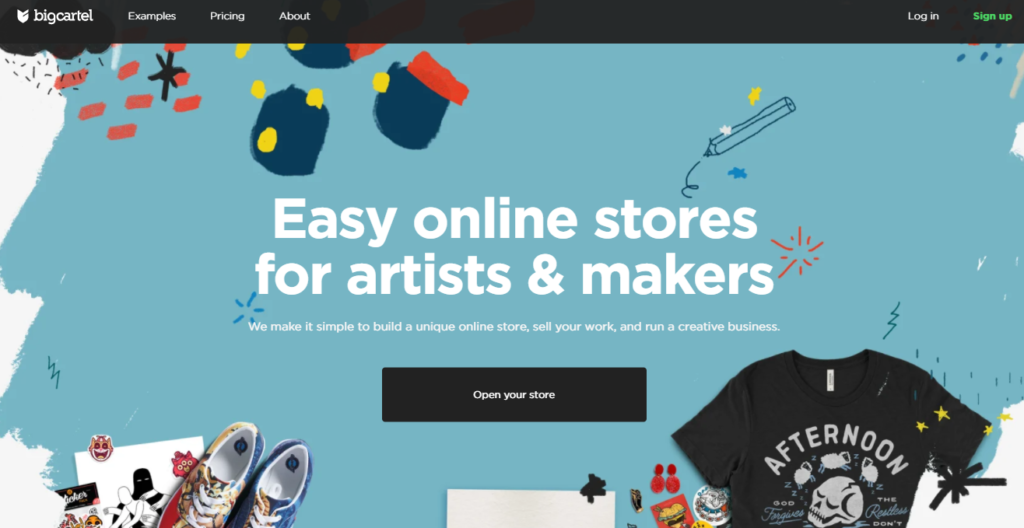 Big Cartel is a hosted eCommerce platform that focuses on serving the needs of creative and artistic individuals. It can be used to create a store that sells handmade products. Promotions and services can also be added. Although Big Cartel started as a platform for creative merchants, it can now be used to sell anything as its user base has expanded.
PROS
Free eCommerce software for small businesses
Encapsulates marketing tools
Offers time-sensitive discounts
Easy to use
Setting up a store is quick
CONS
Limited customization options
Free plan has limited features; needs to be upgraded to a paid plan if features like inventory tracking or discount codes are to be used
Theme designs can get better and for customization, one should know coding
Paid eCommerce Platforms
1.  
Yo!Kart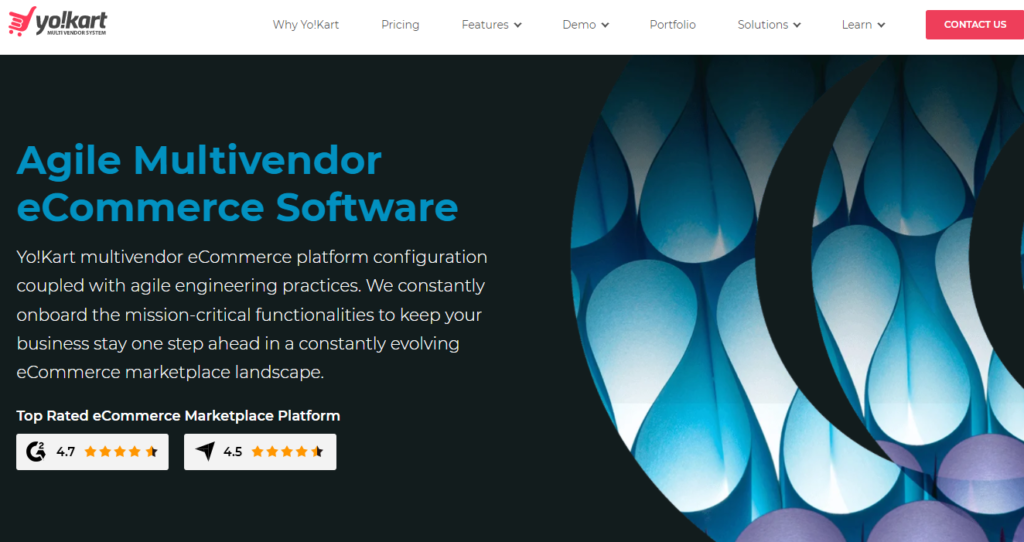 Yo!Kart is one of the best eCommerce platforms that is designed to deliver a ready-to-launch multi-vendor marketplace for businesses of all sizes. It is highly customizable and scalable with all the essential features like tax management, catalog management, streamlined shipping management, and so on. Moreover, Yo!Kart comes equipped with a multi-vendor eCommerce platform for iOS and Android platforms. It also has separate dashboards for admin and seller to streamline the entire eCommerce operations. Further, the admin can control and manage the entire marketplace from the dashboard.
PROS
Yo!Kart offers multicart checkout
It is multilingual and offers multicurrency
Offers abandoned cart management
Is equipped with mobile apps for Android and iOS both
Is fully customizable and is backed by an agile team with proven eCommerce expertise
Yo!Kart offers 1 year of free technical support
Has pre-Integrated APIs like QuickBooks, ShipStation, and Stripe Connect
Yo!Kart is a License based solution that provides users lifetime ownership with a one-time payment
There are no transaction charges, commissions, or any other recurring charges
CONS
Updates are paid
There is limited support for free themes
2.  
Yo!Rent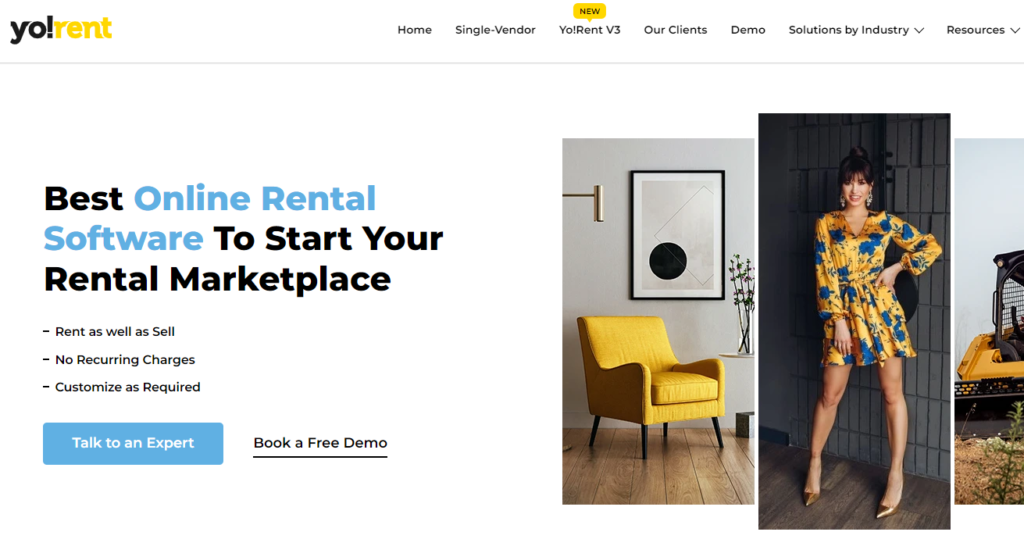 Yo!Rent is an online rental marketplace solution that helps entrepreneurs support both renting and selling operations with an option to disable or enable each mode. It also provides a plethora of multi/single vendor functionalities, comprising key modules such as catalog management, content management, order management, map view for shops/products, advanced search functionality, and so on. Moreover, it is a fully customizable eCommerce marketplace platform that can cater to diverse niches like car rental, heavy construction, equipment, dress, adventure, furniture, RVs, trucks, and more. Yo!Rent also comes with an advanced booking calendar that assists the renters in delivery timeline management.
PROS
Document Verification
RFQ Management
Industry Specific Design
Agreement Management & e-sign
Rental Add-Ons
Offers late fee calculation
Advanced inbuilt reports and analytics
Price surge module
Referral module is available (On/Off by Admin)
Supports real-time inventory management
Tiered Pricing
Tax Management
CONS
Auto-upgrade is not available
Readymade templates are not available
3.  
Growcer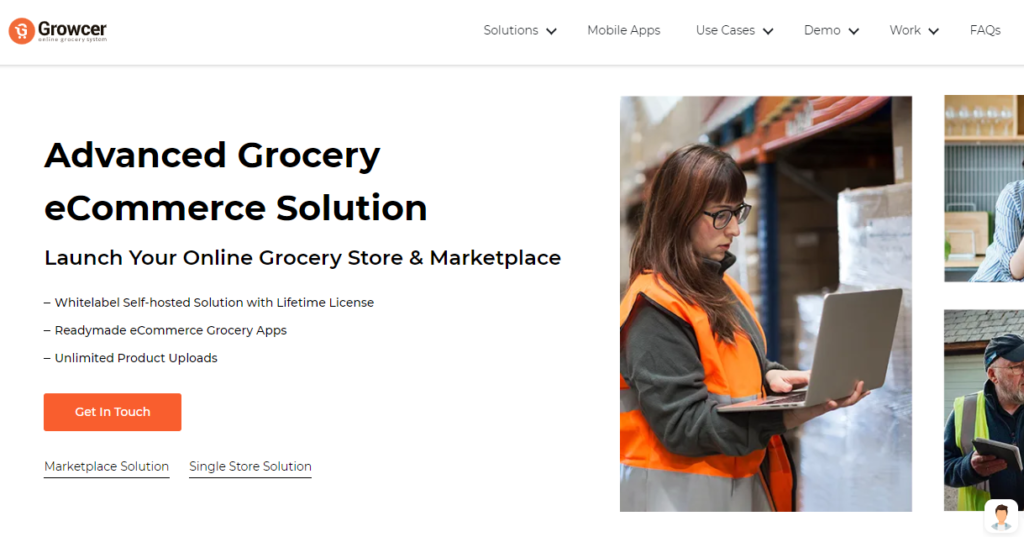 Growcer is a hyperlocal marketplace solution that is built to help grocery store owners to sell their products online. Several other hyperlocal business models for marketplaces like online liquor delivery, epharmacy, pet food, farm products, and so on, can be catered by it. Besides, Growcer is fully customizable and is equipped with robust mobile apps for both buyers and sellers (iOS and Android). There is also a dedicated admin panel that offers a product catalogue system, advanced reports, delivery staff management, and more, providing full control for platform management.
PROS
Offers two modes – Single/Multi-Vendor
Growcer is extremely advanced with user-friendly and conversion-optimized features
Multiple payment gateways are available
Pre-included mobile apps for buyers and delivery staff (Android and iOS both)
Offers multiple support channels
Is completely customizable and scalable
Zero cost installation with one year of free technical support
CONS
Comprehensive addition in each update is paid
Does not offer readymade seller apps; same can be created under the customization package
4.  
Shopify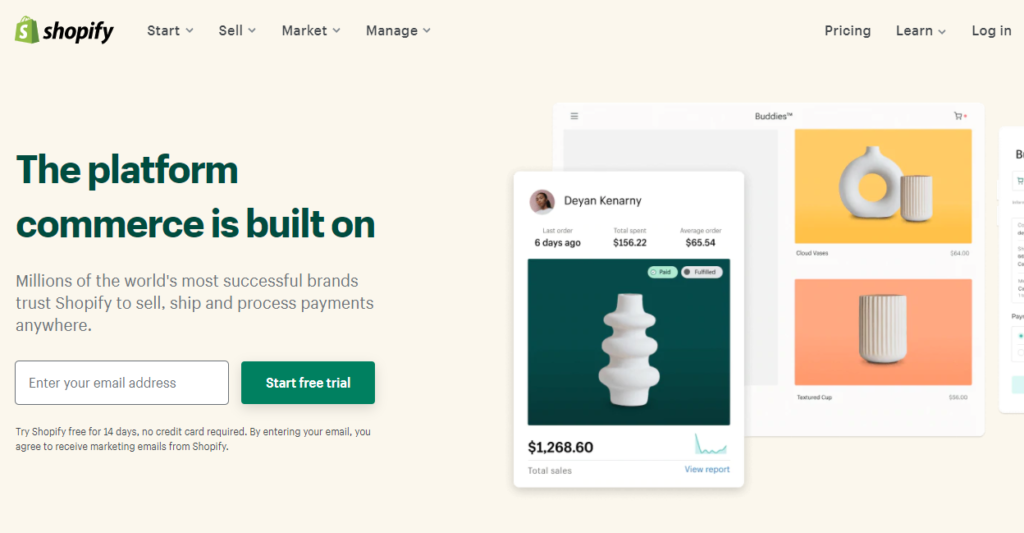 Shopify is a SaaS-based eCommerce platform that helps entrepreneurs and SMBs launch their eCommerce platform with ease. It not only provides themes to customize the design but also helps in increasing sales via several marketing tools. Customer support is provided round the clock and 14 days of free trial is also offered. As an eCommerce solution, Shopify has several features and functionality that can help individuals set up their eCommerce platform with little to no programming experience. Additionally, you can get free and paid apps to customize the online store.
PROS
Offers several storefront themes
Is easy to use
Offers 24×7 support
Is customizable
Is a fully hosted platform
CONS
Shopify is not a free platform, there is a monthly subscription cost and to add, the transaction fee is also levied
Limited customizations that can only be availed from the Shopify team
Only available via a subscription model
There is no lifetime ownership
5. Shift4shop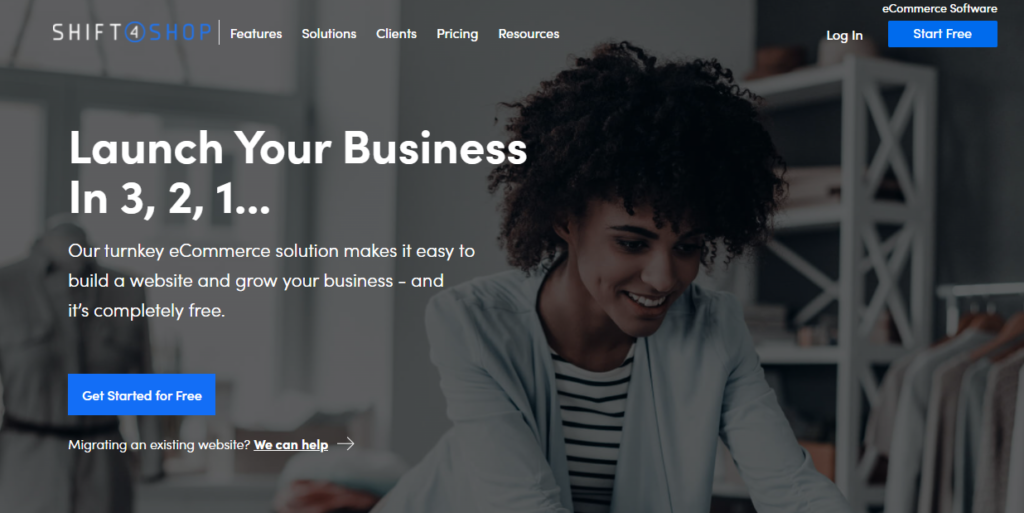 Shift4shop is an all-inclusive cloud-based eCommerce platform that integrates advanced features to create a complete eCommerce website. Moreover, merchants can use 3dcart to create and launch an online store to sell their products, support payments, and fulfill consumer orders. Various fulfillment methods including regular shipping, drop shipping, and downloads are supported by 3dcart. Besides, every 3dcart user can access built-in social media integration, order management, email marketing, SEO tools, and so on.
PROS
It is secure and fully PCI compliant
3dcart is a completely customizable grocery eCommerce solution
Social media integration is available with online grocery eCommerce platform
Offers free domain registration and secured web hosting
Mobile friendly eCommerce solution
24×7 customer support is available
Secure payment gateway
CONS
3dcart provides several themes that are customizable but the free themes are limited
Additionally, HTML or CSS knowledge is needed for editing the themes
3dcart customers find it hard to navigate the platform as it offers way too many features
It is time-consuming to learn about features
6.  
Sharetribe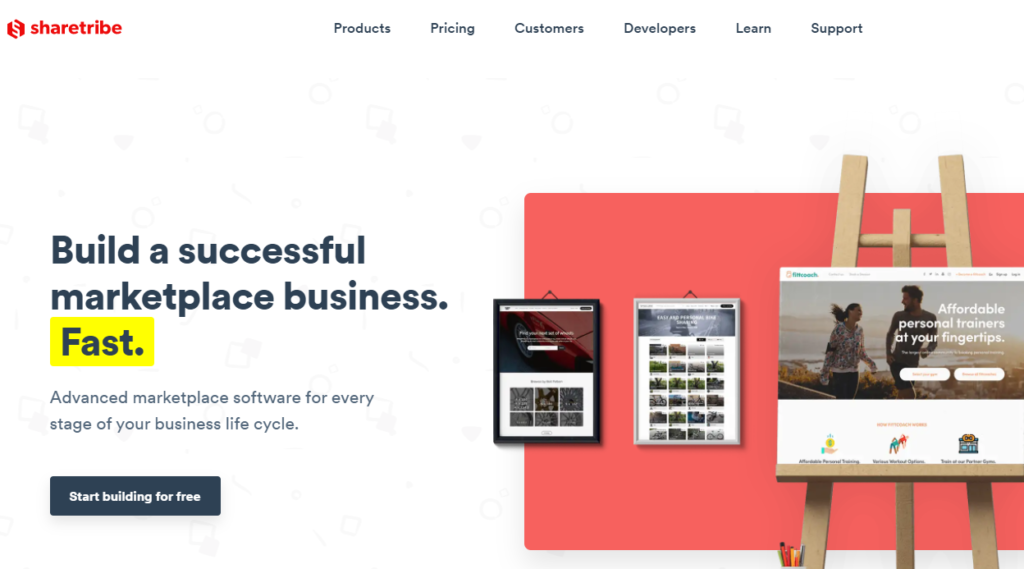 Sharetribe offers an easy way to start your online business marketplace with ease. And, unlike other eCommerce solutions, ShareTribe is designed to support your marketplace through its various life cycles. The platform is available in two different variants as Sharetribe Go and Sharetribe flex. While Sharetribe Go is suitable for entrepreneurs wanting to launch an online marketplace quickly, Sharetribe flex is preferred for those who are looking for customization.
PROS
Supports multiple payment gateways
24×7 Support is offered
Offers 30 days free trial
For convenient setup and use, extensive documentation is available
CONS
Demo is not available
For individual vendors, there is a lack of personal shipping
Emailing customers can be complicated
Conclusion
The growing market of eCommerce is on an upward trajectory and as a result, several eCommerce platforms are available. This makes selecting one platform a difficult task. Additionally, every eCommerce platform has something to offer, so it's better to consider their offerings in terms of features, functionality, hosting, and price. Going forward, we hope that the information provided in this blog will be useful while you choose your best eCommerce platform that will efficiently and effectively meet your business requirements.
Read also: Free Guest Post Sites List 2022