Top Outsourcing Trends in Web Development for 2023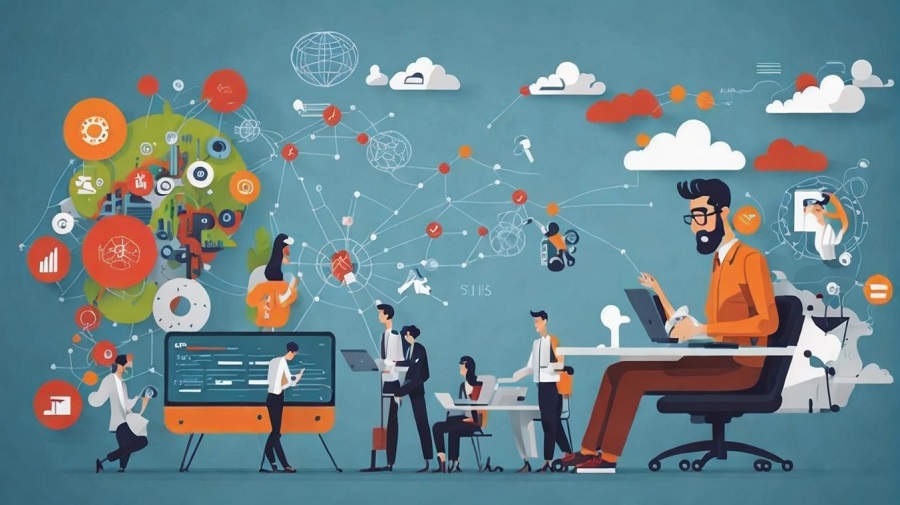 Outsourcing web development has been popular in recent years, and many businesses increasingly choose this strategy. Instead of spending money on employing and supervising development teams, most people would rather outsource web development tasks.
However, web outsourcing tendencies have evolved in response to shifts in the worldwide market. This article will teach you the top five trends for outsourcing web development in the year 2023.
Let's go in right now:
The rising popularity of outsourcing web development 
————————————-
Having a business solution and a tech staff to maintain and improve it is a need for every organization nowadays. However, there are several areas in which they fall short, including:
The technical staff (programmers, system administrators, and CS engineers) is unavailable.
The firm cannot afford to pay high salaries to attract top-tier IT talent.
The current IT setup is outdated and in dire need of a total overhaul.
It takes at least six months to establish a new division inside an organization.
Similarly, there might be a wide range of other reasons depending on the firm. However, all of these problems can be solved by outsourcing.
When you outsource, you save money by not having to hire a development team, update your infrastructure, or set up a whole new department. All these factors have contributed to the rise in popularity of outsourcing web development projects.
In addition, it has these benefits:
Professionals in your field serve as your colleagues.
The development of your application is completed on time and budget.
If you'd like, you can find a new technology co-conspirator.
Instead of waiting around until a new division is hired and set up, development may begin immediately.
Payroll administration is unnecessary.
You are not obligated in any way to provide perks to the outsourced staff.
Five Emerging Trends in Outsourcing Web Development in 2023
————————————-
The outsourcing of web development has been on the rise in 2023. The five most important developments in this area are detailed below.
1. Cloud computing 
Cloud computing is widely used across all sizes of businesses due to its ability to cut down on overhead and increase productivity. As of 2023, there has been a shift towards creating apps on the cloud. Every organization nowadays has to find a development agency to help them create a cloud-based business application.
Statista.com also predicts that the market for cloud-based web will grow to a whopping $168.6 billion by 2025. The trend of cloud development has gotten off to a running start, and its popularity is spreading like wildfire.
What's more, analysts have spotted the following tendencies in cloud advancement:
Infrastructure as a Service or "IaaS."
In the cloud computing IaaS paradigm, companies must pay for the resources they use. However, the firm is responsible for the virtualization, the operating system, and the data.
Platform as a Service, or PaaS
Using this kind of cloud computing, companies deploy applications on the servers of a managed service provider and pay only for the resources they use. The cloud service provider handles all necessary virtualization and configuration.

Choosing the right cloud model depends on the specific requirements of each business. Therefore, consulting a web development company in 2023 to choose the most reliable cloud infrastructure is essential.
2. Data and web Protection Services
To put it simply, data is the lifeblood of businesses and must be protected at all costs. Yet, only a small fraction of organizations really have dedicated personnel with the skills to handle online and data security. This is why many businesses nowadays rely on external online security specialists.
Businesses may improve application security and shield themselves from cyber attacks by adopting outsourcing services. To further ensure the safety of their applications, many companies choose the services of web development agencies that additionally provide internet security.
Engineers familiar with .NET, PHP, Python, JavaScript, and other development platforms are available at these businesses to aid in the configuration of strong authentication, authorization, and access control measures.
3. Creating Websites using Agile and DevOps Methodologies 
Both speed and flexibility are crucial when designing for the web. It is crucial to find a company to outsource web app development that uses an agile or DevOps methodology.
The fulfillment of ever-evolving business needs is the impetus. In 2023, Agile and DevOps will be the most common ways of creating software. It makes it easier for companies to take advantage of economic opportunities.
Furthermore, it enables in-depth monitoring of component production, guaranteeing constant quality.
Companies of various sizes, from solo operations to conglomerates like PayPal, Google, and DigiCert, outsource the recruitment of engineers.
4. Recent Developments in Artificial Intelligence and Machine Learning
As the technological landscape evolves, AI is improving its core functions, which include boosting productivity, cutting expenses, and spotting fraud. As a result, many smaller organizations are turning to bigger corporations for the assistance they need in hiring AI specialists to enhance or build up their IT systems.
The widespread use of artificial intelligence (AI) in industries as varied as marketing, web design, customer service, threat detection, and data protection has resulted in an increased need for AI-savvy programmers.
Machine learning experts are likewise in high demand and are being hired at a rising rate. Businesses can quickly onboard an AI/ML development staff.
Additionally, outsourcing aids in the cost-effective creation of AI and ML-integrated applications by freeing up resources formerly allocated to employee salaries, hardware, and maintenance. It also helps companies enhance their current business solutions.
5. Help Desk and Updates for Existing web
Every business requires the post-development services of web maintenance and support to ensure the continued safety, efficiency, and dependability of the program. In 2023, most businesses will choose to outsource these services since it allows them to have access to a specialized, round-the-clock workforce without breaking the bank.
Live chat, remote troubleshooting, and email are just a few of the many support avenues that may be used. Application maintenance is often included as part of the development package offered by many web companies. If your chosen technology partner does not provide this service, you may choose to outsource instead.
The principal benefits of outsourcing web support and maintenance include:
Specialists in web development are constantly accessible to fix malfunctions and correct mistakes.
Rapid fixes are released for vulnerabilities that can be exploited in zero-day attacks.
Rapid rollout of security fixes and other upgrades is guaranteed for all supported platforms.
It aids in lowering the expense of adding new functionality to a program.
Attacks on the program are thwarted by regular monitoring.
What should you look for in a web development outsourcing partner?
————————————-
Hundreds of businesses throughout the world provide outsourcing services for web development. However, only a select few businesses will be able to meet your needs and provide the relevant services.
In order to locate a trustworthy outsourcing partner for your web development projects, please refer to the methods outlined below:
First, you should compile a list of your specifications and then investigate potential service providers. For instance, if you need help creating an online shop, seek companies that specialize in e-commerce development.
The second step is to get cost and time estimates from prominent companies. You should look at the various price options as well.
Third, evaluate several web development outsourcing firms in terms of their prices, recruiting practices, turnaround times, customer reviews, level of experience, and the quality of their teams' work.
Conclusion 
In recent years, outsourcing web development has become more popular than in-house web development teams. It facilitates rapid application development while cutting costs. By 2023, most businesses will have outsourced tasks, including application and data protection, artificial intelligence and machine learning development, web maintenance, cloud app development, and agile development.