How is WordPress a Better Web Development Platform?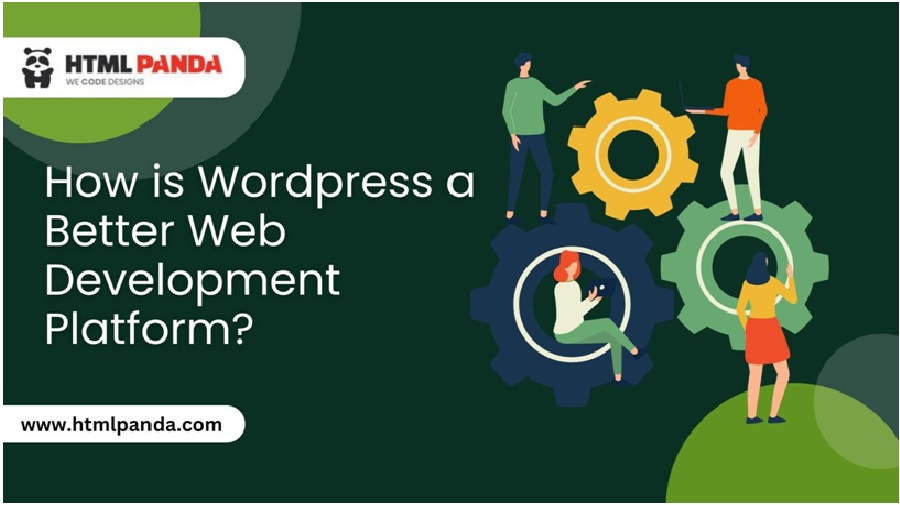 Renowned for its versatility and user-friendly interface, WordPress has cemented itself as a leading website development choice. It has earned its reputation as a superior web development platform empowering developers to create unparalleled websites.
This CMS platform powers more than one-third of the web, as approximately 43.1% of all websites on the internet are powered by it. It is not in any danger of being dethroned. From the availability of thousands of free and paid themes to SEO-friendliness and community support, it offers unrivaled advantages in the realm of web development.
Benefits of WordPress Website Development
————————————–
There are endless possibilities for what kind of websites you can develop with WordPress. From blogs to eCommerce stores to professional portfolios, it lets you build any kind of web solution. Furthermore, its development plugin library has over 50k extensions offering deep functionality on almost everything.
Easy to Use
Being a user-friendly platform, WordPress is easy to learn and use. Its drag-and-drop interface makes adding and editing content easier. Many tutorials and documentation are available online to start with WordPress.
It has a simple installation, a clean and intuitive dashboard, a built-in visual editor, an extensive plugin library, regular updates, and strong community support. Overall, it offers an enjoyable web development experience, whether you are a novice blogger or a seasoned developer.
Flexibility
The flexibility of WordPress helps differentiate it from other website development platforms. Its open-source nature enables developers to access and customize the source code accordingly. This CMS platform has evolved into a robust solution and is capable of handling diverse content types. Hiring a WordPress development company makes changing the look and feel possible, so the brand can shine through and provide a unique experience to site visitors.
Customizability
To create a website that perfectly matches your needs and style, you can leverage the benefit of WordPress's customizability. Thousands of themes and plugins are available to change your website's look and feel.
With WordPress, you have complete control over your site's design and functionality. Here are some of the ways you can go with to customize your WordPress website –
Modify the theme and transform it as per your needs.

Installing plugins can also be great for incorporating the desired functionalities that are unavailable in the theme.

If none works, code your own themes and plugins or hire a WordPress website development company to do it for you.
Secure
WordPress is a secure platform that is regularly updated with security patches. It helps to protect websites from hackers and malware. Regular updates are released to fix security issues and improve overall stability.
Also, various security plugins are available for malware scanning, firewall protection, and login attempt monitoring to prevent your site from security threats. Combining these security measures with best practices like strong passwords and regular backups can significantly reduce the risk of security breaches.
Speed and Convenience
WordPress offers several features and optimizations regarding speed and convenience. They are helpful in enhancing the overall performance and user experience. Both WordPress site's functionality and flexibility let you create the web solution easily and make the changes and optimizations accordingly.
Various methods that WordPress offers to improve the site speed are –
Caching

Image optimization

Content delivery network (CDN)

Minification and concatenation
SEO-friendly
WordPress is SEO-friendly, so you can easily optimize your website for search engines. It means the site is more likely to appear in search results, attracting more site visitors.
Due to its clean-structured code, WordPress web solutions are favored by major search engines like Google. Also, you can use plugins to leverage functionalities for optimizing XML sitemaps, meta tags, canonical URLs, and schema markup to improve search engine ranking and organic traffic.
Along with using the best WordPress SEO practices, these additional tips can improve your site's ranking in SERPs –
Keep your site up-to-date

Use a fast web hosting provider

Create high-quality content
Affordable
WordPress is cost-effective and comes with many free and low-cost themes and plugins. Many of its extensions are also available at no cost. This makes it a profitable choice for businesses and individuals looking to establish an online presence in a budget-friendly manner.
The platform is free to use, meaning you can download, install, and set up a basic website without incurring any direct costs. This makes WP an accessible option for those with limited budgets or starting their online ventures.
Furthermore, As a widely used content management system (CMS) worldwide, a large user community and developers exist. So, help will always be available whenever you want. Many resources are available online, including tutorials helpful in getting started with WordPress.
Scalability
WordPress is highly scalable, can accommodate websites of all sizes, and handle various content types. With business expansions, it is possible to expand your site's capabilities and integrate new features without recreating it from scratch. A WordPress development company keeps in mind to make a website that can handle your growing business needs. So, hiring a professional is always worthwhile in this aspect.
Mobile-Responsiveness
It is essential that every type of site content, whether images, reviews, text, product catalogs, and videos, must load faster and display correctly on every device. Using a mobile-optimized WP theme ensures your content looks fine on any device.
Google also prioritizes mobile experience for its ranking criteria. So, to show the site up in mobile search results and present the best user experience to site visitors, considering a WordPress development company for mobile optimization is worthwhile.
Use Cases of WordPress
————————————–
WordPress is versatile and can be employed for various purposes. It is a perfect choice to cater to various website development needs.
eCommerce Stores
With the help of plugins like WooCommerce, a WordPress site can be transformed into an online store. This WP plugin enables businesses to manage inventory, process payments, and handle shipping.
Online Portfolios
To showcase the work and attract potential clients, an artist, photographer, designer, and any other creative professional can use WordPress to create portfolios. It offers a variety of features that make it easy to create a professional-looking portfolio, including drag-and-drop page builders, a wide range of themes, and built-in SEO tools.
Business Websites
Considering WordPress development services are best for creating business websites for different niches. Whether portfolios, small business sites, or corporate sites, it lets businesses effectively showcase their products, services, and company information.
Educational Websites
Educational institutions like schools and colleges can benefit from WordPress to create online learning platforms. It offers features like event scheduling, course management, and student interaction.
Event Scheduling: This CMS platform can be used to create a calendar of events for students and staff. It will be helpful to keep track of upcoming events and deadlines.
Course Management: Creating and managing online courses becomes easier with WordPress. This can include features such as uploading course materials, creating assignments, and grading student work.
Student Interaction: WordPress can be used to create a forum or chat room where students can interact with each other and with instructors. This can foster a sense of community and support among students.
Community Forums
Both discussion boards and community forums can be used to build a community around your website and encourage users to return and participate on a regular basis. You can utilize WordPress to set up discussion boards and community forums to foster user engagement and interaction.
News and Magazine Websites
Publishers can take advantage of WordPress development services to extend their capabilities in creating professional news portals, online magazines, or niche-specific publications. The platform supports categorization, making it easy for readers to find relevant content. Integration with social media plugins enables easy content sharing and user engagement.
Membership Sites
WordPress can be transformed into a membership site where users pay for exclusive access to premium content, courses, or features. Membership plugins enable website owners to manage subscriptions, restrict content access, and handle member benefits effectively.
Real Estate Websites
Real estate agents can hire a WordPress development company to build property listing websites. It makes it easier to show available properties with images, descriptions, and pricing details. Also, interactive maps and contact forms can be integrated, facilitating communication between potential buyers and agents.
Event Websites
The availability of event management plugins at WordPress enables users to create dedicated event websites. These sites can be used for one-time events, conferences, workshops, or recurring gatherings. It enables organizers to provide event details, schedules, and ticketing options and accept online registrations.
Government Websites
Govt. agencies and public institutions can use WordPress to provide necessary information, services, and resources. WordPress's user-friendly UI ensures users easily access and navigate government-related content.
Conclusion
Being a successful CMS platform, WordPress can help you establish a perfect online presence. It makes it easy to publish content and provides plugins for incorporating numerous functionalities. There is always support within its worldwide community of users whenever getting stuck. With a WordPress website development company, you can have a back to leverage the benefits of this CMS platform for developing websites.