What is Application Software? Everything You Should Know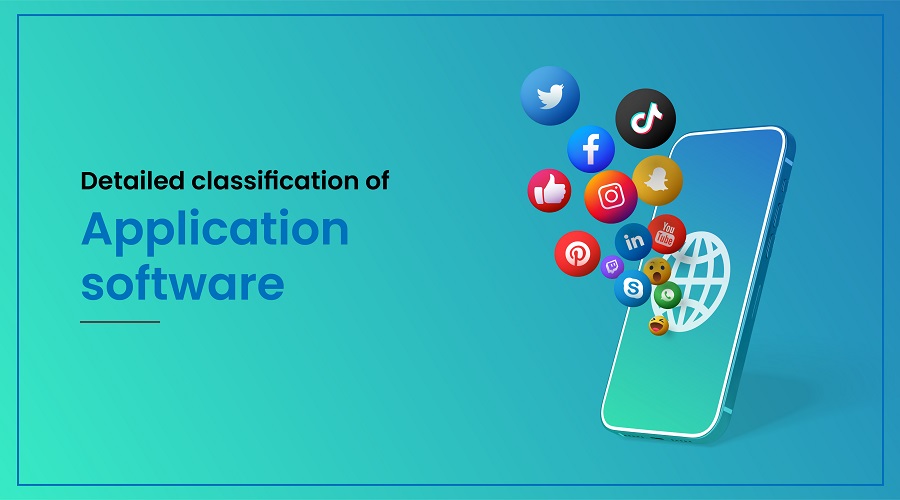 Introduction
In the fast-paced world of technology, application software is the cornerstone of our digital existence. But what is application software, and how does it craft the way we interact with our devices and the digital world around us? Join this illuminating exploration as we resolve the mysteries of application software, from its distinct identity to its diverse forms and profound influence on modern life. Whether you're a tech enthusiast or a curious learner, this comprehensive guide will leave no stone unturned, equipping you with a deep understanding of the roles, types, and immense opportunities it opens up for application software. Join us on this fascinating journey to discover everything you need to know about application software – the heart and soul of our digital world.
What is Application Software
—————————————–
Application software, usually known as an application program or apps, is a type of software that is crafted for the specific purposes of the users. It is different from system software whose core objective is to manage the system's hardware and operating system. Application software is designed to meet the diverse requirements of the users, for example, word processing, graphic design, database management, and video editing. Application software helps the user to interact with computer systems and perform their tasks efficiently. Web browsers, office suits, communication tools, video editing software, and gaming software are examples of application software.
Difference between application software and system software
—————————————–
Application software, as mentioned earlier, is composed to perform specific tasks for the users. It only focuses on the user's needs and helps in the completion of a particular task such as data analysis, document editing, or video editing. Application software depends on the underlying system software to perform its functions. Users directly interact with application software to perform activities and achieve desired results.
On the other hand, system software is a type of computer software that provides much-needed functionalities and services required to perform various tasks of a computer system. It performs the role of bridge between the hardware and application software, managing hardware aid, providing a stage for application processing, and helping the overall working and security of a computer system. Operating systems (Windows, macOS, Linux), firmware, device drivers, and utility programs (disk management tools, antivirus software, system maintenance tools).
Types of Application Software
—————————————–
There are various types of application software designated for specific tasks and user requirements. Let's discuss a few types of application software along with specifications.
Word processing software
Word processing software is exclusively used for creating, editing, formatting, and printing documents. It is used to create letters, reports, essays, and other textual work. There are multiple formatting options to edit and make the text more exciting by adding font styles, colors, sizes, and images as well. Renowned examples include Microsoft Word and Google Docs.
Spreadsheet software
Spreadsheet software helps in creating, manipulating, and analyzing data in tabular form. It helps maintain statistical data. It enables one to perform calculations, create charts, and graphs to understand the data more easily. Even large companies and organizations use this software to manage their huge and complex data. It provides various internal functions and formulas to manage and connect data within the sheets to get desired results. Microsoft Excel, Google Sheets, and WPS Office are notable examples.
Presentation Software
Such kinds of software are used to create visual reports, summaries, and presentations for a better understanding of information. It allows the user to add text, images, animations, and other multimedia objects to create engaging content. These software are often used in educational institutes, businesses, organizations, and professional setups. Examples include Microsoft Powerpoint, Google Slides, and Apple Keynote.
Graphics and Design Software
These software are the backbone of the IT industry because everything that we see on devices and operating systems in the form of visuals, images, or videos, are the products of graphic and design software. Graphic design professionals use these software to create company logos, employee cards, paintings, and relevant content for websites. Adobe Photoshop, adobe illustrator, InDesign, and CorelDRAW are widely used software.
Video Editing Software
These software are used to create, edit, and manipulate videos by adding effects, transitions, audio, and other cool elements to enhance the quality and appearance of the content. Content creators, Vloggers, and the entertainment industry widely use these software. Examples are Adobe Premiere Pro and Final Cut Pro.
Web Browsers
Web browsers are applications that are widely used around the world to search, explore, and navigate websites on the internet. They have a graphical user interface for the user to interact with the content to navigate and explore to observe online activities. Mostly used web browsers are Google Chrome, Microsoft Edge, Mozilla, and Safari.
Communication software
Communication software facilitates users from around the world to interact with each other by utilizing emails, voice and video calls, messaging, and social media apps. These sources are also utilized to share documents, files, and data. These software also help professional institutions to conduct virtual meetings, educational programs, and business discussions. Examples are Gmail, Microsoft Outlook, Zoom, Teams, etc.
Database Management Software
Database management software helps in creating, managing, and manipulating databases to store and retrieve structured data. Large companies and organizations have loads of data and these software facilitate in analyzing and managing large amounts of data. Widely used database tools are Microsoft Access, MySQL, and Oracle Database.
Entertainment and Gaming Software
Entertainment and gaming software cover a wide range of applications, including video games, multimedia players, and live streaming platforms. These platforms not only provide entertainment but also facilitate their users by providing interactive activities and rich experiences like gaming competitions, movies, and music. Xbox, steam, VLC media player, and Spotify are examples of these software.
Software applications cover every aspect of life and provide facilitation in all fields like education, finance, medical and healthcare, IT and networking, etc. All these applications have specific purposes and help to accomplish various tasks efficiently.
Significance of Application Software
—————————————–
Application software are playing a vital role in the modern digital era, offering several advantages and contributions that have revolutionized the way organizations operate, and interact with technology. In the following points, we will discuss the role and significance of these software in various fields.
Task Automation and Efficiency
Application software automates repetitive tasks and complex processes, which increase efficiency and productivity. For example, word processing software automates document formatting, spreadsheet automates data analysis, and project management tools help with task collaboration and scheduling. Such functions make the work easier and more progressive.
Enhanced Communication and Collaboration
Communication software like emails, messaging, audio, and video calls have minimized geographical barriers and made this world a global village. Application software helps to promote real-time communication and enables data sharing, virtual conferences, and collaborative teamwork to enhance the quality of work and reliability.
Creativity and innovation
Graphics, design, and other entertainment-supportive software empower individuals to display their skills, creativity, and artistic sense. These tools help them to create extraordinary graphics, animations, and multimedia content quickly.
Educational empowerment
Getting education and knowledge is not a problem nowadays. Educational software, such as E-learning tools, provides educational information, video lectures, training programs, and similar content to help users to gain more knowledge. Students and tutors, both can utilize these resources to make the quality of education better.
Innovation and Software Development
Application software are trademark of further innovation and development in the field of technology. Developers are upgrading and keep on inventing new technologies based on already-built software to improve efficiency, quality, and security.
Future Trends and Developments of Application Software
—————————————–
The field of Application software is continuously evolving considering the technological advancements and user demands. Technology is reshaping its trends due to several changes in the conventional mode of working. For example, Ai has automated all the repetitional tasks and advanced toward decision-making. There are several things to be noticed while analyzing and discussing future trends.
AI-powered Applications
AI and machine learning has empowered the capabilities of software application more than ever. AI-based applications have enhanced features for a personalized experience, automated tasks, and enhanced decision-making processes.
Augmented Reality and Virtual Reality
AR and VR technologies are getting more attention in various fields such as gaming, education, traveling, and architecture. Demand for application software will increase in the coming future as AR and VR technologies will start prevailing.
Quantum computing
Although the technology is still in its early phases, still it has the potential to revolutionize the world in various fields. Along with application software, quantum computing can boost the processes like cryptography, problems optimization, and procedural simulation.
Conclusion
The profound impact of application software on our professional and personal lives can not be neglected. These overwhelming programs have played a pivotal role to maintain the seamless integration between the systems and software working. From automated decisions making to quantum computing, application software are the cornerstone of modern technology. Things have become easier with the collaboration of application software and advanced technology. All the fields, including high-speed networks, AR and VR, analysis of large amounts of data, cybersecurity, development processes, and so on, have revolutionized the overall standards of life. As we move forward, we witness further advancements in the tech sector and the industry will keep on evolving with the help of AI, cloud computing, quantum computing, etc. Application software stands as both the weaver and the thread, crafting and connecting the threads of our digital life. Here we must acknowledge the role of application software in shaping our present and future in the realms of the digital world.