Why Do You Need a Good E-Commerce Platform?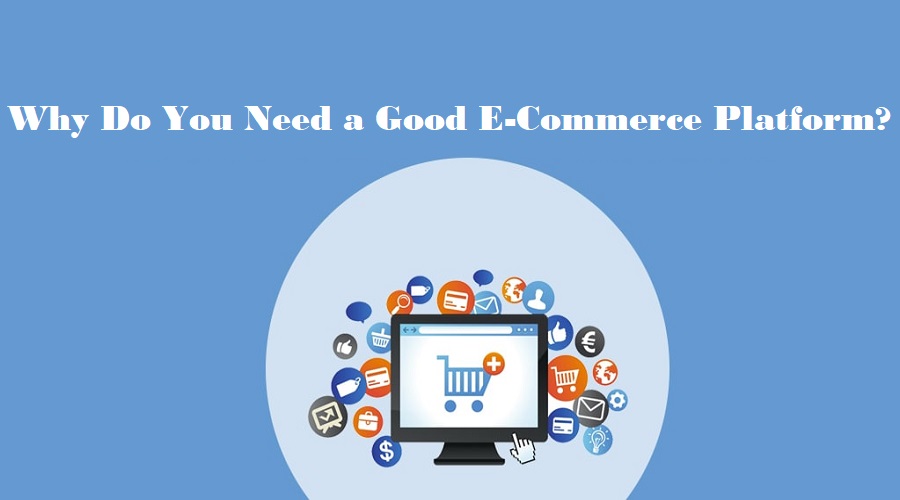 After you have completed your preliminary study, you have to select an e-commerce platform, establish your shop, and introduce your new project. And yes, this includes businesses that provide goods or services to other companies.
Due to the following:
There's a small probability to access here.
There will be no development costs or technical complications.
An extensible framework that enables your business to expand.
Search for a platform with a sizable community of users and administrators who can attest to its success.
Visit their forum, read their blog, and peruse their documentation.
First, let's look at what e-commerce platforms can do for your online business.
What Is an Ecommerce Platform?
An e-commerce platform enables small and large online businesses to easily manage their marketing, websites, sales, and operations. Consider it the organization's hub or headquarters. E-commerce platforms combine potent features with integrations to standard tools, allowing businesses to integrate operations and operate uniquely in forward-thinking E-commerce.
On-premise solutions lag with open SaaS e-commerce platforms as e-commerce technology grows. As businesses want more native user experience (UX) features in their products or backend improvements, a massive migration to SaaS and online commerce has emerged.
On average, SaaS allows businesses to enter the market in just over a month. SaaS e-commerce platforms take care of all aspects of software management, such as management tasks. Finally, headless commerce is an e-commerce solution that provides increased control over an online retailer's front. Headless eCommerce, in which the cart is separated from the content management system, is the future of e-commerce.
What does this mean?
Rather than operating your website on an e-commerce platform, you can employ a CMS (content management system), such as WordPress, to create the user experience. Using Visual Studio Pro 2017 enables you to customize further and personalize your store while retaining the benefits of the industry's best e-commerce platform.
Hosting a website
Ecommerce websites can host in one of two ways: self-hosted or cloud-hosted.
The bad news is that performing these updates may require you to shut down your website for an extended time.
The reality is that using this solution to manage an eCommerce website can be price, as programmers frequently use it to maintain and restore the site. If you can't update your online shop without the help of a third party, you've effectively given that third-party control.
While this step entails a steep learning curve, it offers numerous benefits, including increased regulation of your online retail platform, increased data visibility, and better knowledge about data security.
When your business is very complicated, take this option. If not, you should consider migrating your eCommerce store to a cloud-hosted solution.
Cloud-based eCommerce platforms
Simply put, cloud-hosted e-commerce platforms monitor and manage your store's uptime — the amount of time that service (or, in this case, a website) is accessible online.
Remember that not every cloud-hosted e-commerce platforms automatically install and updates. This capability is unique to SaaS commerce solutions.
Consider the Following When Choosing an Ecommerce Platform
You should choose an e-commerce platform that meets the needs of your online store.
However, your platform should have some native, excellent features.
Here are the following features you can use for your eCommerce platform:
The hosting environment, domain name, uptime year-over-year, and bandwidth available must all be considered.
A drag-and-drop e-commerce website builder comes with free, easy-to-use site themes that you can customize to your specifications.
Broad app store featuring industry-leading service providers and integrations.
When it comes to mobile apps and responsive websites, you've come to the right place.
PCI compliance is required.
Your inventory system is accessible to every sales channel.
As are analytics, catalog management, and other essential eCommerce features, discounted prices and promotions are included.
Outstanding customer service.
Recovering abandoned shopping carts.
Selling unlimited items such as physical or digital products is possible.
To remain competitive in the market, look for eCommerce software that incorporates advanced features into the platform and makes them available for free.
5 Things to Consider When Choosing an Ecommerce Platform
1. Initiate a free trial period by posing pertinent questions.
As with any other step in starting an online business, you should have a list of questions prepared to assist you in making the best decision for your store. Requesting assistance from sales or customer service is an option, as is signing up for a free trial to test the product's features.
In any case, go over the following eCommerce planning checklist for each platform you're considering. Verify the following when evaluating options for your company:
All required components, such as drop-down menus and an editor, are included.
Is it simple to operate — and, perhaps more importantly, do you feel at ease with it?
It provides a reputable web hosting service. It eliminates the risk of your store going dark during peak hours!
It is free to improve customer service.
Provides support for the products you wish to sell (e.g., physical or digital products).
How does the platform display all possible configurations if a product has variants? How do you handle that?
You can sell directly to customers on Facebook, eBay, Amazon, and Pinterest without managing multiple inventories.
It is mobile-friendly and easy to customize.
Thanks to its excellent SEO optimization, a high ranking on Google and increased traffic to your store are possible.
It is built using open APIs and is compatible with other applications.
It is free to improve customer service.
Provides resources (such as a blog) to assist you in acquiring the skills necessary to sell online and gradually expand your business.
Even after receiving responses to these questions, you should test the eCommerce solution before making a strategic decision.
Regarding eCommerce platform selection, the remaining steps are critical for new store owners to consider.
2. Create a pricing structure for the platform.
Ecommerce platforms do not come cheap.
They offer services that combine the requirements for multiple technologies into a single package:
Hosting.
Checkout.
Payments.
Compliance with the PCI Data Security Norms (PCI DSS) is required.
Safeguards against fraud.
DDoS attacks are categorized as cybercrime.
Among them is analytics.
Everything is organized for easy access on the backend of each eCommerce platform.
However, as pricing models for eCommerce platforms vary, you should conduct extensive research before deciding. Take note of the inclusions at each price point to ensure you're getting the most for your money.
Are you wary?
Here are some eCommerce websites you should look for
When creating your website, Is it intended for whom?
Best Ecommerce Website for Businesses
The following table compares the best eCommerce website builders for small businesses:
BigCommerce – Entrepreneurs and those who are expanding their businesses
Shopify – Applications are encouraged from small businesses, hobbyists, and brands with less than 100 SKUs.
Squarespace – Individuals who are bloggers, artists, or portfolio creators
WooCommerce – Bloggers, small businesses, and hobbyists diversify their revenue streams through eCommerce.
Wix – Anyone with little or no previous website-building knowledge may use Wix.
Weebly – Smaller businesses, hobbyists, and newly opened retail establishments
Volusion – Individuals and startup businesses
Big Cartel – Explicitly designed for small businesses that do not require a sophisticated platform.
GoDaddy – Hobbyists, self-employed individuals, and proprietors of small businesses
Shift4Shop – Manufacturers on a smaller scale and new retailers.
Opencart – Participation is encouraged for small companies and the general public.
Prestashop – Customers looking for cloud-based platforms that are available for free.
As you can see, the costs associated with these well-known eCommerce platforms vary considerably (and total value). Conduct extensive research to determine the platform that will benefit your business the most.
3. Choose the right platform for your store's design.
Your website's design is vital to your business. It's your first point of contact with your clients. Modern consumers demand superior web design and user experience. Theme or template selection is critical when setting up an online store. This task requires no CSS or HTML coding expertise.
Make your theme or template for instant differentiation and long-term growth. Most platforms mix free and paid themes. Begin with trials, choose your top eCommerce platforms, upload filler content to the backend, and then preview your site on multiple articles to find the best fit.
Keep in mind device size, usability, customization, and scalability. Want design ideas? Some of our favorite web design examples.
4. Evaluate the store's functionality and usability.
One job shouldn't require you to learn a lot of coding or have the extensive technical knowledge to be usable. It requires the platform to be simple to use, configure, and maintain over time.
The following are some things to watch out for:
The Configuration Process
Is a simple setup flow describing everything you need to know before launching, including loading products, configuring taxes, registering a domain name, and processing payments?
Management of products and SKUs
Once you've configured the basics, bulk uploading products from CSV files is a much faster way to add products to your catalog. Additionally, you should maintain an unlimited number of products, or SKUs. Furthermore, your platform certainly supports it, mainly if your catalog is large or growing. Since you can be at the App Store with just one click, you'll want many one-click applications or pre-built system integration to increase traffic without having to hire programmers. Utilize your platform's app store to locate and install tools that you desire or require. These tools must communicate with one another and maintain a real-time state of readiness.
Multiple Channels Managed from a Single Location
Omnichannel strategies are thriving in today's eCommerce environment. Today's customers shop on Instagram, Etsy, Facebook, and Amazon are just a few platforms where today's customers shop. Once your business has launched and begun generating revenue, you'll almost certainly want to expand into new channels rapidly. Many eCommerce platforms require you to manage your eCommerce site and other channels' platforms.
It can be confusing, and breaking the rules may result in a ban from specific marketplaces. Consider a centralized channel management platform that enables  you to push your product directly to those channels, manage price points and product descriptions, and more — from a single dashboard.
5.  Determine the platform's scalability and customizability.
Your business will grow over time as a result of your meticulous planning. Additionally, as your business grows, you'll require additional support from your eCommerce platform.
Which type of assistance are you seeking? It is a tricky forecast to make. Each business is distinct. As a result, many brands rely on APIs to tailor and automate their stores to their specific requirements. While startups aren't quite there yet, it's something to consider if you want to expand. Prepare for this stepping stone by searching for platforms that provide dependable and responsive APIs.
Conclusion
Finally, keep the long term in mind when weighing your options. In addition, concentrating your efforts on marketing and business objectives allows you to save time and add more value. Do not be limited by a lack of rapid technology. After selecting an eCommerce platform, the next step is creating and launching your online store.