Why Has NFT Became The Trending Topic of This Modern Era?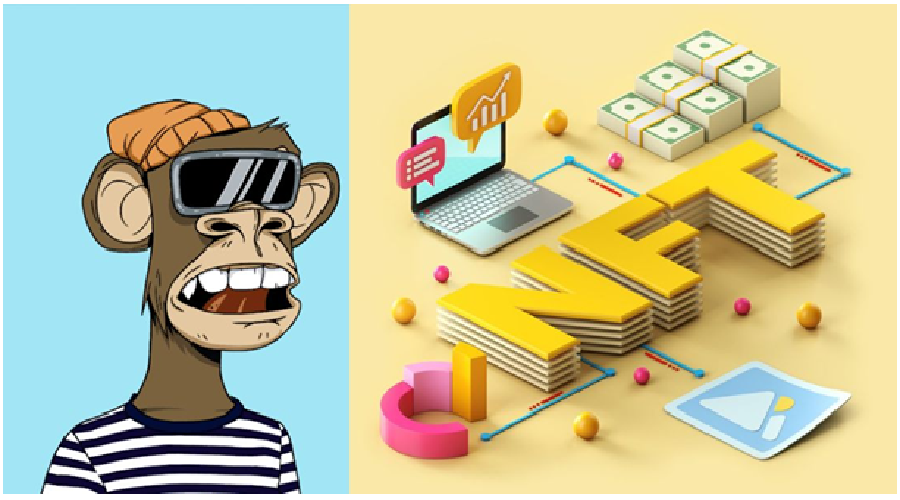 Numerous facets of our lives, including the economics and healthcare, are already being transformed by blockchain, a relatively young technology. But whenever new ground is broken, excitement is always at an all-time high.
Enter the NFT. This type of cryptocurrency, which is supported by blockchain, uses technology to catalogue, purchase, and sell digital collectibles, including artwork, music, video games, and more.
The goal is to redefine and reassess the worth of our culture. And with something called non-fungible tokens, or NFTs, this is just getting started.
Whether you know what they are or not, non-fungible tokens, or NFTs, are a common concept. NFTs, which Collins Dictionary named the word of the year in 2021, have been quite well-known over the past year thanks to numerous businesses and famous people getting involved in their purchase and sale. However, many people may find the idea of NFTs to be unclear.
NFTs are essentially digital assets that can be utilised as trade tokens. They exist in the digital domain using blockchain technology and take on various forms, including art, music, games, fashion, and memes (a decentralized, digital ledger that is difficult to delete, hack or alter). NFTs essentially function as digital receipts that confirm the legitimacy of a digital collectible. It can be compared to a certificate, sort of.
Each NFT is absolutely unique, setting them apart from other cryptocurrencies like Bitcoin and Ethereum. NFTs are independent but more established cryptocurrencies form a network that determines the value. The blockchain also has "blocks" of data, which are used to store ownership details and other data.
A lot of famous people, like Jimmy Fallon, Eminem, Paris Hilton, Steph Curry, and others, have bought ape avatars from the Bored Ape Yacht Club (BAYC) collection since it recently became popular. The collection's set quantity of NFTs at 10,000 and expensive admittance threshold (about US$224,000; HK$1.75 million) have increased interest in it and elicited both praise and scepticism.
Overall, NFTs are influencing how we share and own digital assets and are growing to be a substantial component of the global economy. So why are NFTs so common today?
What is an NFT?
————————————
Similar to Bitcoin, NFTs are a type of cryptocurrency, but instead of storing money, they do it by storing assets like music and artwork.
An asset that can be swapped one-for-one is called a fungible token. Similar to fiat currency like dollars or cryptocurrencies like bitcoin, each has exactly the same value and can be freely traded.
In contrast, a non-fungible object, such as a vintage automobile or an ancient home, has its own unique value. NFTs are created by combining this idea with blockchain, the technology that powers cryptocurrencies.
These can be applied to digital artwork or, really, anything else that exists in digital form, including audio files, video clips, animated stickers, and even this page. They function as digital certificates of authenticity.
NFTs verify an item's ownership by logging the information in a blockchain, a public digital ledger that is stored on computers all over the internet and is therefore practically impossible to lose or destroy.
These tokens are currently in high demand in the collecting community, where they are being utilised to address a key issue with digital collectibles: how to recapture the value and ownership of something that is infinitely and readily reproducible.
But why not just copy it from the internet?
————————————
Even if you purchase a reproduction of the Mona Lisa from the museum gift shop or take a photo of it at the Louvre, you do not actually possess the original piece of art. The same is true of contemporary art forms like digital art, which can be printed and downloaded from the internet.
NFTs can be used to track an object's digital lineage, giving a chosen few the ability to demonstrate ownership. In general, it's a technique for creating fake scarcity so that you can sell anything for a higher price because of its rarity.
According to Chicago fund manager Andrew Steinwold, who launched an NFT fund in 2019, "you can create value for all the time, money, and effort you spend in your digital existence." "Property rights exist in the real world. Why doesn't the digital world recognise property rights?"
Some NFT issuers grant the buyer entire copyrights, whereas others do not.
Who makes use of NFTs?
————————————
Mike Winkelman, better known as Beeple, is a conceptual 3D artist who broke all previous NFT sales records when an NFT featuring his work sold for $69.3 million (€58.9 million) at auction in March. As a result, Beeple is now the third-richest living artist.
Kings of Leon released NFTs for the first time last month. They are offering three distinct tokens: one that comes with their new album, another that comes with benefits from live performances like lifetime front-row seats, and a third that comes with unique audiovisual art.
William Shatner, a Star Trek actor, sold 90,000 virtual trading cards as NFTs for $1 (€0.85) each last year. Last month, digital artwork by electronic singer Grimes brought in $6 million (€5.1 million), including a video clip with winged cherubs floating in pastel dreamscapes that sold for $389,000 (€331,000).
NBA player LeBron James' dunk videos can fetch up to $225,000 (€213,000). A picture of actress Lindsey Lohan's face was auctioned. In video games, you may also purchase virtual real estate or meme characters like Nyan Cat.
Digital artist Anne Spalter claims that NFTs "have opened up art to a whole lot of individuals who never would have gone to a gallery." Spalter was first sceptical but has since sold her own works as tokens.
Why are NFTs so popular?
————————————
NFTs were first proposed in 2013, beginning with something known as coloured coins. On the Bitcoin blockchain, coloured coins symbolised physical assets, ultimately encouraging the development of NFTs. The first NFT ever produced was thereafter a pixelated digital image called "Quantum" in 2014 by New York artist Kevin Mcoy. Following that, the underground market began to grow and the crypto art industry prospered.
In 2017, CryptoKitties entered the market, and NFTs began to gain popularity. One may claim that NFTs successfully entered the mainstream in 2021 as additional artists and occasions, such as the NBA's Top Shot, broadened the potential for digital collectibles in the midst of the epidemic. It's also safe to argue that the epidemic greatly aided the growth of NFTs, as more collectors and makers made time for online networking and trading.
NFTs also hold considerable promise for addressing the problem of digital scarcity. Similar to how diamonds and other precious stones are valuable, digital scarcity is the idea that "a digitally native asset might be coded to have an immutably (permanently) restricted supply." An item's worth increases with how rare and special it is. Digital materials, however, are simple to edit or disseminate with the press of a button and may be endlessly copied.
NFTs effectively resolve this. Digital collectibles are given special value as NFTs using contemporary technology. Therefore, even if a digital asset is copied and disseminated, its authenticity can be confirmed thanks to the blockchain's open, decentralised ledger.
Which NFT types are eligible to list on your marketplace?
————————————
Consider NFTs to be digital goods, and your market as an online shop. NFT markets can target various niches, just as eCommerce sites that trade goods like clothing or, for instance, home decor.
Create a worldwide marketplace or a specialty marketplace, which are your two primary possibilities here. The first will cover a variety of NFT kinds, but the second will only mention a certain class of non-fungible tokens.
Therefore, familiarise yourself with the various non-fungible token types before starting the NFT Marketplace Development.
Art
These NFTs were produced by digital artists who wanted to auction off their creations while keeping the copyright to their work.
Gaming
Users can buy or obtain in-game assets through gaming NFT in the gaming business. These resources can then be either used in the game or sold.
Media
Media NFT makes it easier to fight fraud and copyright theft. Public figures, for instance, can tokenize their content to authenticate it and assert their ownership over it.
Music
Authors are assisted by music NFTs in the music industry in their fight against piracy and are compensated for their works.
Real Estate
It is a different kind of NFT that tokenizes both real estate and virtual lands. It offers a chance to prevent disputes about ownership of land or other properties.
Wrapping Up: Current NFT Trends
————————————
Regarding NFTs, there are still questions and misunderstandings. NFTs, however, have a promising future because it may herald the beginning of a new digital sharing method that will capitalise on the interest of younger generations.
It is anticipated that avatar-based NFTs will continue to draw attention and advance the NFT market as the BAYC NFTs prosper. Additionally, even though a lot of NFTs have concentrated on gaming and the arts, there is room for growth into the real-world activities and music industry. The Coachella Music Festival, for instance, has revealed NFT features including lifetime festival permits and digital treasures that can be exchanged for real things.
The metaverse combined with real-world experiences demonstrates a bright future for NFTs. Therefore, it might be much more than just a fad; perhaps it's a brand-new reality for sharing, investing, and gathering in general.