12 Top Trends in Audio Marketing in 2023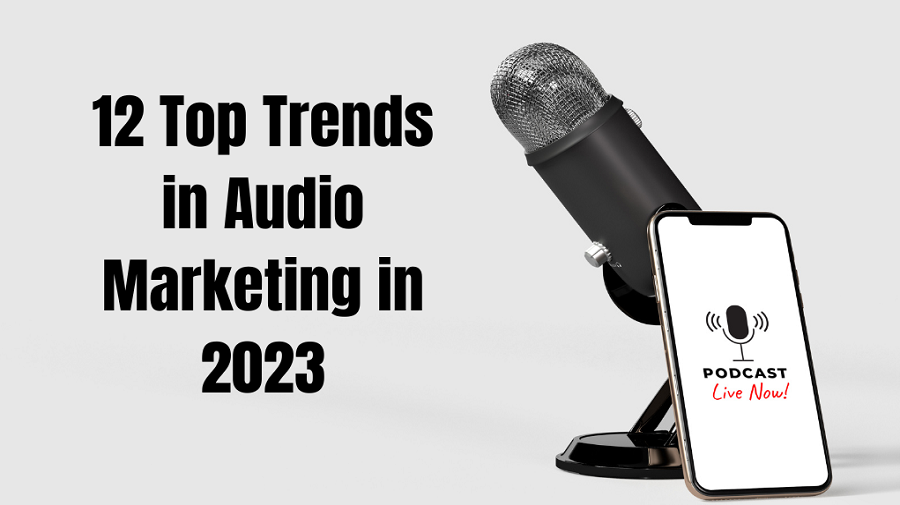 The popularity of digital audio content, such as podcasts, music streaming, and audiobooks, has surged in recent years and continues to experience exponential growth in 2023. These platforms have attracted millions of website visits, rivalling primary news sources in online engagement. This trend opens up tremendous opportunities to leverage the expanding listenership base and establish meaningful connections with your listeners.
The potential of digital audio advertising lies in its ability to offer targeted, non-intrusive, and engaging ad experiences. As consumers become more opposed to traditional advertising formats, audio marketing presents a unique opportunity to connect with your market in a less disruptive manner. Creating compelling audio ads that resonate with your listeners can foster positive associations and increase brand awareness and loyalty.
Let's delve into the top trends reshaping the audio marketing landscape in 2023.
1. Embrace Digital Audio Advertising
—————————————
The rise of digital audio listenership has presented a significant opportunity for audio advertising. Digital audio platforms offer vast and diverse listeners, enabling you to target specific demographics with tailored ad messages. With the global use of smartphones and the availability of streaming services, your listeners can access audio content anywhere and anytime, allowing you to connect with them on the go.
2. Leverage the Power of Podcasts
—————————————
Podcasts have become a dominant force in audio marketing. Their growing listenership, especially among decision-makers, provides an ideal platform for you to reach highly engaged and receptive listeners. The development of professional audio joiner and editing tools has also made creating a podcast easier, leading to an explosion of content and opportunities.
3. Discover the Perks of MP3 Formats
—————————————
As digital audio marketing continues to evolve, the MP3 format has become a valuable tool for audio marketers. MP3 is a universal audio format supported by many devices, from smartphones and computers to music players and smart speakers. Utilising an MP3 converter to transform your audio content ensures listeners can access and enjoy it regardless of their preferred device or platform.
4. Integrate Operational AI
—————————————
AI has emerged as a big changer in audio marketing operations in 2023. By automating monotonous processes, improving ad placements, and evaluating user behaviour, AI technologies like virtual assistants and AI avatar software enable you to focus on strategic initiatives and data-driven decision-making. On the other hand, AI-driven data analysis delivers useful insights into ad effectiveness, listener preferences, and content consumption habits, allowing you to adjust your audio marketing campaigns in real-time for optimum impact and ROI.
5. Prioritize Content Authenticity
—————————————
Content authenticity is essential to combat misinformation and build trust with your listeners. Establishing content authenticity teams becomes crucial to fact-checking and verifying the accuracy of audio marketing materials. Combining AI-driven analysis with human oversight ensures efficiency and accuracy, striking the right balance between technological advancement and reliability.
6. Redeploy Media Budget to Product Placement
—————————————
Consider diversifying your marketing approach as traditional digital ad formats become increasingly saturated. Product placement in audio content offers a non-intrusive and contextual advertising opportunity. You can reach your market authentically and create positive associations with your products by integrating branded products seamlessly into entertainment content.
7. Implement Loyalty Programs
—————————————
In an increasingly competitive audio marketing landscape, loyalty programs play a pivotal role in retaining customers and fostering brand loyalty. Rewarding customers for their engagement and dedication creates a sense of exclusivity and appreciation, building lasting relationships with your listeners and differentiating your brand from competitors.
8. Harness TikTok's Power in Music Marketing
—————————————
TikTok has revolutionised music marketing since its development in 2016. Its short-form video format and viral potential have propelled artists and songs to unprecedented popularity. Brands leverage TikTok's vast user base to promote their products and connect with younger viewers.
Adopting TikTok's community-driven culture and audio trends can generate substantial buzz and exposure for your offerings. Fortunately, tools like a video editor or audio converter can help transform your podcast episodes into Tiktok videos.
9. Focus on Fan Engagement
—————————————
In 2023, audio marketers are moving beyond traditional advertising tactics and focusing on building direct connections with their followers. Engaging fans through personalized direct messaging, fan meetups, limited-edition audio content, and interactive polls foster a dedicated community of supporters who amplify the reach and impact of your audio marketing efforts.
10. Embrace Intimacy in Music Marketing
—————————————
Music marketing goes beyond promoting songs; it involves forming meaningful connections with fans on a personal level. Engage in two-way conversations and incorporate fan-inspired content into your marketing strategy to make your fans feel valued and heard. Prioritising personal connections evokes emotional responses from fans, leading to increased consumer buy-in and a deeper connection to your brand.
11. Focus on Authentic and Organic Music Marketing
—————————————
Authenticity is a driving force in music marketing in 2023. Organic approaches stand out in a sea of influencers and paid promotions. You can develop a brand that connects with your listeners by remaining true to your artistic vision and values.
12. Emphasize Beyond Streaming Numbers
—————————————
While streaming numbers are essential, consider focusing on other engagement metrics like playlist additions and social media interactions to gauge your listener's reception and overall brand influence. Utilise YouTube Shorts and other innovative tools to showcase your creativity, engage audiences, and drive interest in your music.
In Conclusion
The audio marketing landscape in 2023 offers exciting opportunities for you to connect with your listeners on a deeper level. Embrace the rise of digital audio advertising, tap into the power of podcasts and TikTok, and leverage AI and content authenticity for impactful marketing campaigns. You can navigate the changing audio marketing landscape and achieve long-term success by prioritising fan engagement, intimacy, and authenticity.
Remember, staying agile and adaptive is essential as technology and consumer behaviours continue to evolve. Aligning your strategies with emerging trends, you can create meaningful audio marketing campaigns that resonate with your listeners, elevating your brand to new heights.