Mobile SEO: Unlocking the Power of Optimizing Your Website for Mobile Devices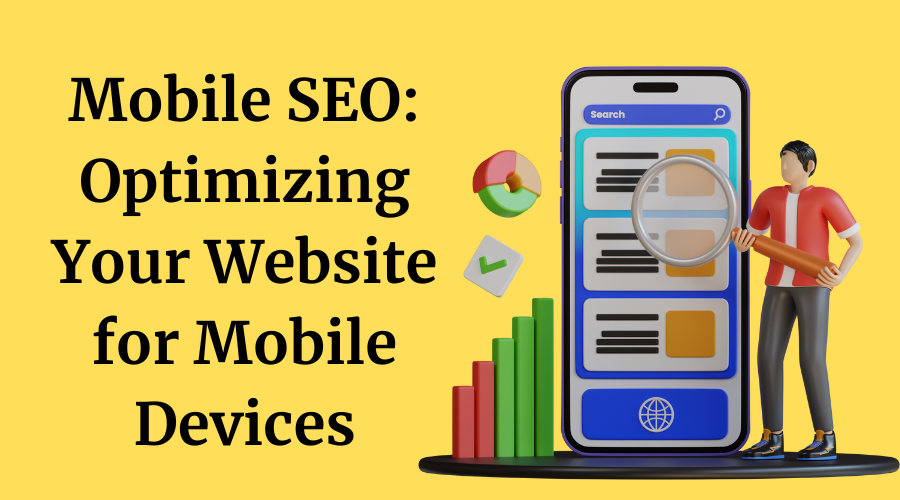 I. Introduction to Mobile SEO
——————————————
A. The Rise of Mobile Devices
The increasing use of mobile devices such as tablet computers and smartphones has fundamentally altered the ways in which individuals acquire information and engage with the technological environment around them.
Due to the fact that mobile use has surpassed desktop usage, it is now very necessary for companies to optimise their websites for smartphones and tablets.
B. Importance of Mobile SEO
Mobile search engine optimisation (SEO) is the practice of improving a website's exposure as well as performance in mobile search engine listings by optimising the website for mobile devices.
Enhancing the user experience, increasing organic traffic, and attaining better search engine results on mobile devices are all possible thanks to the importance it plays in these areas.
C. Benefits of Optimizing for Mobile Devices
Getting your website ready for mobile use may result in a number of positive outcomes. To begin, it provides a smooth and simple to use experience for those who use smartphones, which leads to better interaction, longer experience durations, and improved rates of conversion.
Those three factors all contribute to increased revenue. In addition, search engine algorithms include mobile optimisation as a ranking element, which means that it may help you achieve more exposure and generate more organic traffic through mobile searches.
II. Understanding Mobile User Behavior
——————————————
A. Mobile Search Trends and Statistics
Users' main way for gaining access to information is now mobile search, with a considerable proportion of searches coming from mobile devices themselves.
Your mobile search engine optimization approach may be more efficiently honed if you have a solid understanding of mobile search habits and data, such as the predominance of vocal searches, local purpose, and on-the-go inquiries.
B. User Experience on Mobile Devices
When compared to desktop users, mobile users exhibit quite different patterns of behaviour. They anticipate sites that load quickly, navigation that is easy to understand, and material that can be effortlessly consumed on screens of varying sizes.
You can deliver an amazing user experience for mobile visitors to your website by adhering to these demands, which will encourage mobile users to remain for longer and interact with your website.
C. Mobile-Friendly Design Principles
The fundamentals of mobile-friendly design include the creation of adaptable websites that can adjust fluidly to various screen sizes, the use of readable fonts, the optimisation of button sizes, and the utilisation of features that are touch-friendly.
If you follow these guidelines, you can assure that your website will look great and perform well on mobile devices.
III. Mobile Website Optimization Techniques
——————————————
A. Mobile-Responsive Design
Your website will be able to automatically alter both its layout and its content to suit a variety of screen sizes if you use a mobile-responsive design.
This strategy dispenses with the need that your website have a distinct mobile version and guarantees that users will have the same experience regardless of the device they are using.
B. Site Speed and Performance Optimization
Users of mobile devices have limited tolerance for web pages that load too slowly. It is possible to greatly improve customer satisfaction and lower bounce rates by optimising the speed and performance of your website via the use of strategies such as compressing pictures, minifying code, and using caching mechanisms.
C. Mobile-Friendly Navigation
Simplifying menu layouts, making use of hamburger menus, and ensuring that critical pages and sections are simple to reach are all steps involved in streamlining navigation for mobile devices.
A user experience that is enhanced and made easier to find material is one that has navigation that is clear and straightforward.
D. Implementing Accelerated Mobile Pages (AMP)
AMP is a framework available as an open-source project that allows the building of mobile sites that load in the blink of an eye by making use of a streamlined version of HTML and other forms of code.
If you use Accelerated Mobile Pages (AMP), you can provide mobile users a better experience and ensure that web pages load very instantly.
E. Optimizing Images and Multimedia for Mobile
Compressing pictures, using the right file formats, and making use of lazy loading methods are all ways to assist decrease the weight of a website and improve loading speeds on mobile devices.
In addition, optimising video and other forms of multimedia material guarantees a smooth playing and the best possible performance on mobile devices.
IV. Mobile Content Optimization
——————————————
A. Crafting Engaging Mobile-Friendly Content
It is vital to provide material that is condensed, easily scannable, and aesthetically attractive, and that is optimised specifically for consumption on mobile devices.
It is possible to successfully catch and keep the fascination of mobile users by using attention-grabbing headlines, highlights, and multimedia features.
B. Formatting Text and Headings for Mobile Readability
The text should be designed with readability in mind, using a font size that is acceptable, line spacing that is reasonable, and contrast that is appropriate.
In a similar vein, headlines need to be organised hierarchically such that reading and navigating them may be done with relative ease on mobile devices.
C. Leveraging Mobile Keywords and Voice Search
Users on mobile devices often use a variety of search queries, in addition to voice search. Incorporating keywords that are unique to mobile devices and optimising for voice search are two ways to help match the content of your site with the way people search on mobile phones and tablets.
D. Structured Data Markup for Mobile SERP Features
You may improve the visibility of your site in the search engine results shown on mobile devices by using structured data markup.
One example of this is schema.org. This markup makes it possible for search engines to show rich snippets, graphs of knowledge, and other elements that are unique to mobile SERPs.
V. Mobile SEO Best Practices
——————————————
A. Optimizing Mobile URLs and Page Titles
It is possible to improve relevance along with conversion rates in the mobile search results by using URLs that are both brief and descriptive and by optimising the titles of pages for mobile-specific queries.
B. Mobile XML Sitemaps and Crawling
Providing search engines with a mobile XML sitemap that you've created helps them identify and index your smartphone or tablet pages more efficiently.
It is possible to ensure that search engine bots give priority to the crawling and indexing of your mobile content by configuring the robots.txt file on your website and managing your crawl budget.
C. Mobile-Friendly Link Building Strategies
Constructing backlinks of a high quality that are also compatible with mobile devices helps improve the authority of your website as well as its visibility in mobile-friendly search results.
Concentrate on acquiring connections from optimised for mobile devices websites and utilising communication platforms to attract mobile traffic.
D. Optimizing Local SEO for Mobile Searches
It is essential for companies that want to attract customers in their immediate area to optimise their local SEO for mobile searches.
This includes optimising the listings on Google My Business, handling online reviews, and guaranteeing the NAP (name, address, and phone number) knowledge across directories is accurate and consistent.
E. Mobile Social Media Integration
When you combine your efforts to optimise your mobile site for search engines with those of social media platforms, you are able to reach a larger mobile audience.
Sharing content that is optimised for mobile devices, interacting with users on social media channels that are mobile-friendly, and making use of mobile advertising options are all great ways to increase visibility and traffic.
VI. Technical Aspects of Mobile SEO
——————————————
A. Mobile Crawling and Indexing
When it comes to mobile search results, having an understanding of how search engine robots search for and index mobile pages is helpful in ensuring proper visibility.
To make your mobile content more understandable to search engines, you should think about using mobile-friendly design techniques, the appropriate application of meta tags, and organised information markup.
B. Mobile-First Indexing
Search engines will primarily use the smartphone or tablet version of your website for cataloguing and ranking purposes if you have mobile-first indexing enabled.
For the best possible search engine visibility, you should make sure that your mobile website is completely operational and well optimised, and that it replicates the content of the desktop version.
C. Mobile Redirects and Canonical Tags
If you correctly implement mobile reroutes and canonical tags, search engines will be able to identify the mobile versions of your pages as well as you will avoid problems with duplicate content.
Make use of a method known as adaptive design or dynamic serving in order to deliver the version of your website that is most appropriate for the user's device.
D. Handling Mobile-specific Errors
Managing common mobile-specific mistakes, such as 404 pages, faulty 301 redirects, or improperly calibrated tap targets, is necessary in order to guarantee an enjoyable experience for users on mobile devices.
Monitor for these errors on a regular basis and correct them in order to avoid usability issues and opportunity ranking penalties.
VII. Mobile SEO Tools and Resources
——————————————
A. Mobile SEO Analysis Tools
Tools such as the Google mobile-friendly Test, PageSpeed insight, and the Cell Phone Usability Report in the Search Console at Google are able to provide insights into adaptable optimisation issues and assist in the identification of areas that could use improvement.
B. Mobile Testing and Optimization Tools
Platforms such as BrowserStack, mobile-friendly Test, as well as Responsive Design Checking make it possible to test and optimise websites for use across a wide variety of mobile gadgets screen sizes, and OS systems.
C. Mobile SEO Blogs and Forums
It is essential to maintain a level of familiarity with the most recent developments, strategies, and best practices pertaining to mobile SEO. Expanding one's knowledge and exchanging ideas alongside industry professionals can be facilitated by following credible mobile SEO blogs, getting involved in online forums, and joining online communities.
D. Official Mobile SEO Documentation
Referring to the official documents and guidelines given by the major search engines, such as Google's Smartphone Search Engine Optimisation Starter Handbook, ensures that one adheres to the best practises and methods for optimisation recommended from the major search engines themselves.
VIII. Measuring Mobile SEO Success
——————————————
A. Key Mobile SEO Metrics to Track
Metrics such as adaptable traffic from organic searches, mobile conversion rates, standard mobile position among search results, along with mobile abandonment rates provide information about the success of your cell phone SEO efforts.
B. Analyzing Mobile Organic Traffic and Rankings
In order to evaluate the influence of your smartphone SEO strategy, you should monitor the performance of particular mobile keywords, keep an eye on changes in the mobile search rankings, and examine the growth of mobile organic traffic.
C. Mobile SEO Reporting and Analysis Tools
When it comes to measuring and analysing the performance of mobile SEO, tools such as Google Analytics and the Google Search Console offer comprehensive reporting capabilities. Make use of these tools so that you can generate reports, monitor development, and make decisions based on data-driven optimisation.
IX. Summary and Key Takeaways
——————————————
In conclusion, firms must use mobile SEO to make their websites responsive to mobile devices. You can harness the power of smartphone SEO and increase traffic from organic search engines, involvement, and sales conversions from mobile devices by comprehending mobile user behaviour, putting mobile website optimisation techniques into practise, optimising mobile content, adhering to mobile SEO best practises, addressing technical issues, utilising pertinent resources and instruments, and determining mobile SEO success.
X. Frequently Asked Questions (FAQs)
——————————————
A. What is Mobile SEO and why is it important?
When done properly, mobile SEO can significantly boost a site's position in mobile search results and increase its overall traffic. Mobile optimisation is crucial because mobile usage has surpassed desktop usage, and it improves both the mobile user experience and search engine rankings.
B. How does mobile user behaviour differ from desktop users?
Users on mobile devices exhibit a number of distinctive behaviours, such as a preference for voice search, an emphasis on local results, and an expectation of a swift and mobile-friendly user experience.
C. What are the essential elements of a mobile-optimized website?
Features such as optimised images and multimedia, a mobile-friendly layout, quick load times, and intuitive navigation are crucial.
D. How can I optimize my content for mobile devices?
Content optimisation includes the use of mobile-friendly keywords, voice search, mobile-friendly formatting, structured data markup, and mobile-friendly SERP features to attract mobile users.
E. What are the technical considerations for mobile SEO?
Some of the technical aspects to think about are mobile-specific error handling, mobile-first indexing, mobile redirects, canonical tags, and mobile-crawling and indexing.
F. Which tools can help with mobile SEO analysis and optimization?
Google's Mobile-Friendly Test, PageSpeed Insights, mobile testing platforms, and mobile SEO reporting tools are all helpful in this process.
G. How can I measure the success of my mobile SEO efforts?
You can evaluate your results by looking at things like your mobile site's average mobile position, mobile bounce rate, mobile conversion rate, and mobile organic traffic. Use tracking and analysis tools like Google Analytics and
Search Console
.