15 Questions to Ask Your Website Designer and Developer Before Hiring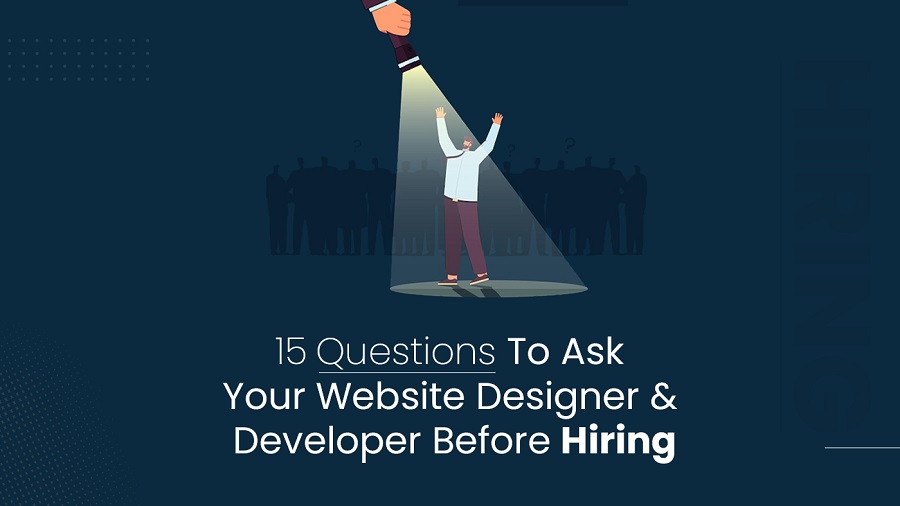 When looking for a web designer and developer, you must ask the right questions.
A visitor's first experience with your brand is often through your website. You want that first impression to be a good one. So, when looking for a Chicago Website designer, asking the right questions is essential. By knowing what you want to know ahead of time, you have a better chance of working with someone who understands your vision and is willing to give you the website and user experience you want.
Here are the following 15 Questions to Ask Your Website designer and Developer Before Hiring:
1.  How long have you been making websites?
Knowing how long the web designer has been in business is always helpful since you'll want to know their skill level. It would help if you trusted them enough to go back to them when your company's website needs updates or changes. Knowing that a website developer has been in the business for a while is a good sign that they will be around for a long time. It will also provide you with a concept of how credible they are.
2. How do you do your research?
You want people to visit your website and learn about your brand, mission, and goals. Your developer hasn't done their job if they end up confused. Do they look into your target audience to figure out who to talk to? Do they know who your brand is and what it stands for? It's essential to go the extra mile to answer these questions if you want your website to be a good reflection of who you are.
3. Do you specialize in a particular industry?
Even though most web designers can make any site, many will focus on business-to-business or business-to-consumer sites. Ask if they do more of one than the other and if they have any ideas on how their Chicago Web Design could be better to increase conversions.
4. Have case studies showing how the websites you designed for businesses helped them?
A website is not just about having a good-looking online presence. It's about obtaining a rescue on investment and business results from your website. Ask for examples. These case studies should show specific outcomes, like how online sales went up by a certain percentage, how leads went up by a certain amount, or how the conversion rate went up by a certain percentage in a certain amount.
5. Are your websites easy to use on phones?
When we say that a website is "mobile-friendly," we mean that it looks good and works well on a smartphone or tablet. About 91% of mobile users think having access to content is essential. Because of this, many people may think about leaving a website if they can't find what they want. A mobile-friendly website should make and coded to be easy to use on a mobile device.
6. What's your budget?
Don't give up if you have a limited budget and can't pay considerable amounts. There is a way. You can get a high-quality website at a reasonable price if you hire freelance web developers from an offshore country. The lower cost of living in offshore countries makes it possible for freelancers to offer low prices without lowering the quality of the work.
7. How many sites have you put together?
That is another way to discover how experienced a freelance web designer or web design agency is in this field. The more websites someone has made, the more likely they will be good at what they do. But that isn't always true. It's a big difference between making 100 bad websites and ten high-end, high-quality websites. So don't just ask how many they've built, but also make sure they show you examples of the kinds of websites they've made before.
8. Do you make your websites from scratch or use templates?
Web designers can make websites from templates, websites that are fully custom-programmed, or websites that are a mix of the two. Is your website unique, and does it use a specific programming language? Or is it a CMS-based site with a theme or template that has been changed, like Squarespace and Wix?
9. What kinds of services are offered?
Each developer has a different set of packages and services to offer. You need to figure out which package will work best for your business. Do they use SEO strategies? How far do they take to design? Do they offer ways to promote on social media? Make a list of the services you want to be part of your agreement, and go over each with your potential developer. Review to notice if there are any features you need that they don't have so you don't waste time.
10. How long will it take to finish designing my site?
Even if there are delays, a web designer should be able to tell you how long your project will take. Review to visit if it meets your needs, and always give yourself extra time if there are problems or changes in the Chicago Website designer that you didn't expect.
11. Who will work on my website, and how long have they been doing it?
If you hire a big company, don't assume that everyone on the team will work on your project. It's always helpful to know who will be working on your site. Since it's your money, you have the right to ask about the people's experience and skills. That will also help you figure out how the project will run.
12. How do you feel about building websites for my rivals?
That can be both good and bad. For instance, if a company has made websites similar to yours, they may know what works and what doesn't. But you don't want there to be an apparent conflict of interest. That is an excellent question to ask and use as part of your evaluation, but I wouldn't completely rule out someone just because they built a website for a client in the same industry last year but don't still work with them.
13. How much do you know about graphic design for web design?
As we talked about in the last question, a web designer is mostly a graphic designer who puts together written and visual content on a web page so that it is easy to understand online. So, if you want a cutting-edge or very high-quality Chicago Website designer for your website, ensure that the graphic designer or agency you hire has a strong background in graphic design.
14.  What do you need from me before we can start the project?
Ask this at the start of the project so you don't have to run around trying to find content, images, login information, etc. Talk to your web designer and get a list of everything you need to give them to start. You will need written content, photos, and a logo, but that doesn't always mean that you will be the one to make those things. How content makes depends on how the Chicago Website designer works and how much money you have.
15. What coding framework or language do you use most?
Various coding languages and frameworks are utilized to build websites today. As long as the page loads quickly and works as expected, the type of code or framework used won't matter to you or most of the people who visit your site.
But if you want to connect your website to other web-based software that will give your site more features and functionality, you must ensure that your website is compatible with those other services.
Conclusion:
Finding an excellent web developer for your business takes time and research, but if you know what you're looking for and always keep the customer in mind, you have a much better chance of hiring someone who meets your needs. Finding a Chicago Website designer who knows how to make your brand stand out and achieve its goals is essential. Asking the correct questions will help you in finding the right one.