4 Ways Mobile App Development Empowers the Digital Marketing Industry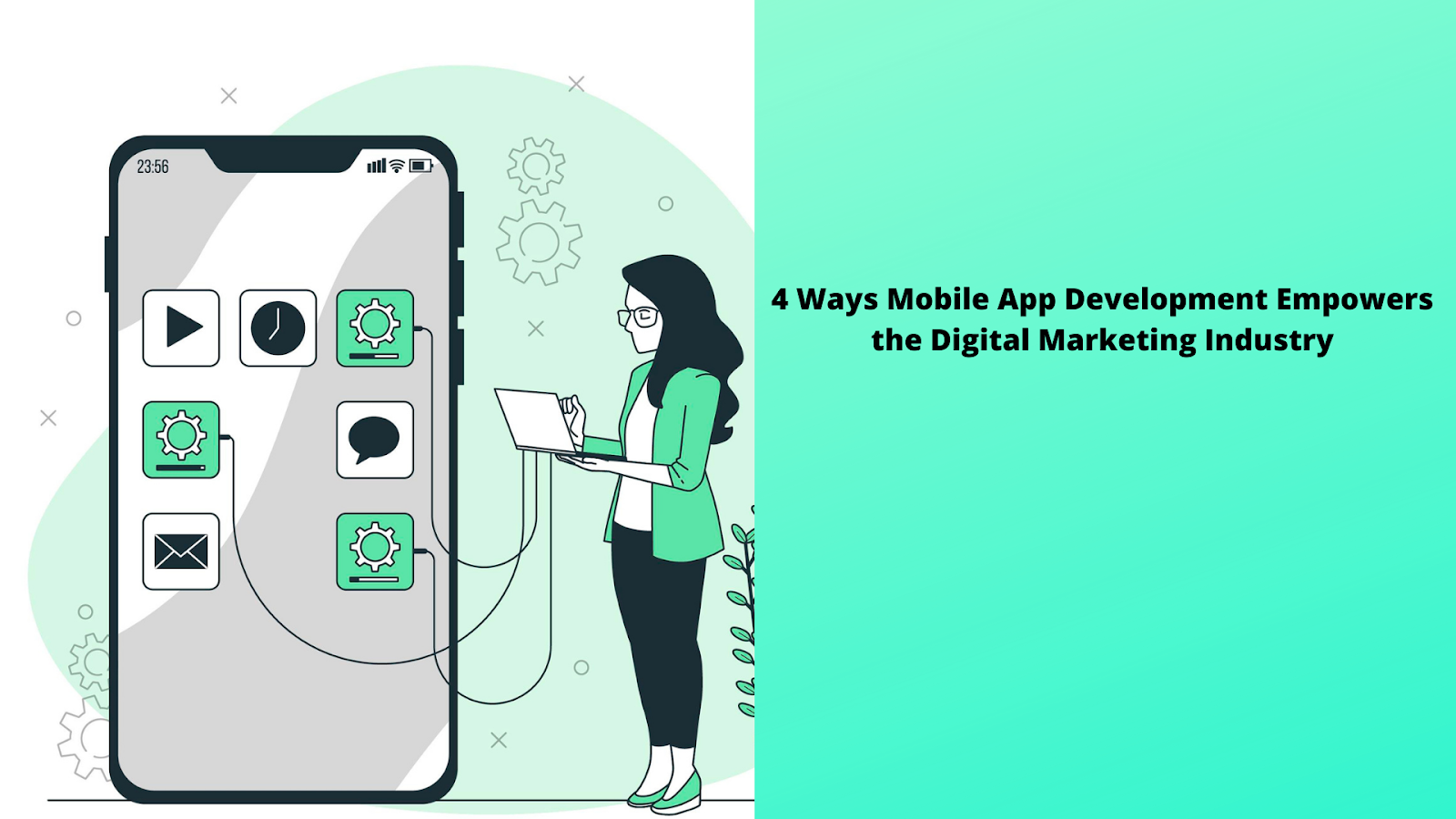 With millions of apps representing every business niche, the digital marketing space is thriving with apps of all niches, sizes and user experience attributes. As people mostly look for everything and anything online right on their handheld screens, mobile apps have emerged as the key component of digital marketing. 
Mobile apps continue to add flair to the brand identity and brand presence of businesses across all niches. From global Fortune 500 companies to small businesses and startups, every business is developing mobile apps as part of their growth strategy to target new audiences and retain existing customers. 
Do you want to know the key ways mobile apps can help your digital marketing strategy? Well, here we explain these ways one by one. 
Creating Personalized Content
These days, users want to exercise more freedom with digital interfaces and have more control over digital platforms. Hence, delivering highly personalized content based on their preferences is essential for any business that wants steady user engagement. 
User-centric tailored digital experience has become key to the success of online and mobile app brands. This can only be ensured by providing users with many custom controls addressing their interests, linguistic choice, age, location, etc. Fortunately, unlike a website, a mobile app is more suited to provide a tailored user experience. 
In some countries like India, developers have more expertise to deliver personalized experiences because of their exposure to small business app projects. So, when you hire programmers in India for your mobile app project, you can have an edge in terms of audience-centric customization. 
The personalized experience starts right from the app installation when the user can be given the freedom to set their preferences regarding notifications, language uses, interest regarding content, location etc. The way Netflix allows users to choose their content preferences right after the app launch or the way Uber allows its users to set location and set preferred payment gateways are nice examples of user-centric customization. 
Mobile App as Customer Engagement Tool
Most businesses inevitably rely on business-to-customer communication to spread their marketing message and inform customers about products, offers and promotions. But for digital marketing success, reverse communication flowing from customers to businesses is equally important. While the first merely helps a business get attention, the second boost customer loyalty. 
This is why customer support is so essential an aspect of digital marketing. Most customers find it incredible when their queries, requests or complaints are resolved quickly and with particular attention to their personal preferences. For this personalized attention and problem solving, mobile apps play an essential role. 
Enhances Business Branding
Every marketer needs to cut through the resounding noises in the market to stand out from the competition. But unfortunately, market noises are often loud enough to drown marketing pitches. From media ads to outdoor campaigns playing a big role in visualizing the competitive brands can put your brand backstage. This is where mobile apps appear as a crucial branding instrument to take on the traditional ads and marketing channels.  
Often a mobile app can stand out from the competition simply on the merit of user experience instead of the excellence of products and services offered by them. This creates a level playing field for the small businesses and startups who can compete with big brands by offering innovative mobile apps with unique features, engaging content and personalized marketing attributes. 
Since people increasingly spend most of their time having their eyes fixed on the handheld screens, an instantly engaging mobile app alone can take on the marketing noise and clamor of media and outdoor ads and can provide more satisfactory brand exposure to the intended audience. On top of all these, a mobile app with its continuous on-screen visibility can ensure optimum visibility and traction for your brand.  
An Innovative Way to Provide Customer Support 
Mobile apps also offer an innovative way to provide customer support and solve customer problems without many humanitarian efforts. Irrespective of the nature of your business or whether you are running a tourism company or selling cars, your customers are very likely to reach out to you with queries and issues. This is when your mobile app can appear in the avatar of a marketing and communication tool to help them get solutions to their problems at the earliest. 
Through a business app, customers can remain informed about the service timing or product availability or the operating hours or operating procedures to solve their problems. In addition, the app, from time to time, can notify them about new service or product offerings or inform them about promotional offers. 
The emergence of intelligent AI-powered chatbots further extended the capabilities of mobile apps in solving customer queries and addressing their issues. Intelligent chatbots by instantly answering customer queries and recommending product and service choices based on customer intent and preferences make a customer support experience possible. 
Voice Search and Voice Interactions 
The last but not the least advantages that today's mobile apps offer to the customers is the ease of voice search and making voice interactions to get quick online results. From e-commerce stores to mobile enterprise apps to apps for connected devices, all kinds of apps allow voice commands and voice interactions to help users with a supple app experience. 
Since voice search has already become popularized by Google search engine and leading platforms, it is likely to be part and parcel of digital marketing and branding mechanisms in the years to come.

Conclusion 
All the key advantages, features, and innovative features that continue to make the mobile app user experience richer will play an essential role in the digital marketing campaigns of business brands. Furthermore, since mobile apps emerged as the most eventful technology field, they are more likely to play the leading role in digital marketing campaigns for brands.