How to Get Verified on Instagram in 6 Simple Steps in 2021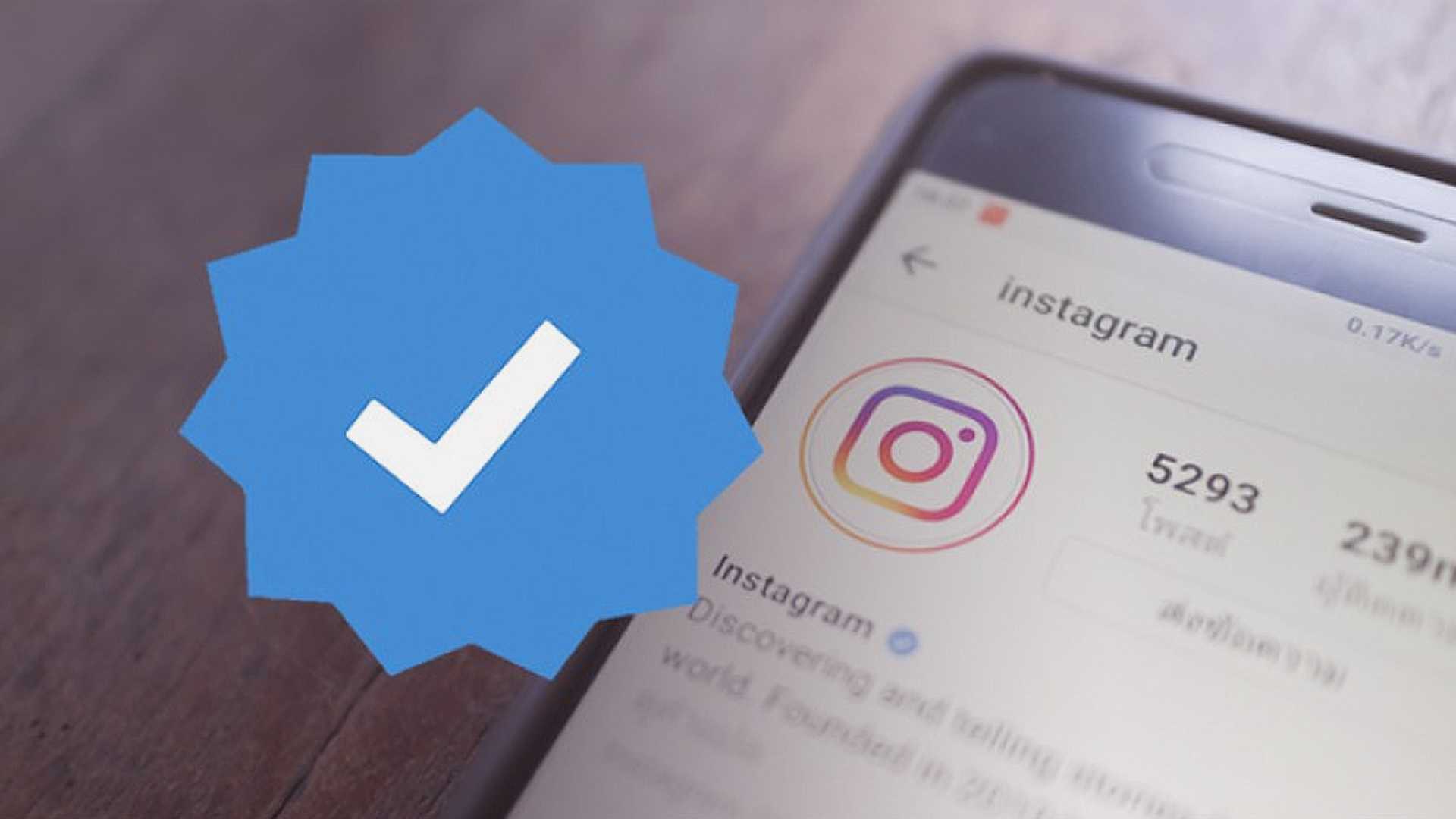 Do you want that blue tick? We get it. In fact, we all want to be Instagram famous.
To be honest, not everyone qualifies for that on Instagram, and If you're not famous, it's a hard road to tread to get verified on Instagram. Think about it. If it were as easy as a walk in the park, everyone would have got it on their profile.
But don't get worried by these words, I've got the advice you can follow. I'll also tell you the criteria based on which Instagram decides to whom they should give a tick and whom not to give.
I'll be covering more on that later, but first…
What does that Blue Tick represent, it's not what you think?
If you think that having a blue tick on Instagram is a sign of success, oh boy, let me shatter the illusion for you.
It's just a myth…
The tick symbolizes Instagram's stamp of approval, that this is a legit famous account, not a fake one.
It helps businesses and influencers to establish trust with their followers, but will not help you in becoming more popular.
You may have seen many people building their accounts on Instagram for the same person. Different accounts for the same personality. Fan or meme pages can't get verified on Instagram. It's really next to impossible.
Here is one exception with meme pages, that they can build or register their company on their meme page name, and then they can apply for getting verified.
By the way, there is no trickery here; Instagram itself explains how you can get verified, they have certain criteria. Let's take a look at it.
Who can get it? Are you eligible?
If you can meet the requirements of Instagram as mentioned below, then you're likely to have what you're looking for in this article.
Authentic – You need to have an Instagram account that represents a real entity, person, or business with some brand value. You can't fabricate a fake account and expect to get that tick.
Unique – You can only have one verified account for a particular entity, person, or business. Instagram won't verify a fan page of different interests.
Complete – Make sure your profile is completely set up, and that includes your bio, which shouldn't ask people to follow you on other platforms. You can link to your other platforms from your bio, but you can't ask people to follow you outside of Instagram.
Notable – You should be found on Google. You need to be featured on different websites and in news articles. It's simple, to get that blue tick on Instagram, you need to be famous. You must be a well-known person. Startups often need to be full-fledged businesses first, before they can get verified.
NOTE: Be sure that Instagram profiles that represent a personality as well as businesses, get verified very quickly. Example: Dan Lok. It's a company but it's also closely associated with a famous person.
If you're eligible, Follow this step?
After reading the criteria above, you have understood that getting a blue tick is difficult, and it probably won't happen soon. However, that does not mean it won't happen ever; Give it a try and see If you qualify or not.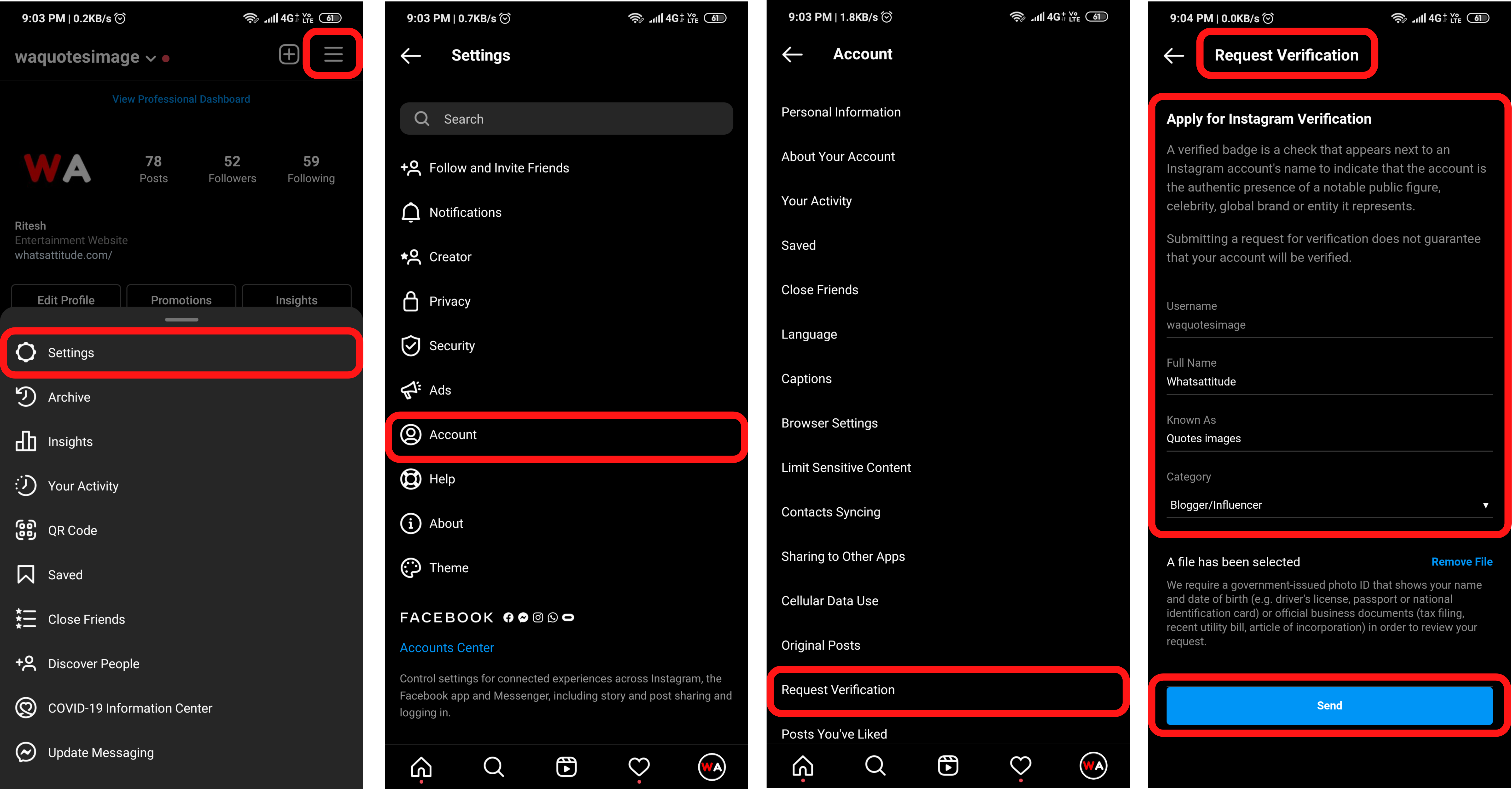 Open Instagram, and hit your profile image at the bottom.

Then click the three-line menu button at the top right.

Now, Click setting and then click Account.

And then on request Verification.

Now, Fill out your full name, what you're known as by another name, and select a category that describes your Instagram account.

Now, upload any governmental document (e.g. driving licenses), if you are a business, upload your company registration document.

Lastly, hit the send button.
What will happen after you drop in your application
Only two things could take place: you'll either get verified or not. If you didn't get verified, you should make sure that you've provided all the relevant information to Instagram.
Additionally, you can use the same 4 criteria as explained above to take a look at your profile.
Overall, getting featured in different magazines and other places where you could build your authority is the best way to establish your credibility. 
If you're a business, then market your business more, blog, do press releases and get a feature in an interview.
Do these things regularly, consistently and you can apply for a blue tick after every 30 days. Below I have shared a few ways to build your credibility.
What If – You Get Rejected Regularly – 6 Simple Steps
Don't take this as a promise or encouragement that it will work for you, but if you follow the steps mentioned below, it might happen. 
Be Authentic

(

not for your Instagram but for your audience

) – If you want to increase your Instagram followers, it's important to create content that appeals to your potential audience. There's no magic trick for Instagram success. Just follow best practices and keep producing good content.

Get a website & Rank High

-You can attract more people to your site if you provide high-quality content related to your business. Just be sure that whenever someone types in your name, you get ranked at the top. Be unique. Don't get buried at the bottom of the search results.

Do Interview

– Are you a renowned expert? A revered affiliate? Give interviews to others and build your authority. Interviews are a great way to share your knowledge and build your reputation.

Get Featured in News

– Getting featured by news organizations is one of the best ways to spread the word about your business and about your personality. Apparently, you can get verified quickly if Instagram found You featured on a news article. 

Follow IG Rules & Guidelines

– If you can't follow the platform guideline, you're out of luck, because nobody wants to work with someone who can't follow the rules. Don't cheat and don't lie; the truth is the most important quality in an online space where everyone has a voice.

Read This Article Again

– Every sentence in this article is important, so be sure to read it again. If you already read this article, you may want to read it again!
Wrapping things up
Look, I have outlined all of our strategies for getting that blue check on Instagram.
You have to accept that not everyone who wants a blue tick will get one. If it starts giving blue ticks to everyone, then it will not be of any importance.
Instagram doesn't care how many people follow you on your profile. What they need is that you are famous. 
Make sure you use the strategies that I told you and you can apply once every 30 days for getting verified. when I say to apply every 30 days, I just mean be sure to apply once every month.
You have to keep trying different tactics and remember that getting verified on Instagram takes time.
I hope that if you do this, you will be verified.
I'm Ritesh, a copywriter who loves to write articles & blogs, email for businesses, and anything creative that drives people to take action. I have over 4 years of experience in writing, and I am able to deliver high-quality work within the set time frame. In my spare time, I love to study the world's diplomatic relationships.