A Complete Guide to ASO and SEO for your App Promotion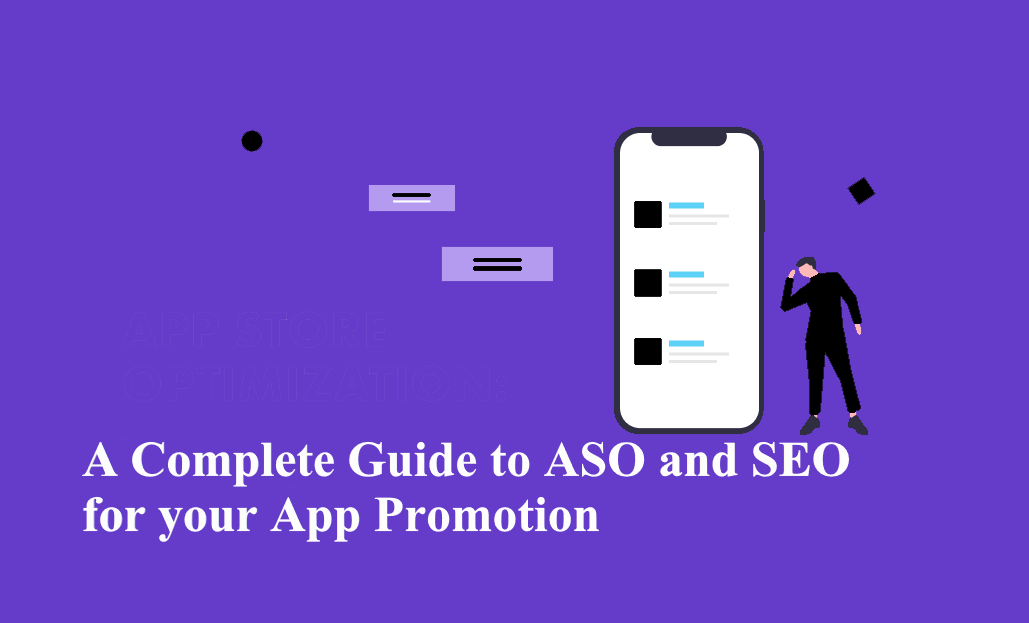 With the proliferation of the internet and innumerable online promotion techniques, developing and distributing an app is now an option for many people out there. The predicament mobile app development services USA face today is not whether to invest in applications to engage with their audience.
The actual predicament they face is how they can allow people to discover their apps in the first place. App Store Optimization, also known as ASO, can come in handy to increase the overall popularity of your application. You need to possess a robust app promotion plan which combines the most effective mobile app ASO and SEO practices. So what is ASO, and why do you need it to promote your app in the app store? Let's find out!
Overview of App Store Optimization
ASO is the process of improving your app's visibility within the app stores. It also aids with the augmentation of the overall conversion rates of your app. The major app stores are App Store for iOS and Google Play for Android. If you want to achieve a higher rank in the app store search results, you can rely on ASO to increase the CTR or click-through rate.
This implies that you have to convince people to actually click into the app store listing after they find it. With ASO, you would be able to optimize your app's name, icon, and ratings. In simple words, ASO lets you manage the reputation of your app in the app store. Note that ASO is also known as App Store SEO to maximize its overall visibility.
By augmenting the impressions, you can support various objectives like traffic to your online app and downloads. The primary focus of ASO is to improve the ranking of mobile applications directly within the app store. Here are some other objectives of ASO you should be aware of.
Increases the exposure of your application
Results in positive app ratings and reviews
People tend to review your app more in the presence of ASO
Boosts the overall engagement of your application
Just like SEO, optimizing your app's visibility is an ever-evolving and ongoing process. When you develop an app, the objective is to drive traffic and conversions. With a dedicated ASO strategy, you would be able to track and measure the performance of your app consistently. Your reach would be limitless when you deploy the right ASO strategies.
The Difference between ASO and SEO
ASO is often referred to as app store SEO. Both SEO and ASO possess similarities like keyword optimization, backlinking, conversion optimization, etc. But there are certain differences that exist between these two terms.
The primary difference between ASO and SEO is the ranking factor. Moreover, ASO is primarily meant for apps and SEO for websites. The components of SEO are much extensive and elaborative. On the contrary, ASO is much shorter and involves a few components.
What is the need for ASO for your Mobile App?
There is no denying the fact that ASO is the key to your business's visibility. If you are reliant on your app to boost conversions, then you just cannot ignore ASO. ASO would provide your app with better rankings and discoverability in the app store. Moreover, ASO is vital for your app to get more organic downloads.
You would be able to spend less money on paid downloads with ASO. The strategies related to ASO should be prepared and deployed with the UA tactics to get the optimum results. On the other hand, ASO is a great way to promote and market your app in the app store. This is because it boosts your app's overall discoverability.
A large number of users would be able to find your app and download it, thanks to ASO. So as you can see, app store optimization is a crucial aspect to boost your app's overall visibility. It is a long-term investment, just like SEO which would fetch you great results in the future.
SEO for Mobile Applications: The Ultimate Way to increase Visibility
Improving the visibility of your app in the app should be your primary objective. With the number of apps available in major stores growing exponentially, new ways of app discovery have evolved.
So if you want users to find your application on mobile search, you should leverage SEO techniques.
In this never ending fight of the apps to maximize their visibility, SEO for mobile apps has become quite popular. Do you want to optimize your app visibility with SEO? Here are the best practices to increase your app's visibility.
Do a Comprehensive Keyword Research
Much like web SEO, you should research the latest keywords which will rank your app properly in the app market. You can even use software platforms to get the right keywords.
Aim for Positive Ratings and Reviews from Users
For app SEO, positive user ratings and reviews matter a lot. Google will rank your app higher in the app market if it contains a large number of positive reviews and ratings. Positive ratings and reviews also help convincing the users about your app. In other words, you will be able to increase the conversion rate of your app with positive ratings.
On the other hand, iOS developers should opt for app analytics in iTunes Connect to assess their app's performance. Like the Google Play Store, you have to optimize the app for search in iOS store with SEO.
Don't Ignore SEO for ASO
To get the most out of your app promotion, you shouldn't approach SEO and ASO as conflicting tactics. It is worth mentioning here that organic search optimization is still the basic foundation of your online presence.
Moreover, it should be an integral part of your mobile app ASO. No doubt, mobile app ASO and web SEO are overlapping to a great extent. These tactics can work separately, but if you are not implementing them together, you cannot expect to make your app visible.