Ahrefs: The Comprehensive Guide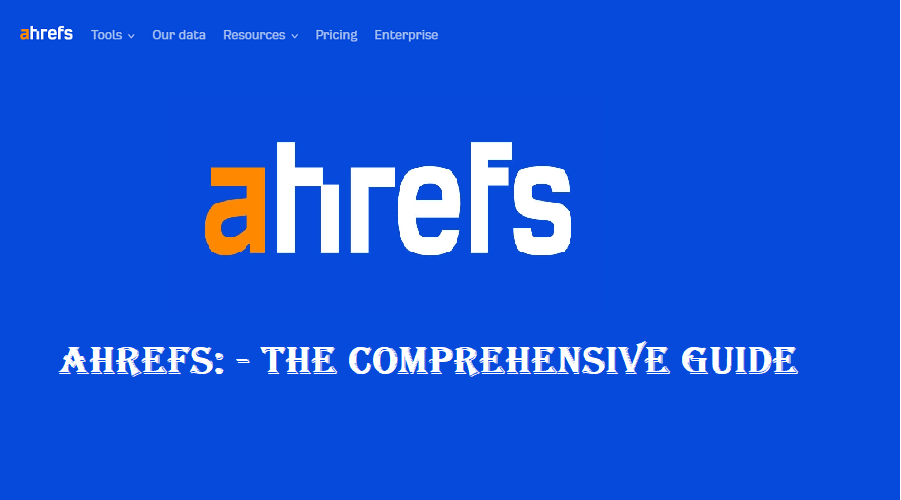 One of the Main and inportant principles of SEO is the keyword research. As marketers, we are aware of its potential to increase website traffic and boost organic search ranks. Finding the correct tool might be challenging given the abundance of options. A fellow SEO Analyst introduced me to Ahrefs' Keywords Explorer, undoubtedly the best tool available, while I was conducting keyword research for a client.
This tutorial will show you how to do keyword research and how to use Ahrefs' tools to derive useful conclusions from the findings.
What is Ahrefs?
——————————
Popular SEO tool Ahrefs was initially developed to handle the backlink management process and analyse internal and external backlinks. Over the years, numerous modules, including competition analysis, site audit, and keyword analysis, have been added to the programme. With these features, we can state that it provides a variety of analytical methods to help websites rank higher in search results.
Saving time:
What makes Ahrefs stand out from its rivals is how simple it is to use and how little navigation is needed to get the desired results.
Data-driven judgement
Sure, you'll get comparable statistics and stats from other industry tools, but Ahrefs provides the most complete collection. You can manage all the stats for your website in one location thanks to the diversity of tools available. The competitors fall short in this area.
Choosing research keywords
——————————
Begin with what you are familiar with
Look at the product pages and check the title and H1 tags when beginning your client's investigation. These provide a decent indication of the keywords the page is attempting to rank for (Note: this is also the area where the biggest changes may be made). We'll discuss that further below. It is useful to have a list of the titles and H1s for this information that was obtained via a Screaming Frog crawl. By directly employing a portion of the page's existing title or H1, seed keywords can be created.
Consider the user.
Think like a consumer or customer of your website as a further beneficial strategy.
Consider a scenario in which a consumer wants to purchase an aluminium water bottle. "Best aluminium water bottles" and "aluminium water bottle brands" are the first searches that come to mind. Use this technique to find keywords for some of the pages you want. This method is particularly useful when looking for long-tail keywords. Always list your ideas on a separate sheet so that Ahrefs may be used to quickly enter them.
Ahrefs provides a fantastic tool for this called Site Explorer that allows you to see how your competitors are ranking. Any URL may be inserted, and statistics on the search terms it presently ranks for are automatically generated.
In the client example, a significant food and gift basket brandares one of their main rivals. Let's proceed as follows:
You can obtain keyword information for the entire site, not just the specific URL, by pasting the URL into Site Explorer and leaving the "domain" setting alone. Navigate to the Organic Keywords area next, ignoring the rest of the Site Explorer page.
A list of all the terms the rival is ranking for is shown below. This list is by default sorted by traffic, but by clicking any of the metrics, you may change the sort order to either highest or lowest for that particular indicator. Self-referencing (or branded) keywords will always exist, but you can get rid of them after exporting the data. it is very important to target those keywords which are related and relevant to your website.
Getting the data
We advise combining the three techniques mentioned above to create a list of keywords for gathering the data. Finding and supporting the searcher's purpose is the main objective of the majority of keyword research. Making data-driven decisions can help with this, but firs,t it's crucial to comprehend the meaning of the data.
Enter the prospective keywords into Keyword Explorer to examine the information.
Put keywords in the insert box while keeping the United States as the search data country. Depending on where your target audience is, it's crucial to modify this. As you can see, you can also choose New List at the bottom to add and save these keywords to a special list for later use. These lists are handy if you wish to have various saved sets of keywords for various website sections, pages, or clients.
Both the overview and stats tabs are crucial. But let's concentrate on the Metrics tab for the work at hand. The data from all the entered keywords are collected and summarised in the overview tab. The analytics tab, however, provides data breakdowns for each keyword.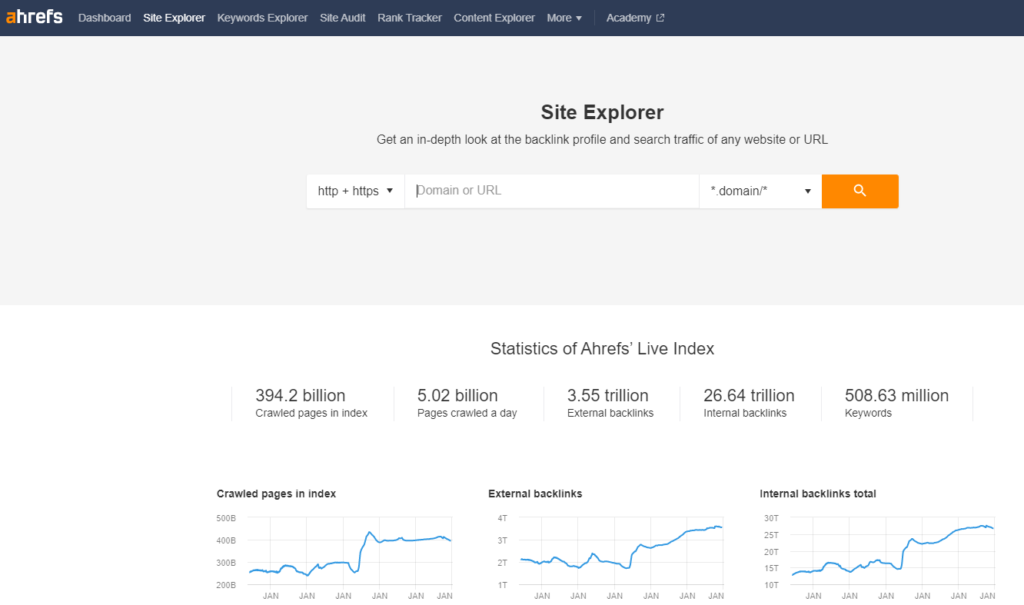 Explorer stats for keywords
——————————
Let's concentrate on three metrics from the metrics tab that are the most beneficial and less self-explanatory:
KD Score KD
Score Volume
SERP functionality
KD Rating
The difficulty of appearing in the top 10 results for a keyword is determined by this Ahrefs-specific score. The number of referring domains the current top 10 results have for that particular keyword is used to determine the score. It's useful for determining whether or not it's worthwhile to target. It is easier to rank for a KD score the lower it is.
Volume Volume is the average monthly number of searches over the previous 12 months. You can use this statistic to assess how "popular" a keyword is. However, you should be careful not to base all of your keyword research on volume. This may result in issues with the user's purpose not being accurately reflected.
Feature in SERP
This is a fantastic measure that is unique to Ahrefs as of the time this post was written. It displays tiny icons next to the keyword that describes the search engine results page's content. A relevant inquiry, image pack, knowledge panel, shopping result, etc. are a few examples.
Meaningful insights can be obtained using these three indicators for the client's 20-keyword list. Finding a keyword with a realistic KD Score and significant volume must be balanced. Make use of the combination of these data.
The majority of marketers are so motivated to boost volume and clicks that they are unaware that the phrase they are targeting is almost hard to rank for in the top ten since you would need, say, 50 referring websites. The fact that the keyword has the largest traffic has made them blind. A more practical option would be a term that has 10–20% less volume but just requires five referring websites to rank.
Helpful outcomes for finding more keywords
——————————
Once the aforementioned tasks have been finished, review the list and utilise the three metrics to decide whether or not your pre-selected keywords are indeed worthwhile focusing on. Based on the keywords on your list that have a better balance of metrics, you now wish to locate more keywords.
Focus on these two outcomes:
——————————
You may locate both of them by selecting a specific keyword from your list. This adds more information on that particular keyword.
Parent subject
A keyword was initially discovered for the client example, which is butter toffee. As you can see, the parent topic is "recipe for butter toffee." Why is this the parent topic, you may wonder? It's more intricate and longer. This is because parent subjects are discovered by selecting the "best" keyword that the page ranks for and choosing the highest-ranking page for your original keyword. The term "best" suggests a potential for both volume and traffic.
The information on the parent topic will be expanded if you click on it. Additionally, it will display every keyword that the top page is ranked for.
The other keywords given provide good suggestions for those that can better fulfil user intent and have a balanced distribution of metrics.
For instance, since there are numerous relevant keywords in this list for "butter toffee recipe," it is obvious that the client's page, which only targets one keyword, can rank for multiple keywords.
Words to Use
Three categories of results are presented as a result: having the same phrases, also ranking for, and search suggestions.
You can find several keyword suggestions that are either related to or an extension of your original phrase in each category. Check out this post from Ahrefs to learn more about how each of these categories gets filled.
After finding keywords, take the appropriate action.
It's time to start optimising the client's product pages after selecting the top keywords (using the methods above). Concentrate on three key on-page optimizations that can be quickly altered with DevOps or the webmaster's assistance.
Tags: Title H Tags
——————————
Description in Meta
To particularly target the new term associated with each product page, optimise these three HTML components.
For instance, if the new keyword to target is "Butter Toffee," and a previous product page includes an H1 titled "Award-Winning, Champion Butter Toffee," change the H1 to read "Butter Toffee | [business name]".
Making these on-page adjustments based on your keywords can potentially have a greater impact on how visible you appear in organic search results. Split testing has grown to be highly popular as a way to evaluate these improvements on a specific group of pages to acquire more knowledge.
How does this benefit your business or yourself?
——————————
The entire process of conducting keyword research is aided by the Ahrefs tools. The time spent on keyword research will reduce after you get the hang of the best methods listed above, and you'll start using this research structure to make better quicker selections. Although some may view keyword research as difficult work, with the tools at our disposal right now, it will feel less tiresome and more like significant research. High-quality keyword research can be utilised to implement some of the most significant targeting adjustments that can enhance your website over time and increase traffic.
Ahrefs URL Analysis Terms and Metrics
——————————
Ahrefs' ability to provide adaptable data in several metrics is one of its most significant features. In the beginning, we can access data in many structures including a domain, subdomain, URL, and pages under a slug. The site whose screenshot is shown below has certain metrics listed in the Site Explorer.
Ahrefs Rank (AR):
This ranking value is determined by Ahrefs based on the backlink profiles and the condition of inbound links to the pertinent domain. The strongest value in AR is 1, and an upward movement denotes a negative circumstance.
The URL Rating (UR) tool provides a score between 0 and 100 based on the importance of the pages' backlinks to the query URL. This number ranges from 0 to 100, with 100 representing the highest value.
Domain Rating (DR) is a score that ranges from 0 to 100 based on the importance of the inbound links to the query's primary domain. The same criteria used for the UR metric are used to analyse this ranking. When assessing your site, the similarity between UR and DR indicators can offer useful information.
Backlinks:
This term describes the number of URLs pointing to a specific domain or page.
Referring Domains: This section displays the total number of domains that link to the concerned page or domain. The reference domain data must originate from do follow, qualified, and pertinent websites.
Organic Keywords:
These are the phrases for which the relevant domain is rated in the Ahrefs-monitored keywords. You can see a variety of data categories, including keyword data, search traffic, difficulty status, and linked URL information if you scroll down to the details.
Traffic Value:
Organic traffic value is the cost associated with PPC if you run an ad for the keywords for which your website or page already ranks organically. It supports the conclusion regarding the worth of the keywords you have provided.
The overview panel in Site Explorer includes each of the metrics mentioned above. Let's examine the additional metrics listed in the overview section. Three panels—Backlink Profile, Organic Search, and Paid Search—offer site overview stats by Ahrefs. You can select the panel you require from among them by deciding which information you want to access.
Backlink Profile
——————————
Metrics in the backlink profile panel, specifically in graphs, provide information on backlinks and domain information of various structures, such as the appropriate domain, subdomain, URL, and pages under a slug. The overview metrics' reference domain and page data can be listed with options like "all times," "last year," and "last 30 days." As a result, you can keep track of how the link profile for your website evolves. This data can also be exported in the forms of CSV, PNG, and PDF.
The referring domains are grouped here by kind, and the number of domains and their % impact on these types is also given. We can observe that the links are shown using different link types, including sponsored, sponsored, and dofollow. The proportions of follow and no follow links stand out among the different link kinds in particular.
Google interprets inbound links with the 'Nofollow' attribute as saying "I trust this site; I find what this site gives is accurate and beneficial." You can see how having relevant links pointing at your website under this structure benefits it.
Organic Results
——————————
The organic search data panel displays information in graphical form on organic traffic data, keywords, traffic value, PPC data, the top 5 keywords and pages, the distribution of organic traffic by nation, and the top 10 competitors. You can use all the information listed under the backlink profile's structure, including organic search data, which is one of the overview metrics.
The number of pages ranking on search results is grouped on the graph for organic keywords. You can view the number of pages ranked between 1-3, 4-10, and/or 11-100 by checking or unchecking the boxes below. Additionally, you can mouse over the chart to get ranking information from other dates.
Pay Per Click (PPC)
——————————
Many features existing in the organic search hierarchy are used for the data of paid searches. There is a tonne of information available, in particular, about the terms your competitors pay per click for and the keywords and sites that drive traffic.
Analysis of backlinks
——————————
Backlink analysis was Ahrefs' primary function when it was originally introduced, as we've already mentioned. Ahrefs is still one of the best tools available for backlink analysis. Here, you may do several analyses to evaluate inbound links to both your site and those of your competitors. By utilising Ahrefs Backlink Analysis capabilities, you can mould your backlink strategy in this manner.
Links Made and Lost
——————————
While gaining access to the backlink information of the URL you supplied, you can also use numerous filtering methods. Here, we advise using one link per domain to get just one URL's backlink information and selecting the link type that best fits your intended structure.
You can choose between links that were obtained and lost to access statistics on incoming links to the website over a specific period. For new incoming links to your website, for instance, a choice might be made that takes into account information from the previous week. By executing filtering operations on this data, such as grouping pertinent URLs, a list of referred pages, and link type, you can arrive at a clean output.
Opportunities for Backlinks when Links Intersect
——————————
The link intersects tab of Ahrefs is another helpful module that lets you compare the inbound links to your website with those of rival websites. To identify the domains that do not link to your website, you can add the domain information of your competitors here. The link intersects module is also available from Ahrefs with more settings.
The websites that mention your rivals but do not connect to your website are then listed. Among the sites listed that supply links to all of your competitors, you can gain links to your domain, particularly from powerful and specialised sites.
Domain comparison
——————————
Domain Comparison is another module that Ahrefs provides for you to compare all the aforementioned indicators and compare your current condition with your rivals. You can access this module by selecting the compare domain option from the "more" drop-down menu.
In the window that appears, you can add the domain names of your website and those of your rivals and compare them using a variety of criteria.
Top Links
——————————
The pages on your website are also ranked following the inbound links. You can use the top pages listed in the left menu's inbound links module for this.
You can get a list of your top pages based on incoming links after adding the domain or page information to the Site Explorer module. You may build relevant output here by filtering on metrics like inbound links to your site, pages on your site, language, and status code.
Keyword analysis
——————————
Although the Keyword Analysis module is widely used and well-known, Ahrefs was built on the foundation of backlink analysis. The keyword explorer module of Ahrefs provides access to a wealth of information regarding search queries. You must enter your login details for the keyword explorer module before you can write your keyword(s), select the platform you want information on, or access data from, and select your desired country. For instance, you would need to do the following to retrieve information specific to the United States for the "real estate" search in Google.
How much does it cost?
——————————
Site Audit and Site Explorer tools are part of Ahrefs Webmaster Tools, which are free for all website owners.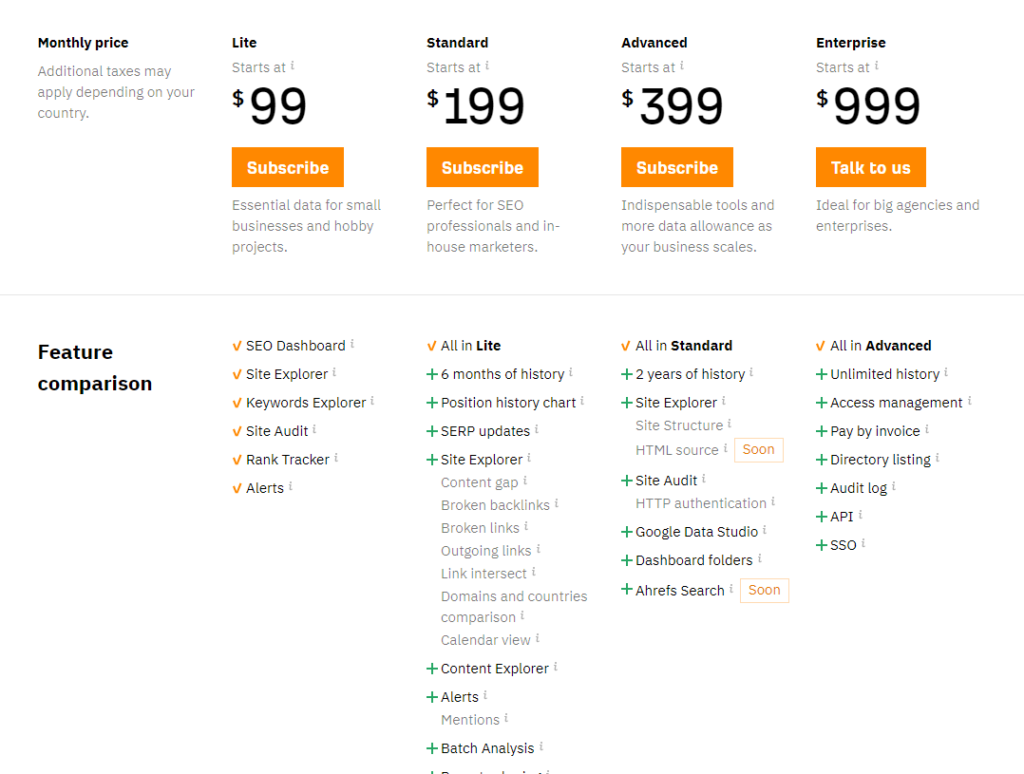 Here are some different types of subscription plans such as Standard, Lite, Advanced & Aency
Personal subscriptions begin at $99 per month and start at $999 per month (agency).
Annual memberships begin at $82 per month (personal) and $832 per month (agency).
For $7, a 7-day trial is offered.
Ahrefs site audit: what exactly is it?
——————————
Any website page can display JavaScript-generated content thanks to Ahrefs' Site Audit (depending on your pricing plan) Executing JavaScript enables Site Audit to examine pages and links that rely on it, producing the most accurate audit.
Automatically classifying faults by type, Site Audit generates printable reports that are completely represented by colourful charts. Look for problems associated with: Performance: sluggish pages, excessively huge CSS or HTML. HTML tags: title tags, meta descriptions, and H1 tags are absent, duplicated, or not the ideal length.
Bottom line:
Ahrefs is a comprehensive SEO toolkit for improving website performance and increasing search traffic. Ahrefs scans the internet, stores a tonne of information, and makes it available through a straightforward user interface.
Our crawlers currently process up to 8 billion pages daily and update the index every 15 minutes with the latest backlinks available on the web. Googlebot is now the fifth most active web crawler.