Semrush – The Comprehensive Guide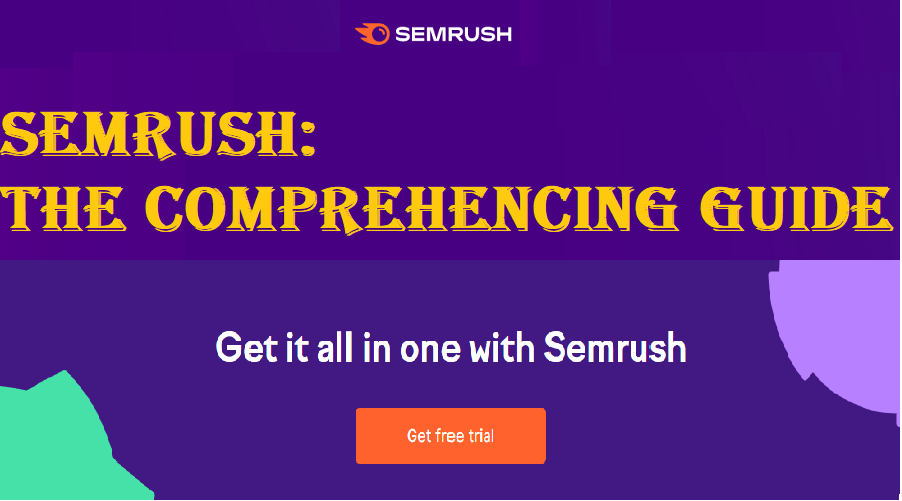 What is Semrush and How does it function?
——————————–
The popular SEO tool Semrush is used for competitive analysis, Google Ads optimization, and keyword research.
It is a complete software package that helps online marketers optimise their websites for increased organic search traffic. Additionally, you may evaluate your position relative to your competitors and enhance your data-driven keyword selections for Google ad campaigns as well as organic search results.
Semrush is used by a number of well-known businesses, including Booking.com, Quora, HP, and eBay.
With this sophisticated SEO tool, you can easily spot patterns and trends in your particular sector. This will provide you the opportunity to assess your on-page SEO and identify the areas that need to be optimised for increased lead generation.
Semrush one of the best tools for to research keywords. You will gain knowledge on the keywords being used by your competitors and their performance.
Due to its wide range of advanced capabilities, Semrush is utilized by some of the most outstanding internet marketers in the world, but it is also ideal for beginners. Even for individuals without any SEO experience, Semrush makes SEO incredibly simple to use on the platform.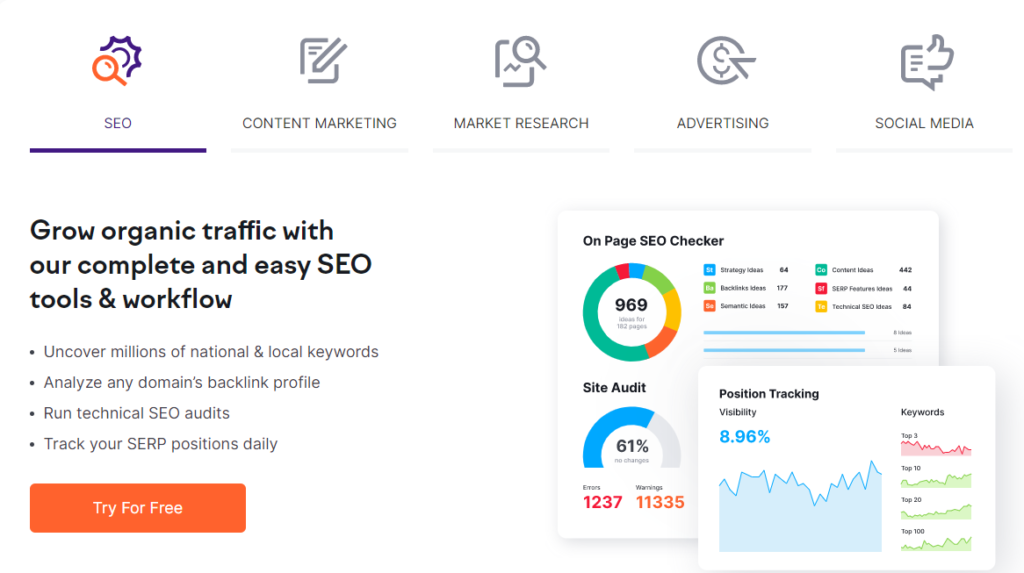 In summary, Semrush works by providing users with a variety of information that can be used for:
Enhancing your website's overall performance
Monitoring the most used search terms on Google
Producing material with a strong likelihood of attracting visitors
Identifying new link-building opportunities
Improving your website's technical aspects for improved search engine positioning
Semrush: Is it a Free Tool?
——————————–
There is a free version of Semrush; however, it offers few features and services. The following tasks are possible with a free account:
Develop and run a single Semrush project
ten daily questions about keyword and competitor research
Keyword monitoring (limited to 10 keywords)
Go through all 100 pages of your website.
The free edition offers less flexibility and advantages than the paid version, even though these capabilities can be helpful for beginners in digital marketing.
There is a 14-day free trial available to try out Semrush if you need clarification on whether you should sign up for their service. Paid plans cost between $119.95 and $449.95 per month or between $99.95 and $374.95 per month if you subscribe for an entire year.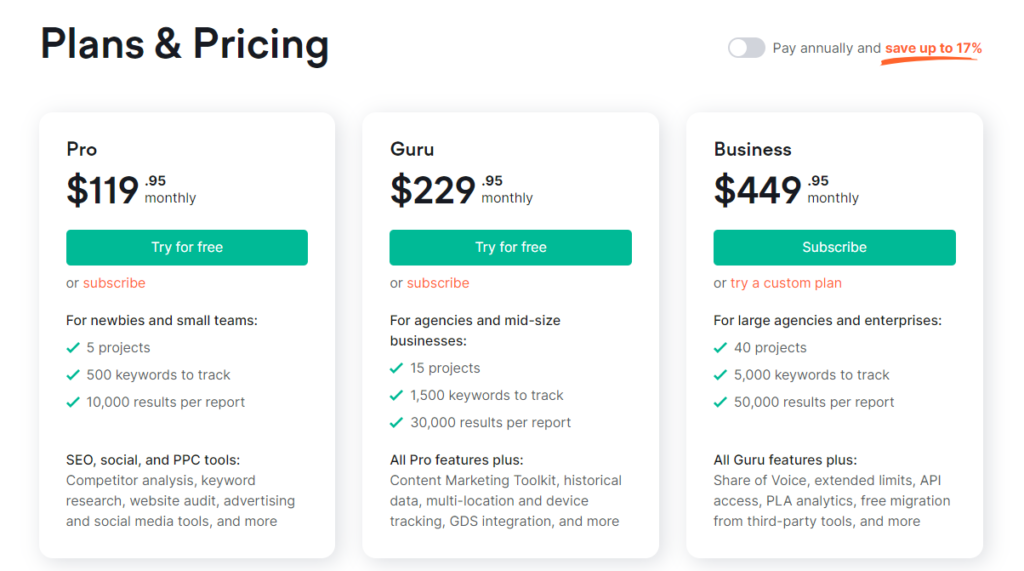 Additionally, they provide an enterprise option for big businesses that require more customization and adaptability.
What Distinguishes Semrush from Google Analytics?
——————————–
Google Analytics and Semrush are now the two analytics tools that online marketers utilise the most. Despite sharing similar characteristics, these two offer two distinct services.
The main difference between the two is that while Google Analytics is utilised by marketers to evaluate the internal data on their websites, Semrush shifts the emphasis to external data and looks at the website of your competitors.
Since obtaining the internal data of a competitor's website is impossible, the information you receive from Semrush is the next best thing.
Semrush's Most Effective Features for Increasing Your Search Rankings
——————————–
We can discuss the various elements you may utilize to raise your overall search rankings now that you understand what Semrush is and how it functions.
Semrush offers users dozens of capabilities, but if you are still getting familiar with the software, it may be challenging to choose the finest ones.
After speaking with some of the top digital marketers in the field and completing our research, we came up with a list of those that stand out as the most effective for improving search ranking.
Tracking Position On-Page SEO Checker
Analytics for Organic Traffic and SEO Content
A site audit
Magic Keyword Tool
Analysis of Keyword Gaps
Overview of keywords
Keyword warning
Tags for keywords
Review of the Domain
Dashboard for the Link Building Project with Traffic Analytics
Position Monitoring
——————————–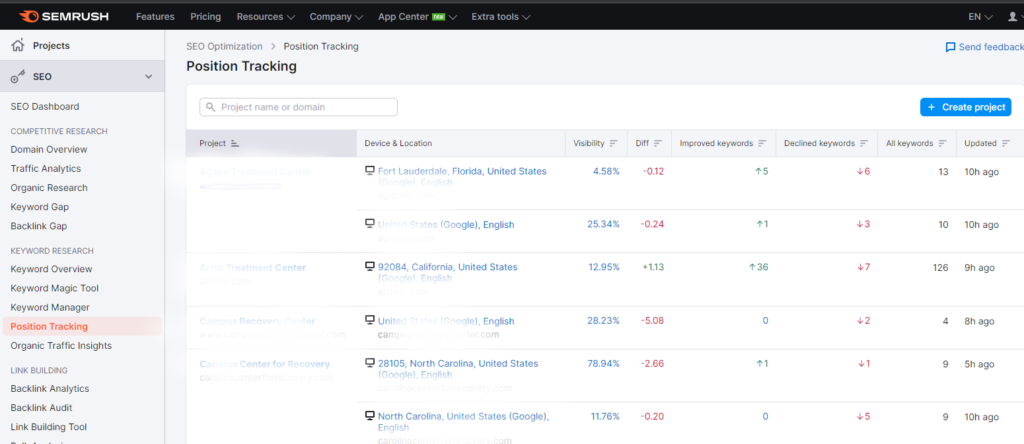 The majority of individuals concur that position monitoring is Semrush's most potent function. It may track the daily rankings of a website based on chosen target keywords. Using the numerous reports, you will compile the data needed to assess the efficacy of SEO and PPC operations (tagging, sorting, filtering, exporting, etc.).
Some of the key advantages of position tracking include the following:
Tracking of keywords and domains
Comparisons of locations on a map
Types of project devices
Reports from Featured Snippet (great for finding featured snippet opportunities)
According to Sophie Burke of Bead the Change, position Tracking is one of Semrush's most effective capabilities for boosting search ranks.
Checker for On-Page SEO
——————————–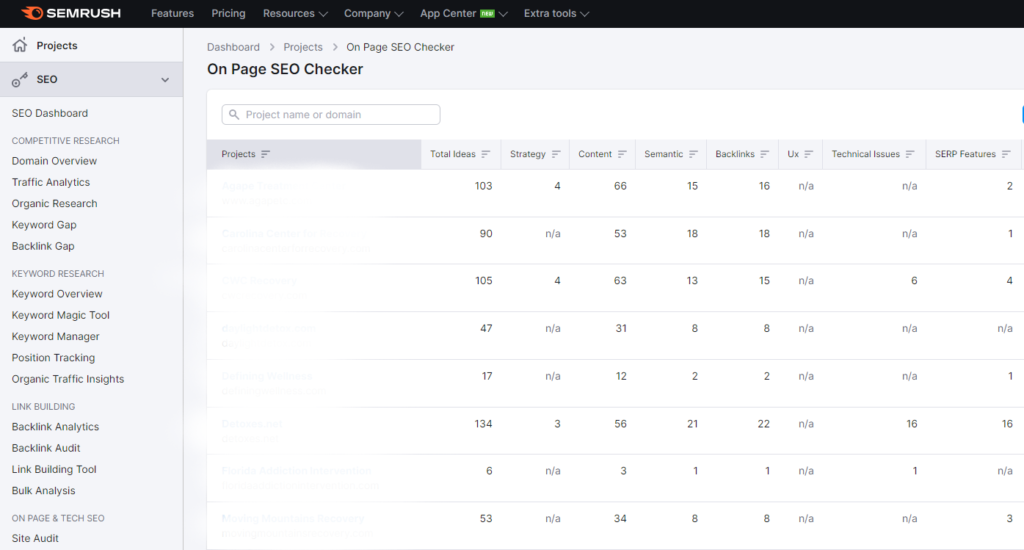 Customers can choose from a range of options provided by the On-Page SEO Checker tool to raise the search rankings of the pages on their website. The chance of backlinks, the appropriate content length, suggested keywords, tips for enhancing on-page SEO, and much more are all included on this list.
These recommendations are based on the top live competitors in your niche's target keyword research.
Jakub Rudnik of Shortlister claims that the On-Page SEO Checker tool is the most important for improving rankings. Producing the best content that is also the best-optimized content is the most effective way to improve rankings. Get tips for refining your content as well as a comparison of your pages to those of your competitors.
Content Template for SEO
——————————–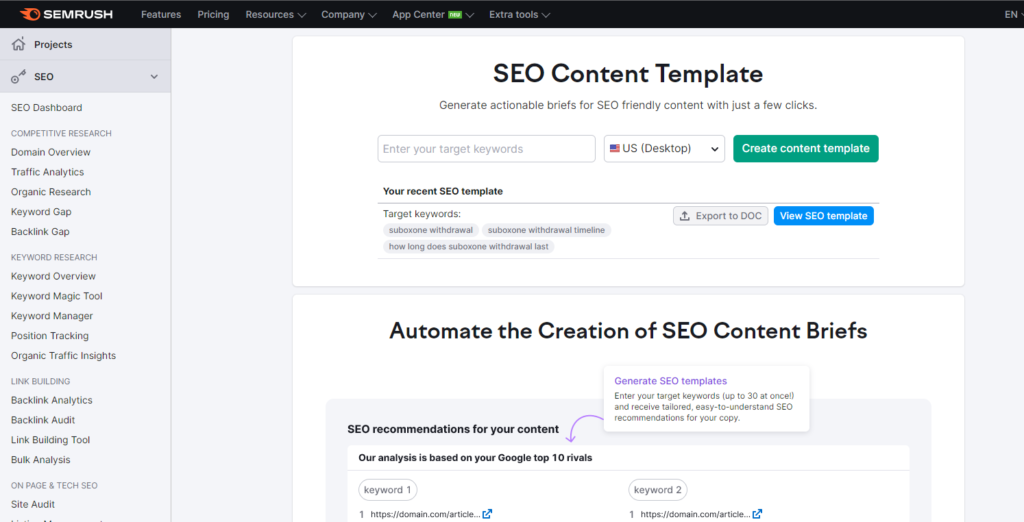 This function is fantastic for writers who need little assistance producing SEO content. Based on a study of the target keywords, it develops a template and makes suggestions for what to add.
After you enter a certain term, Semrush will instantly offer a template for creating SEO-friendly content.
The template has the following components, among others:
Text size recommendations
reading level overview
Supporting word recommendations
Potential opportunities for backlinks
Insight into the target keywords being used by your rivals and where they are using them
Insights on Organic Traffic
——————————–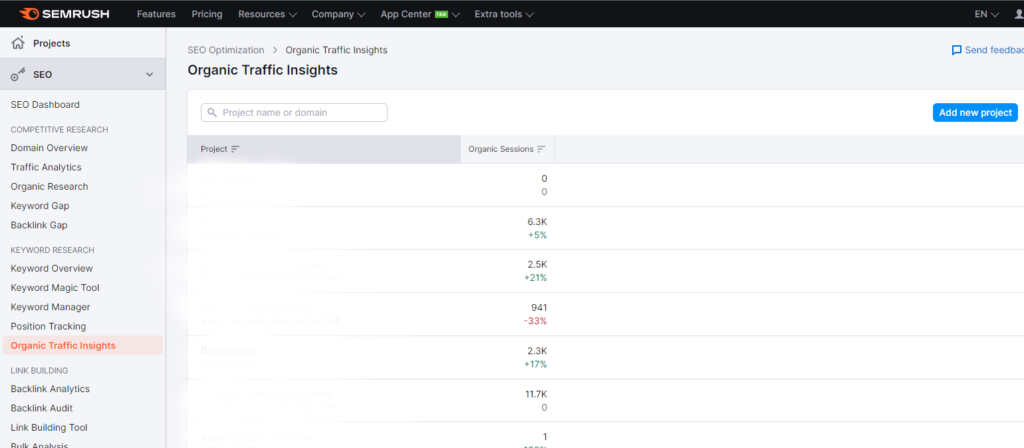 According to Sam Thomas of Embryo Digital, "The Organic Traffic Insights tool is helpful for finding quick-win chances." You can find low-hanging fruit outside of your main keyword emphasis areas that are currently generating a modest amount of traffic, but with a little focus, could considerably boost the overall search rankings of a website with fewer resources than the conventional high competition keywords. Both are important, but the client has come out on top.
The Organic Traffic Insights tool, which gathers data from your Google Search Console, Google Analytics, and Semrush accounts, allows users to access a thorough dashboard.
Sessions, click-through rate, organic keyword volume, rankings from Semrush, rankings from Google Search Console, and many other pieces of crucial data are all included in this dashboard.
This data can be used to cross-reference the various data sources and determine which keywords GA omitted. When you're done, you'll be able to examine the overall picture of your website's success in organic search.
Site Audit Using Semrush's
——————————–
Site Audit function is one of the finest ways to determine the health of your website.
This function gives you a list of categorized issues and indicates where your website is doing poorly. If you take care of the issues on the list, the SEO efficacy of your website will increase.
The technical analysis covers everything from crawlability and HTTPS implementation to duplicate material and broken links.
To illustrate the importance of the Site Audit tool, below is one of the quotes we gathered from the top digital marketers.
Will C of the ecommerce company for event light rentals said, "The site auditing tool is one of the most essential things that my team relies on at ProLightingRental.com." For websites with specialised coding and distinctive infrastructure, this tool is amazing. A complex codebase may encounter many issues when you add a new feature or simply patch an existing bug.
Many of these issues could have a detrimental effect on your website's SEO. To make sure that no SEO-related infrastructure, such as but not limited to content, layout, canonicals, and metadata, has been damaged, I employ the site auditing functionality feature after each deployment. I've identified issues and, as a result, reduced any SEO effects from deployments that required extensive testing several times.
Magic Keyword Tool
——————————–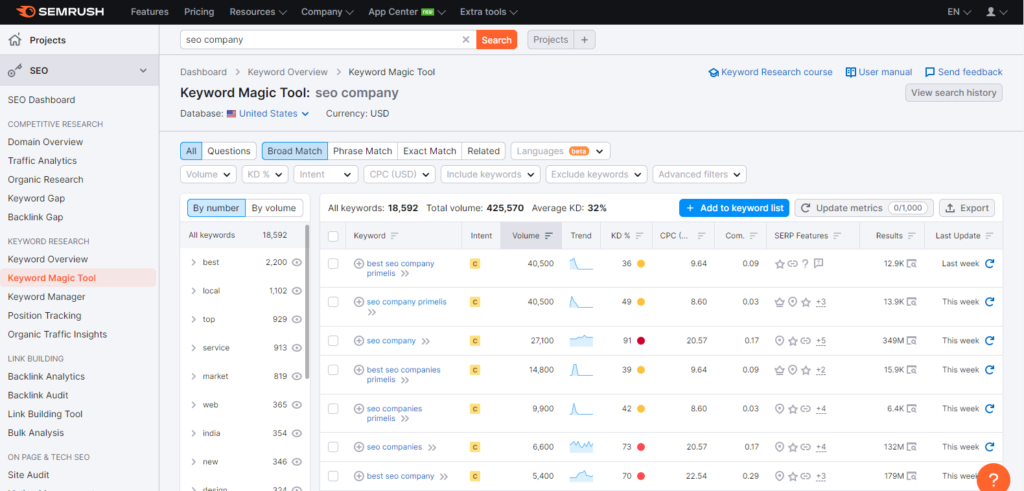 The most used Semrush tool for keyword research is the Keyword Magic Tool. You may track semantically related keywords, research specialised topics, and find keywords that could improve the overall SEO of your website.
With more than 20 billion keywords in its database, Semrush provides you with a thorough table with unique subgroups arranged by similar search terms.
I have a lot of admiration for Semrush's Keyword Magic solution, according to Blake Taylor of Synergy Business Brokers. This tool is one of the most comprehensive keyword research tools accessible and makes it easier to uncover keyword opportunities.
They also give a competitive score to help you decide which keyword prospects to pursue that don't have a lot of competition.
Analysis of Keyword Gaps
——————————–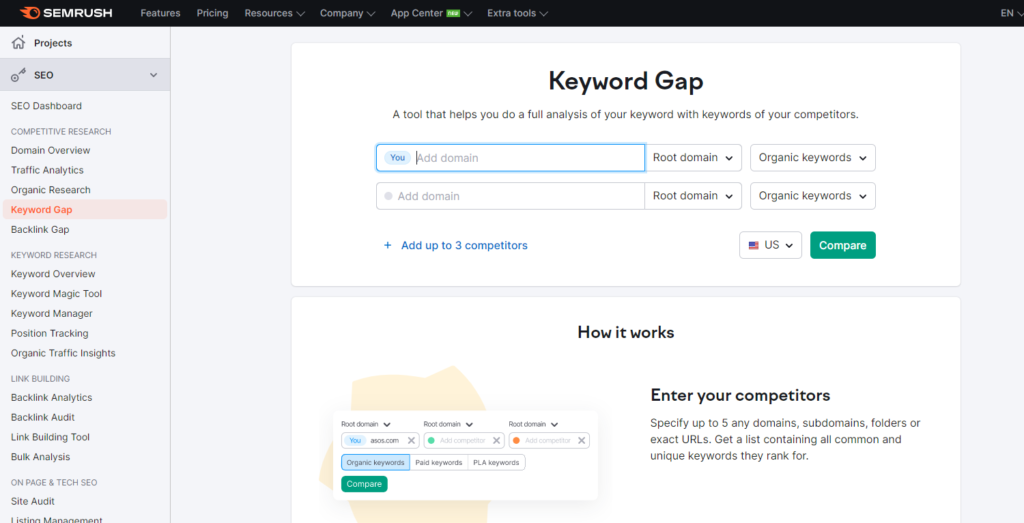 Use Keyword Gap Analysis to thoroughly evaluate the keyword profiles of your top five rivals. You may view the best prospects for each website, how many keywords overlap, which keywords can be found on all five websites, and more by inputting the domain and keyword ranking type.
This kind of data can be helpful when developing SEO strategies and campaigns because it gives you an understanding of the niche keywords that are currently popular.
You can prioritize your SEO efforts if you know what your competitors are doing.
Additionally, this research will give you keywords exclusive to your domain, allowing you to identify keyword gaps in the campaigns of your rivals.
Overview of keywords
——————————–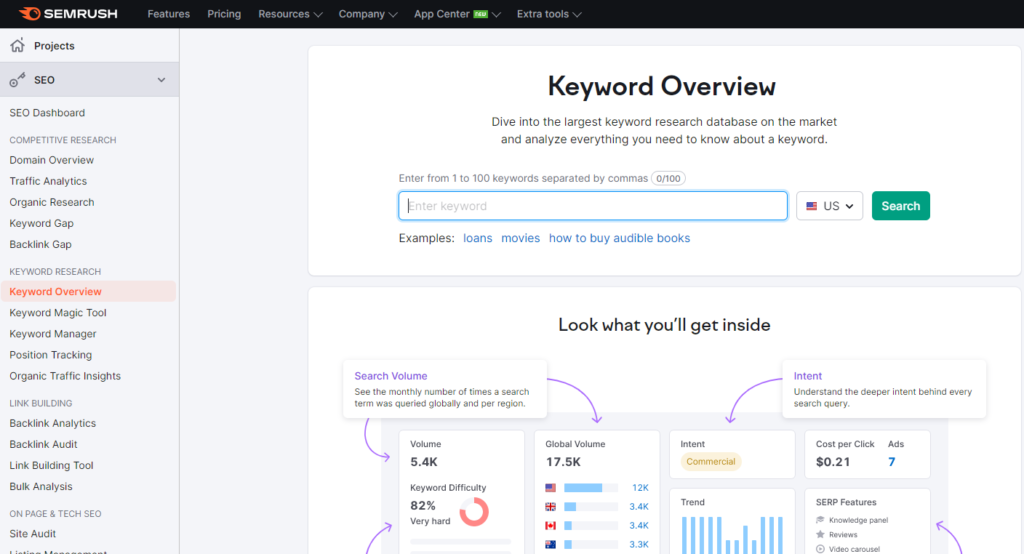 The Keyword Overview tool can be used to learn more about a specific keyword's search traffic, result count, intent, CPC, level of competition, projected value, and other factors.
This tool will benefit beginner digital marketers who wish to begin their keyword research journey and choose which terms to target to increase traffic.
The most effective Semrush function to track and improve your search rankings, according to Jonathan Aufray of Growth Hackers Agency, is finding terms where your website shows on the second page of Google. After finding these pages and keywords, go to your page and add the pertinent keywords to the H2 and H3 tags as well as the body of the post.
Additionally, you can link to that page from other pages on your website by using internal linking with the necessary anchor text. Your pages will soon be found on Google's front page.
Keep in mind that you should write for people, not search engines. As a result, take care to only use logical and relevant keywords in your text. Avoid cramming your posts with keywords because it will make them harder to read and hurt user experience.
Keyword warning
——————————–
It used to require a lot of work for digital marketers to manually check which keywords' rankings had risen or fallen over the preceding few weeks.
The Keyword Alert tool, which provides customers with a cutting-edge alert system that keeps them updated on all changes to their ranks, solved this issue. Every time a keyword ranking in your report changes, Semrush sends you an email to let you know.
Robbie Richards states, "the Alerts tool is useful for immediately noticing when keywords drop a specific number of spots or fall below the top 10." With this knowledge, you will be able to swiftly pinpoint the problem and begin regaining the ranks you diligently worked to earn.
Tags for keywords
——————————–
To monitor the growth data of your tag groups, use the keyword tagging tool. This feature is great for determining how visible your tagged keywords are.
Only candidates for the Guru or Business Semrush memberships have access to this feature.
For every keyword we upload, we include a number of tags. Each team member then adds their tags to Semrush in order to check the outcomes of recent searches.
Review of the Domain
——————————–
This feature enables you to quickly acquire information on the online presence of your website through a range of overview measures.
Backlinks, paid and organic search traffic, and other items will all be displayed. You can improve your understanding of the data by seeing the module-specific reports after receiving the overview.
The Domain Overview tool is great for figuring out the benefits and drawbacks of your top competitors and quickly figuring out which parts of your website need to be enhanced.
Here is a remark from a digital marketer we spoke with that exemplifies the significance of the Domain Overview tool.
Domain Overview tool
——————————–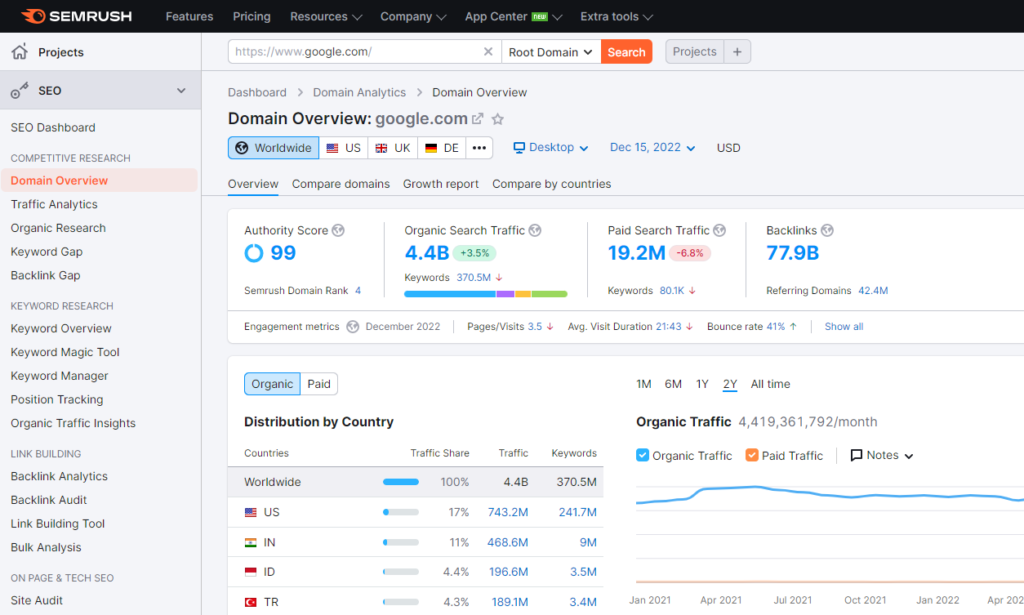 Domain Overview, according to Know Your Money's Seb Atkinson. The top pages and organic keywords of your competitors may be found with this tool, which is a terrific method to monitor their activities.
When examining competitors, the domain overview is an excellent place to start.
Data can also be exported and utilized with other Semrush modules, such as Site Audit, to reverse-engineer a competitor's strategy and discover how their technical setup, content, and promotional activities work together to achieve their search visibility.
You may get a sense of the most popular trends in your business by keeping an eye on various competitors. This will help you ensure that your brand is present online for the same themes as competitors. On the other hand, you can monitor any competitor programs that might need to produce better results, which can help you learn from others' errors and increase your chances of succeeding where others have failed.
Traffic Monitoring
——————————–
The Traffic Analytics function is a sophisticated market research tool that estimates your website's desktop and mobile traffic. This tool can evaluate a new market's potential and produce a successful media buying strategy.
You will be able to see exactly where your traffic is coming from, how users interact with your website, and which devices they use most frequently, thanks to this feature.
Traffic analytics can significantly benefit professional marketers, researchers, and sales teams.
Here is what one of the marketers had to say about the traffic % metric, one of the most well-liked metrics in this feature.
Traffic% is a measure that Thermo Gears regularly uses, according to Julien Raby. It computes the estimated volume for each keyword and our current position to provide us with an estimated traffic volume for each keyword. We prefer to look at trends to determine if we're growing volume or not in particular keyword categories, even if exact statistics are typically inaccurate.
Link Creation
——————————–
For users looking for new link-building chances in their specialty, the Link Building function is fantastic. Additionally, a state-of-the-art interface will be given to you so you can design an outreach campaign to draw in backlinks.
The feature includes four separate tools,
Backlink Monitoring
Link Building Tool
Bulk Analysis
Backlink Audit
Ashley Sterling from The Loop Marketing says, "Our team focuses on the link building/backlink tools provided by Semrush. With the aid of this programme, daily reports on changes can be generated as well as alerts for potentially hazardous links and outreach to link prospects.
Task Dashboard
——————————–
You can view a condensed version of all the most important data and information you generated with Semrush in the project dashboard.
You can link your active projects, and the dashboard will generate data widgets from the other features so you can monitor how your project is performing overall.
The Project Dashboard, according to Jordan McCreery of Ingrained Media, is the "MOST effective Semrush component" that he uses on a daily basis for monitoring and improving client search results. The Project Dashboard makes it simple to view all the data in one location, and Semrush is PACKED with fantastic tools. The health of your site is shown by the Site Audit, keyword changes are tracked by Position Tracking, and overall traffic trends are shown by Organic Traffic Insights.
How to Track & Visualize Your Semrush Data with Databox: Semrush Metrics?
More than 50 new Semrush metrics have been added to our metrics library. This means that Databox offers various search ranking and website traffic visualization options.
You can do this with this extensive array of new metrics.
Increase your understanding of your Semrush data.
better keep an eye on your website's ranks
Discover fresh PPC keyword possibilities.
Monitor the results of your backlinking campaign.
View detailed statistics like as your domain ranking and authority score.
Dashboard for Semrush Keyword Milestones
——————————–
The issue it fixes: Content that does not appear in the top 10 results for essential search phrases has a sharp decline in click rates. Research by Advanced Web Ranking found that 71% of all searches result in a click on a Google page one result. Even more shockingly, the first three results are clicked in 55% of queries!
As a result, marketers will probably see a large increase in traffic if they can move a hot phrase from position 11 to position 10. Additionally, they need to achieve exponentially higher results when their material approaches rank 1.
Semrush compiles your ranks using a relative statistic called "Visibility%." Semrush provides an estimate based on your keywords because lower keywords are less visible on search engine result pages (SERPs). Your visibility percentage will rise as your keyword ranks rise.
The Semrush Keyword Milestones Dashboard is used as follows: The top 3 and 10 keywords associated with your domain are tracked in the left column. Since SEO determines visibility, this enables you to monitor your overall success.
The terms you perform particularly well on are examined in the middle column. Go to Semrush to determine which page is to blame for your high ranking if you are in the top 3 (or number 1) for a popular term.
In the final column, visibility is compared to organic traffic from Google Analytics. The "results" column appears here. It would be best to observe an increase in organic traffic as more searchers click your links and your visibility percentage rises.
What queries can it respond to?
What are key phrases crucial for organic traffic?
What changes in organic traffic occur when a keyword reaches a certain threshold?
Are you getting clicks on your page titles?