What Are Backlinks? How to Build Them in 2023?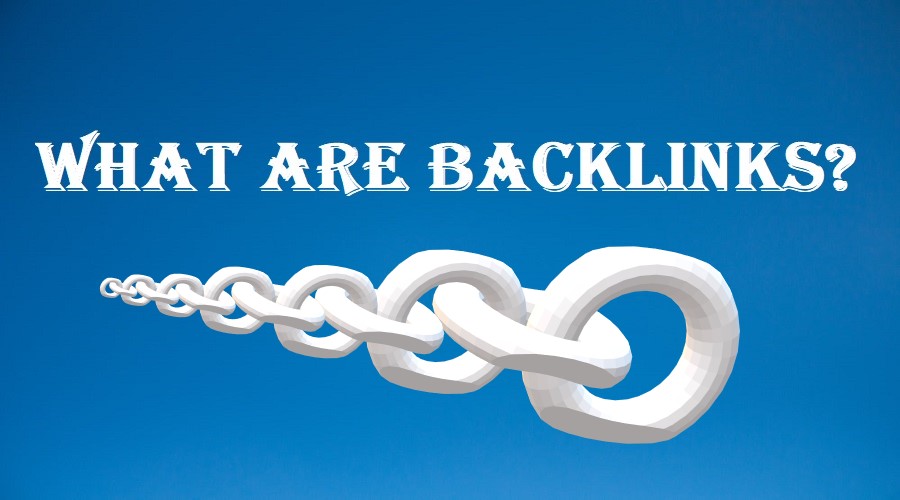 If you've been writing for some time or are interested in creating or maintaining a business website, then you know that the effectiveness of your search engine rankings depends on the number of inbound links to your site.
A backlink is simply a link to a page created by someone else. Backlinks are great because they increase the awareness of your site and provide more exposure for it online. The more backlinks you have, the higher your site ranks and the more frequently your content is found by people using search engines such as Google. For a high organic ranking on Google, it is advised to create high-quality backlinks regularly. It helps index and regularly crawls website pages, directly improving your google rankings.
Backlinks are also an excellent opportunity to build relationships with industry leaders, which can then help promote your business indirectly.
So how do you get more links?
This question tends to be one of the most common questions related to search engine optimization (SEO).
There are essentially two types of backlinks:
Inbound Links –These links lead directly to your site.
Outbound Links –These links point to other sites or pages.
Links may come from a wide variety of sources, including:
Your content (such as a blog), press releases, social media, guest posts and interviews, forum postings, and more.
These are all examples of outbound links.
Links from other web pages (like those listed in your directory from different search engines).
Links from other websites (such as those related to your industry that you would like to be more visible to people searching for a similar topic).
These are examples of inbound links.
Links are a great way to add value and improve a website's search engine rankings. However, some things need to be clarified about how it works and how you can get more of them for your site.
Why Are Backlinks Important?
—————————–
Backlinks are one of the most important factors in achieving a higher ranking in search engine result pages (SERPs). They are an integral part of any successful SEO strategy and are often used to improve a website's discoverability, referral traffic, and overall rankings.
Marketing experts and SEO professionals alike know the importance of backlinks. Backlinks boost your search engine rankings and earn you social media traffic. Google even discovered that backlinks have a direct impact on the conversion of visitors into sales. Many users are drawn to companies with more backlinking than their competitors, so they will be more likely to buy from them because they believe this is a sign that the company is more trustworthy or has more clients.
A backlink is simply another web page that links to your site. This link can be text or a graphic; it is a way for another site to tell its visitors about your site. If another webmaster or SEO expert links to your site, they like your content enough to mention it on their website. If their website actively promotes your site, you are then said to have a "backlink from" your site.
The number of backlinks a website has is a strong indicator of the website's importance on the internet. This includes search engines, which analyze the sites linking to it when ranking it for searches. If your site does not have many backlinks, then you need to build up your link profile — for maximum SEO value, consider buying backlinks from a reputable company with high-quality links.
Backlinks are crucial for your website, especially if you're trying to rank well in Google. More links from high-authority sites make your website appear more credible and trustworthy. You will also get a boost in organic searches for keywords related to your site or blog topic that you're targeting. Links can be in any form, such as image links, text links, infographics links, pdf, etc. there are lots of ways by which you can create backlinks for your website.
There are many factors when it comes to backlinks, but the important thing is that they need to be attractive. A weak or irrelevant backlink to your website is hurting rather than helping you in the long run. So, make sure you put effort into creating high-quality, useful links on blogs and forums that have an audience that matches your target audience. And make sure always create backlinks on high Da sites so that you will get benefit from those.
Rankings:
When it comes to rankings, backlinks play an important role in helping search engines determine the quality of a website's content. By establishing relationships between websites, they can help search engine algorithms evaluate the relevancy and authority of the linked website. Quality backlinks from high-authority websites with strong domain authority will give your website a higher chance of appearing in relevant SERP results.
Discoverability:
Discoverability is also improved by backlinks. When other websites link to yours, it helps people discover your website more easily when searching for related topics. A few high-quality backlinks from popular websites can result in significantly more referral traffic to your website.
Referral traffic:
Referral traffic is a great way to boost your website's visibility. Backlinks from other sites act as a kind of referral that directs users to your website. Quality backlinks from authoritative websites will lead to more visits from targeted audiences who are interested in what your site has to offer.
By utilizing backlinks strategically, you can boost your website's rankings, discoverability, and referral traffic in 2023. Quality backlinks from trustworthy sources will help your website stand out from the competition and gain more exposure in SERPs.
 What Types of Backlinks are Valuable?
—————————–
Two types of links you may encounter in your link-building efforts are followed and nofollowed links. Understanding the differences between these two types of links is essential to successful link building.
Followed links are the most valuable type of link and are used by search engines to calculate a website's ranking. Followed links pass PageRank from one website to another and can help websites improve their rankings in search engine results.
Nofollowed links do not pass PageRank and, as such, do not directly influence a website's search engine rankings. However, they can still be beneficial for other purposes, such as driving more traffic to a website and improving its overall visibility on the web.
Additional
When it comes to link building, it's important to focus on acquiring followed links whenever possible. These types of links can significantly improve your website's rankings and help you achieve higher visibility on the web. It is also important to note that when it comes to link building, quality should always take precedence over quantity. Acquiring followed links from reputable websites with high domain authority is much more valuable than having many low-quality nofollowed links.
A backlink is an electronic reference to a specific web page that directs readers from one site to another. A backlink can be seen as an informal vote, where the reader is voting for your page over other available pages on the internet. Millions of links are created daily, and it's hard to tell which ones are valuable. So how do you know which links are valuable and which aren't?
There are many different types of backlinks. Some are much more valuable than others, so let's look at some types of backlinks and see which ones are worthy of your effort.
Backlinks are almost always good. If a large number of other people link to a website, it is an indication that the page is essential and that it has something valuable to offer to the reader. This is because people will often link their pages to other important pages, even if they don't add anything useful to the page.
Your content should be unique and different from what's already out there to be considered valid. You want to cite sources, you want not to plagiarize, and you want to write something that will be informative and useful for the reader. Also, you don't want your content to be biased or contain your opinion.
Although high-quality backlinks are important, they don't necessarily increase your search engine rankings and are only valuable in some circumstances. If many other people are linking to the same page as you, by all means, take advantage of it by creating a relevant link on your site.
How to check backlinks?
—————————–
If you're serious about building backlinks and want to know the status of your current backlinks, then it's important to check them regularly. In this section, we'll discuss two ways to check your backlinks – using Google Search Console (GSC) and third-party backlink checker tools.
Using Google Search Console (GSC):
Google Search Console (GSC) is a free tool provided by Google that allows website owners to check the overall performance of their website on the Google search engine. To use GSC to check backlinks, you must first set up GSC for your website. Once set up, you can use the Links report to view your backlinks. The Links report shows you a list of all external websites linking to yours.
Using Third-Party Backlink Checker Tools:
Apart from GSC, there are also many other third-party backlink checker tools available online. These tools allow you to track your current and past backlinks. You can enter your domain name in the tool and get an overview of your backlinks. The tools usually provide detailed information, such as anchor texts, link types, source URLs, etc., for each link.
By checking your backlinks regularly using either Google Search Console (GSC) or third-party backlink checker tools, you can make sure that all the links pointing to your website are from high-quality sources and are helping to improve your website's visibility in search engines.
How to build backlinks?
—————————–
Some websites and blogs give you backlinks for free. You land on their sites or share content through social media, and they list your website or blog among theirs. If a site wants to review your website, they will link to it from theirs so visitors can access it. Websites with more backlinks tend to rank better in search engines than other websites. While the process sounds simple, building backlinks is more complicated than one might think. To build backlinks, one should first have a blog followed by other blogs.
To have a blog means having posts published on your website with the help of a content management system (CMS). You must also have social media accounts like Facebook, Twitter, Google+, and LinkedIn to share your content and earn backlinks from the various social media sites. Social media sites usually work with webmasters or webmasters' websites to get quality links from them. There are a lot of ways to earn or create backlinks. Nowadays, you can use social bookmarking sites like del.icio.us and Digg to get backlinks from popular sites. If you have a website, you must sign up with social bookmarking sites as well as forums and groups to get quality backlinks from the users of those websites.
You can also use social media sites like Facebook and Twitter to build backlinks. You have to be a part of other bloggers' and webmasters' groups or pages and share your content through them. You will get backlinks if your content is liked by the users of those pages and websites.
Forums are great places to find backlinks for your blogs, and that too for free. Many websites let you post threads with various topics related to your niche so that people worldwide can comment on them.
How to get more backlinks?
—————————–
Earning backlinks:
When it comes to backlinks, the key is to earn them rather than build them. This means that you need to provide content of a high quality that others will want to link to. You should strive to create content that is useful, informative, and entertaining for your audience. This can include blog posts, podcasts, videos, infographics, research studies, or anything else that has value for your target audience.
Creating backlinks
Creating backlinks can be done by reaching out to other websites and asking them to link to your content. This can be done through email outreach or through direct contact with website owners. It is important to make sure that you are only asking sites that are related to the topic you are writing about and have high authority in their industry.
Building backlinks
Building backlinks requires a bit of time and effort, but it can pay off in the long run. You can build backlinks by using a variety of tactics, such as guest posting on other websites, participating in online forums and social media groups, and commenting on other blogs. It is important to keep in mind that any links you build should be of high quality and not part of a link-building scheme.
LET'S BEGIN BY ASKING, "ARE BACKLINKS PERTINENT TO YOUR WEBSITE?"
—————————–
Okay, the response is a little twisted. However, the conclusion is clear—they used to. Since Penguin's significant update this decade, Google has ranked your websites based on the constancy of your links. We were aware of SEO at the time and how it evolved in response to a few Google adjustments.
You may learn how Google eliminated several businesses from its search engine rankings that just cared about backlinks by conducting a little investigation.
On the other hand, a few marketers welcomed the Penguin update and claimed a significant improvement in the visibility of their websites in search results.
Websites that didn't rely solely on inbound links fared far better when the Penguin update (a real-time upgrade now a part of the core algorithm) was implemented on September 23, 2016.
HOW IMPORTANT ARE THE INSIDE LINKS, AGAIN, IS THE QUESTION? ARE THEY Necessary?
—————————–
If you ask SEO specialists or self-styled marketing analysts, you might find that the answer is most likely "Yes." However, if you ask marketers who put in long hours to contribute to each section of their website equally, they will respond "NO."
Don't 'only' rely on backlinks.
Gaining backlinks is a great deal. Yes, you must set aside some time. However, if you don't spend time building those and instead work on the user experience and working on an addictive form of content, you are doing the right thing.
A significant ranking factor is still NATURAL BACKLINKS.
Why don't you provide the best article with the outbound link when you post an article and need to provide more information on the subject? Don't you lead your visitors to content with significant value for them to learn more?
Similarly, having lousy content on your website or earning links without content does not matter. Additionally, Google gives you no credit for it. Because Google is getting smarter and favoring websites with premium content, negative SEO is no longer effective.
Good Backlinks
—————————–
Serving a link is only one aspect of quality backlinks. It is instead the solution to the issues that people have. A single link can benefit an entire community.
People purchase links, and the majority of top domains provide this service. Because inbound links significantly impact how search engines rank websites, everyone desires high-domain backlinks. Still, incoming links are purchased and sold. However, fewer high-quality links are preferable to an endless supply of spam links.
Here is a guide that will be useful in 2023 for obtaining high-quality SEO inbound links. Our catalog is different from other lists since it demonstrates that anything is possible with little effort.
Organize an event
—————————–
Individuals will participate if your brand is well-known. Even more, people will attend if there is a special prize, and they will spread the word about it.
Plan an event
—————————–
Plan a gathering that includes breakfast, lunch, or dinner. Create a page for events on your website. Give specifics on it. Perform a 301 redirect from the event page to a preferred landing page once the game ends.
Local promotions
—————————–
There is no need for additional justifications because local directories can be found in virtually any city, town, and location.
CONTEST FOR SKYSCRAPERS
—————————–
Individuals will participate if your brand is well-known. Hence, the name "skyscraper material": why not use your fantastic stuff located in space?
This idea, which Backlinko first introduced, is a fantastic method to interact with insightful suggestions for content that will bring links to your website.
Using this approach on a well-liked essay concerning Google's ranking variables significantly enhanced the page's backlink profile.
Therefore, your existing well-liked material may draw even more viewers who will spread your message.
Speak at the event
—————————–
Speaking at regional or local events can help you promote your website. People will share or link to your page if they find your speech interesting.
Event Sponsored
—————————–
Your name may become well known if you sponsor an event. Sure, you'll acquire the publicity you need if you put your all into the work.
Create online reviews for other websites
—————————–
Writing endorsements or reviews for other products or services in your sector could seem silly. However, doing so might be an intelligent option for your backlinking and SEO strategies. A place for a backlink is also added to the webpage when you accomplish this.
You don't want to increase their ability to steal customers or clients.
Event Sponsored
—————————–
Offline relationships can be made to produce high-quality backlinks. Sponsor a meeting or event, or host one yourself. When organizing an event, you can gain links from websites that list events, and you typically get a link on the event page when hosting a meeting or conference. Additionally, you'll receive a bonus for increased company visibility.
Start a blog
—————————–
By writing for their own company and brand, one can get links. People will be interested if you present accurate information. It does not want to stir up controversy, yet it takes little time for little information to become significant.
Make landing pages awesome once more.
—————————–
Combining two landing pages with similar content might give a website greater strength if it has two landing pages. After integrating the two pages, make sure to redirect the traffic.
Support a Reporter (HARO)
—————————–
Many online journalists are searching for content and solutions to their queries. If your company meets their wants, you will have attracted the lion's attention.
Find the ideal place and quickly conduct numerous PR campaigns for your brand. You can use it to gain exposure and take advantage of your prospects.
Remember to mention your website and encourage people to visit it while providing information.
Interview industry professionals
—————————–
Interviewing experts is a difficult process. The position of both parties may cause a decline in an interview. See the help of someone who can direct you if you are still waiting for an interview. Including their discourse on your website may attract visitors from all around the world.
Webinar Webinars help provide free information and training in a certain sector. If your webinar is educational, it may increase traffic and generate shareable links.
Make animated films
—————————–
The hottest trends right now are animations. People prefer images over text, so if your animation appeals to their aesthetics, you already know what will happen.
Produce videos
—————————–
Videos must be both humorous and educational, just like animations. A single video can have a significant impact, but it must be exceptional for many people to value it.
Aligning Social Signals
—————————–
Aligning social signals is necessary if you are serious about enhancing your back linking strategy and moving up the rankings.
Social signals show search engines how aggressive and up-to-date your website is.
Because your rankings improve the more active your website is.
Ask, and It Will Be Given To You
—————————–
You've probably heard the saying that you might only get what you want if you ask. The same holds when requesting incoming links. Request both online and offline links. Create connections with them. It will take time, but the outcomes will become apparent. See what links to your topic are required. Make a lengthy list of all the sources from which you will receive incoming links. After that, knock on their doors and politely inquire. Many bloggers can be of use to you.
Create content for your audience rather than for backlinks.
—————————–
Write in a way the audience will find acceptable if you have written content and want to increase the number of shares.
For instance, if you write content and send it to a journalist, the content needs to be prepared with the journalist's audience in mind. If the journalist is content, then so will the readership.
View Which Sites Have Links to Their Pages
—————————–
You can create a relationship with them to further your goal if you research and look at all the domains that link to your website.
To achieve better results, it is a task to adhere to the criteria provided above. Follow them right away if you want things to happen.
But watch out for spam links.
Any backlink that is unrelated to the intended use is considered spam. This indicates that the link on the external website is useless. The opposite of a spammy backlink explains why it was used and how it benefits the users of the third-party website.
Benefits of Backlinks 
—————————–
Faster Indexing and Better Crawling by Search Engines
Search engines could take time to index your content if you provide high-quality content on your blog but need more backlinks. On the other hand, if your website has a lot of high-quality backlinks, it will take a little while for the search engines to index your content.In addition, backlinks make it easier for people to comprehend the subject matter of your content. If you were to write any content on YouTube and include a link to YouTube, the search engines would be able to understand it. You mention YouTube in your post.
Enhances Search Ranking
Your search engine ranking is boosted via backlinks. Your website or blog will rank better in search results if it has do-follow backlinks from authoritative websites.
Increases Traffic from Referrals
Backlinks facilitate increased referral traffic to your website. Referral traffic is the traffic that visits your site via a link to another blog rather than through a search engine. These visitors are extraordinarily targeted and assist in lowering your site's bounce rate.
Improves Brand Recognition
Your site's visitors are made aware when a webmaster links your material to his. However, only if your material is excellent and beneficial will someone choose to connect to it.
Aids in fostering connections with other websites
The best aspect of backlinks is that they foster new connections with other websites. You might receive backlinks from website owners who link to you when you link to their website.
Advertising Efforts
Backlinks can be used to promote your blog. Let's say you have a friend. If you link to his website on yours and tell visitors about it, that is a form of marketing.
Conclusion
For Google, backlinks are a significant ranking element. However, sometimes building backlinks of a high caliber might take a lot of work. You now have a thorough approach to building backlinks. So get going. Gaining backlinks from websites with greater authority will improve your website's ranks and visitors.
A simple request: please remember to share this post if you found it helpful.