WordPress Website Maintenance Services, How to Choose the Best Company?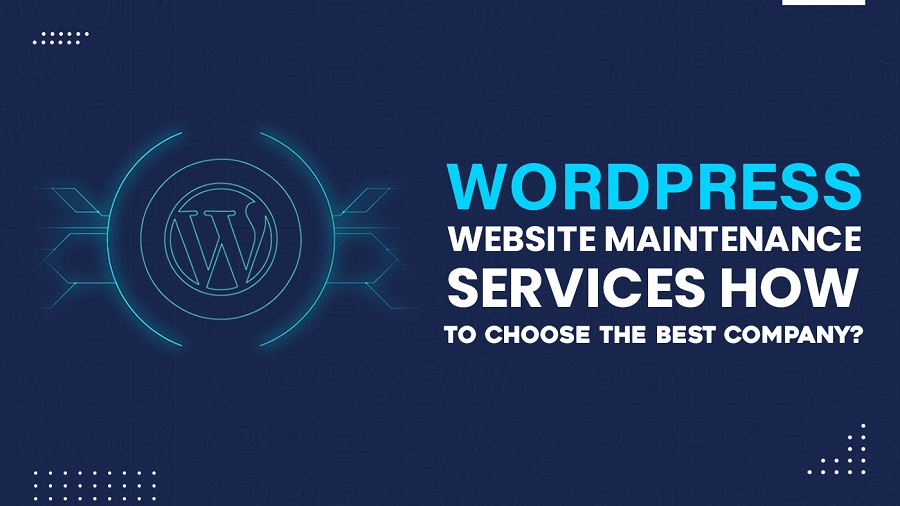 Are you looking for the best WordPress website maintenance services? Website maintenance services take care of your WordPress site. This includes backups, updates, security, and website updates. There are numerous areas to concentrate on, from content creation to administration to site maintenance via updates. Not to mention security—you (and your visitors) do not want your site hacked.
This article will go over some of the best website maintenance services for your WordPress site and how to choose the right NY web development company.
What is WordPress Website Maintenance?
————————
WordPress.org is the most popular open-source blogging platform, and WordPress maintenance services are an important part of maintaining any website. The WordPress CMS is frequently underappreciated for its robust features, but it requires maintenance like any other software. WordPress website maintenance entails more than keeping your website up to date with the latest Google or WordPress changes. It's more than a few tweaks here and there – it's a critical component of your business strategy for staying ahead of the competition!
Why choose a WordPress Website Maintenance Service?
————————
If you run a self-hosted WordPress website, you are responsible for installing WordPress core updates, theme updates, and plugins and maintaining website backups.
Unless you use a managed WordPress hosting company like WP Engine, you will be responsible for all these tasks.
You may believe these tasks are taking up too much of your time, which you would prefer to spend growing your business.
WordPress maintenance services may include the following:
 Updating and backing up your WordPress installation regularly.
Monitoring and addressing security flaws in your WordPress installation or plugins.
 Troubleshooting and repairing any WordPress website issues
Installing, configuring, and updating all software required to run a WordPress site
Update your site with the most recent security patches, such as installing new versions of PHP or MySQL as they become available.
Here are the following steps to find the best WordPress website maintenance agency:
————————
1. Budget and Value:
Most businesses that look into WordPress agencies have one goal in mind: to save money. As a result, they may be tempted to choose the agency with the lowest cost.
However, you must balance your budget with the value that good WordPress maintenance brings. Spending more now for a better agency can help you generate more sales and improve your bottom line.
Find a company that can handle various WordPress needs for real value. If you hire an agency that primarily handles hosting, you will have to spend additional time and money finding agencies to handle site management, maintenance, and design. You can save money and protect your business by hiring a WP maintenance company that can handle everything.
2. Know what they have to offer:
Read their work portfolio to see which services they provide that are similar to what you require, whether it's SEO, web design, content writing, or other services. It will provide an accurate assessment of how well they are informed about your field and if they would be a good fit.
3. Determine the Type of Assistance Required:
The third step in locating the best WordPress website maintenance company is simple. You must first determine the exact level of WordPress support you require.
Some businesses, for example, may only require routine WordPress maintenance. In that case, it may be acceptable for the maintenance company to assist only during business hours. On the other hand, other businesses may require round-the-clock technical support if something goes wrong over the weekend.
If you are comfortable handling much of your maintenance, you can go with a more "hands-off" maintenance company. However, if you require assistance with basic WordPress updates, it may be necessary to find a full-service provider.
4. Know what you need: 
Before looking for a company, list your requirements and expectations. SEO, content writing, and the website design are all possibilities. Before looking for potential candidates, figure out what you want from them.
5. Complete your homework:
If you have a few shortlisted companies that you want to proceed with, you should learn everything you can about them.
You can visit their websites, read customer reviews, and peruse their social media accounts. You should also meet with agency representatives and ask pertinent questions.
6. Emergency Assistance is available:
Even if you don't need emergency assistance, you should keep an eye out for it. After all, even a minor glitch, human error, or hack can cause extensive downtime, costing you heavily in terms of revenue and goodwill.
One-time emergency fixes are generally changeable, but you can opt for an advanced WordPress maintenance contract that includes emergency support as part of the plan. In addition, several WordPress maintenance and support services include emergency support as part of their higher-tiered plans.
7. Examine Different Service Plans:
Remember when we said you needed to figure out how much help you needed? That will be extremely useful when you begin reviewing different agency service plans and must choose the best one.
For example, an agency may have a more basic plan that includes hosting, basic support, maintenance, and security. However, if you want features like agency consultation, SEO optimization, WordPress website design, and more, you'll need to upgrade to a higher-tier plan.
Finding the right plan entails balancing what you require and what the agency provides. This way, you get all the help you need without paying for extraneous features.
8. Website Backups:
Taking monthly or regular backups of a WordPress website is extremely important and beneficial for any website owner because websites can fail at any time for various reasons. If there is no backup, the site must be rebuilt from the bottom up, which is practically impossible. As a result, creating backups is always a good idea, especially when there's a new software or content update.
Conclusion:
In website development, maintenance and support are unquestionably the least glamorous aspects of website management. However, they are both required to keep your website in good working order.
The best WordPress website maintenance and management services relieve you of important tasks. They handle all backend site maintenance, leaving you to focus on your website's content and customers.